All of a sudden, a couple of days ago, Microsoft reached out to its Twitter handle and started teasing the good old Windows 1.0. It all started with a cryptic ad where you can see different Windows logos popping-up, from Windows 10 all the way back to Windows 1.0.
Soon after the tweet went live, the internet started to pressure their brains and came with some possible theory. The most convincing of all comes from Neowin who has it linked to the Stranger Things Season 3.
One reason behind the theory is that the background music in the video has a resemblance to that of Stranger Things. Also, the Windows Twitter account features the Windows 1.0 logo as the display picture and the header image also points to the old Windows.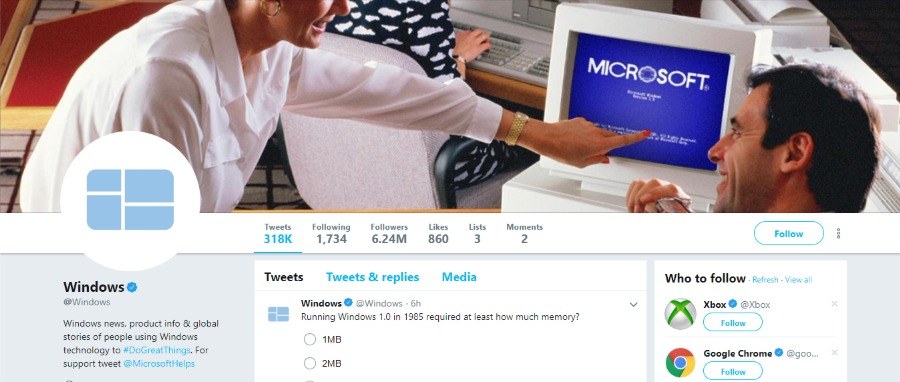 Apparently, the latest season releasing on July 4 is set in mid-1985. It's assumed that Microsoft wants to remind people what happened in 1985 in the real-world timeline.
This adds to the likes of Coca Cola and Nike who have partnered with the show and released various commercials set in alternate realities. While there are chances of a possible collaboration with Microsoft, no official confirmation has been provided by the company.
https://twitter.com/Windows/status/1145731141695168512
As a reminder, Windows 1.0 is the very first member of the Windows family released almost 34 years back in time. Back then, Microsoft added a graphical user interface on top of its MS-DOS operating system which was already hit.
Running via a floppy disk, the OS came supported initial versions of popular MS Office apps including Word and Excel, and also a Flight Simulator.
Second tweet
Adding to the confusion, Microsoft came up with another tweet where it shows retail packaging for its products. Here, too, it didn't forget to write 1985 on the image.
"With Excel, Chart, and even Flight Simulator, there's no telling where Microsoft and the power of Windows will take you this summer," the company says in the tweet.
With Excel, Chart, and even Flight Simulator, there's no telling where Microsoft and the power of Windows will take you this summer. pic.twitter.com/sEHLuXysXn

— Windows (@Windows) July 2, 2019
Also on Instagram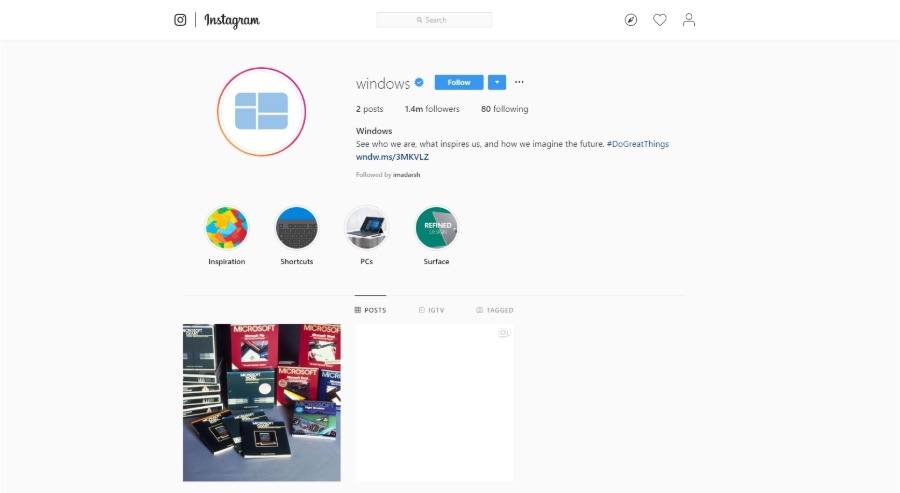 Meanwhile, MS also deleted all the posts on its Windows Instagram account and uploaded the same cryptic video and the image from the second tweet. So, the account now only has two posts in total.
How much RAM does Windows 1.0 need?
The crypto puzzle doesn't stop here. In the third tweet posted a couple of hours later, Microsoft is now asking users how much RAM is required to run Windows 1.0.
Running Windows 1.0 in 1985 required at least how much memory?

— Windows (@Windows) July 2, 2019
Clearly, the answer to this question is a lot less than the RAM we need on current day PCs. Surely, this would lead to a rise in the number of people searching for Windows 1.0 system requirements.
What else could be the reason?
Microsoft's social media moderators are hard at work replying to most of the comments made on both the platforms, making good use of 1980s lingos.
The company might be up to something as we can see responses like "Get ready because it's happen'en!," "It's gonna be wicked!,"  on multiple comments.
While the Stranger Things theory seems convincing, there could be other reasons behind the strange actions of the company. Microsoft could be planning to re-rerelease Windows 1.0 as an app for Windows 10. Also, given the company's recent love affair with Linux and open-source, it could be planning to open-source its old gold.