Activision may go ahead with bringing its heaviest title, Warzone, to Call of Duty Mobile after all.
In a recently posted message on their official LinkedIn page regarding various mobile job listings, Activision appears to be hiring developers for COD Mobile and Warzone, suggesting that the company indeed has some plans for a mobile version of Warzone.
Here is the message Activision posted regarding the expansion of the developer team. "Activision Mobile has put up new roles! Teams are focused on Live Operations and content expansion across CoD Mobile and Warzone," Moreover, the message reads, "Our dev teams are dedicated to mobile and comprised of all major disciplines."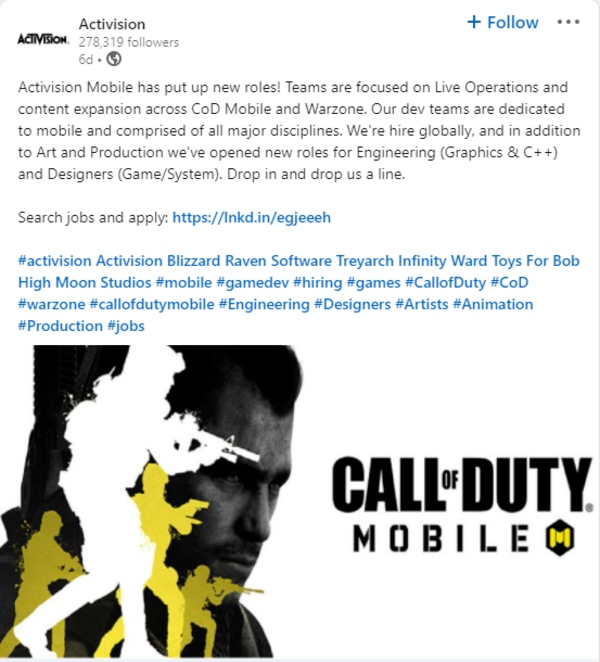 This is not the first time rumors of the Call of Duty Warzone for mobile have surfaced online. Last year, Activision was looking to hire an Executive Producer to bring Warzone's features to Call of Duty Mobile. Furthermore, in March 2021, Activision launched surveys asking players about features from Warzone that they would like to see in COD Mobile—hinting towards Warzone or COD Black Ops 4 features coming to COD Mobile.
Is COD Warzone Mobile Coming?
Will we ever see Call of Duty Warzone on Mobile? Well, don't get your hopes high, but there is a chance that Activision might release COD Warzone Mobile by the end of next year.
Activision already has one mobile game that features the battle royale mode. Furthermore, they've been hiring developers left and right to build up their mobile development gaming studio.
As the mobile gaming community is on the rise with many iterations of PC games already launched or on the way for mobile; it's clear that Activision wants to cash in on this opportunity and wants to bring out the big guns, likely COD Warzone Mobile.
All in all, if Call of Duty Warzone ever makes its debut on mobile devices, it will surely be a complete game-changer. Do you concur? Let us know.