Short Bytes: You might be knowing that traffic from bots constitute a large share of the overall internet traffic. A recent report from Imperva Incapsula tells that bots, both good and bad, account for 51.8% of the total traffic. While good bots are official monikers that monitor or improve the web, bad bots are created to steal content, traffic, and ad dollars.
I
nternet was made by the people, for the people–right? But, it isn't the case anymore. With increasing online services and applications, the internet traffic from bots is on the rise. These bots are basically software designed to perform different kinds of automated tasks.
Today, more than half of the internet traffic comes from the bots, according to the annual Imperva Incapsula Bot Traffic Report. The report is based on 16.7+ billion visits to 100,000 randomly selected domains.
Two types of bot traffic — Good bots, Bad bots
Talking about the exact numbers, humans account for 48.2 of the total internet traffic. The remaining 51.8% traffic comprises of two types of bot traffic — good bots and bad bots.
While good bots account for 22.9% traffic, bad bots aren't much behind with 28.9% traffic. The good bots are different kinds of monitoring bots, commercial crawlers, search engine bots, and feed fetchers. The bad bots are impersonators, hacker tools, scrapers, and spammers.
One of the most active good bots are Googlebot, Facebook mobile app bot, Ahrefsbot, Android framework bot, CFNetwork bot, and Yandex bot.
The bad bots are the ones that are used to steal content from websites, create spam pages to collect user data, performing DDoS attacks, and stealing ad dollars.
Here's an infographic for more information: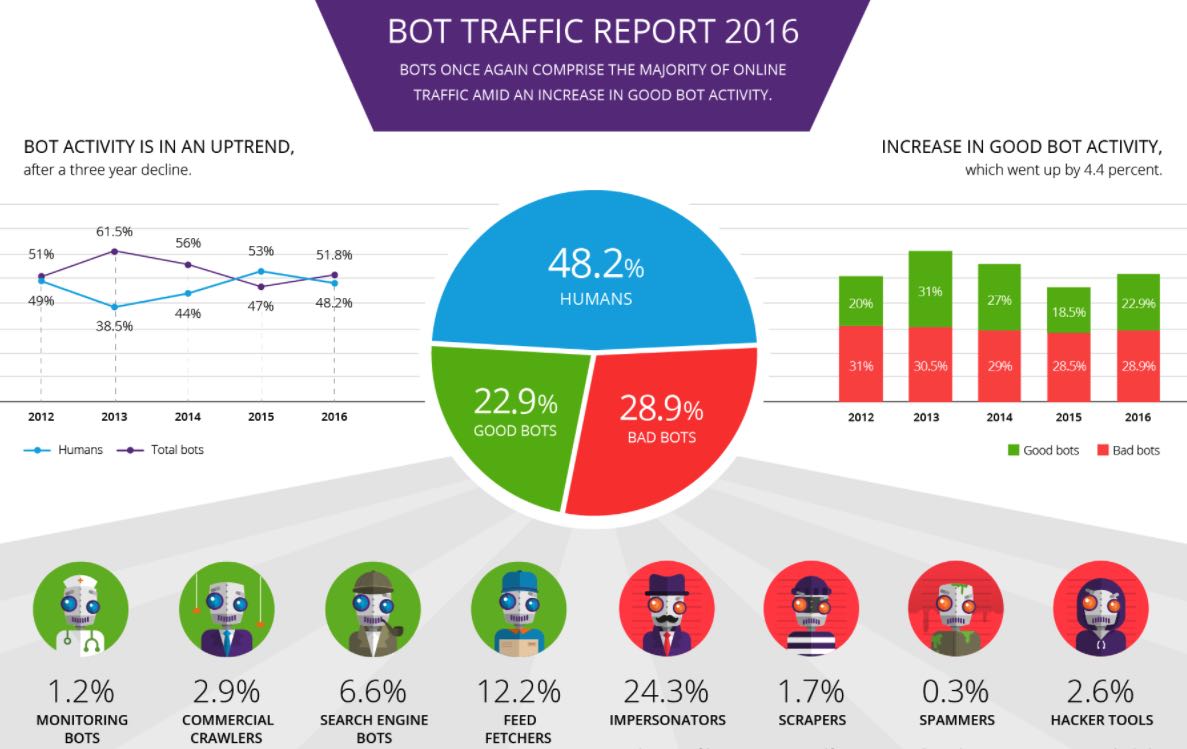 Did you find this article on internet traffic from bots and humans interesting? Don't forget to drop your views and feedback.
Also Read: What Is the Difference: Viruses, Worms, Ransomware, Trojans, Bots, Malware, Spyware etc?