Who are you going to blame if you share your secrets in the most innocent manner via a job posting? Intel did the same and ended up revealing its next-generation high-performance CPU architecture named "Ocean Cove."
The name Ocean Cove was leaked in a job listing for a senior CPU microarchitecture. While Intel is already falling back in the race and running slow when it comes to 10nm chip production, this could be the next major advancement.
It's worth noting that since the original posting, the mention of core codename has been removed. The revealing of the codename has also been made at an interesting time: Intel has just hired Jim Keller, who's a legend in the silicon world, thanks to his work on AMD and Apple chips.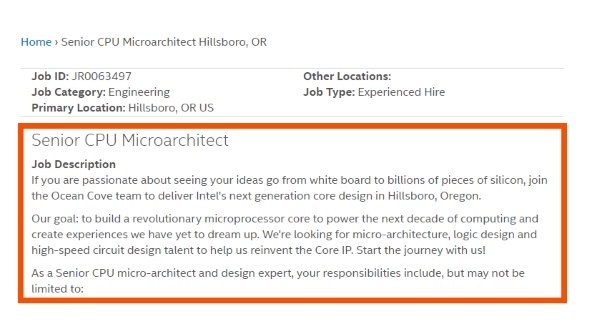 Intel is already getting benefitted from services of the former AMD head Raja Koduri. In past months, AMD has also been challenging Intel with its high-performance and cheaper Ryzen chips.
For those who don't know, the Core architecture has been the basis of Intel chips since 2006. It'd be fascinating to see what revolutionary development Ocean Cove has to offer.
https://twitter.com/TMFChipFool/status/989087490312155138
In case you're wondering about holding Ocean Cove chips in your hands, hold your horses. Motley Fool's Ashraf Essa predicts that the new core could be used in CPUs arriving after Alder Lake gen CPUs, which means after 2020.