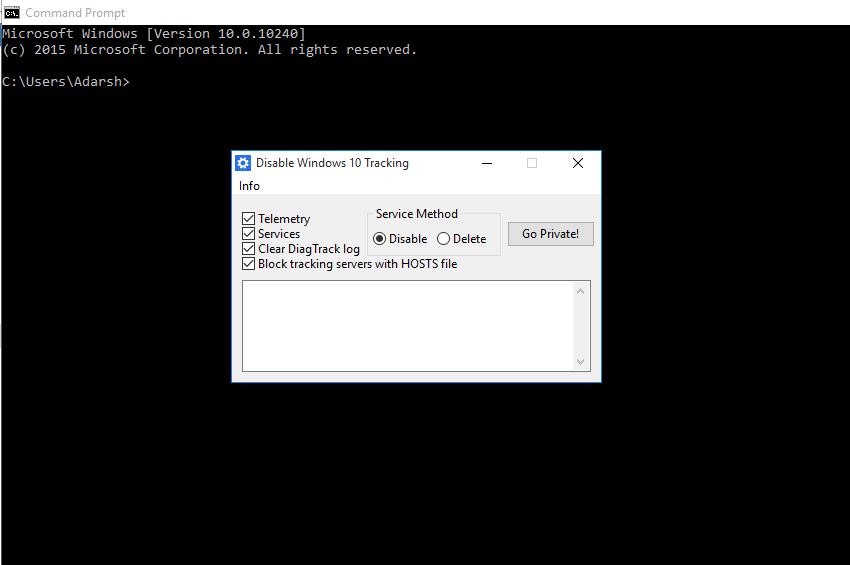 Short Bytes: A developer has released an open-source tool called Disable Windows 10 Tracking to address your Windows 10 privacy concerns. This tool, along with its source code, is available for download on GitHub.
W
indows 10 has been received with positive reviews and people are loving its new features. Microsoft has delivered an OS to bury the nightmares of Windows 8, but it comes along with privacy concerns. All technology and security blogs are telling the risks of using Windows 10 and
reports about features like WiFi Sense
are making people uneasy.
Previously, we wrote a detailed guide to help you stop Windows 10 from spying on you. You can turn off all the tracking mechanisms, use local accounts, disable Cortana etc. and send back lesser data to Redmond. But, what if you don't want to press some buttons and type some keys to keep yourself safe? Here's an alternative: An open source app called Disable Windows 10 Tracking.
This Disable Windows 10 Tracking app is open source and its code is available on GitHub. The app disables Windows services, telemetry connection, and other snooping services. Disable Windows 10 Tracking tool is for the users who don't want to fiddle with the registry in Windows 10.
Also read: Windows 10 guide from fossBytes
App's developer says that the he started building the app as a Python script and then it was developed into its present standalone form. He shared the tool on Reddit and it gained support and popularity.
Developer Syed Qazi wants to add more features to disable most of the tracking features of Windows 10.
Download the tool here: Disable Windows 10 Tracking
Here are the instructions to use the Disable Windows 10 Tracking tool from app developer:
Instructions:
Download the Disable Windows 10 Tracking program using the link given above.
Right-click on 'run.exe' and press "Run as Administrator"
Choose any/all of the options you'd like
Press "Go Private!"
You can read the output at the bottom to see if it worked.
That's it!
fossBytes recommends you to use this Disable Windows 10 Tracking tool at your own risk.
If you don't want to trust a third party tool to tweak your settings, here's how to do most of the stuff easily with some simple mouse clicks.
Check out our homegrown product viralnews.fossbytes.com for hottest tech news on the web. For more updates, subscribe to our newsletter. [newsletter_signup_form id=1]