Short Bytes: Microsoft has released its best OS ever and it looks like "back to the future" of Windows. Realizing the mistake Windows 8, Microsoft is here to #UpgradeYourWorld with Windows 10. For the first time, Microsoft has released Windows as a free upgrade to the eligible users. Getting a Windows upgrade hasn't been this much easy as everything is a just a few clicks away from Windows 10. Know more about the upgrade process.
What to do if your system is up to date to receive the upgrade?
W
indows 10 is free for Windows 7 and Windows 8 PCs. If you already own a genuine copy of the predecessor operating systems, you'll get the Windows 10. Doubt no more. Just make sure to update your system within a year from July 29 as the free upgrade offer is valid just for a year. If you upgrade after July 28, 2016, you'll have to pay for Windows 10.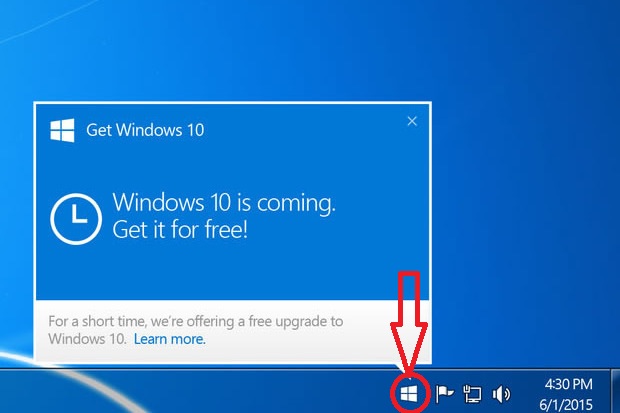 You must be seeing an upgrade icon reminding you about the Windows 10 launch in your taskbar. Click on this little icon and it'll open "Get Windows 10" app from Microsoft. Here you will enter your email address and sign up for the free Windows 10 download. Now, you have to wait for the Windows 10 upgrade on your Windows 7 and 8 PC. As Redmond is rolling out the OS in phases, you may end up waiting for weeks. Once the wait is over, your PC will download the OS and you are good to go.
If you don't want to wait for the free OS and are planning to buy is, here's how you can get the cheapest Windows 10.
If your PC is up to date, and you don't see the icon, you can follow these steps on how to get the Windows 10 upgrade icon.
Make sure that your Windows 7 and 8 PCs are fulfilling these minimum requirements for Windows 10 upgrade:
Processor: 1 gigahertz (GHz) or faster
RAM: 1 gigabyte (GB) (32-bit) or 2 GB (64-bit)
Free hard disk space: 16 GB
Graphics card: Microsoft DirectX 9 graphics device with WDDM driver
A Microsoft account and Internet access
What to do if your PC isn't up to date?
One good reason behind no Windows 10 upgrade icon in the taskbar could be Windows updates. Make sure that you've installed Service Pack 1 on Windows 7. If you haven't, go to setting and check for Windows Update. Windows 8.1 users can do the same by clicking on the Store tile on the Start screen and perform the update.
Now after updating your systems to the latest Windows 7 and Windows 8.1, you can see the Windows 10 upgrade icon on your PC. If you don't see the icon, know here how to get the Windows 10 upgrade icon.
What if you're running Windows XP, Windows Vista, or Windows RT?
Sorry folks! Windows XP, Windows Vista, or Windows RT machines are not eligible for free Windows 10 upgrade. For Windows RT, Microsoft has promised some update in September, but there isn't much known about that.
For the upgrade, you'll have to buy Windows 10. You can check out some clever ways to get Windows 10 at the lowest price. 
How to install Windows 10 on your PC?
If you are eligible for Windows 10 upgrade and you're seeing the pop-up notification to start the upgrade, congrats! You're ready to install Windows 10.
Before starting the installation, it's good to make a backup of your PC, but it isn't necessary as you won't be losing your files and apps.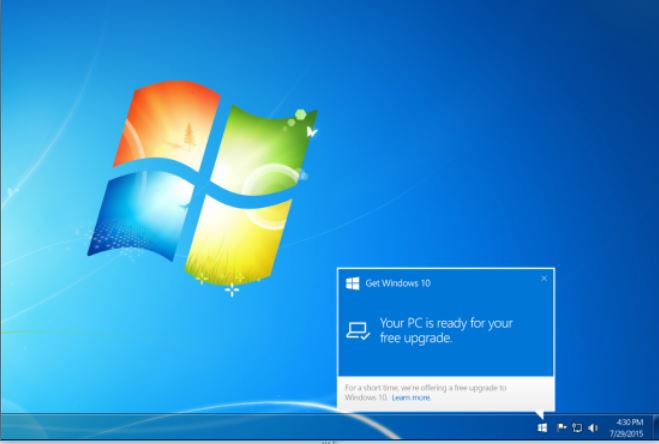 All you have to do is click some "Next" buttons and as the installation completes, you are all set to configure Windows 10 settings.
You'll get the option to choose Express Settings and Customize Settings. Choose any of them according to your convenience and use Windows 10. Stay tuned for more tips.
Must read: Stop Waiting! Know How to Install Windows 10 Without Windows Update
Did you find this article helpful? Tell us in comments below.