Security breaches are becoming common in the digital world. And here, our carelessness towards properly safeguarding our online accounts can take a major toll on our privacy and safety. Just like others, the popular microblogging site Twitter also offers 2FA (Two-Factor Authentication) as a robust means to secure your account. In this article, let's explore how to enable 2FA on Twitter and what other stuff you can do to boost your security.
How to turn on Two-Factor Authentication on Twitter?
Twitter offers you three ways to enable 2FA on your account. You can get a code via SMS, use an authentication app, or go with a physical security key. Here are the steps you need to follow:
Twitter 2FA on Android and iOS
1. On your Twitter app, tap on the hamburger menu button > Security and Privacy.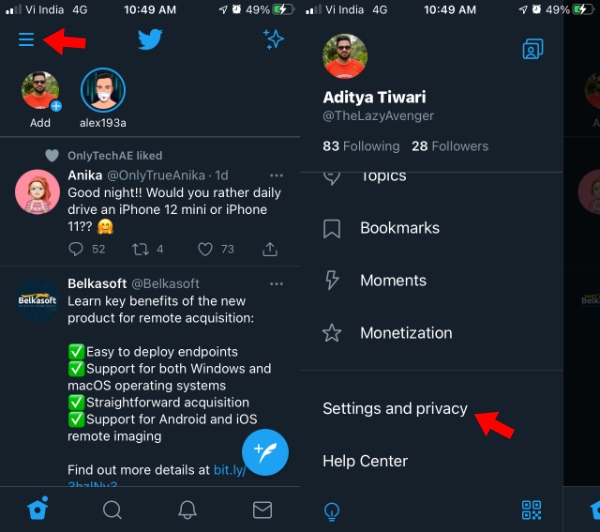 2. Go to Account > Security > Two-Factor Authentication.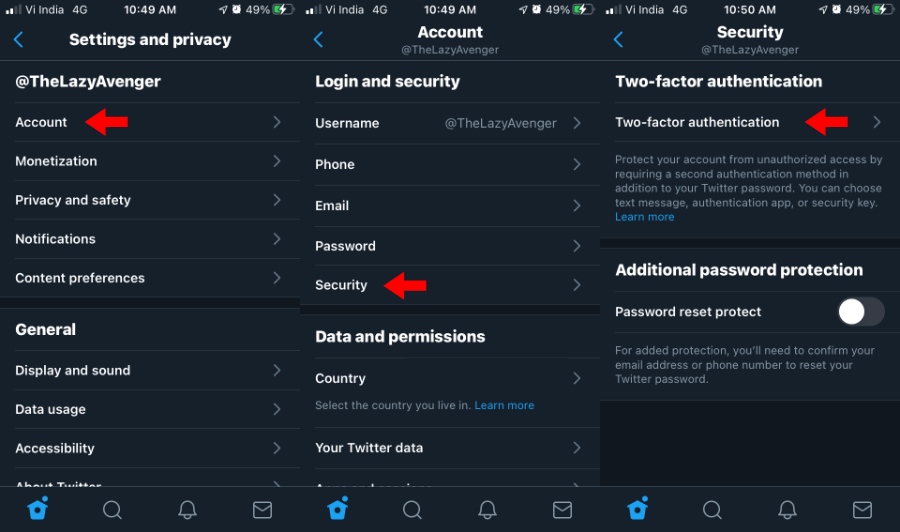 3. Now, you'll find three toggle options for SMS code, authentication app, and physical security key.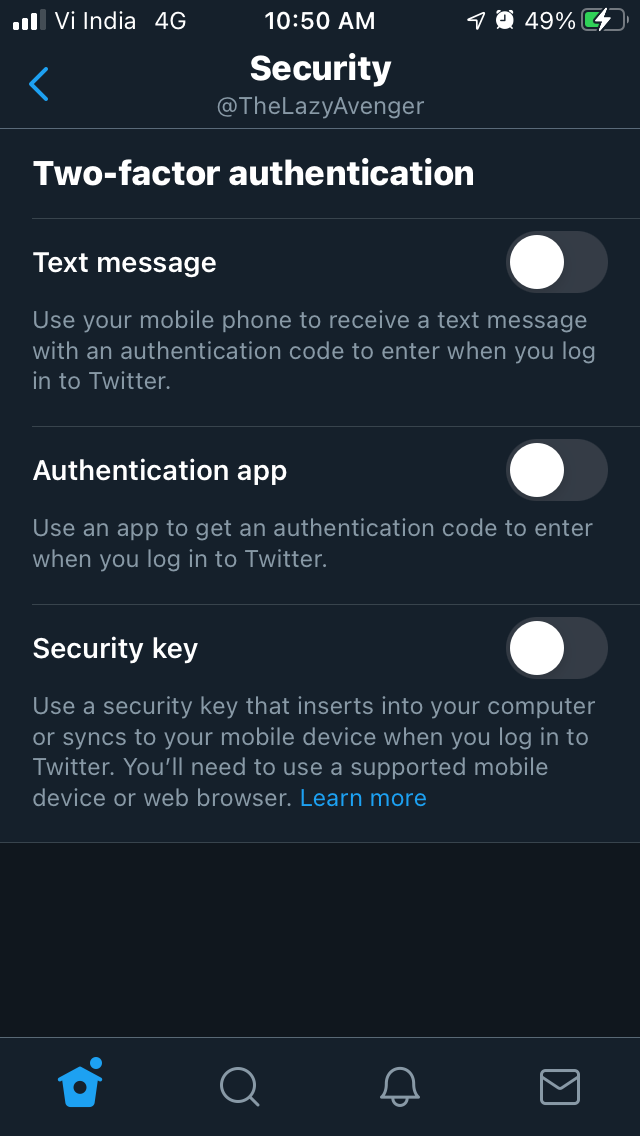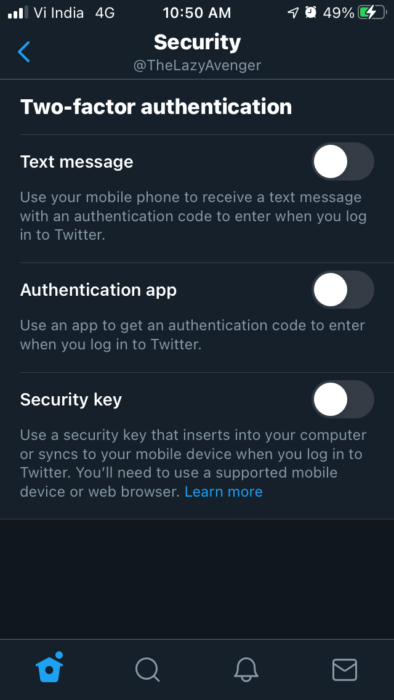 4. You can turn on one or more of these Twitter 2FA options as per your requirement.
5. If you enable the SMS code option, a web view will open where you need to verify your phone number.
6. Tap on Get Started. Then enter your Twitter password and tap on Verify.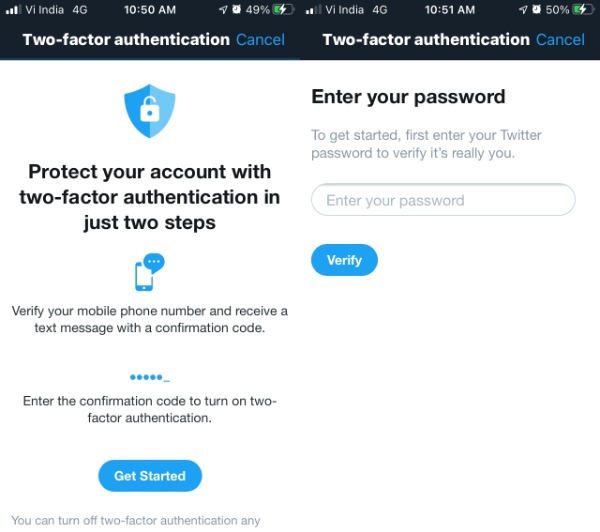 7. Next, tap on Send Code to get a verification code on your phone. Enter the code on the next screen.
8. Now, Twitter will provide you a backup code that'll help when you can't get SMS for 2FA.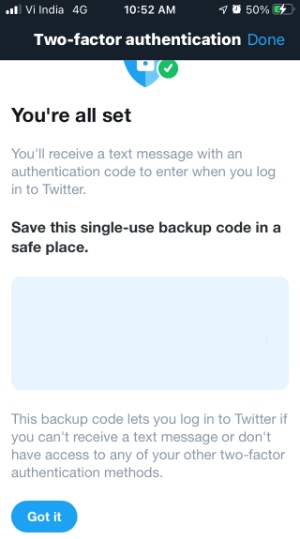 That's it. Save the backup code in a safe place for later use. One thing to note is that the backup code can be used for a single login, after which you'll have to generate another code from the app. You can do so from the two-factor authentication screen itself.
Turn off 2FA on Twitter
Now, it could be possible that the 2FA might feel a bit annoying after a while. In that case, you can turn it off by following the same steps as above and tapping on the toggle button again. Accept the warnings that show up after that.
However, it's advised that you should use two-factor authentication not just for Twitter but for other apps as well.
Set hardware security key as the only 2FA
Out of all 2FA methods, the SMS code is considered the least secure one. Here, you might have noticed that there are separate toggle buttons to enable Twitter 2FA options. This feature has been rolled out recently so that you can choose only one option if you want.
For example, you can go with the hardware security key option, which is considered the safest. You can use more than one security key with your Twitter.
So, this is what we know about enabling Twitter 2FA to improve account security. If you have anything to add, drop your thoughts in the comments below.
Twitter 2FA FAQ
Does Twitter offer an authentication app for 2FA?
You can use the app-based 2FA on Twitter, but the company doesn't have an authentication app of its own. You can pick from reliable options like Google Authenticator and Authy.
How to get a Twitter verification code without SMS?
If you don't want SMS codes, you can pick the Authenticator app option when enabling Twitter 2FA. These apps can generate codes even without an internet connection.
What to when I don't Get a Twitter verification code on SMS?
The first thing you can do is reset your network by disabling and enabling the Airplane Mode. If that doesn't work, you can use the one-time backup code to access your account.