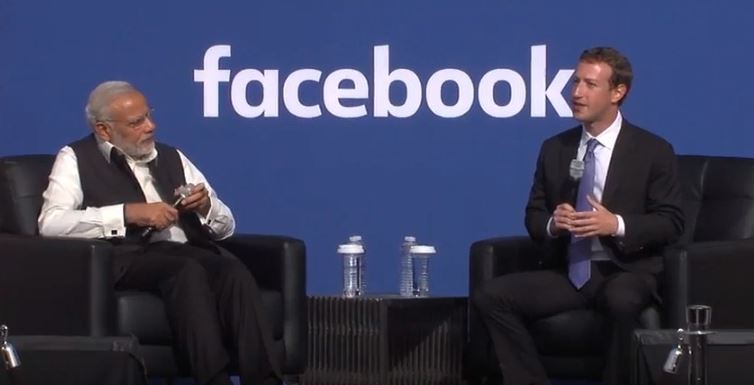 Short Bytes: Indian PM Narendra Modi attended his first ever Townhall Q&A session with Facebook CEO Mark Zuckerberg at Facebook headquarters. 
A
fter a much-hyped visit to the United Nations General Assembly, Indian Prime Minister Narendra Modi finally reached the Facebook headquarters in Menlo Park, California for the Townhall Q&A session with Mark Zuckerberg. This was his first visit to the Silicon Valley and this had raised the hopes of the country that is battling serious obstacles for entrepreneurship and the ease for doing business.
Seated comfortably during the townhall with Facebook CEO Mark Zuckerberg, Mr Modi had a barrage of questions ranging from unemployment and women's issues to social media and Internet expansion in India. Mark Zuckerberg himself asked the Indian PM of his mother's role in his life. However, only a few could be answered due to limited time.
Here are some highlights from Mr Modi's first Facebook Q&A session:
1. Social Media As Means Of Governance
Social media is now playing a pivotal role in helping the governments get real-time updates and knowabout the unpopular policies via netizens' dissent. Mr Modi said, "Social media has the potential to show the government if it is taking a wrong path and then go for a course correction, it is a strength of a democracy."
He also praised social media for spreading information as he said, "I did not have the fortune of much education, but social media helped me gain knowledge. It broadened my horizons."
It should be noted that Modi owes his huge popularity and subsequent rise to power to his clever adoption of social media.
2. Make In India
Make In India is reckoned to turn India into a global technological centre. As soon as the project was announced by the PM, it created equal support as well as skepticism among the Indian masses.
The secret to Make In India, he said is, "The low-cost manufacturing, skill, man power, raw materials — these are what we have. I don't think this is something that someone can ignore. In fact, it is a paradise for investors."
Since its advent, between September 2014 and Aug 2015, India has received US$17 billion worth of proposals to "Make In India".
3. India and Its Women Power
Modi made his views pretty clear with a strong statement, "All societies believe in god, but mostly they are male, only in India we have women goddesses- Durga, Kali, Amba."
As for the country's development he said, women must walk shoulder to shoulder with men. He also advocated the government's policies on women's reservation in the police and signifying their role in the armed forces, tech and medical institutes and as well.
The Prime Minister had his eyes drenched as he spoke of his mother when asked about her role his life by Mark Zuckerberg. He talked of his life when he was poor and how his mother made sacrifices for the family. He said that it is due to her blessings today that he is the most powerful man in the largest democracy of the world.
Overall, the townhall meeting went well and the PR team would be quite happy with their efforts, but the meeting lacked substance as the Q&A session avoided most of the contentious topics.
His government's approach on Net Neutrality and the often radical ban practice of the government that seems inappropriate to them and many more like these were swept under the carpet.
Nonetheless, Mr Modi in Silicon Valley made an impact, and the country is hoping that something good comes out of this visit.
Watch the portion of Q&A session below:
The most amazing moment this morning was when Prime Minister Narendra Modi and I talked about our families, and he shared stories of his childhood and the impact his mother had on his life. His answer is deeply moving and inspiring, and it's worth watching all the way through.

Posted by Mark Zuckerberg on Sunday, September 27, 2015