The Digital Millennium Copyright Act or the DMCA is a sensitive topic on the internet. It is the one thing that has opinions from both the creators and the pirates. While copyright owners love how swiftly it works, this speed comes at a cost. Repeating the old "with great power comes great responsibility" mantra, we have a case where Google isn't showing enough responsibility.
Recently, we received a DMCA notice from an organization named the Video Industry Association of America. It requested two URLs to be removed, one of which was our home page, and kudos, Google removed it from the results (and it is now restored). Also, aside from us, the organization's DMCA demanded the removal of 600 more URLs, of which many belong to reputed publications like The Verge, Wired, BGR, Engadget, and Beebom.
According to the DMCA, the Video Industry Association of America monitors 'circumvention mechanism' or ways that might give readers or viewers an idea of how to exploit an app. Of the 170 domains it has named and the 600 links it has submitted, not all fit the bill for what the association might be trying to prevent.
What Got Us Into This DMCA Mess?
Not seeing your home page in the search results is obviously a hit, but we wanted to know what led us to it. We have comprehensive coverage related to online streaming platforms. One of our articles that shows how to use Netflix's in-app method to watch content offline has dragged us into it. In simpler words, all we did was explain how you can use the "Download" feature that is baked into your Netflix app and watch the content offline.
After talking to a lawyer friend about it, I'm sure this does not fit the bill for piracy or 'circumvention' of Netflix's paywall. However, Fossbytes was named in the DMCA so Google's DMCA system acted. But now, it is going to take its sweet time to act again and reinstate us.
Breaking Down The DMCA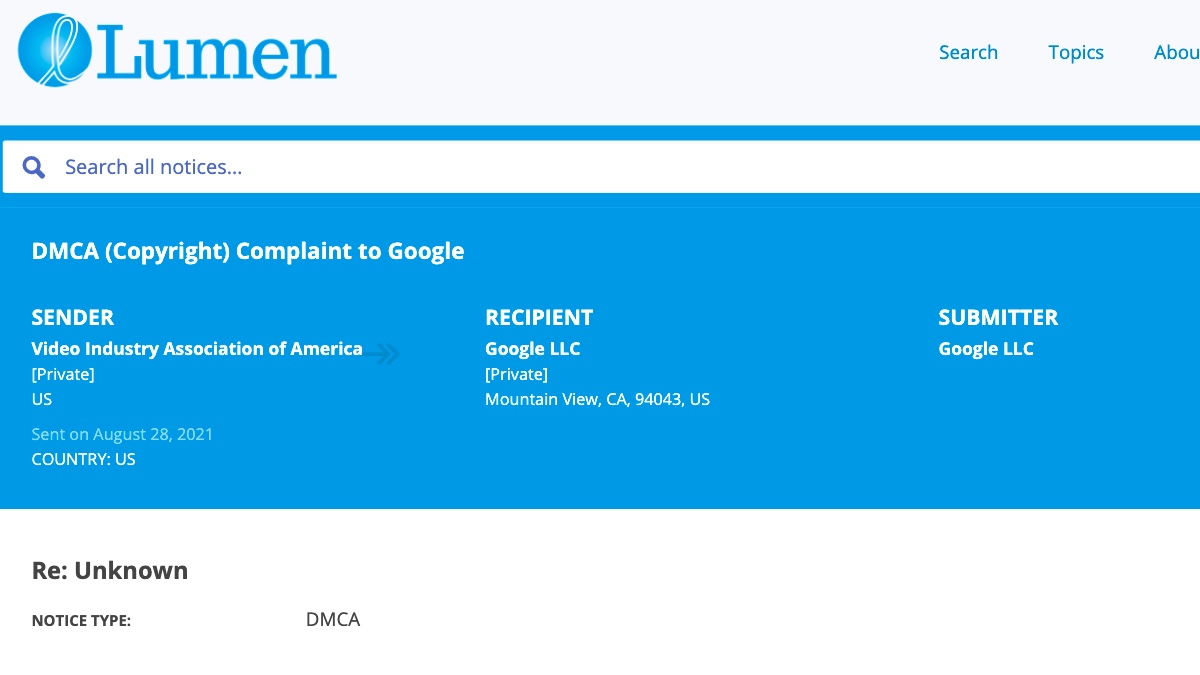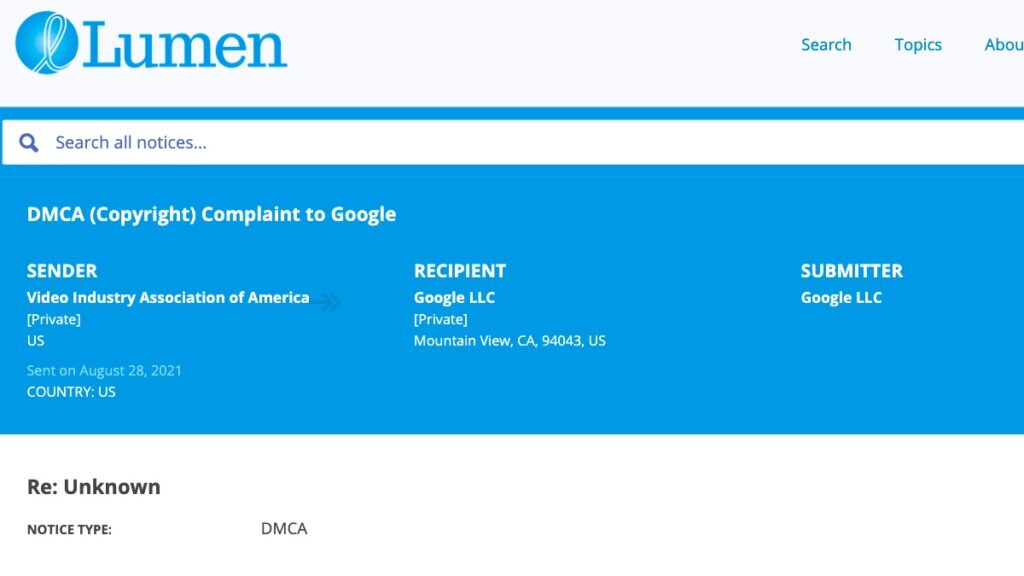 You can click on this link to read the notice we received. All the legal lingo aside, there's not a shred of solid evidence to prove we did something wrong. To start with, the list of URLs is titled "Allegedly" infringing URLs. Then the mail we received from Google's DMCA System also says that "materials available on your site may be tools to circumvent copyrighted content."
I highlighted the "may be" to show that we've been sent a notice without context. Google clearly did not bother going through the material before delisting it. Having a lion's share in the search engine market, we don't expect it to scan each URL, but some research would be nice. It would also save sites like ours the trouble of going through the process to get our home page listed again. Not to mention the time and resources it takes to get this done.
Our site aside, the DMCA names several news publishers. This clearly shows that the removal request is generated by some sort of automation. It has a pattern but it lacks context; we could simply call it the errors of automation.
History Teaches Nada
In this case, we're again referring to Google's DMCA system and asking what has it learned from history? For instance, Google admitted that 99.95% of Trusted DMCA notices submitted in 2017 were bogus. If that's too old, we have something as recent as July this year!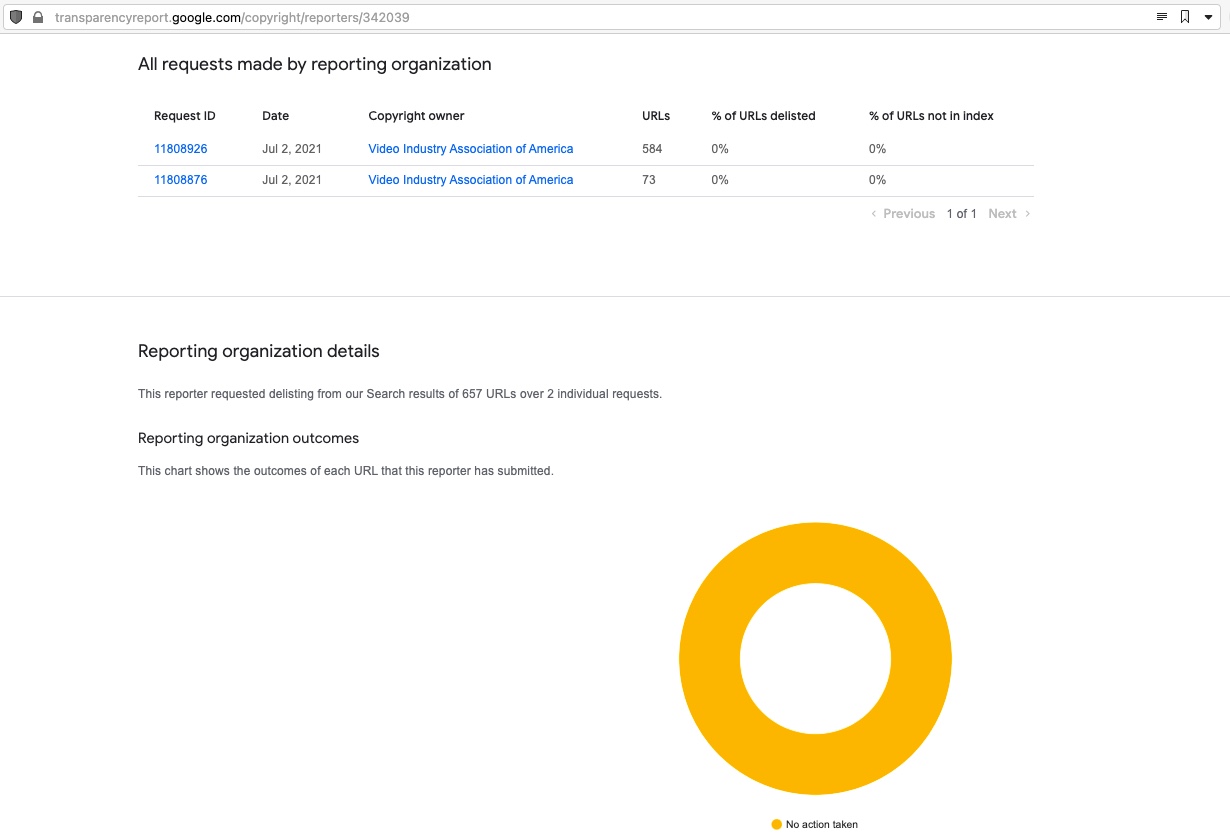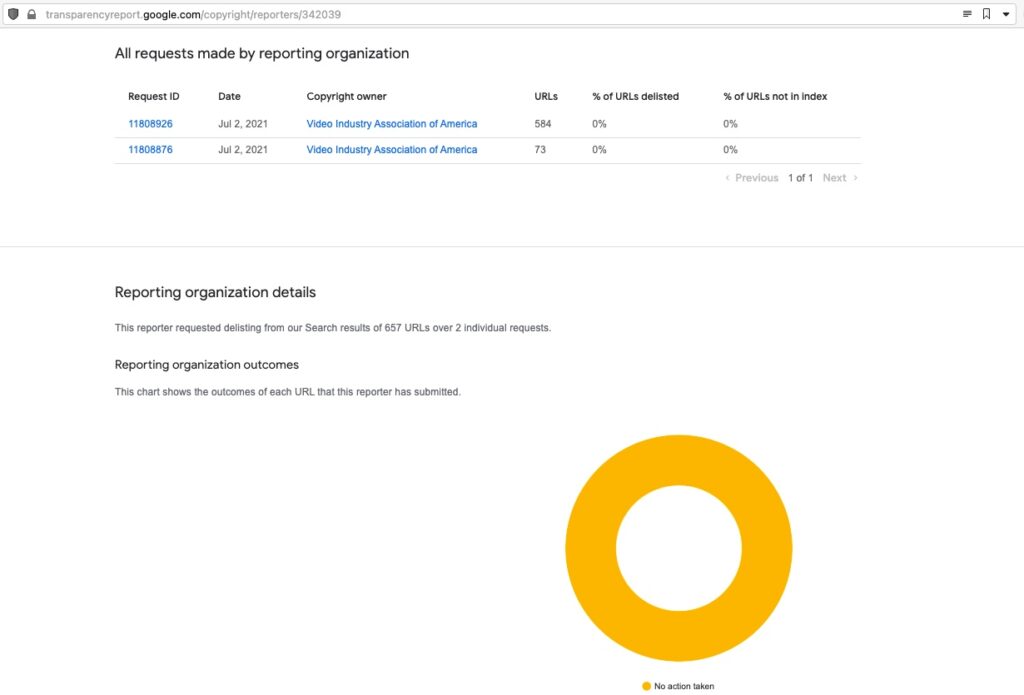 The Video Industry Association of America, the same organization that sent us a DMCA, has made similar requests in the past. According to Google's Transparency Report, the Association made two separate removal requests in July 2021. The first request demands the removal of 584 URLs and the second one demands 73 more. Out of these 657 removal requests, zero were entertained.
Basically, Google did not even delist 1% of the URLs requested by the Association. Then, has made this recent request where it also includes multiple publications and demands their removal from Google Search. At that time too, Google must've sent notices and delisted sites, then reinstated them, bringing the final number to zero.
So a request which asks for 600 removals gets zero removals, which means there's something wrong with how these requests are made. Shouldn't Google see a pattern here and double-check before entertaining mass removal requests like these?
To know more about this, we've contacted the Video Industry Association of America, asking them for the parameters for these removal requests. We will update this article if we get a response from them. For now, we're just trying to get our home page back in Google Search.
It's A Troll!
Under regular circumstances, it is always better to completely ignore the trolls, but this is a special one. There are no traces of a "Video Industry Association of America" on Google. It was strange at first, but then we stumbled upon a Facebook page of the same name. At the time of writing this update, the page isn't there anymore.
The simple conclusion that comes from all this is that the "association" is an elaborate troll that has been abusing Google's DMCA system. This makes it more serious for us as well as for Google that lets everyone cry foul without much verification.
We've also been in touch with Ernesto from TorrentFreak, who has been actively covering bogus DMCAs and piracy claims. He also says that these DMCA claims are possibly bogus and that the Association doesn't exist. We'll also keep digging and update this story accordingly.
Update: We Are Back
TorrentFreak contacted Google about the issue, to which it got this response "We are aware of these fraudulent notices. We have a number of mechanisms in place to detect abuse, and are always making improvements to our approach. Our transparency efforts are designed to help third parties, including journalists, identify these types of issues, and when they come to light, we reinstate URLs as appropriate."
Google has also restored Fossbytes home page in the search results, which means we're back on Google. It is all the more proof that the removal was a result of a bogus DMCA. While we appreciate the quick restoration, it'd be much better if delisting was done with some more consideration.
What do you think about the DMCA system and its usage? Let us know in the comments.