Google Voice is a service that the company nearly shut down, like many of its products. But it survived the axe and is still around. Google announced in its blog post that the app will now identify potential spam calls and add a spam badge to it while your phone rings. However, you have the control to pick up the call and mark it as non-spam or let the app do its thing and shroud you from telemarketers and other spammy callers.
If you receive a call from an unknown number with a history of being flagged as a spam number, there will be a "suspected spam call" label beneath the phone number.
Will Google Voice label everything as spam?
No. Google maintains a record of spam numbers by assimilating the data of the phone numbers reported by users as spam. Even if it does falter on some occasions, you have the option to mark the number as "not spam." Google will take care of not labeling the number as spam when you receive a call from the same number next time. However, if you do agree with the app's recommendation, it will simply send all future calls from that number to voicemail.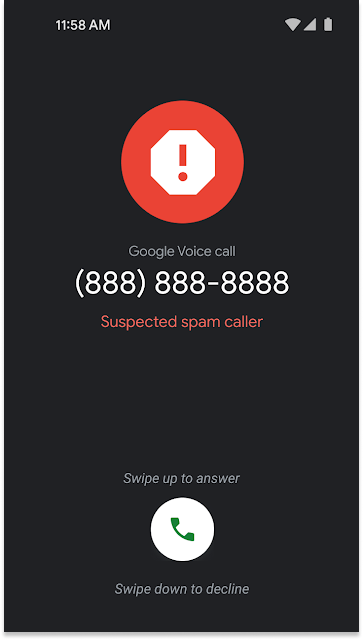 You won't see the call log entries from that number in the main logs section. Google Voice will move it to the spam folder. Make note that if the Filter Spam setting in Google Voice app is off, it will show the spam label whenever you receive a call from such a phone number. If you enable the Filter Spam settings, all calls will be automatically sent to voicemail, and the call will be entered into the spam folder.
If you are wondering where to find this new spam call filter feature, head over to the app settings. Then locate the security section, and you will see the Filter spam option. Since this feature is in the early rollout phase, you may not see it instantly. It can take up to 15 days for the Spam filter feature to reflect in your Google Voice app settings. Keep checking for updates, though!