Update: Apple has now started its Diwali offer where you can get free AirPods earbuds when you buy an iPhone 12 or 12 mini smartphone. You can check out the details here. Click on the Shop button > select your preferred iPhone model and other stuff. Then pick from the AirPods models on the next page. You'll have to an extra Rs 10000 for the Pro model.
The original story starts from here.
If you are planning to buy something expensive this Diwali in India, then a new iPhone 12 smartphone could be one of the considerable choices. After the release of the iPhone 13, Apple is throwing away some lucrative offers to empty the stocks of its 2020 iPhone.
For buyers in India, Apple is offering a pair of free AirPods if someone buys an iPhone 12 or 12 mini. Here are the details about the new offer.
What is the free Apple AirPods offer all about?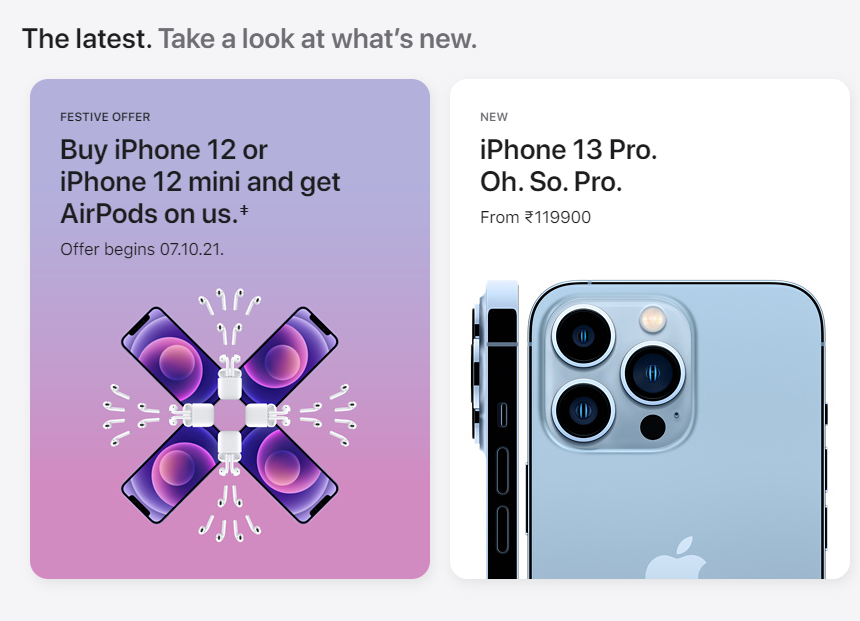 As said, an iPhone 12 purchase can bring AirPods along. Apple has put up an unclickable card on the Store website to announce the new offer. It is to celebrate Deepawali which is one of the biggest festivals celebrated across the nation.
According to the website, all variants of the iPhone 12 and 12 mini are eligible for the offer. However, one user can avail a maximum of two promotion products.
Currently, iPhone 12 mini price starts in India at Rs 59,900 and the regular iPhone 12 at Rs 65,900 on the Apple Store. On the other hand, Apple is selling AirPods at Rs 14,900 and charges Rs 4,000 extra for the wireless charging case.
When will the free AirPods Diwali offer begin?
As per the Apple Store website, the promotion will start on October 7, 2021, but there is no word on when it will end. However, more details are yet to be revealed like which model will be offered for free.
Apple will offer Promotion Savings on the purchase of iPhone 12 with AirPods (Wired Charging/Wireless Case) or AirPods Pro. It's expected that the iPhone-maker might offer the regular 2nd Gen AirPods for free and charge an upgrade fee for the wireless charging case and AirPods Pro just like it does for the Back To School program.
But we should wait for a few days to get the exact details. We'll update this story as soon as more information arrives.