The popular battle royale game Fortnite will go offline in China very soon. The news comes after the online multiplayer title was launched in the country as a "test" earlier.
Understandably, the end of the Fortnite test would effectively oust Epic Games's magnum opus from China. This falls in line with the Chinese government's recent pattern of cracking down on popular games.
The notice posted on the official website mentioned a shutdown schedule for Fortnite servers this month. According to it, the website will stop registering new users and disable downloads from 11 AM on November 1, 2021. Moreover, users who are already registered will lose server support at 11 AM on November 15, 2021. This would render the game inaccessible in the country.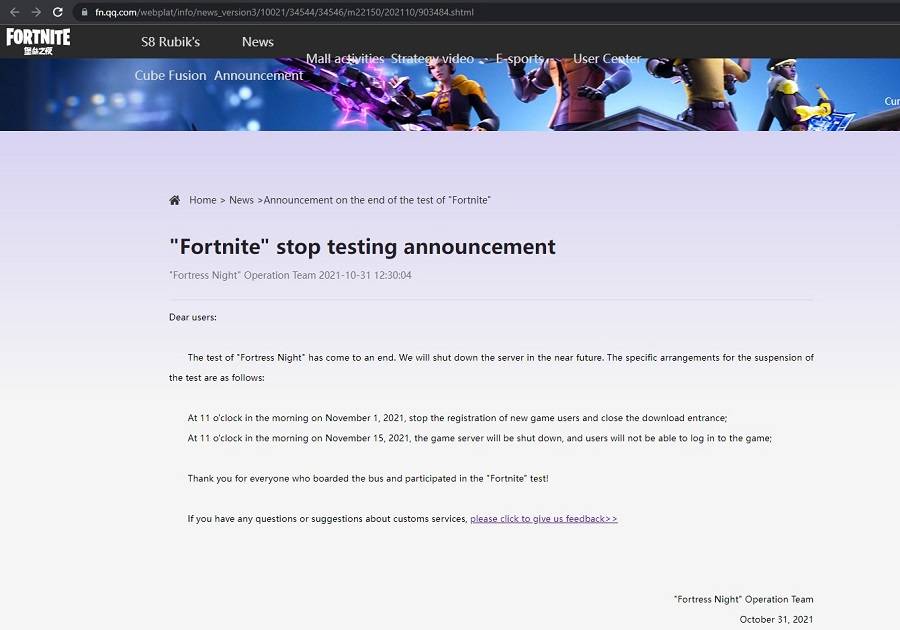 In case you didn't know, Fortnite's Chinese edition is quite different from the version available elsewhere. There are a few welcome changes, which include the absence of microtransactions since everything is unlocked through in-game actions. On the other hand, some changes, such as shorter battle royale games tweaked to be easier and more casual, might not please everyone.
Interestingly, Fortnite's shutdown notice didn't share any stats from the test phase. Also, it didn't reveal if the game will get a full release in China anytime soon. However, knowing how eagerly the government wants to tackle gaming addiction, the chances of the game's return look slim.
What do you think of the Chinese Government's actions for controlling gaming addiction? Do you think they are reasonable or just overkill? Tell us your thoughts in the comment section below.