If you have used up the number of swipes on Tinder, here is something interesting for you in the meantime.
There is an Amazon dating site where users can "buy" the people who they want to date. The satirical website was spearheaded by creative duo Ani Acopian and Suzy Shinn and built by Thinko, with help from Morgan Gruer.
Wait, What?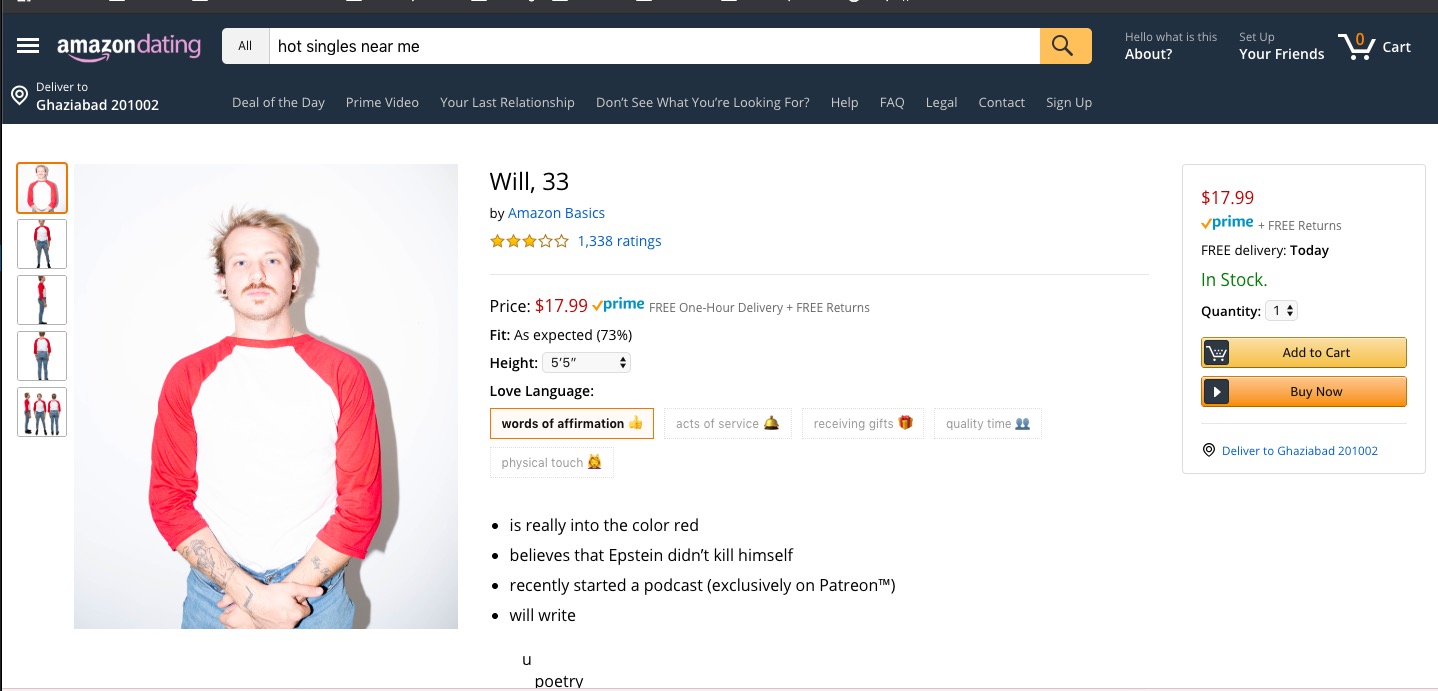 Similar to how objects are listed on Amazon, the site lists real humans. On top of that, there is a price with each person along with reviews, hobbies, and the option to choose between different heights.
Interestingly, all the humans for sale seem to have these qualities — words of affirmation, acts of service, quality time, physical touch, and receiving gifts.
After selecting the person of your interest, you only have to click on the "Buy" button. After you've placed an order, a confirmation page appears displaying your order details. But don't go on believing that you will literally get a human, the fun ends here.
Where fun goes to die
While the project might seem funny and something to lighten your mood, a few have raised concerns about some 'pressing issues.'
One of the big issues is that some humans are priced differently than others, possibly because of their background. One tweet taunting the website said, "extremely cool idea to put buy buttons on black people during black history month."
extremely cool idea to put buy buttons on black people during black history month

— sega playstation (@bijanstephen) February 4, 2020
Nevertheless, a lot of people found the project funny. Moreover, few who would remain single on Valentine's day even found solace while exploring the website.
Do sign the NGA
If you are planning to buy people, don't forget to read their NGA agreement, a.k.a. Non-Ghosting Agreement, available under the legal section.
It essentially means that you cannot ghost the other party unless you have good reasons including "illness resulting in hospitalization, death of an immediate family member, and death of either party."
Make sure to check out their FAQ to get more details about the project.