Short Bytes: Extratorrent.cc, the primary domain of popular torrent site ExtraTorrent, has been shut down by its registrar Internet BS. The Whois lookup of the website is showing the "clientHold" status, which is shown in the case of some legal dispute or non-payment. However, the website is accessible in many parts of the world via backup domains.
Update (May 17, 2017, 10:30 pm IST): According to the latest news, Extratorrent is now permanently offline. Read this story to know more.
A
fter the demise of many popular torrent websites like KickassTorrents, already-popular torrent website ExtraTorrent witnessed an exponential growth. You can easily find the website at #3 position in our list of the
top torrent websites of 2017
. But, in a major development, ExtraTorrent has lost control over its main domain Extratorrent.cc.
The popular torrent websites face different types of problems from time-to-time. Due to some unknown reason, website's main domain has been put on "clientHold." This development was first spotted by TorrentFreak.
Here's the Whois lookup of Extratorrent.cc: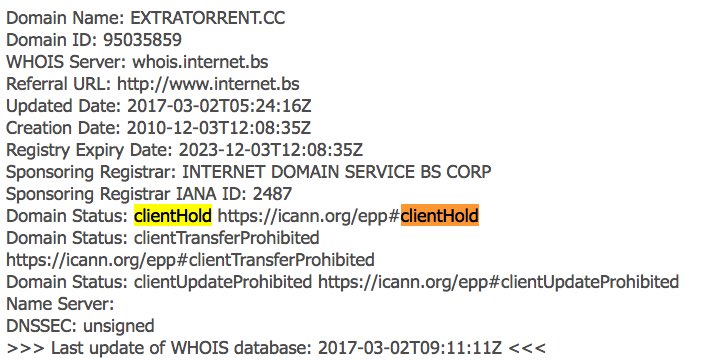 You can also see the last update of WHOIS database as "2017-03-02"
TF reached out to the registrar Internet BS for an explanation but the company refused to reveal information to any third-party.
The "clientHold" tag is usually used for domains that are facing some legal dispute or due to non-payment. The tag is also seen when a domain is subject to deletion. So, it might be safe to assume that the company's primary domain has been suspended to some copyright complaints–something which isn't surprising at all.
If you access the domain right now, you might be able to access the website. Well, it's due to the fact that the website is now available via backup domains like Extra.to and Extratorrent.one.
We'll be updating you if we sniff any related development in near future. Don't forget to express your thoughts regarding this shutdown.
Meanwhile, take a look at this: