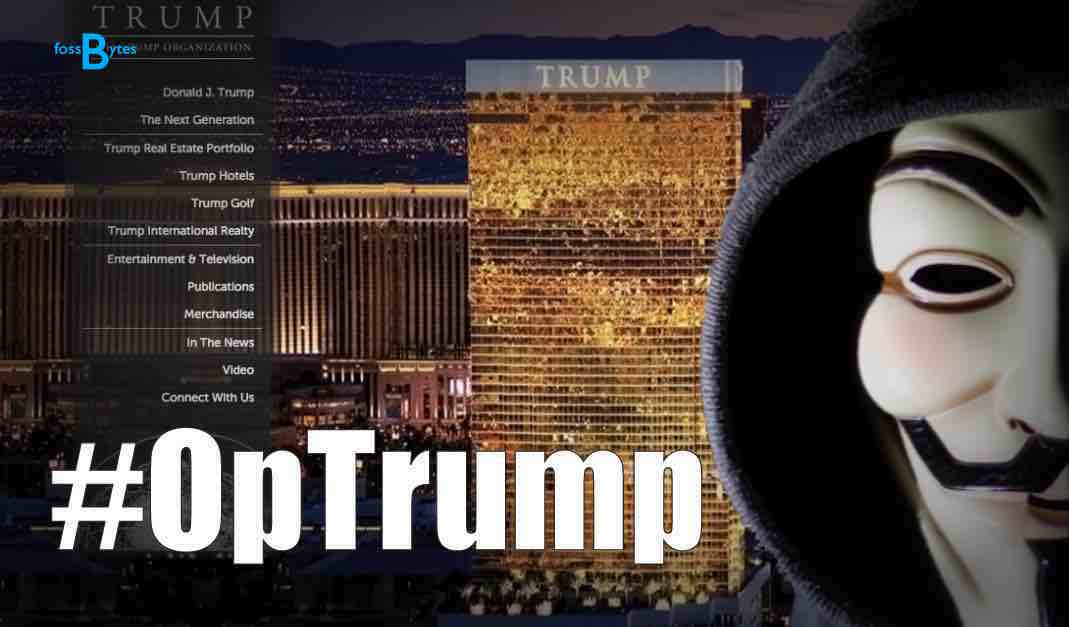 Short Bytes: As promised, the hacktivist group Anonymous has started its #OpTrump campaign. The Anonymous hackers have leaked tons of personal information about Donald Trump and dumped it online. They are also planning to do more damage by DDoSing Donald Trump's websites and some famous universities.
E
arlier this week,
Anonymous declared a war on Donald Trump
and encouraged the hackers from all around the world to participate in the planned DDoS attacks. Starting this 'total war' against the Republican Presidential candidate, 
the hacktivist group has released an extensive amount of personal information about Donald Trump.
This first wave of attack has leaked his social security number, birth certificate, phone numbers and home address. While it's not clear how much of this information is accurate, the data has already been dumped on Pastebin which is a web application that stores text content.
As a part of the #OpTrump campaign, Anonymous is looking to amplify the intensity of its attacks on Donald Trump. Talking to fossBytes, a member of Ghost Squad Hackers, an Anonymous-affiliated group that hacked Ethiopian websites in response to the killing of protesting students, told that the group is planning to attack Donald Trump's website Trump.com and flood it with DDoS attacks.
"Donald trump has pissed us off by many things, first he talks about banning Muslims and then he talks shit to the black movement, and he is the first guy we know to show his middle finger on tv," the hacktivist group member told.
Additionally, the group is also aiming to hack some US-based websites — including some famous universities — to send a message to Donald Trump. "The reason we choose universities is, to let the generation know what they are up against and what kind of leader will lead them," the hacker told.
The hacktivist group Anonymous has evolved over the years and gathered the support of numerous hackers from all around the world. Before targeting Trump, the hacktivist group was involved in its battle with ISIS as a part of the #OpParis campaign.
If you are interested in knowing more about their famous campaigns, here's something for you: Anonymous Top 10 Achievements: Hacking Group Releases New Video