Adding to its various camera testing tools, DxOMark has now added two new tools to its portfolio. The tools will test the Night mode and Ultra wide-angle camera capabilities of a smartphone.
DxoMark's Night and Wide Camera Testing Tools
DxOMark will now consider a smartphone's low-light photography, as well as, images clicked from the Ultra wide-angle camera sensor. Both these camera features are now a common sight on various smartphones. 
For those who don't know, LG was the first to introduce an Ultra wide-angle camera with the LG G5 and we all know Google was the first to release its night mode called Night Sight.
This reminds me that the recently released Apple iPhone 11/Pro/Pro Max come with support for Night Mode, although, they're the last to join the party.
Ultra Wide Angle Tests
DxOMark's Ultra Wide Angle test goes for real-life scenarios wherein the light levels range from around 1000 to 50 lux and tests at the "widest focal length."
Their wide-angle camera testing tool is able to bring out the results after taking around 100 indoor and outdoor images.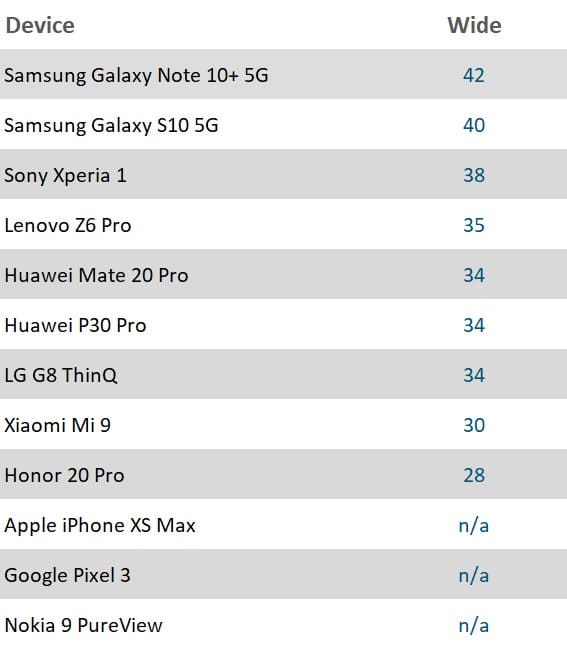 Night Tests
For testing low-light photography, the new tool, much like the Wide-angle tool, takes into consideration real-life scenes. The test includes factors such as night cityscapes, low-light portraits, and shots in extreme low light—in flash-on, flash-off, and flash-auto modes.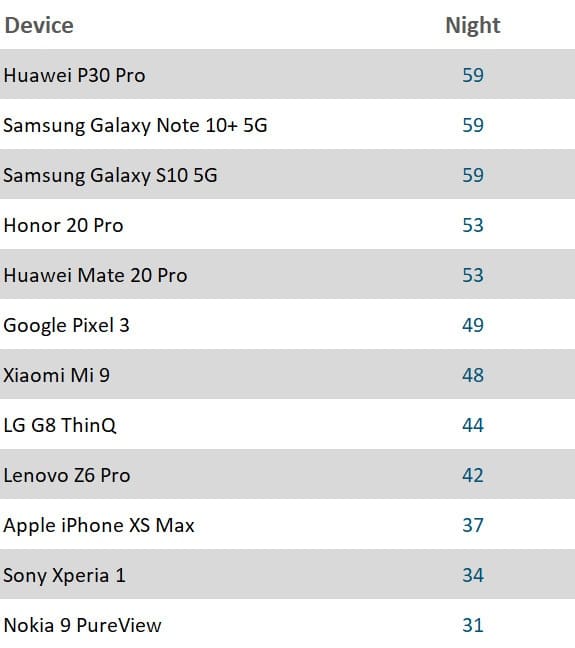 Additionally, the tool tests the dedicated night mode, if found on a smartphone.
Much like the Wide-angle tool, the Night tool also includes exposure, color, texture, noise, artifacts, and autofocus performance while evaluating.
DxOMark Wide-Angle and Night Scores
The new tools' introduction involved the reassessment of the popular high-end smartphones and the overall DxOMark results declared the Samsung Galaxy Note 10+ 5G in the first spot.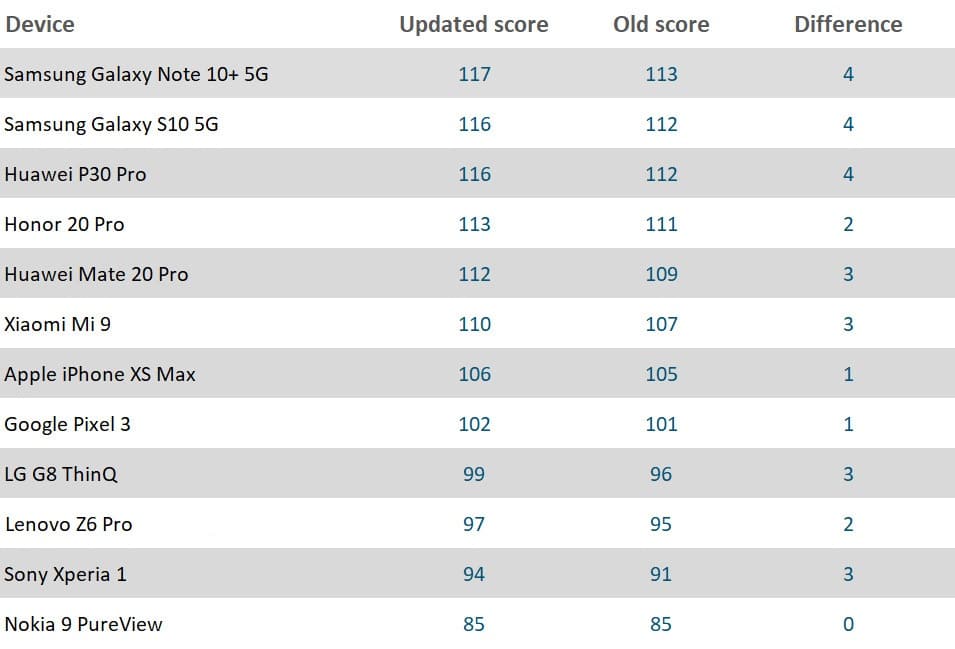 It was followed by the Galaxy S10 5G in the second position, the Huawei P30 Pro in the third position, the Honor 20 Pro in the fourth spot, and the Huawei Mate 20 Pro in the fifth spot.
For individual scores, the Huawei P30 Pro tops the Night photography list while the Samsung Galaxy Note 10+ 5G stands in first place on the Wide-angle list.
DxOMark's Selfie Test
For those who have forgotten, DxOmark recently introduced a test that will assess a smartphone's front camera, which too currently has the Samsung Galaxy Note 10+ 5G in the first position.