Powered by the Maruti Brezza 1.5-liter engine, the Suzuki Jimny was first showcased earlier this year in the AutoExpo 2020. Initially, Maruti Jimny was a 3-door mini SUV. As of now, a bigger 5-door variant could enter the Indian market by the end of 2021.
Similar to the 3-door Jimny, its bigger variant will also be powered by a 1.5-liter K15B engine. It is the same engine that powers Maruti Ertiga, XL6, etc.
Suzuki Jimny is based on the original 1981 Maruti Gypsy and is, therefore, a nostalgia trip for all a lot of fans.
Here's everything you need to know about the 5-door Maruti Jimny.
2021 Maruti Suzuki Jimny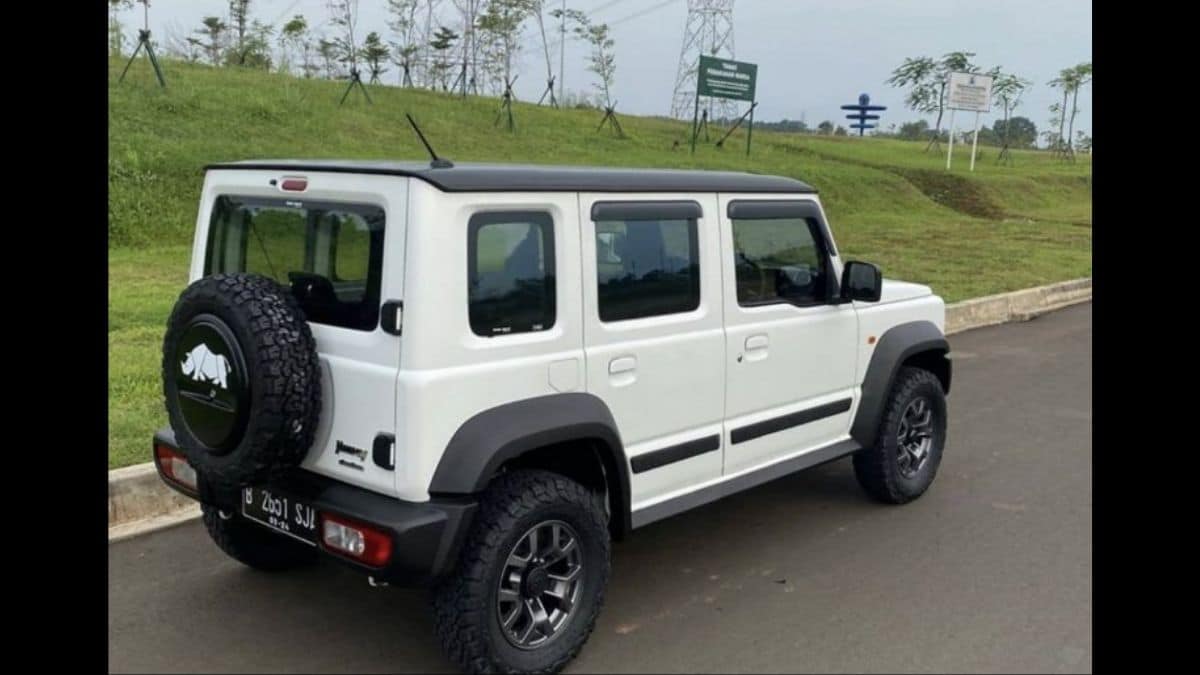 Exterior And Structural Changes
The 3-door variant of Maruti Jimny is 3600 mm long, 1600 mm wide, and 1700 mm high which is quite tall. The India-bound 5-door Jimny variant is pretty much the same except for the length which is around 4000 mm.
Maruti Jimny mini SUV has a ladder frame chassis under its body which provides extra strength for off-roading. However, it adds more weight to the vehicle. Additionally, the mini Jimny will have an All-Grip Pro 4X4 which is an AWD technology.
However, the 5-door full-size Jimny may launch in India in two variants, an AWD (All Wheel Drive) and FWD (Front Wheel Drive) option. Any vehicle with a Front Wheel Drive system has lighter weight and offers better fuel-efficiency.
Do note that AWD vehicles have two differentials whereas FWD has only one at the front. A differential divides the engine torque and allows the wheels to rotate at different speeds.
This means the FWD variant might be in an affordable version of the car. However, it will not be suitable for offroading.
Engine
As mentioned earlier, Suzuki Jimny will have a BS6 compliant 1.5-liter K15B engine. The engine could produce 103 HP and a peak torque of 138 Nm.
In a Matt Watson review last year, the mini Jimny touched a mark of 160 Km/h with this engine which is quite impressive. However, there was considerable engine and cabin noise at this high speed.
Apart from that, it might be possible to have a hybrid engine in the full-size FWD Maruti Suzuki Jimny. However, it's only speculation.
Interior Of Maruti Suzuki Jimny
The dashboard and theme of the interior are pretty much the same as in mid-range vehicles of Maruti. According to the company, they kept the interior a bit bland so that drivers would not get distracted while driving.
The infotainment system is the same as found in Maruti Swift. Talking about the gear stick, you could hardly tell the difference because it's the same as in other models.
Price
Even though the Maruti Jimmy will be a 5-door compact SUV, the company will likely keep it as a budget SUV. We can expect the price to be between Rs 8-11 lakh (ex-showroom).