Short Bytes: Some users have started to see intrusive OneDrive advertisements in Windows 10's File Explorer offering 1TB OneDrive storage along with the Office 365 products. It's not surprising given Microsoft's history of shamelessly promoting products in the past. The annoying advertisement can be disabled using the File Explorer options in the Windows 10.
M
icrosoft gave away Windows 10 for free (not all but for many people), and so is the case of the
upcoming Creators Update
. How they're gonna make money? By pushing advertisements in their very own operating system.
Users have complained that Microsoft has started to display $6.99/mo OneDrive subscription ads in Windows 10 File Explorer or more commonly known as This PC. It's a matter of a few steps for one to disable the ad notification.
How to disable OneDrive Ads in Windows 10?
Open Start menu and search for File Explorer options.
On the Folder Explorer options window, go to the View tab.
Untick the Show sync provider notifications option.

It isn't new for the Windows-maker to test its users' patience while promoting their products. People still haven't forgotten the stories of how Microsoft requested (forced) users to install Windows 10 on their computer.
In the latest case, there are people on both sides of the rope. Some have criticized Redmond for their so called annoying actions. On the other hand, some people say it's not wrong for a company to promote their products inside their own product.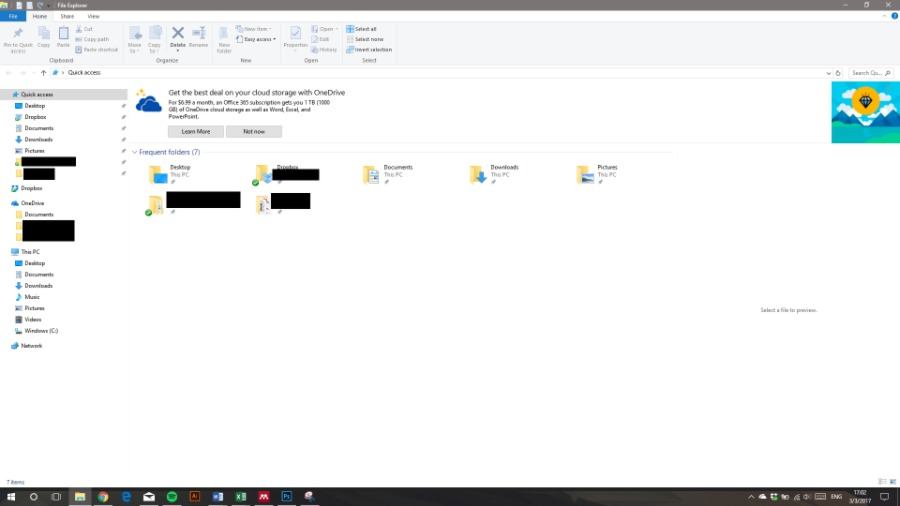 Well, whatever it is, at least, it should be less intimidating as it appears in the image uploaded by Tall_Ships_for_Life. The advert has consumed a considerable amount of space in the file explorer. Although, there is little cross button hidden in the image.
An advertisement finding its place in the Notifications center might not be subjected to a reduced backlash from people if it doesn't receive a heart warming welcome.
Should companies push ads in their paid products? Drop your thoughts. And don't forget to tell us feedback.
Also Read: PC Building Simulator Is Helping Us Build A High-End Gaming Rig