The United States' Defense Advanced Research Projects Agency, or DARPA, develops technologies that are deployed by the US army and sometimes the agency makes the technologies available for civilians as well. DARPA is behind many breakthrough technologies, including the internet itself, GPS, Unix, and Tor.
Now, DARPA is currently working on an anonymous, end-to-end mobile communication system that would be attack-resilient and reside entirely within a contested network environment.
RACE – Resilient Anonymous Communication for Everyone
The anonymous communication has been dubbed RACE (Resilient Anonymous Communication for Everyone) and will be based on network stenography to obfuscate the sent messages and metadata. The RACE program will be deployed to avoid large-scale targeting via encryption and protocol embedding techniques.
In its Proposers Day briefing document, DARPA has highlighted the following security properties of RACE.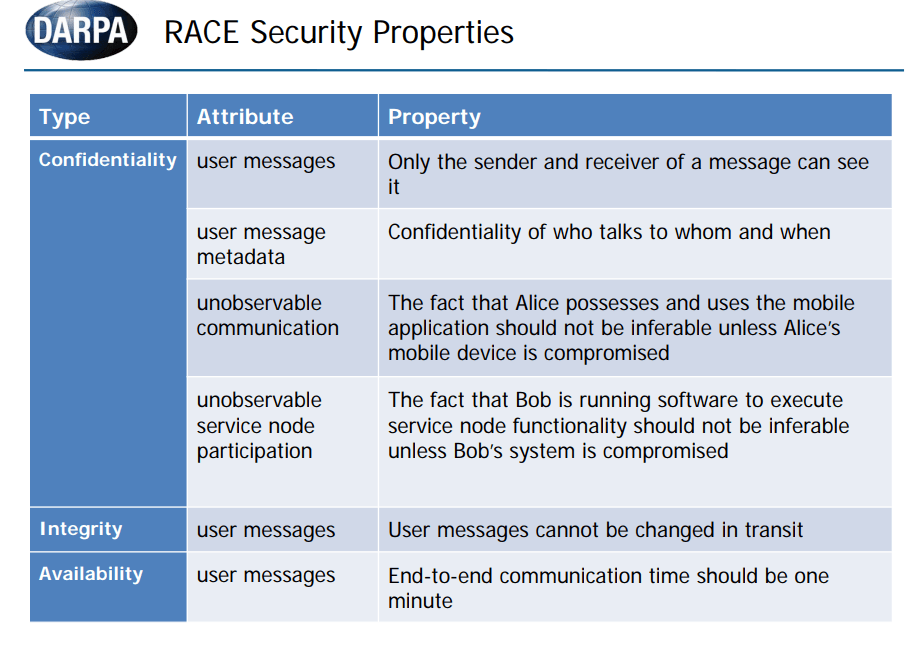 DARPA has plans to integrate the RACE technology into Android mobile applications for messaging and software applications for system nodes. The agency would also explore the possibilities of using RACE in technologies that would help in containing Denial of Service (DoS) attacks.
Once completely developed, the RACE prototype would consist of 1,000 servers that would be enough to test the technology amongst 1,000 users. DARPA has mentioned that the bandwidth of the outgoing obfuscated client to server communications will be up to 500kbps whereas the server to server bandwidth could be up to 10Mbps.
The best use cases of RACE would be an anonymous messaging service and to conduct anonymous cryptocurrency transactions. You can say that DARPA is trying to develop a technology similar to TOR that could not be detected even when a large scale real-time deep packet inspection is used.
Given how companies and legal agencies are hell-bent on snooping on people, such an attack-resilient technology would be a major step towards protecting the privacy of users.
What are your views on DARPA's RACE project? Tell us in the comments below.