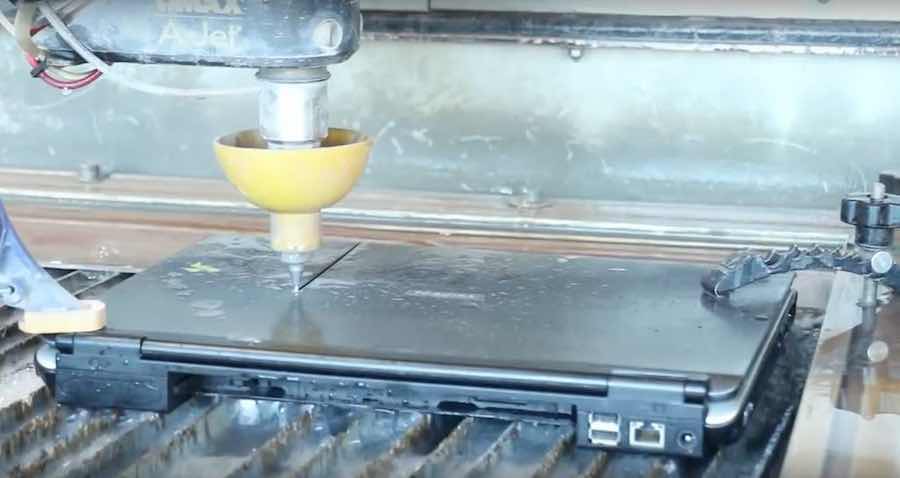 Short Bytes: What will happen if you try to cut a laptop in two parts using a waterjet? Before you make any assumptions and answer this question, let me tell you that here I'm talking about a high-powered waterjet spitting fury at 60,000 psi. I'll avoid spoiling the outcome and suggest you to go ahead and watch the video yourself.
A waterjet cutter is an industrial tool that's capable of cutting a wide variety of materials using an extremely high pressure of water, or a mixture of an abrasive substance and water.
Now combine the same with a smartphone or camera and you've got a sensational video of an intense waterjet cutting gadgets in a spectacular fashion.
With YouTube and the newly released Facebook Live video, the film-making has become super-democratic and people love watching things getting destroyed in a unique fashion.
One of the latest additions to this list of YouTubers is the channel Cut In Half. Within just 3 weeks, the channel has garnered hundreds of thousands of viewers.
The channel uses an Omax Abrasive Waterjet that cuts anything with a power of 60,000 psi jet of water. If you want to get an idea of this extreme pressure, just for comparison, imagine a car tire that has air filled at 35 psi.
In its recent video, the channel cuts a 2007-era Toshiba laptop with a water jet.
Dear laptop, rest in peace — you won't be waking up again!
If you enjoyed that, here's another video in the series that you might like:
Did you find these videos interesting? Go ahead and share this post with your friends.
Also Read: An iMac with Retina 5K Fighting to Death Against an Anti-tank Cannon