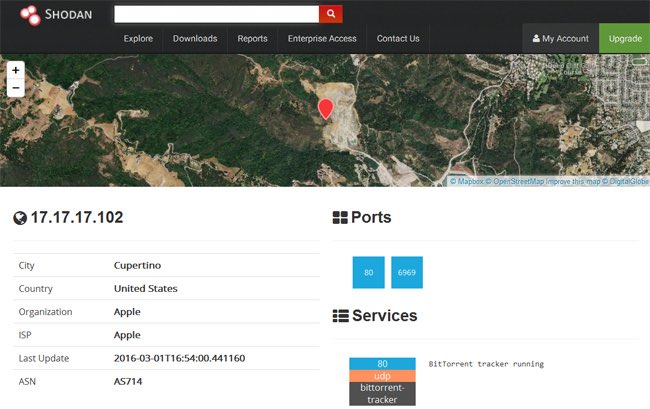 Short Bytes: Shodan, the IoT Search engine, has come up with proof that Apple was running BitTorrent trackers in their Cupertino office. They also have IP addresses and port numbers of the machines that were running the torrent software. Apple has been contacted regarding the same and a reply is being awaited.
A
pple has a long history of not being friendly towards BitTorrent software in its App Store. However, it looks like Apple itself isn't reluctant in using the technology itself. According to data provided by
"Internet of Things" search engine Shodan
, Apple is running BitTorrent trackers from dozens of IP addresses in Cupertino.
BitTorrent trackers are like a traffic police which ensure that the BitTorrent clients can find each other faster to share content and that's how they also track the IP addresses which are running the BitTorrent clients. Trackers are also interesting because they are great tools for putting private torrent communities in touch with each other.
But, while trackers are most closely associated with torrent sites, other organizations use them too. Indeed, after doing some digging around on "Internet of Things" search engine Shodan this week, it was surprising to discover that Apple was running tracker services on around three dozen IP addresses located at its headquarters in Cupertino.
On the most common tracker port 6969, active trackers can be found on several IP addresses allocated to Apple. Some of those Apple IP address were:
17.17.17.102, 17.17.17.108, 17.17.17.30, 17.17.17.59, 17.17.17.8, 17.17.17.15, 17.17.17.133, 17.17.17.110, 17.17.17.138, 17.17.17.248, 17.17.17.56 and 17.17.17.248.
Trackers services can also be found running on (HTTP) port 80 on IP addresses including
17.17.17.220, 17.17.17.41, 17.17.17.44, 17.17.17.170, 17.17.17.58, 17.17.17.21, 17.17.17.104, 17.17.17.102, 17.17.17.133, 17.17.17.59, 17.17.17.108, 17.17.17.27, 17.17.17.5, 17.17.17.15, 17.17.17.24, 17.17.17.243, 17.17.17.68 and 17.17.17.41.
TorrentFreak tried contacting Apple for the same about the purpose of these trackers but they are waiting for a response from tApple. On the other hand, when Shodan was contacted for the same, they said,
"If the host responds to the connection request with a valid BitTorrent tracker response (i.e. with an action, transaction id and connection id) AND the transaction ID matches what the Shodan crawler originally sent (0x34925) then it is considered a BitTorrent tracker."
Also read: Best Torrent Clients for Mac OS X