The ability to send money to other people with a couple of taps on the smartphone is something everyone decades ago wished for. Coming to the present, we have this ability on our fingerprints and the various money transfer apps to transact online in just a few clicks.
Therefore, I will now present you with the best money transfer apps in India, so that sending across money to your mom or your party share to your friend is as smooth as a cakewalk.
For those who don't know, I recently made a list of the best mobile wallet apps in India which could be helpful if you frequently send money online.
7 Best Money Transfer Apps In India — Android and iOS
1. Google Pay
Previously called Google Tez, Google Pay proves to be the best money transfer app due to the simple UI it offers. The app allows UPI-based transactions, wherein you have to link your bank account to your Google Pay ID, following which you are good to use the app.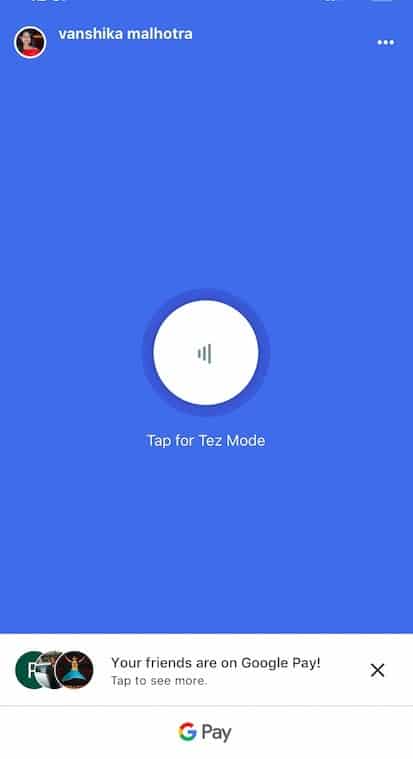 You have the option to securely lock the app with a PIN, pattern or password. Tapping on the 'new' option will help you initiate a new payment. You can also enable the Tez mode for faster transactions. The mode automatically identifies nearby people and you can choose to pay the desired recipient.
Additionally, the money transfer app allows you to scan QR codes to pay people and various businesses via the app. One interesting feature about the app is that it provides you scratch cards (on transactions above Rs 150) to earn money and even pays you if you refer Google Pay to others.
2. PayPal
PayPal is a free money transfer app, which is popular both in India and globally. Its massive popularity is the reason it is present on my 'best money transfer apps in India' list. To use the app, you have to sign up or log in (which can be a long process) and can eventually start sending or receiving money for both personal as well as business use.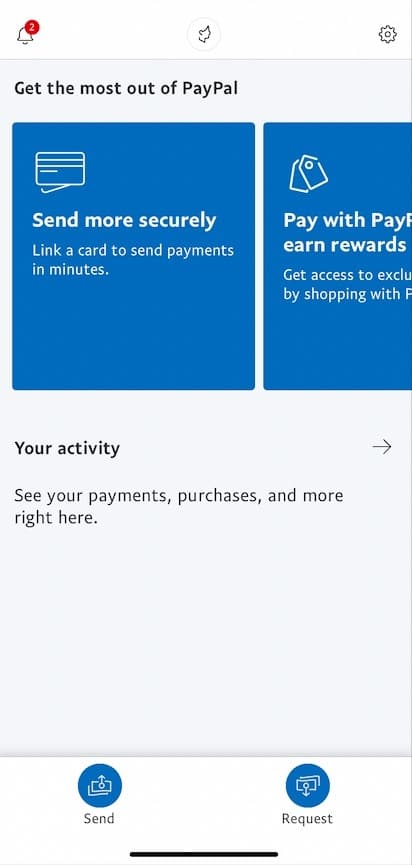 The app (also has a desktop version) is easy to use and you have to select the 'Pay' or 'Send' options to perform either of the tasks. Of course, you will be required to save your card details to transact. Additionally, you can sync your contacts so that it gets easier for you to send money to any of your contacts.
The app has a bell icon wherein all the latest updates and notifications from PayPal lie. There is also an Activity section that lists down all your transactions for you to know of and repeat them if needed. Surprisingly, the app's Android version refused to log me in and I had to use its iOS version.
3. Ola Money
The subsidiary of Ola cabs — Ola Money — is a popular online money transfer app that allows you to transact with people with all the convenience. Apart from this, the primary job of Ola Money is to let you pay for the cabs you book via Ola digitally.
Ola Money is both a dedicated app and an added feature in the Ola app. While you can perform most of the tasks via the Ola app itself, downloading the standalone Ola Money app lets you unlock other tasks such as the use of the app for payment in other third-party apps.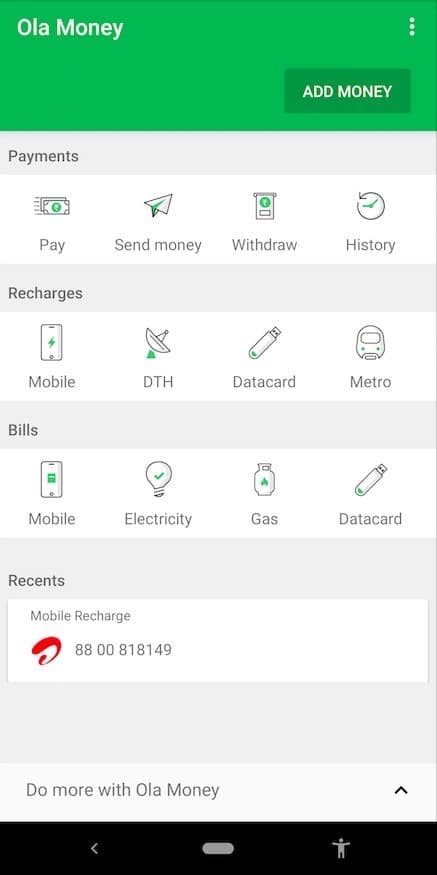 The app has a simple UI including the Ola Money section and an option to add money. Other options include Withdraw and History to withdraw money and keep track of your previous transactions respectively. Furthermore, you can pay for various bills and recharge your mobile number via Ola Money and pay on various listed apps. The list will get longer as more third-party apps get added to it regularly.
4. Amazon Pay
Amazon Pay is a popular online money transfer service, except it acts as a feature within the Amazon app rather than a separate money transfer app. The feature resides in the hamburger menu within the Amazon app and to be precise, it stands at the eighth position.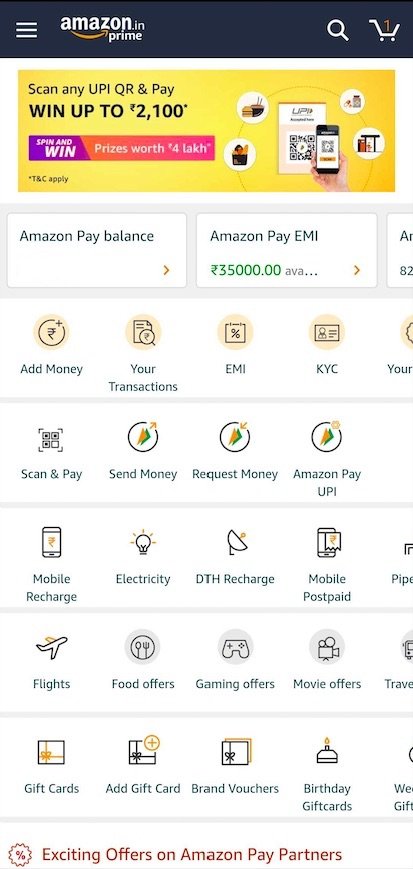 Clicking on this option will direct you to Amazon Pay, which has various options for you to transact online. You can also store money in the Amazon Pay Balance digital wallet so that money transferring becomes easy.
In addition to the main features such as sending or receiving money, Amazon Pay allows you to pay for mobile phone bills (both prepaid and postpaid), DTH, Gas, Water, and a lot more. You also get various offers on flights, food, gaming, movies, gift cards, and so much more for using the app. It is one of the reasons why Amazon Pay can be considered the best money transfer app in India amongst the options available.
5. BHIM App
The BHIM app is a government-operated money transfer app, Android and iPhone users can use. Being one of the most popular option to transact digitally, the app is UPI-based, for easy money transfers. 
The app requires you to register first; you have to verify your phone number, choose a passcode for safe access to the app, select the bank you want to link to the BHIM app and you are good to go. Once all this is done, you just have to select either the Send or the Receive option to start the money transaction process. There's also a rewards section to collect all the rewards you earn for transacting using the app.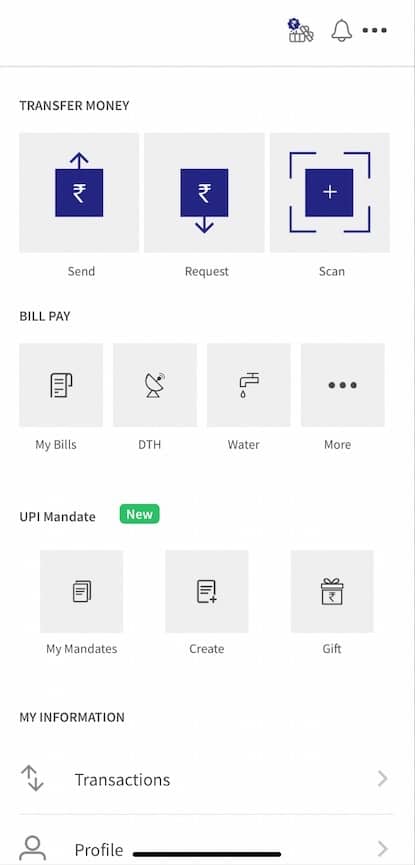 In addition to this, you can pay bills or scan QR code to pay businesses such as vending machines or vendors who make use of a QR code made for the app. Additionally, you can create mandates (for pre-authorizing transactions) on the app.
6. UltraCash
UltraCash is another mobile money transfer app that performs the deed same deed as other apps on my list. The app is segregated into five major sections: Payment (making payments), Recharge (to conduct recharges), Merchant (for a list of vendors who accept UltraCash), Send Money (pretty evident from the name), and More (for other app options).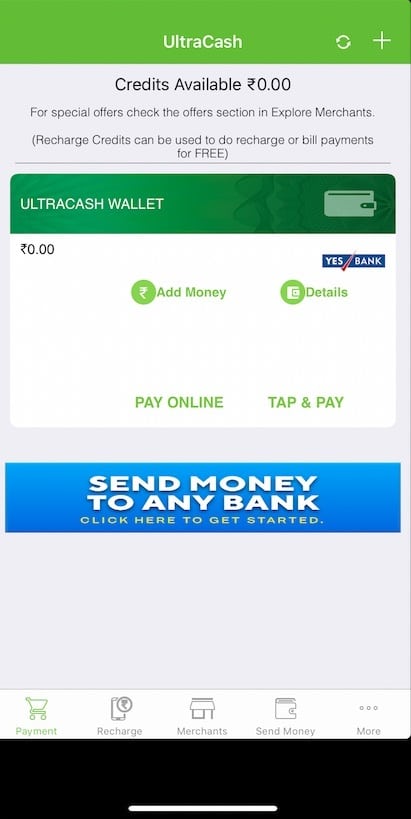 To send money, you have to save your card details so that money transfers to any bank becomes a few clicks away.
The app has an easy-to-use UI and lets you categorize money transfers as favorites so that frequent transactions to certain people become easy. Additionally, the app has a credits section that allows you to pay bills using the credits on the app, making it a free purchase.
7. TransferWise
TransferWise is a free money transfer app that facilitates the sending/receiving money procedure between two people living in different countries. Hence, the app makes it easy for situations when you wish to transact overseas.
The app is primarily meant to send money to your friends/relatives living abroad. The ease of sending money overseas is the reason it is on my list of best money transfer apps. TransferWise allows you to send money across various countries. With a simple UI, it lets you send money to a relative or a friend or even a business based out of a different country so that you can shop with ease.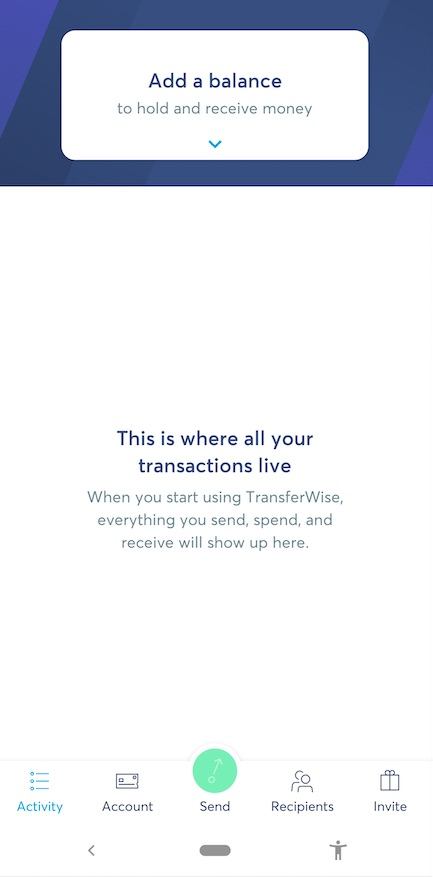 To send the money, you have to enter the amount in your currency (it is Indian Rupees in my case) and you will know how much the receiver will get once you select their currency. Additionally, you will get to know the time within which the money will be received by the person on the other end. As a reminder, the ability to send money to India is currently in beta so there could be some features that might not work that well.
Which money transfer app would you prefer?
There are loads of app options to send across money to people and even pay off your bills using them. As a reminder, banks also have their own money transfer apps or e-wallets but nowadays people tend to have multiple bank accounts, therefore, it makes sense to have a single app with multiple accounts linked in it. 
For generic use, I hope my list of the best money transfer apps in India proves helpful to you. Do let me know which one is your favorite app to transfer money. Also, if you have more options that can be added to the list, I am always here to listen.