Text-to-speech apps were previously used for visually impaired people. However, now people use these apps for their convenience as well. Most commonly, people use text-to-speech or TTS while traveling to listen to the news or to avoid missing out on a new text message.
Imagine you came back home after spending hours on the computer, and now you want to read your favorite ebook or any article without tiring your eyes. It is possible with the help of a text-to-speech app. Most of these are based on the Google Text To Speech app preinstalled on your smartphone.
Finding the best text-to-speech app is not that easy as a lot of options are available on the Google Play Store. So, we have shortlisted the best free text to speech apps for you so that you can make the most of them.
Best Text To Speech Apps For Android
Pocket
Talk Free
T2S
Voice Aloud Reader
Narrator's Voice
TTS Reader
Text to Speech (TTS)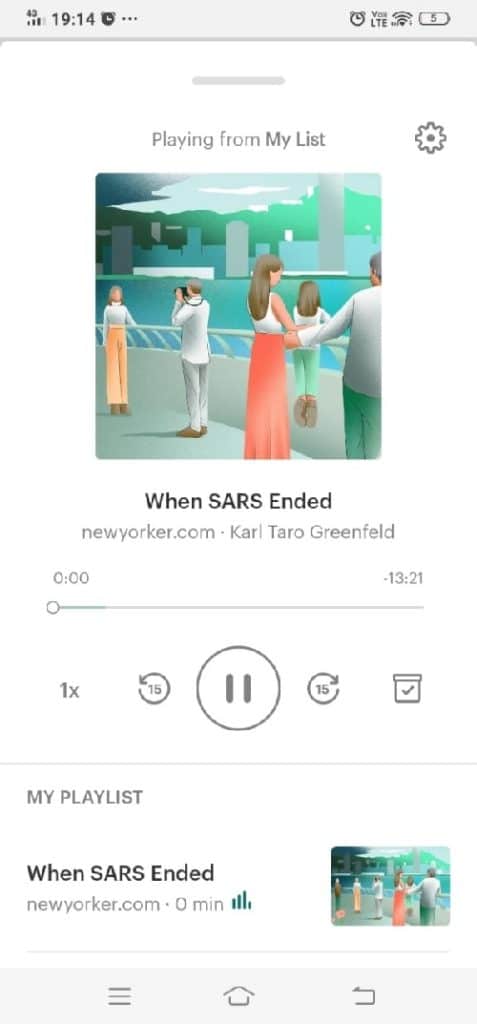 If you have a habit of saving articles to read them later, the Pocket app should be the app you must use. You can just share the articles with the app to save them. The Pocket app will also read the articles for you whenever you want to do so.
You just need to tap the headphone icon at the top of the home screen, and the app will start reading the article for you. The one-of-a-kind thing about the app is that it shows a lot of articles from various publishers according to the user's interest.
The numerous articles on Pocket come from reputed sources, including National Geographic, The Verge, Harvard Business Review, and more.
Pros:
Many other useful features besides the text-to-speech ability
Simple and uncluttered UI
Cons:
Sends frequent unwanted emails
Lacks word hightlight feature present in other apps on this list
Price: Premium version available for $5 per month and $45 per year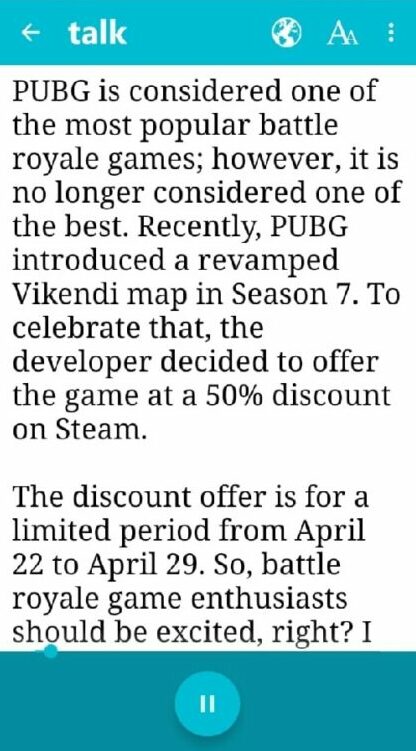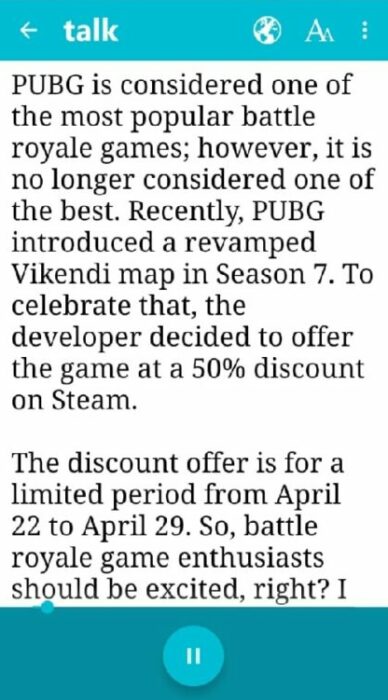 Looking for a text-to-speech app that has a simple and user-friendly interface? Talk Free is the best one for you then. This app can be used to read text aloud from third-party apps and also allows you to import text from the web pages you are using.
You can adjust the font size in the app by tapping on the "Aa" button at the top of the home screen. The app also provides you with an interface to type the stuff you want it to read out loud. The text entered once in Talk Free also gets saved, and will appear whenever you open the app.
However, at the time of testing, when the web page was shared in the app, instead of the article, the app started reading other stuff available on the web page and the same thing happened when the app was directly allowed to read the web page.
The app came on the main news after reading all the other stuff available. It is advised to all the users that if you want this app to read a web page, just copy and paste the text in the app straight away.
Pros:
Can read aloud webpages
Can export audio in WAV format
Cons:
No way to search for or sort notes
Price: Premium version available for $2.00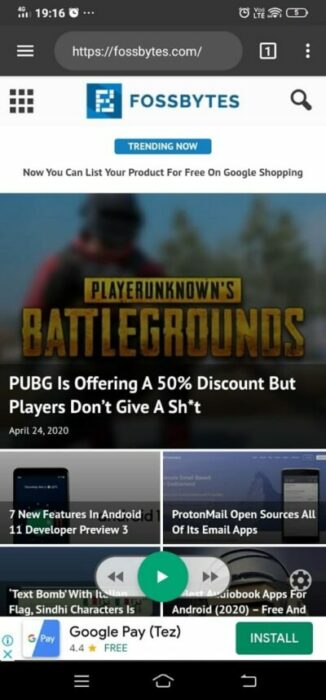 If you are looking for a more attractive and modern interface, the T2S can be the best option for you. The T2S app comes with a built-in web browser, which makes it stand out from the crowd. It allows the user to access web pages without any hassle of copying, pasting, or sharing the link.
Another significant feature in the app is copy-to-speak. Under this feature, a pop-up button on the screen is shown. Whenever you copy text from any other app and tap the speak button, it will instantly start reading the text. T2S also allows you to share the saved audio with other people.
The app also comes with a compatibility mode which can be switched on from the settings if the app is not displaying the necessary notifications. The only drawback of the app is that it takes a lot of time to open an external PDF file or any external file.
Pros:
Neat and feature-rich interface
Can read aloud webpages, ebooks, PDF docs, etc.
Floating speak button feature helps convert text to speech from any app quickly
Built-in browser for one-click access to TTS feature
Highlights words during speech
Custom color themes can be used for the app
Cons:
No pause or emphasis available in speech
Price: Premium version available for $2.00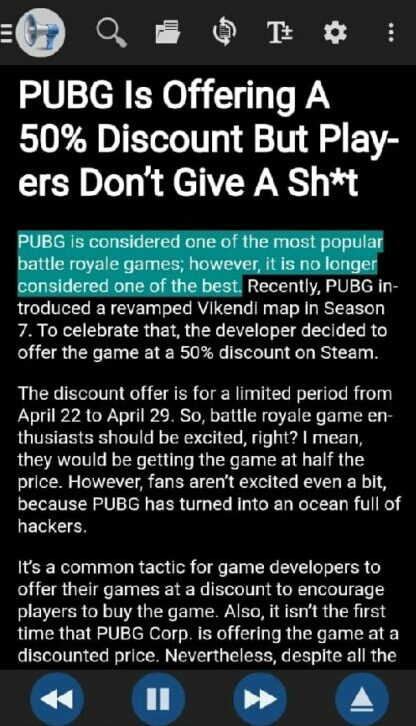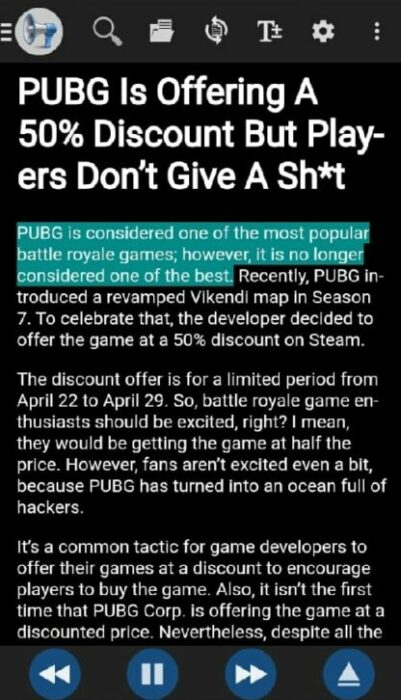 With more than 5 million downloads on Google Play Store, Voice Aloud Reader can be regarded as the most convenient text-to-speech app. The app supports different text formats like PDF, DOCX, TXT, PDF EPUB, AZW, DOC, FB2 ebooks, PRC, OpenOffice Documents, and AZW.
You can also increase or decrease the narration or the playback speed in the app. The most interesting thing about the app is that it comes with a night mode and a sleep timer too.
The night mode helps in reducing the screen glare, and the sleep timer can help you in setting a time interval, after which the app will stop automatically.
Pros:
Can read out almost any text on the screen, including ebooks, PDF files, webpages, emails, etc.
Can share specific text to the app for reading aloud
Ability to share WhatsApp chats for reading out
Playlist feature for text-to-speech notes
Cons:
Premium users need to install two apps
Full-screen ads
Price: Free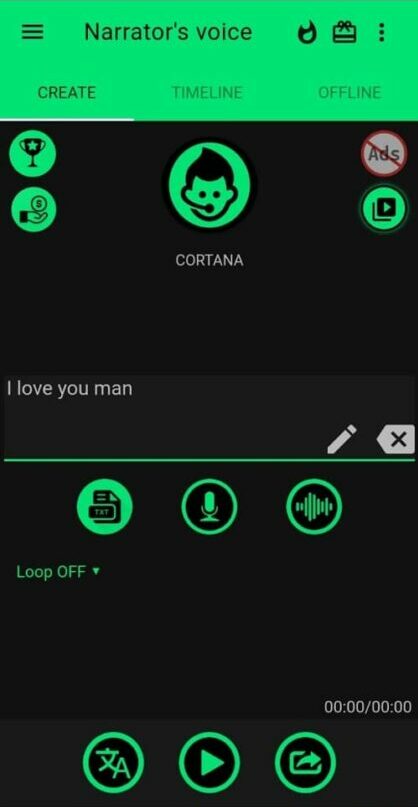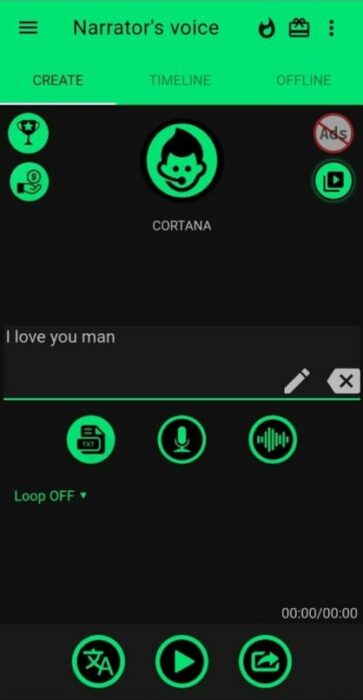 It is one of the best text-to-speech apps available on the Google Play Store. The app has the ability to convert text into MP3 or MP4 format. The converted files can be shared on various social networking sites.
The app allows your phone to read what you type. In the Narrator's Voice app, you get a number of language options for converting the text into speech. You can also test various text-to-speech voices to make the output funny.
The app includes some famous voices like the pink sheep voice and Cortana voice. YouTubers use the app widely to create videos with modulated voices.
Pros:
Multiple language support

Various types of narrator voices
Text-to-MP3/MP4 conversion
Cons:
Intrusive ads in the free version
Frequent Play Store rating prompts
Price: Premium version available for $15, you can also earn coins by watching videos in the app to get the premium version for 24 hours without paying a penny. You need 100 coins to get the premium version for a day.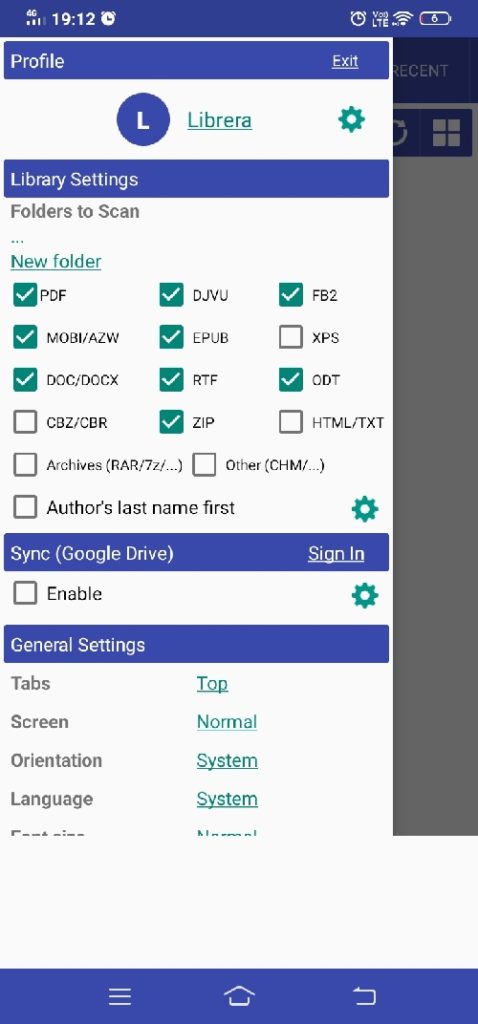 Librera's TTS Reader app can be an excellent solution for all your text-to-speech requirements. The app is compatible with BlueTooth headsets, and you can sync your Google Drive with the app to let it access important files and read text aloud for you.
The TTS Reader app also features the night mode and categorizes the available content in different tabs, including Library, Folder, Favorites, Network, Preferences, and Bookmarks.
You can save the audio in the WAV file format and share the web pages to let the app read out loud for you. TTS Reader is one of the most customizable and best text-to-speech apps available on the list.
Pros:
Reads out text with appropriate stress, pauses, and emphasis
Can set a custom time to lower down the text-to-speech volume
Save book formats as WAV files
Cons:
No word highlight feature while reading aloud
Annoying ads in free version
Price: The premium version of TTS Reader Pro is available on the Google Play Store for $3.49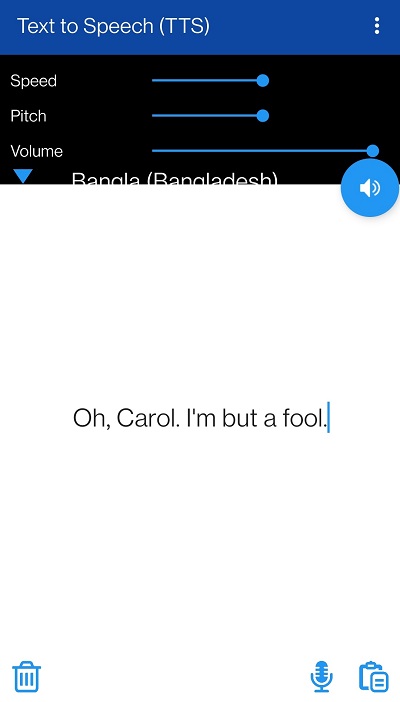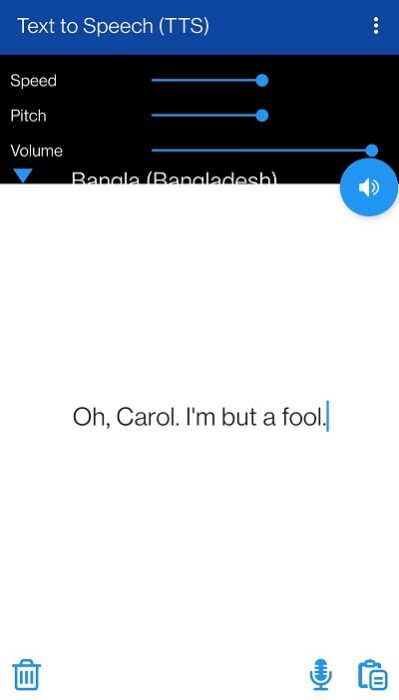 This app from TK Solution is a quite decent pick when it comes to converting text to speech. You can type or paste a text in the app and have it read aloud as per custom speed, pitch, and volume preferences.
Moreover, it also gives you the option to save texts, so that you can load them up again later without hassle. When it comes to speech, you can choose to store the audio file in WAV format.
Pros:
Easy-to-use design
Can save speech audio as WAV file
Cons:
UI problems on certain devices
Some language options produce the same voice (redundant)
Price: Premium version available for about ₹55 or about $0.73
Best Text-To-Speech Apps For You
Among all these apps, we think the most well-rounded one is T2S. Its UI is easy to navigate and contains several key features that are not all available in any competing app.
The option to enable a floating speech button and control window to act as a shortcut to text-to-speech functionality is a major quality-of-life feature. In addition, the built-in browser that gives you instant access to T2S's features is a bonus.
Coming back to the list, these text-to-speech apps can read aloud from documents, news webpages, and even your favorite ebook. They are completely tried-and-tested, so you can select the most appropriate text-to-speech app according to your preference.
We update our lists on a regular basis and add the best apps available, so don't forget to check the list for new additions in the future.
FAQs
1. What is a text-to-speech software?
A text-to-speech software or app read out the screen text for you, so that you can focus on other important tasks while still not missing out on what's on your screen.
2. Which TTS app do YouTubers generally use?
Many YouTubers prefer TTS apps that have a variety of voices to choose from. An Android app matching this parameter is Narrator's Voice that boasts an interesting collection of voice options.
3. Which is the most realistic text-to-speech app available for free?
Thanks to its use of emphasis, pauses, and stress when pronouncing words, TTS Reader is a free app that can produce realistic speech from text.