When it comes to music, some of us are pop fans, someone's heart beats for EDM, and some bang their heads to metal. But among all the devices we have, most of us listen to music on our phones. So, let's talk about the best music apps that can cater to the needs of music heads.
What should I expect from a great music streaming app?
At its basics, a great music streaming app should have a giant collection of songs, crisp and clear audio quality, and lots of relevant playlists so that we can just put them on and keep doing our work.
Then comes the turn for fancy yet essential features like Chromecast-support, offline download option, etc.
Right now, if I talk about a promising and efficient online music player, then Spotify or Apple Music would be the first options that come to our minds. But, of course, there are more choices available than these two.
So, in this post, I have tried to combine some of the best music streaming apps for both Android and iOS devices. It's a bonus that most of them work on your browser as well. So, you can listen to the songs on your PC.
6 Best Music Streaming Apps (2019) Android and iOS
Spotify
Apple Music
SoundCloud
YouTube Music
Amazon Prime Music
Tidal
1. Spotify – Overall best music app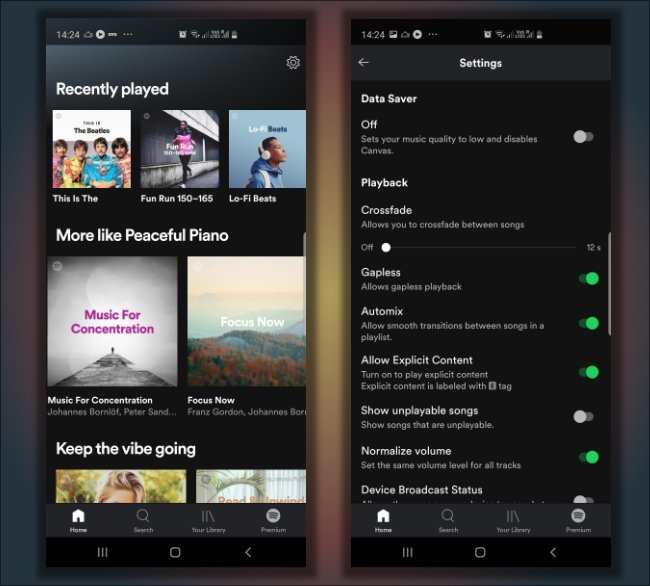 If you have had the smallest exposure to the world of online music streaming, it's possible that you already know about Spotify.
Spotify was created by a Sweden-based company back in 2006 and ever since it has managed to give a fierce competition to iTunes Music and later Apple Music. The two even went head-to-head in a legal battle when Spotify accused Apple of abusing its App Store dominance.
What makes Spotify one of the best music apps is that it provides a complete package of a great app that complements its massive catalog of songs.
What are the best features of Spotify?
Spotify has well-designed music apps for Android and iOS, complemented by an eye-pleasing UI.
Seamless cross-device experience. You can play/pause songs from different devices.
Provides a dedicated screen to manage connected devices.
Spotify's music catalog includes over 50 million tracks in various languages and genres.
Comes with a built-in private mode for listening anonymously.
In addition to songs and curated playlists, users can also listen to Podcasts.
Spotify's free version provides decent sound quality and lets users download Podcasts for offline listening.
The app includes useful features such as gapless audio playback, crossfade between songs, and volume normalizer.
The built-in search feature supports context-based search queries; for example, you can type "songs for road travel" and get relevant results.
Can directly connect to Facebook and navigation apps, including Waze.
Spotify provides the best selection of Charts and Playlists. Personally, I find them more relevant than other music streaming apps.
What's the bad part?
You can only stream on one device at a time (can download music on three devices).
It may have an inconsistent catalogs across different regions.
It doesn't include a light-themed UI.
Procedure to play locally stored music is tedious.
How much Spotify's paid music subscription costs?
Spotify free: $0/mo (Ads, No offline downloads, No 'Very High' sound quality option)
Spotify Premium: $4.99/mo (add 5 more accounts)
Spotify Students: $4.99/mo(Discounted plan for students)
Download Spotify: Android, iOS
2. Apple Music – best music app for iPhone users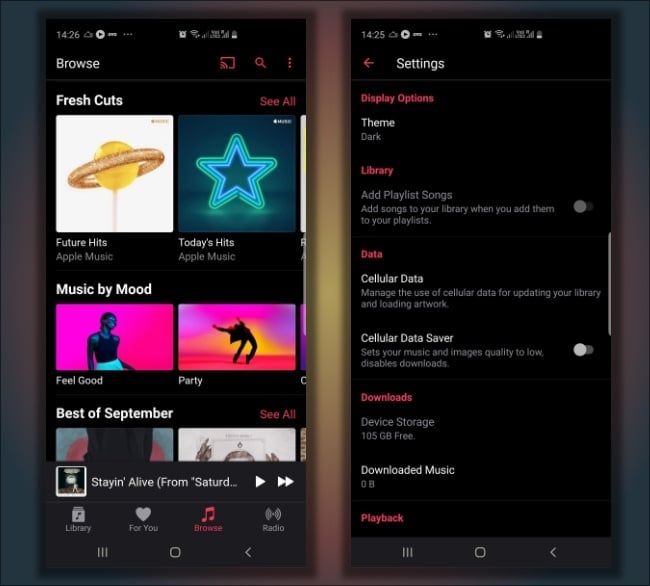 As you might know, Apple Music is one of Apple's efforts to get a stronghold in the music streaming arena. It succeeds iTunes Music which lets users buy songs and albums individually. I guess Apple Music provides the best music subscription plans in terms of value for money, especially, its family plan.
Unlike other Apple apps and services, Apple Music is also available for Android. Recently, Apple launched a web player as well for users who want to use Apple Music in their web browser. So, yes, Apple seems to have realized it can always keep things restricted if it needs to grow further.
What are the best features of Apple music?
The user interface is neat and clean.
Apple Music catalog includes over 50 million songs.
Works seamlessly with Apple devices (of, course!).
"Lyrics to Live by" feature shows song lyrics in real-time.
Curated playlists (based on genres, moods) and charts are good enough.
Provides data-friendly streaming options for cellular connections.
Provides a decent selection of internet radio stations across different genres.
Can sync music from iCloud library.
Users can automate Apple Music on iOS via Siri Shortcuts app.
What's the bad part?
Apple Music has a tedious setup process for Android users. Also, the Android app doesn't work smoothly.
Single user plan only streams on one device at a time.
Can't toggle music streaming quality over WiFi.
Doesn't support audio crossfade, gapless playback (No visible option even if it's there).
How much Apple Music subscription costs?
Individual: $9.99/mo (90-day free trial)
Family: $14.99/mo (90-day free trial)
Student: $4.99/mo (90-day free trial)
Download Apple Music: Android, iOS (in-built)
3. SoundCloud – best free music app for everyone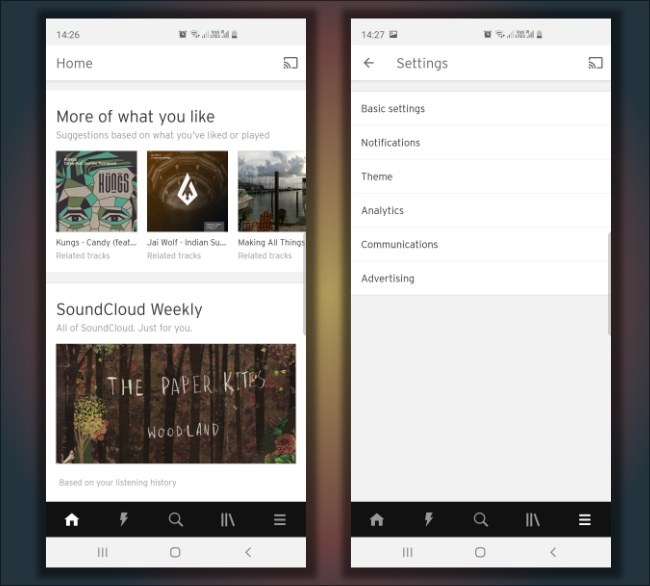 SoundCloud started out back in 2007 as a platform where artists can easily share their self-composed music. In fact, the main selling point of this music streaming app is that indie artists create most of the songs on this platform and no content is hidden behind a paywall.
One can simply call SoundCloud the best free music streaming app because you can stream unlimited songs without having any ads. Also, it combines the likes of a well-built free music app with tons of songs and podcasts that you can listen to at any time of the day.
What are the best features of SoundCloud?
SoundCloud has a minimalistic UI that works without any visible lags and freezes.
With more than 200 million tracks, its the biggest streaming service in terms of numbers.
It provides a wide selection of playlists curated by the SoundCloud community.
Stream section shows updates from artists and friends you have followed on SoundCloud.
Provides a weekly compilation of songs based on listening history, called SoundCloud Weekly.
Users can post comments on songs at specific timestamps.
Skipping and Seeking a song track on SoundCloud is the easiest across all the music streaming apps in this list.
Users can record and upload their songs via their smartphone itself.
What's the bad part?
SoundCloud doesn't include many songs from mainstream artists.
It doesn't show a clear distinction between songs and podcasts.
Navigation might be a little confusing for some users.
There is no offline download option even for podcasts.
Paid version is available in limited countries.
How much SoundCloud's music subscription costs?
SoundCloud Free: 0$/mo (All the music, no downloads)
SoundCloud Go+: $9.99/mo (30-day trial, Offline downloads)
Download SoundCloud: Android, iOS
4. YouTube Music – the best free music app for Google fans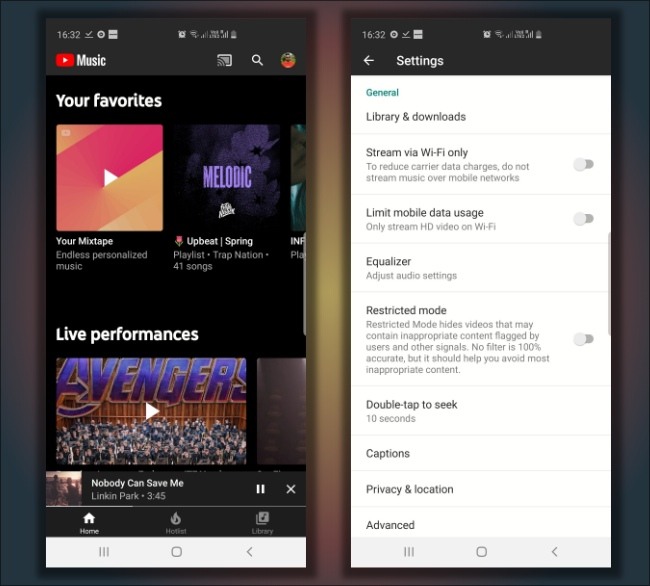 It's a freshly baked music streaming app for Android and iOS that Google has launched to replace Google Play Music. As the name says, YouTube Music is a YouTube spinoff for those who just want to focus on the music part.
The app first came out back in 2015, and since then it has expanded its reach to more than 70 countries in different parts of the globe. One of the selling points is YouTube Music lets you listen to music while keeping its video in the background.
What are the best features of YouTube Music?
The user interface of the app is visually appealing on both Android and iOS.
Provides relevant recommendations as it pulls users' YouTube history.
Shows the playlists users create on YouTube.
Can play audio files locally stored on the device.
Contextually aware search bar (it's Google) that displays well-sorted results.
Just like regular YouTube, users can double-tap to do fast forward or backward actions.
Dedicated Hotlist section to display all the trending music videos.
YouTube Music focuses on music videos instead of audio files, different than Apple Music and Spotify.
It provides offline download with audio-only option.
It provides location-based music recommendations, Mixtape endless playlist.
What's the bad part?
It doesn't include advanced features like volume normalization, crossfade, gapless playback.
Treats music videos and audio alike which create confusion.
Loading videos all the time might consume extra bandwidth.
How much YouTube Music subscription costs?
YouTube Music Free: $0/mo (Shows Ads, No background play, No offline mode)
YouTube Premium: $9.99/mo (1-month free trial)
Student Offer: $4.99/mo (3-month free trial)
YouTube Premium Family: $14.99/mo (can add 5 more accounts)
Download YouTube Music: Android, iOS
5. Amazon Prime Music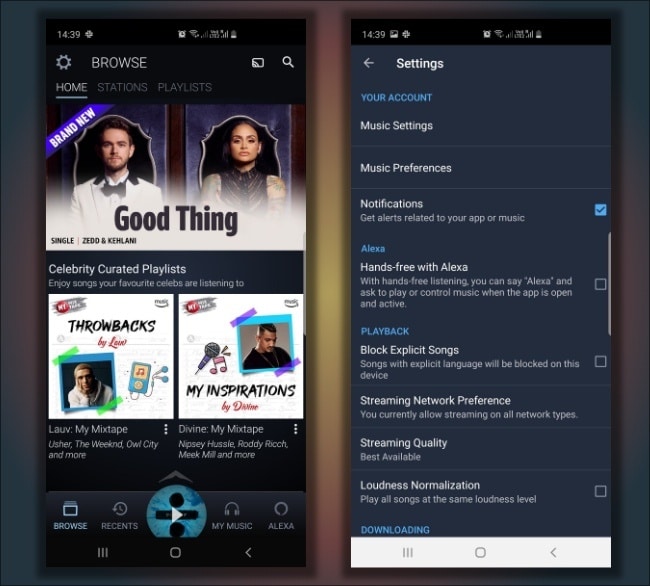 Amazon Music is a music streaming app owned by the eCommerce giant Amazon. Recently, the company made it to the news for adding support for FLAC lossless audio format, making Amazon Music a robust competitor to Tidal.
One thing you note is that Amazon has created a little confusion regarding its music streaming apps. For example, in the US, there is Amazon Music Unlimited, and there is also Prime Music (a part of Prime bundle offering 2 million songs). But in India, Amazon provides tens of millions of songs to Prime subscribers at no additional cost.
Anyway, here we'll talk about Amazon Music Unlimited.
What are the best features of Amazon Music Unlimited?
The user interface is convenient but doesn't look as good as Spotify and Tidal.
Provides access to over 50 million songs spread across different genre, and curated into playlists.
Shows real-time song lyrics just like Apple Music.
Supports lossless audio format similar to Tidal, known as Amazon Music HD.
The search bar is efficient but doesn't support context-based queries.
Includes built-in sleep timer that turns of music playback automatically.
Provides a dedicated screen for managing connected devices.
Amazon Music comes with Alexa-integration for a hands-free experience.
Supports volume normalization, gives different quality options for streaming and offline downloads.
What's the bad part?
It does not support audio crossfade like Spotify.
Can't be used to play locally stored files.
Does not offer any free version.
Confusing choice of music streaming plans.
How much Amazon Music subscription costs?
Amazon Music Non-Prime users: $9.99/mo, For Prime users: $7.99/mo
Amazon Music Family Plan (Prime only): $14.99/mo (add 5 more family members)
Amazon Music HD: $14.99/mo (90-day Free Trial), For Prime: $12.99/mo
Amazon Music HD Family: $19.99/mo (90-day free trial)
Download Amazon Music: Android, iOS
6. Tidal – a music streaming app that offers a lot more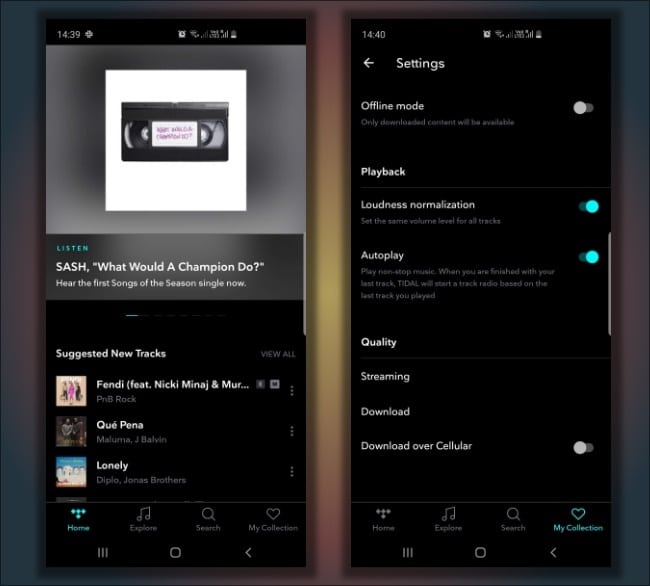 Tidal is a name you can't forget when calling out the best music apps. However, it's known to less number of people than Apple Music or Spotify because Tidal isn't present in many regions. But this doesn't mean it offers anything less than others.
After launching in 2014, Tidal has made its name in the online music streaming space by providing high-quality lossless audio to its listeners. In fact, it was among the few that offered it until Amazon joined the race.
Also, Tidal is different from others because it's co-owned by various music artists who have made their content available via the streaming app.
What are the best features of Tidal?
Tidal's user interface is more visually appealing than other music apps in this list.
It provides a massive catalog of 60 million songs.
Also gives access to podcasts, music videos.
Users can live stream music concerts or watch them later.
It has a well-designed 'Explorer' section where users can find songs based on genre, mood, as well as, new and trending artists.
Includes Tidal-exclusive content made by various artists.
Supports features like loudness normalization
it provides different quality options for streaming and offline downloads.
Tidal offers Lossless Audio in MQA (Master Quality Authenticated) format that delivers bitrates of up to 1400kbps in comparison to the standard 320kbps
What's the bad part?
Tidal doesn't offer a free or discounted version at all.
Subscription plans seem expensive than other apps.
It does not offer features like crossfade or gapless playback.
Available in limited regions as compared to other music apps.
How much Tidal's music subscription costs?
Tidal Premium: $9.99/mo (30-day free trial)
Tidal HiFi: $19.99/mo (30-day free trial, Lossless Audio)
Which music streaming app for Android and iOS do you use?
Of course, it's really hard to recommend a single name from this list of the best music apps. All of them come loaded with tens of millions of songs which means there will hardly be any song or genre that you can't find (except SoundCloud, it's a different territory).
Also, each of these music apps for Android and iOS offers something extra that users might like. For instance, if you want to pick out the best free music streaming app, then your options are Spotify, YouTube Music, and SoundCloud.
But if top-notch lossless audio quality is your thing, then you go for either Tidal or Amazon Music HD. Tidal also lets you live stream music concerts so that's also a big plus point. For the fans of Apple, I don't think there is any option better than Apple Music.