Last time I checked there was no official list of 'Best Linux Games' anywhere, and it didn't surprise me. The open source nature of Linux OS does not sit well with other companies like Nvidia, Epic Games, and even Microsoft.
However, Valve is dedicated to making its Steam OS, which is also based on Linux, a mainstream product. That's why Steam officially started supporting WINE developers for the new Proton API.
But for all those people who don't want to tweak their games before playing, Steam has a huge list of native Linux games. These are popular Windows titles that are officially supported by Steam.
We have gone ahead and compiled a list of the best Linux games with complete Steam support. It means that players will simply be able to download-and-play these titles on any Linux Distro without any tinkering.
PC Specs To Get Best Gaming Experience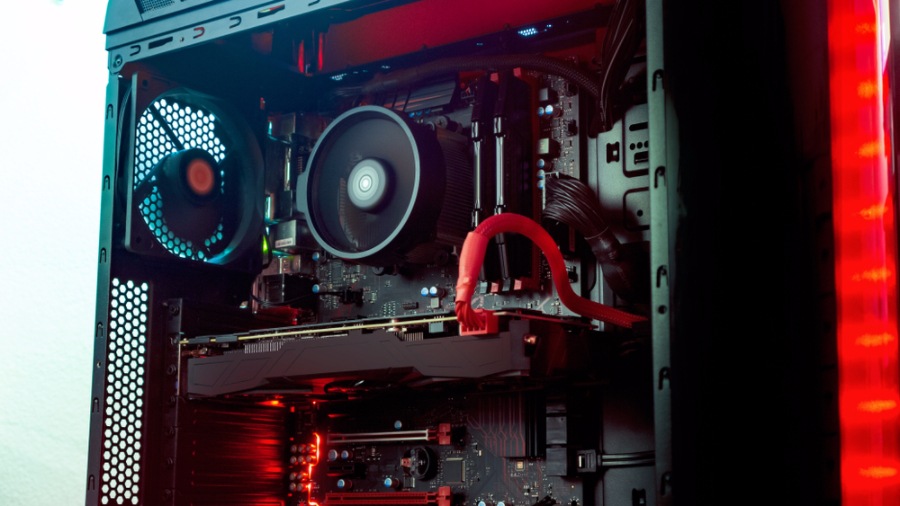 However, if you want the absolute best frame rate out of your Linux games, then check out our list of best Linux distros for gaming.
The following Linux PC configuration is recommended for smoothly running every title on this list.
AMD Ryzen 3 2200G
Nvidia GTX 1050Ti
8GB DDR4 RAM
1 TB Hard Drive
Best Linux Games With Native Steam Support
1: Borderlands: The Handsome Collection (Action, RPG)
The looter shooter with a 'Gazillion guns' is probably one of the most popular Windows titles to run natively on Linux. It's a co-op shooter that 4 players can enjoy in split screen. The handsome collection includes Borderlands 2 with all its DLCs along with Borderlands: The Pre-Sequal.
The next Installment in the series, Borderlands 3, was also announced at PAX East in 2019. If the history of Gearbox is a reference, we can expect Borderlands 3 to become one of the best games on Linux in the future.
2: Witcher 2: Assassins of Kings Enhanced Edition (RPG)
The second entry in the Witcher series of games, the Witcher 2 marks a definite win for game developer CD Project Red. The Witcher 2: Assassin of Kings is set amidst a bloody power struggle and blood-soaked conspiracy. The main protagonist, Geralt of Rivia is caught between monsters, tyrannous rulers, witches and almost everything bad. The game is easily worth several days of gameplay and in turn worth every buck for the Linux OS.
The next big project from the developer CD Project Red is Cyberpunk 2077 set in a futuristic metropolitan city. The game is also likely to come on Google Stadia, Google's cloud game streaming service.
3: Dead Cells
Developed by Motion Twin, Dead Cells features Metroidvania-style 2D action combat. The Linux game features fast-paced action combat, breathtaking beautiful art design, dreadfully difficult boss battles, and superfluid controls. Just like a good Metroidvania, players earn new abilities which further unlock new locations within the game. Dead Cells is one of the best Linux games if you love a challenge.
The Developer Motion Twin is also in talks with officials from Google to port Dead Cells on Google Stadia.
4: Team Fortress 2 (Action, Free-to-Play)
Developed by Valve itself, Team Fortress 2 is a popular Linux game which is also free to play. The game was launched in 2007 and features a ton of official and unofficial mods. Gameplay wise, Team Fortress 2 features 9 unique characters with different play styles. It brings a level of planning and strategy to the actual game.
Over the years Valve has released several popular titles including the Portal series games, Dota 2, and Counter-Strike series.
5: Sid Meier's Civilization VI (Real Time Strategy)
Developed by Firaxis games and made compatible for Linux OS by Aspyr Media, Civilization VI offers an engaging RTS experience. The game offers you to play as a popular historic world leader, including Gandhi, Roosevelt, Victoria and more. The game takes you from the Stone Age, where you fight using primitive weapons, to the modern age where just one nuke could disrupt your enemy's entire civilization.
The developer Firaxis games has developed several games in the Civilization series. The most famous among them is Civilization V, also available on Linux OS.
6: Left 4 Dead 2 (Action)
Another popular title from developer Valve, the Left 4 Dead 2 is a co-op zombie shooter wfast-pacedaced combat. The game regularly forces people to change strategies by switching between guns and melee weapons. The game was launched in 2009, so it has a ton of mods and updates giving its replayability a massive boost.
The latest game from Valve is Artifact, an online card game with Player vs Player gameplay.
7: Portal 2 (Action, Adventure)
Portal 2 is a first-person puzzle game which can be enjoyed with a friend via local co-op. The award-winning game was developed by Valve. Gameplay in Portal 2 involves solving spatial challenges via the portal gun — a device able to rip through space and time. The game features great storytelling, fascinating level design and a phenomenal voice acting from Ellen Maclain (Glados), Stephen Merchant (Wheatley) and J.K. Simmons (Cave Johnson).
Portal 2 is a sequel to Portal 1, which received 70 video game awards and still remains one of the best video games of our generation.
8: Hollow Knight (Action, Adventure, Indie)
The Metroidvania style game with the difficulty of a Dark Souls title, Hollow Knight is a must-have for Linux gamers. Unlike other 2D scrollers, Hollow Knight features deep lore, relatively better exploration options and a ton of side content. The game's combat is tough yet rewarding, and the player is sure to take a deep sigh of relief after almost every difficult boss fight. Hollow Knight features hand-drawn characters and environment that further complements its dark atmosphere.
Hollow Knight was developed and published by Team Cherry. The developer has also released a new DLC titled Hollow Knight – Gods & Knightmares.
9: Total War: Warhammer (Action, Strategy)
If you're like me and prefer commanding huge bloodthirsty armies of monsters, then Total War: Warhammer is the game for you. It is one of the best games on Linux with a ton of content. The game offers five playable races, the Dwarfs, the Vampire Counts, the Greenskins, the Empire and the Bretonnia. The game's campaign is almost 100 hours long, along with it, a huge DLC content is also available.
Feral Interactive publishes games for Mac and Linux. They have released popular titles like the Tomb Raider, Dirt 4, GridAuto sport for Linux OS.
10: Dying Light (Action, RPG)
Few games actually manage to make a zombie game without making it super repetitive. Dying Light is one of them. The game features zombies, explosions and first-person parkour somewhat similar to the Mirror's Edge. Developed by Techland, Dying Light involves a straight forward story, plenty of side missions and almost 50 hours of exhilarating gameplay. Dying Light also features an online co-op with three of your friends.
Game Developer Techland is currently busy making Dying Light 2.
11: Payday 2 (Action, RPG)
To put it simply, Payday 2 is a bank-robbing simulator. The game's single-player campaign sucks, but the online co-op is playable with up to 3 friends. The game involves everything from managing the hostages to disabling cameras and even scouting the location beforehand as civilians to plan your robbery. Imagine the bank heist mission from GTA Vice-City and make it 10-times more detailed — PayDay 2 is just as fun.
Payday 2 is developed by OVERKILL — a Starbreeze Studio, who develop videogames in collaboration with other creators. Their most recent project is DEAD BY DAYLIGHT, a 4vs1 multiplayer horror game.
12: The Binding Of Issac: Rebirth (Action)
Few games are as fascinatingly weird as The Binding of Isaac: Rebirth. The game puts you in control of a naked baby known as Issac who needs to fight monsters in underground caves using his tears. Yes, you read that right. The game features randomly generated bosses and dungeons, items and enemies. It keeps the players' experience full of surprises, making it one of the best Linux games to play.
Binding of Issac was developed by Behaviour Digital Inc. whose latest release includes an Adventure platformer called The End is Nigh.
13: Undertale (Indie, RPG)
It is totally worth playing Undertale be it just for the memes or its mind-blowing climax. The indie RPG game features 8-bit graphics but a very engaging story between the human you play as and the monsters you encounter. Since its release in 2015, Undertale has become an important part of the dank pop culture. The game, developed on a shoe-string budget, features multiple endings, tens of hours of gameplay and beautifully written characters.
Undertale was developed by a single game developer named Toby Fox.
14: Dead Island (Action)
Dead Island is another zombie game from the developer Techland. The game puts you in the shoes of a guy who is immune to zombie bites, so when the Z-day hits, he decides you chop zombies down one by one. The game isn't particularly special in its storytelling, but it does allow you to become a one-man army against zombies. Dead Island can be enjoyed with up to 3 more friends making it one of the best games on Linux.
Dead Island is also available in a definitive edition that includes all previous DLCs and enhanced HD textures.
15: Hitman – Game of The Year Edition (Violent, Action)
Hitman allows you to become the creative assassin you always wanted to be. The game puts you in charge of Agent 47, a ruthless killing machine that travels around the world to kill high profile targets. Hitman gives you the freedom to approach your mission in any way you like. Whether you want to kill your target using a bazooka or a poison is completely up to you. You must play Hitman as a great Linux gaming experience in 2019.
The Game of the Year edition includes the entire Season 1 of the Hitman series along with the Bonus campaign, Patient Zero.
16: Metro Redux Bundle (Action)
The Metro series is set in a post-nuclear war in Russia. In the game, the remnants of humanity survive in underground cities hiding away from the radiation and the mutated monsters. The series features a narrative driven single player campaign with an immersive storyline full of unique characters. Needless to say, it is easily makes into the list of the best linux games.
The Metro Redux Bundles contains two games, Metro 2033 Redux and Metro: Last Light Redux.
17: Mad Max (Action Adventure)
Probably the most underrated game on Linux, Mad Max is an oasis waiting to be discovered. The game features Batman Arkham style combat coupled with guns and explosives. You start the game by escaping a bunch of bandits and stealing a scrap car for yourself, the one which will be with you throughout the game. The open world wasteland is gorgeous, and the story is filled with memorable characters.
Mad Max is developed by Avalanche Studios and brought to Linux OS by Feral Interactive.
18: Rise of The Tomb Raider (Action, Adventure)
Tomb Raider series has been around for a long time. In the Rise of the Tomb Raider, Lara Croft is back and as dangerous as ever. In the game, she fights with hordes of mercenaries, wild animals and uses guerilla combat to take her enemies down. Shadow of The Tomb Raider runs effortlessly on Linux OS offering a smooth gameplay experience.
The Rise of the Tomb Raider is also available as a 20-year celebration bundle.
I will expand this list further, do let us know any more games you want us to test for Linux OS.
Now Watch: