Finding the right fonts for your printed or online projects without paying charges can be difficult, especially when you are chasing a deadline. There are plenty of sites to download fonts for free but again, that involves a lot of research work deciding which one is the best. Many websites are poorly designed with no categories making it difficult to wade through the fonts available there.
This is why, after covering the best sites for stock images, I have made a list of best free fonts download websites to make it a little bit easier the next time you search for fonts that are free of cost. You can navigate your way comfortably through these sites and find plenty of high-quality fonts you can use for personal and commercial projects.
Even though I have included only those websites that offer free fonts, but make sure that you read the terms of usage before including them in your projects. Several fonts available on the web come with limited licenses meaning they can be used in personal projects only. However, there are a number of fonts with commercial licenses that you can download from these websites.
So get ready to bookmark websites you would like to visit next time. But before diving in, do take a look at other helpful lists of free websites and apps you can use:
Top Websites To Download Free Fonts Legally In 2018
1. Font Squirrel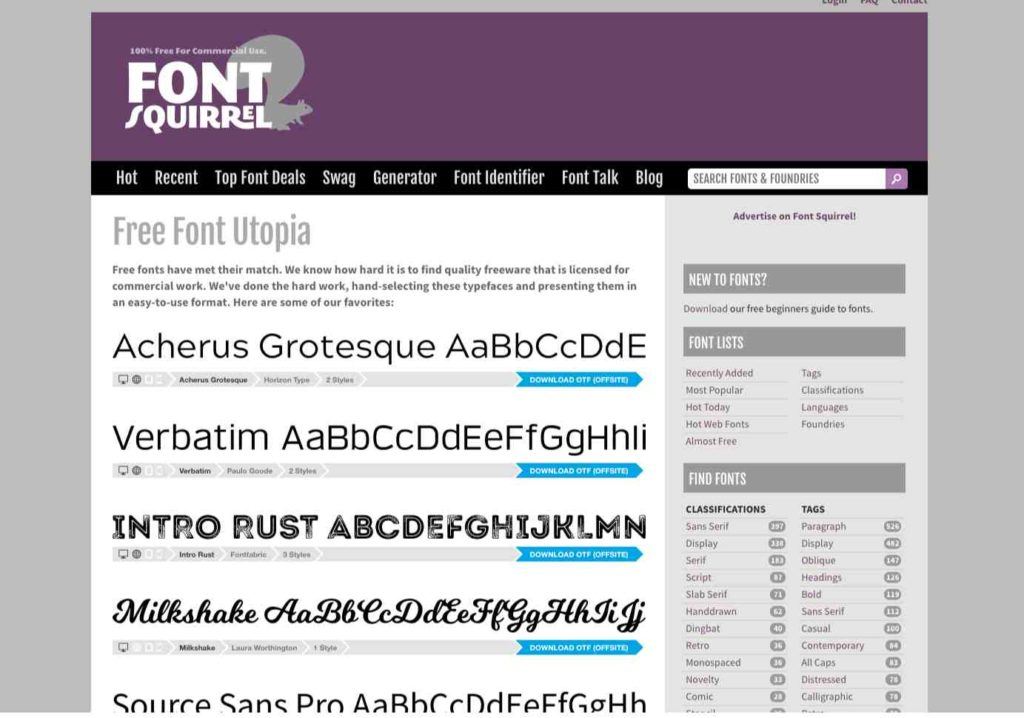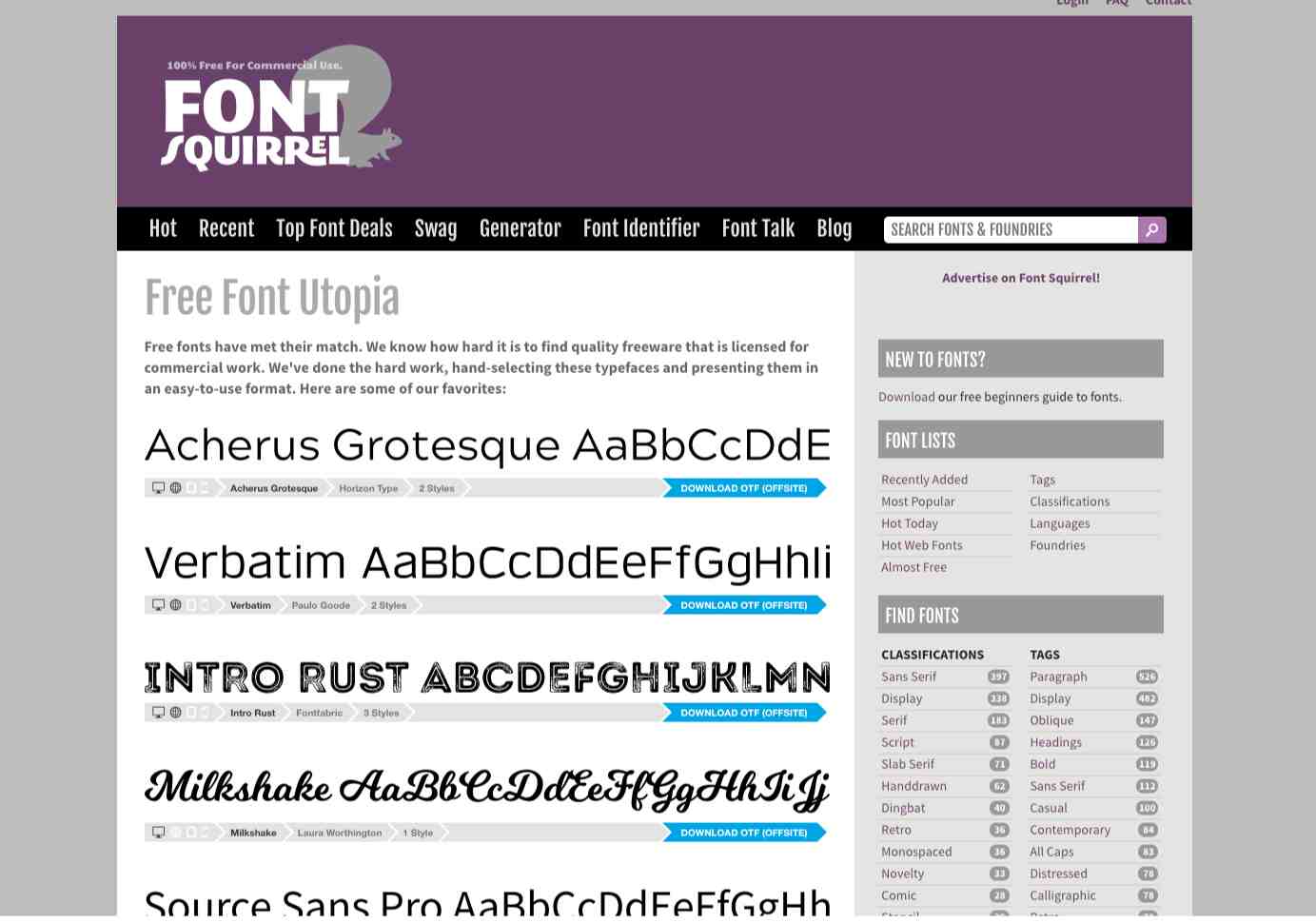 The tagline of the website "100% free for commercial use" is self-explanatory. So you don't have to worry about checking the license and figuring out the do's and don'ts while using the font. Out of all the online sources, I have tried so far, Font Squirrel is the best website for free and commercial use fonts in terms of quantity, quality, and ease of usage.
Although if you aren't satisfied with the offerings of the free section, you can buy from a quality list of "Almost Free" fonts. You can use the filters on the right-hand side of the page to find the specific font which fulfills your requirements. There are filters for Classifications, Tags, Licenses, Family Sizes, Languages and you can sort them through Most Popular, Recently Added and many other filters.
Why use Font Squirrel?
Easy to find fonts through multiple filters
Instant zip file download in a single click
Font Identifier: Upload image of a font to identify unknown font and find its match
Visit Font Squirrel
2. Google Fonts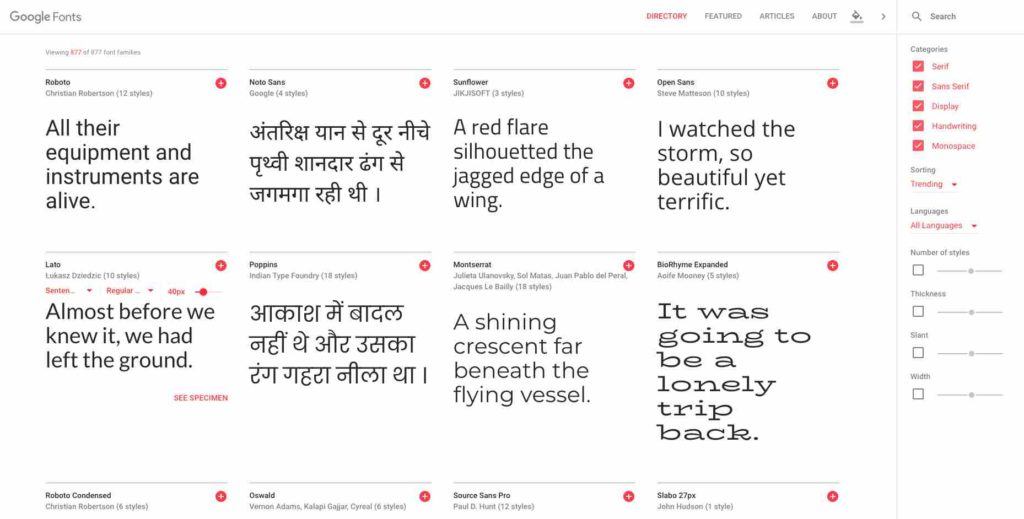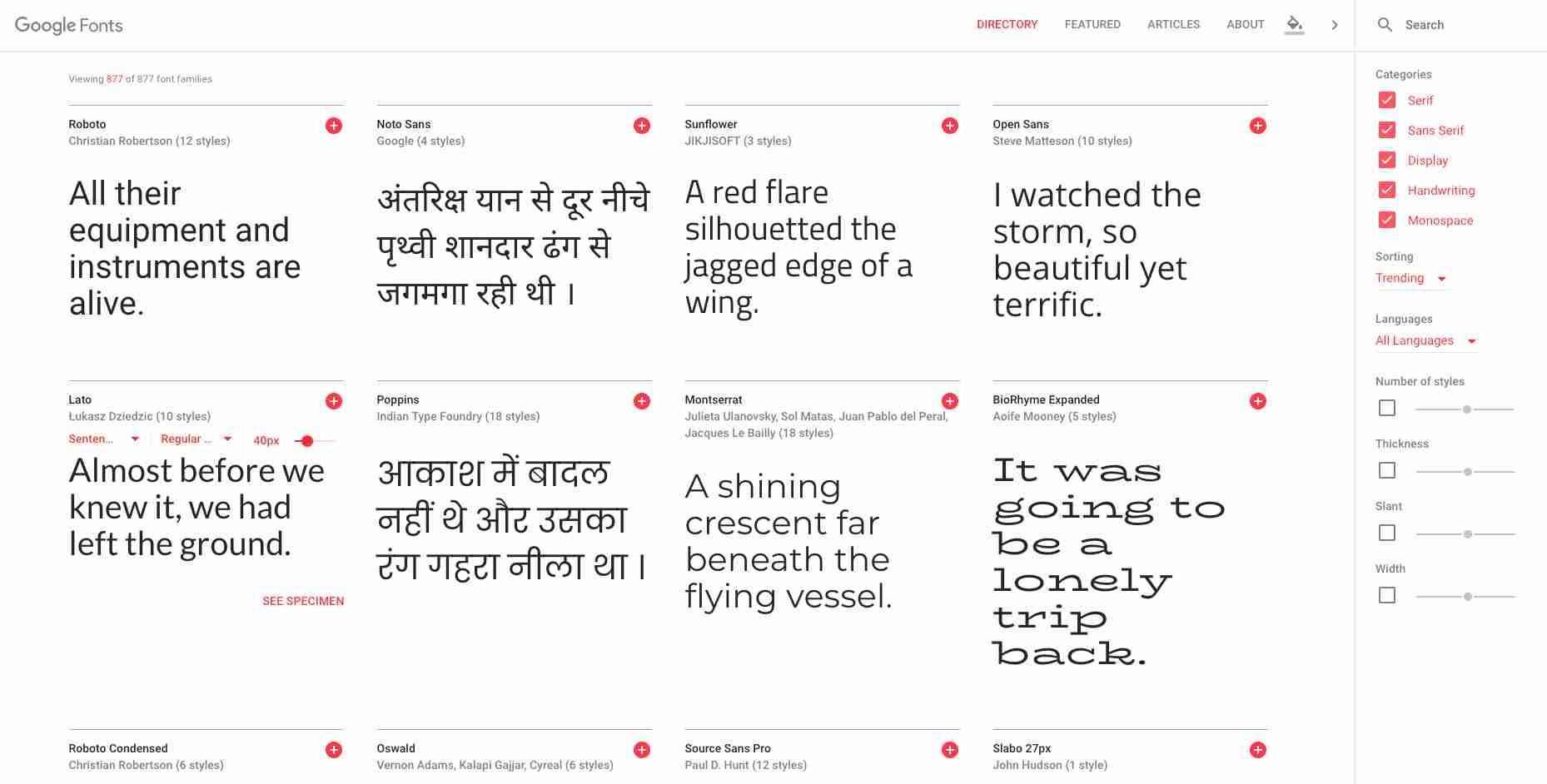 Google Fonts offer a variety of free fonts in serif, sans serif, handwriting, and monospace. So if you are looking for something a stylish font and something very unique, you may not find it here. However, there are hundreds of free fonts for photoshop and designing projects in more than 135 languages.
Just browse through the fonts and click "Add to Collection" for any font you like. Once you have selected the fonts you like, you can download all of them in a zip file. On unzipping, you will find the fonts in .otf or .ttf files to install. The best part about Google fonts is that all the fonts here are open source. So, you can modify them or use them for commercial use.
Why use Google Fonts?
Useful filters to find the exact font in required thickness, slant, and width
Quick preview option
Embed option to place fonts directly on your website
Visit Google Fonts
3. DaFont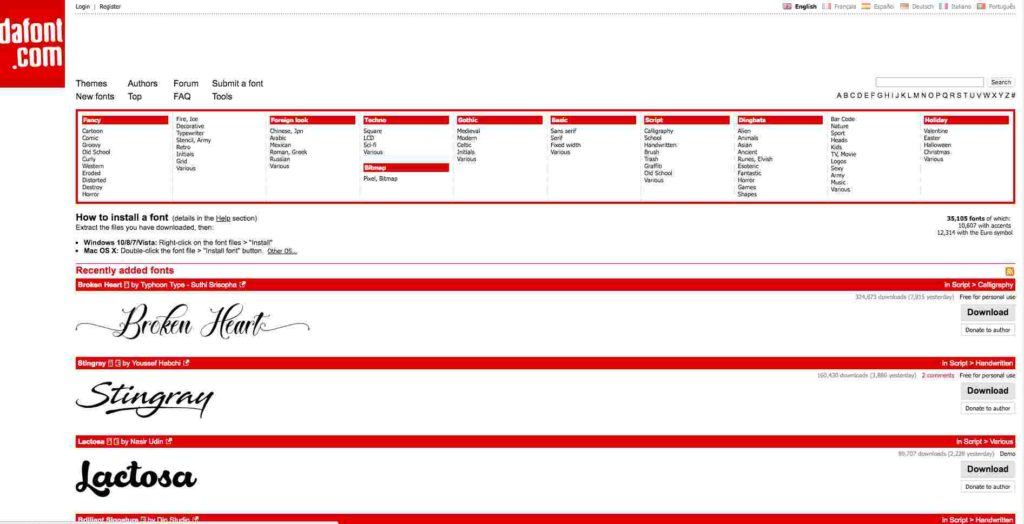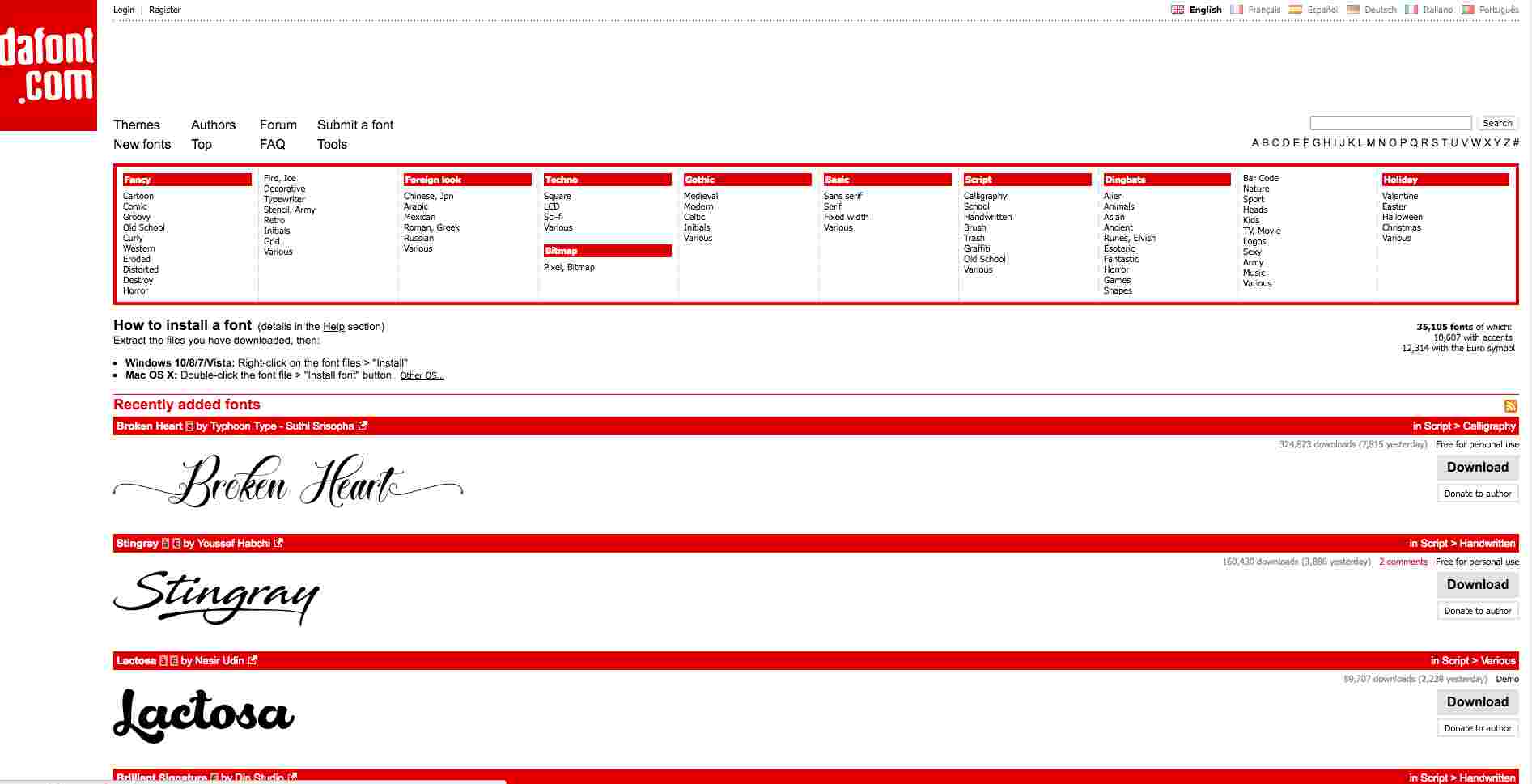 DaFont is a legal website to download free fonts for personal projects. You might have to dig in a little to find commercial use fonts, but once you learn to explore the site through categories, you might stumble upon some cool and stylish fonts for web designing. There is an extensive and detailed category collection including themes such as fancy, horror, video game, alien, gothic, Halloween and many more.
Also, make sure that you click on "More Options" and check off "100% Free" and "Public Domain" before you search and download fonts for commercial use. There are other filters for variants, size, sorting method, license, etc. You can also type a text to preview a sample of all the fonts at once – which is quite convenient. In case you are looking for quirky and oddball fonts, this place has got you covered.
Why use DaFont?
Recommended for eccentric and niche fonts
Detailed category list on various themes
Visit DaFont
4. FontSpace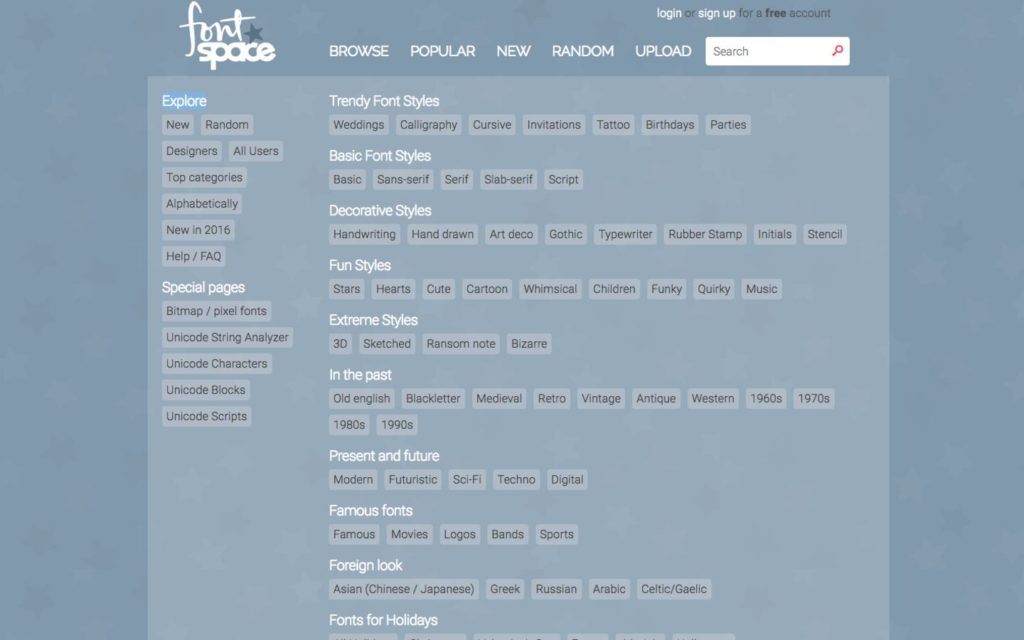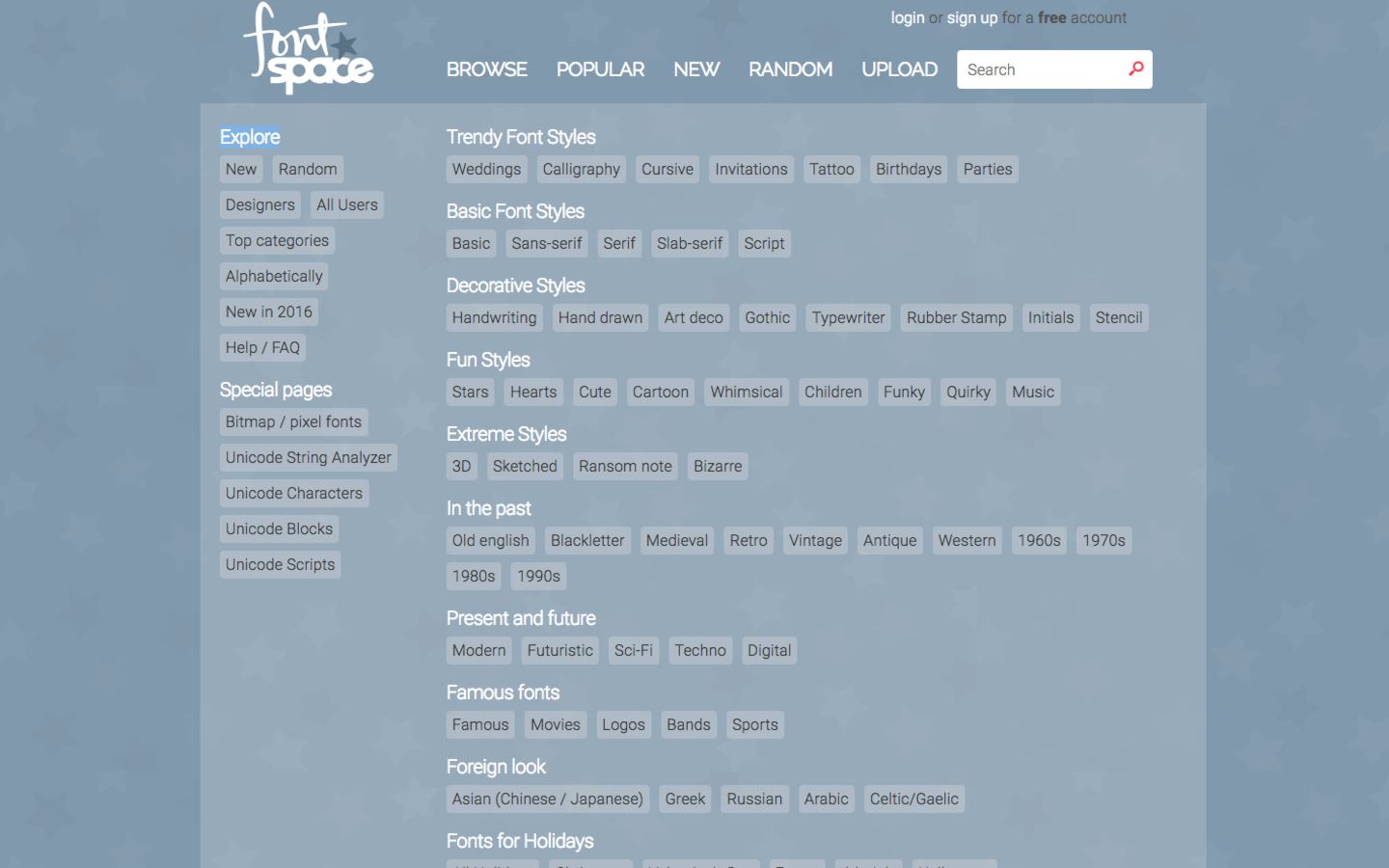 FontSpace has over 35,000 fonts to share with users. These free fonts are submitted by more than 2,000 designers who like share their work without charging anything. Much like DaFont, FontSpace has an awesome collection of categories to choose from with the help of tags. It also allows you to preview multiple fonts at once and offers easy download options.
Before jumping into the font hunt, make sure you check off "only show commercial use fonts" option to filter out the commercial use fonts only. The best part is that the site lets you download free fonts in a single click an without signing up for it. Files are downloaded in a zip file containing .otf and .ttf files which are ready to be installed.
Why use FontSpace?
User-friendly UI
Biggest library of fonts
Visit FontSpace
5. 1001 Fonts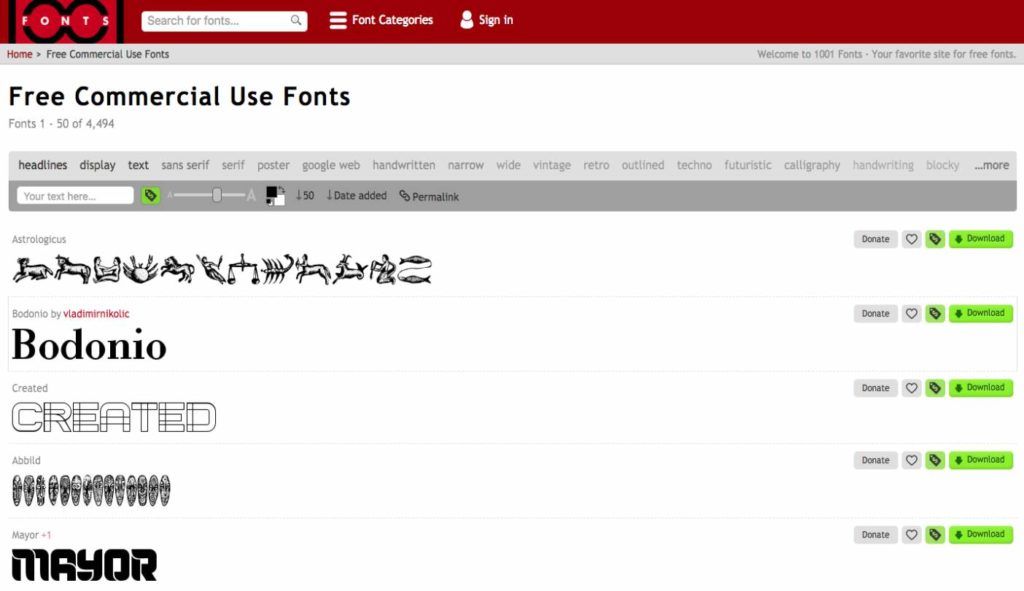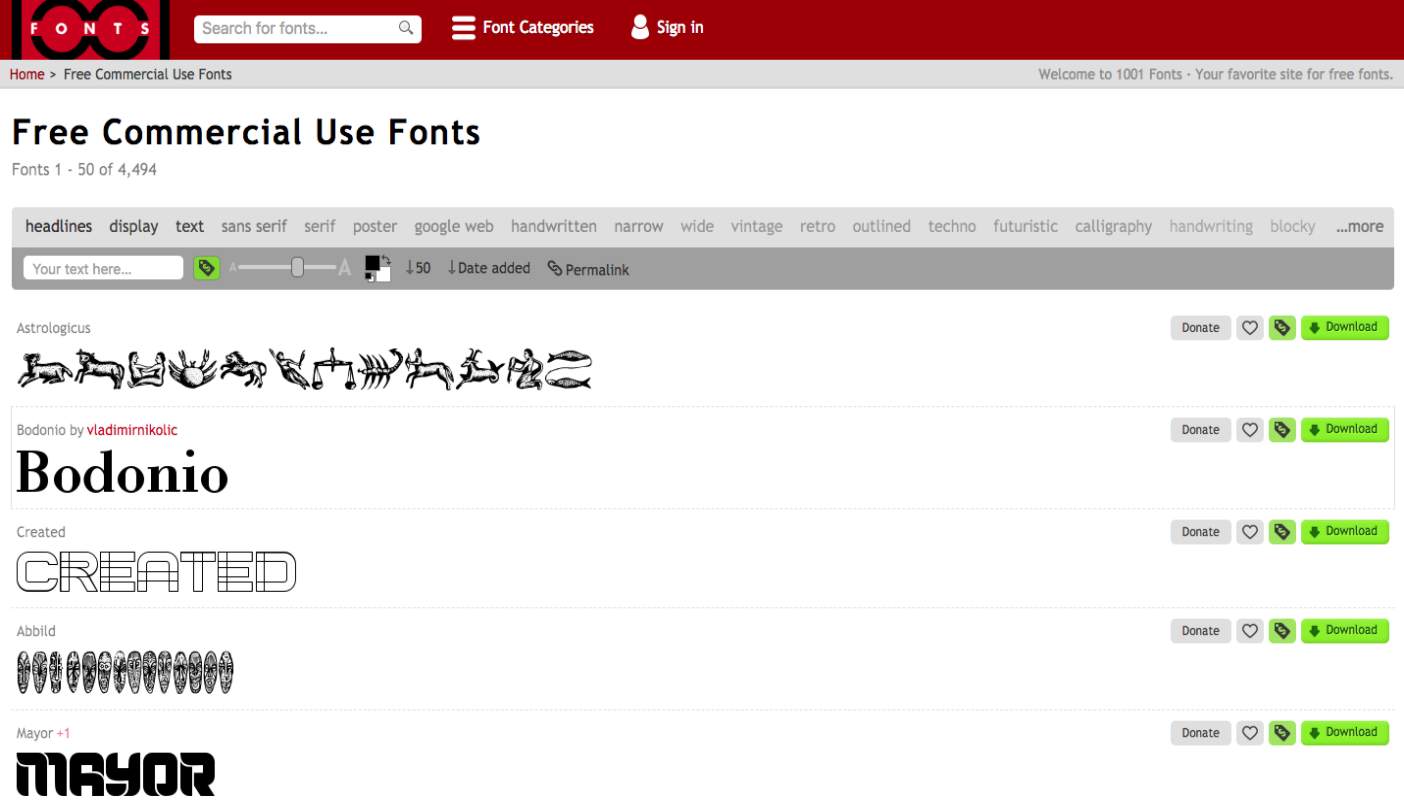 1001 Fonts houses a collection of over 7360 free fonts in 9526 families. However, not all of them are available for commercial purposes. So if you want the 4000+ free commercial fonts present on this website, you can it access it from this link. The UI may not be as friendly as the aforementioned websites, but the fonts available here are of impressive quality and easy to install.
As 1001 Fonts is one of the most popular sites for free downloadable fonts, there are comments on the majority of the fonts available so you can know the opinions and recommendations of other people too. Also, do not get misled by the character map on the font web pages as they don't always represent the characters accurately that come with the font. Some fonts may display few characters only, but you will find the full set on installing it.
Why use 1001 Fonts?
Very high quality and impressive collection of fonts
Neat and clean navigation on the website
Download fonts without signing up
Visit 1001 Fonts
6. FontStruct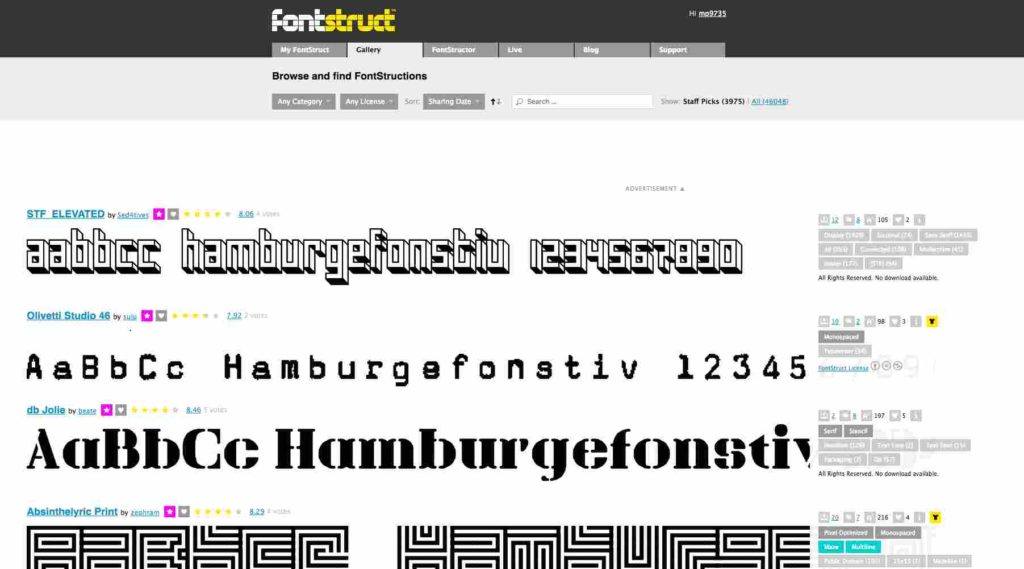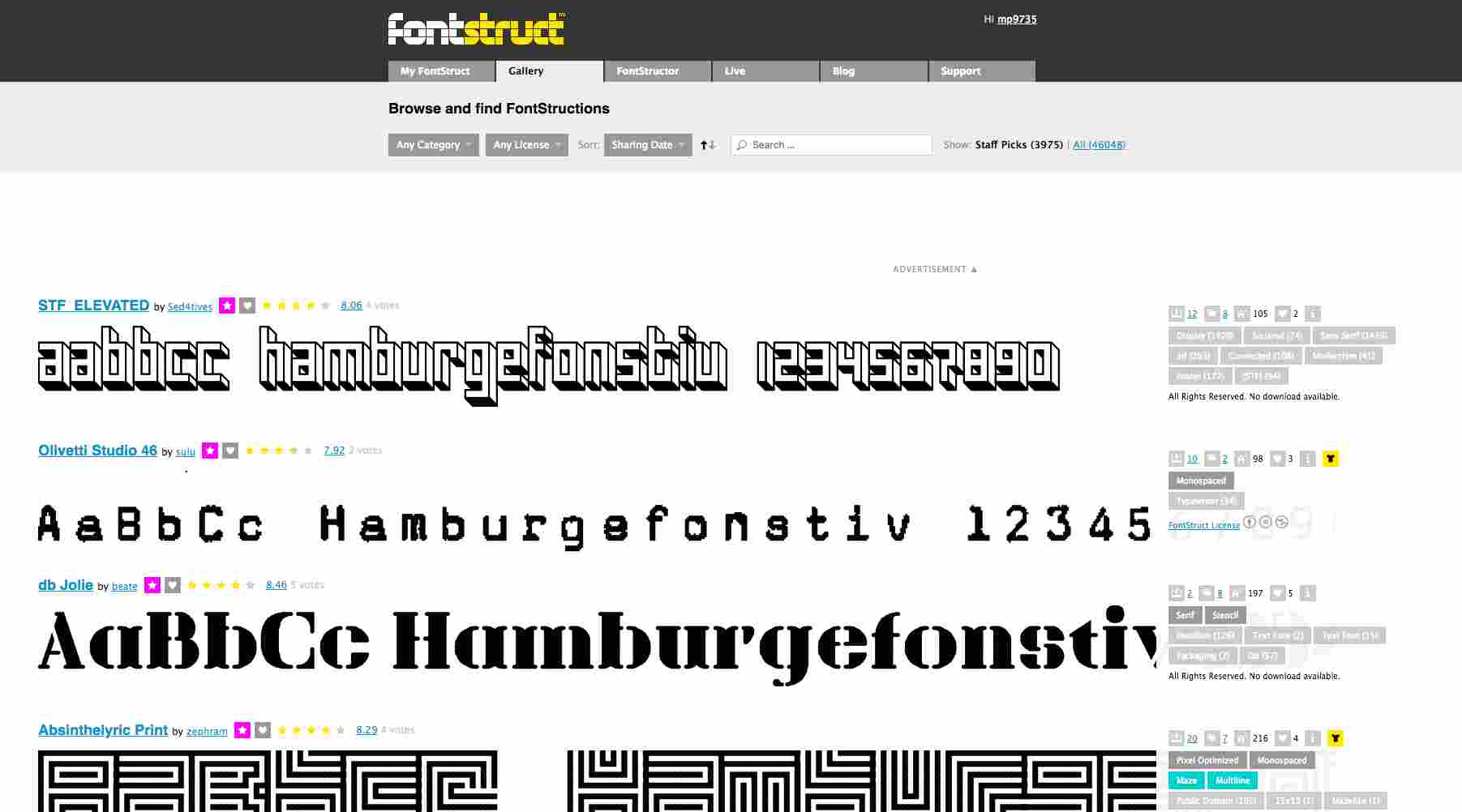 Another big name in the list of free fonts download site is FontStruct which offers more than 43,000 unique fonts. The TrueType fonts available here are of high quality that can be readily used on Windows and Mac. The best fonts are available in the FontStruct gallery which is pretty easy to navigate.
However, you will have to signup on the website before you can download the fonts. It is also a popular free font-building tool which lets you create fonts if you aren't satisfied with the ones available there and share those custom fonts with other people too. The font generator on this site works pretty well and helps you create fonts that are compatible with other apps.
Why use FontStruct?
A unique collection of fonts
Option to create custom fonts using the free font generator (FontStructor)
Filters for sorting content and proper info on licensing of each font
Visit FontStruct
7. Abstract Fonts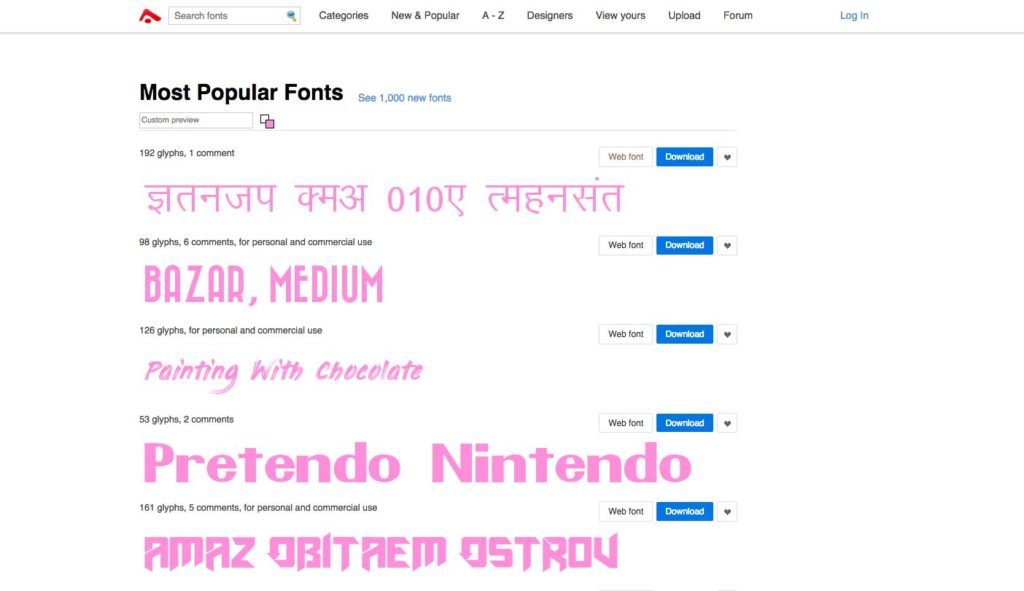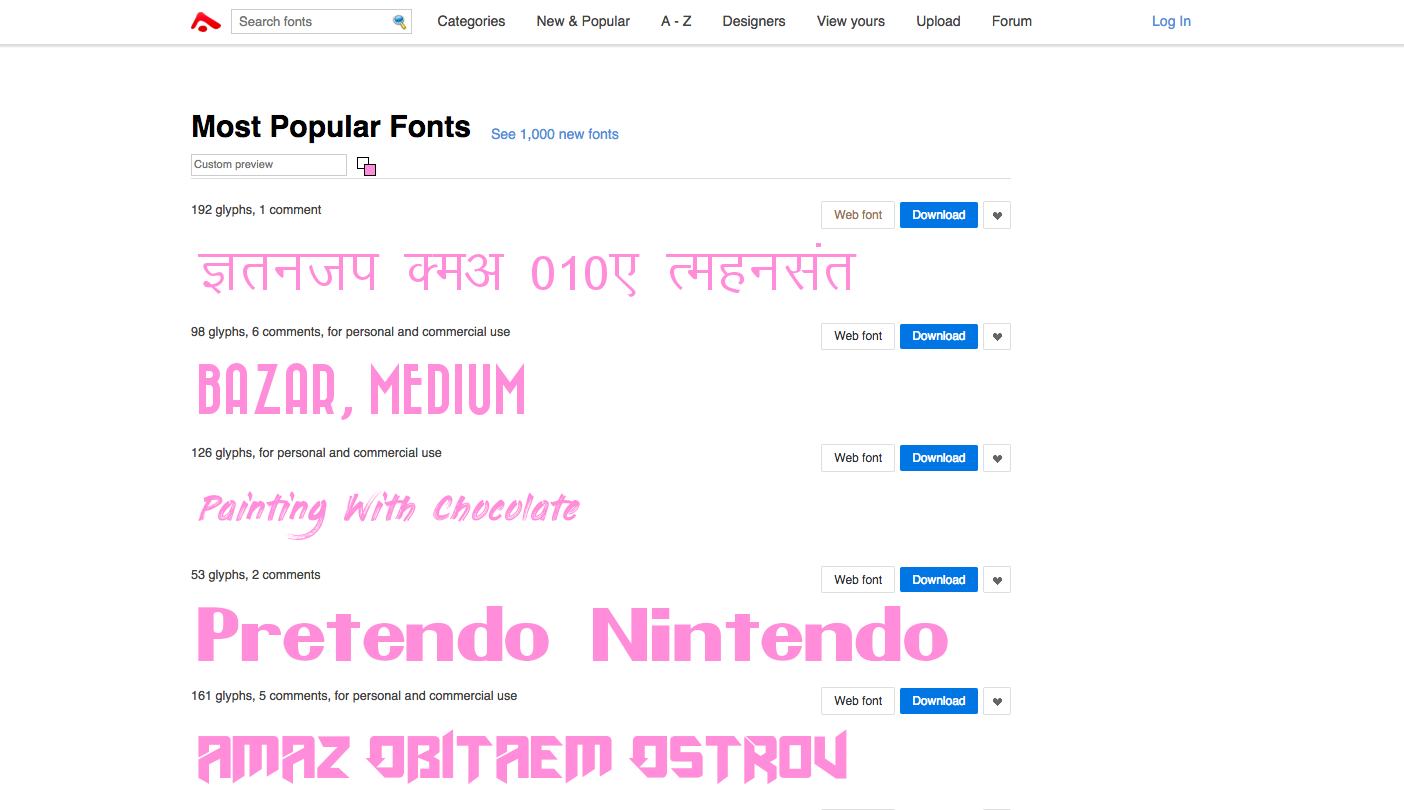 Abstract Fonts has over 13, 870 fonts in its websites in more than 80 categories such as Monospaced, Dingbats, Fuzzy, Retro, Stencil, Celtic, etc. It has one of the cleanest interfaces you will come across websites from this list. There is a custom preview option which lets you view the all the fonts in your desired color to help you make a better selection.
Exploring the free fonts for photoshop or designing purpose is pretty easy here. There are filters for category, designer, popularity, recent on this platform. Even though signing up on the site is not necessary to download free fonts, but if you choose to do so, Abstract Font lets you download up to 100 fonts in a zip file.
Why use Abstract Font?
Site updated regularly with new cool and stylish fonts
Well defined categories
Visit Abstract Font
8. FontZone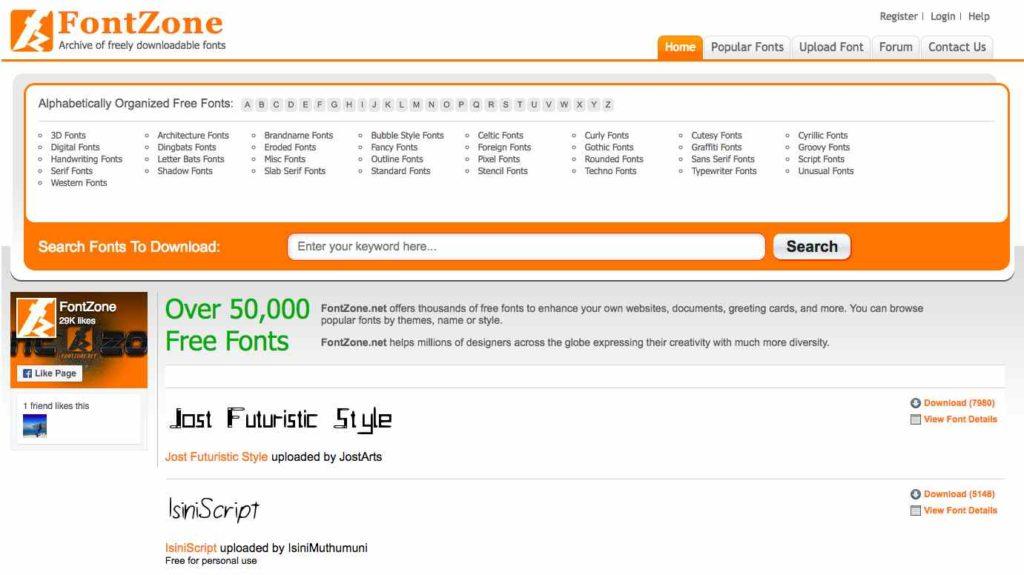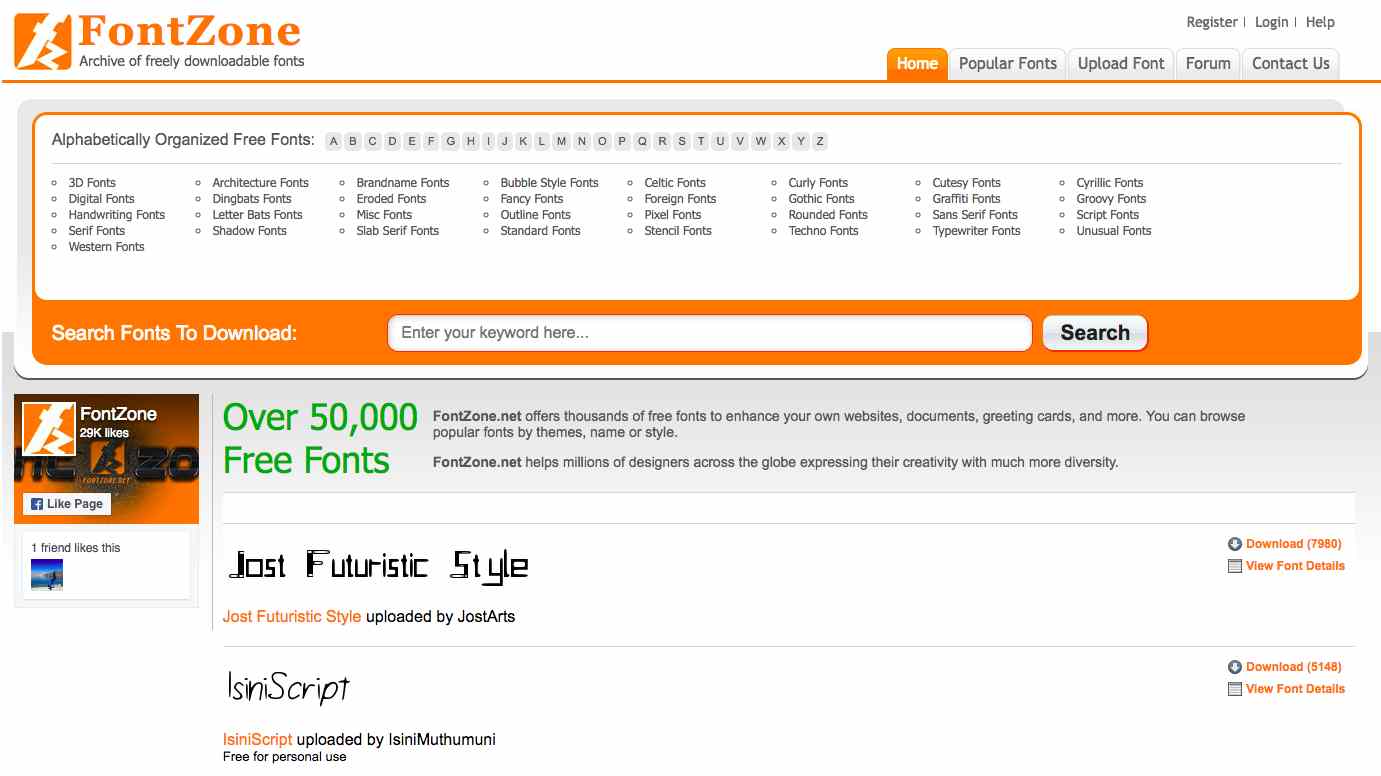 FontZone is another great source to explore free fonts for designing projects. The site has thousands of fonts available for designers across the world to help them find the exact typeface that would express their creativity with much more diversity.
There are well-defined categories to help you browse swiftly through the library of fonts. Be it 3D, Shadow, Curly, Gothic, Rounded, Architecture, Handwriting or any other font you are looking for; this website has got you covered.
Why use FontZone?
Browse for free fonts by popularity
Extensive categories of fonts available
Custome preview and registration is optional
Visit FontZone
9. UrbanFonts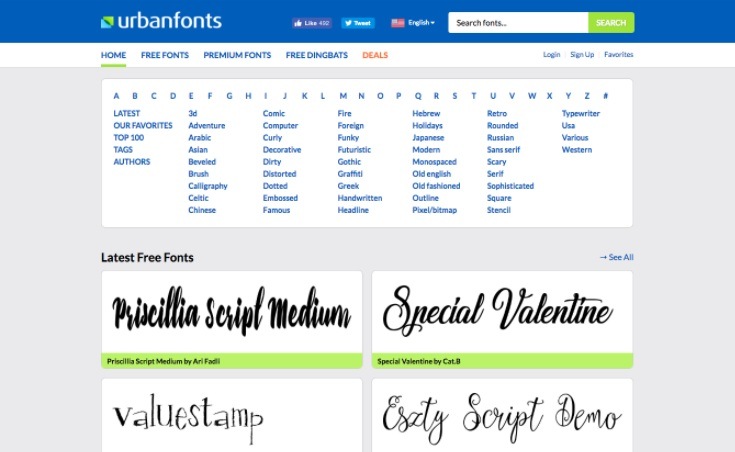 The last name on this list is UrbanFonts which has over 8,000 free high-quality fonts for personal and commercial use. The amazing collection on this website is a mix of freeware, shareware, and linkware. So before downloading a font, make sure you check the terms and conditions of usage.
There are separate sections for Free Fonts and Free Dingbats where you will find lots of useful typefaces. However, if these two sections do no fulfill your requirement, you can check out the Premium Fonts section where you can buy some fonts at reasonable rates.
Why use UrbanFonts?
Better search results, intensive categories, filtering options
Easy to navigate and download fonts
Visit UrbanFonts
10. Fawnt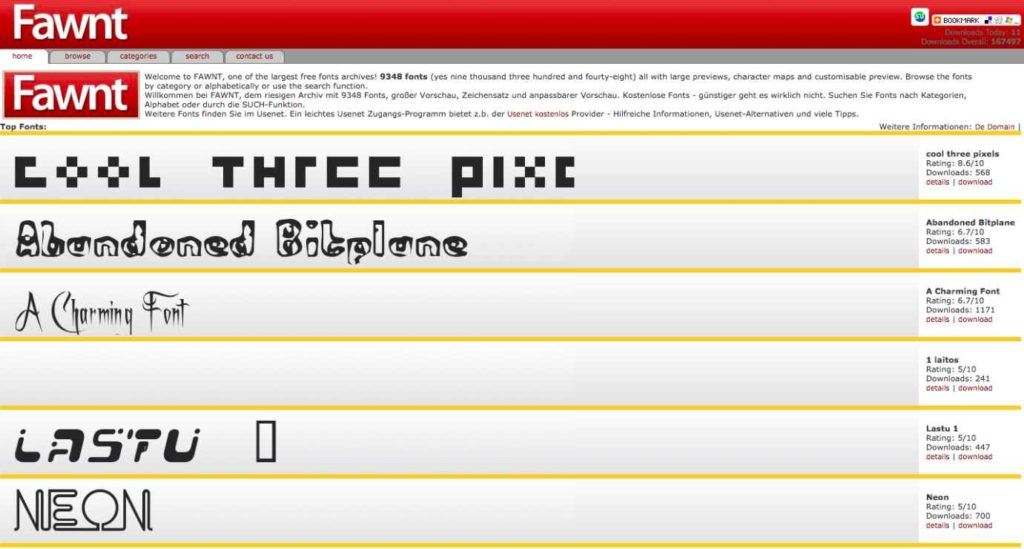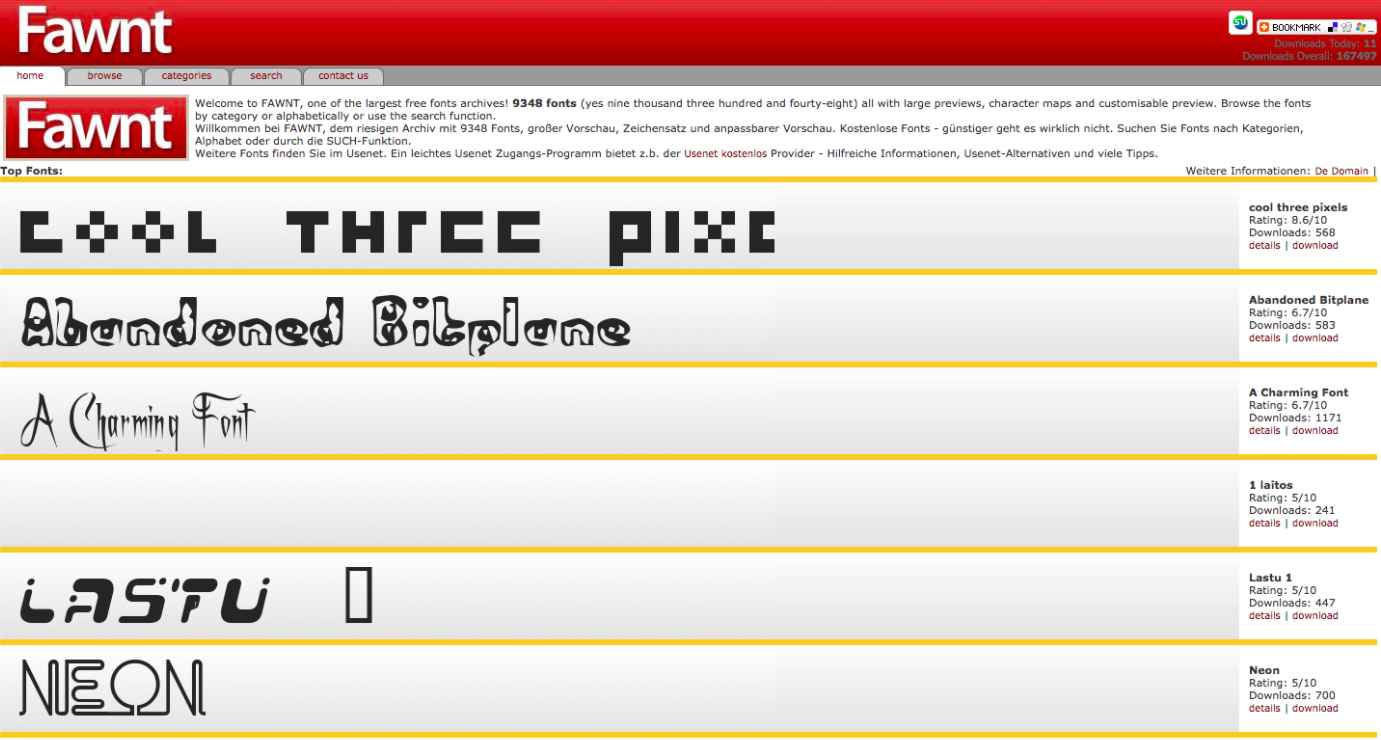 Fawnt is another excellent option for designers, developers, and anyone else who would like to get some of the web's highest quality fonts. This platform has more than 10,000 free fonts to offer in various typeface and font families.
On the homepage, you will find a list of the top downloaded fonts, which usually has the best fonts on it. Other than that, you can browse through its large index where you can use filters for sorting by categories or in alphabetic order.
Why use Fawnt?
Preview for each font with all characters available
Blog to find out about new designs
Visit Fawnt
Final Words
The free fonts download websites listed above have been ranked in a top to bottom order based on ease of use, categories available, and quality of fonts on it. The first five on the list are the very best when it comes to downloading free fonts for commercial use, but having more options cannot hurt.
Even though I have carefully tried to include only those websites that offer completely free fonts, but I would still advise you to check the terms of use before using it in your projects. Also, do not forget to share your thoughts on this article and tell us which free font website you liked the most.