The Byton K-Byte is an all-electric sedan from Byton and the second electric car from the company after the M-Byte. And from what we know so far, it seems like the K-Byte has the potential to be a perfect Tesla Model 3 Killer.
Before we move forward, let me give you a brief overview of the newcomer 'Byton.' It is a Chinese electric vehicle company established in 2017. Former BMW and Nissan Motor employees co-founded the company. As of now, there are only two electric vehicles in Byton's Portfolio: M-byte, an electric SUV, and K-byte, which is a sedan. However, both of them are unavailable for sale at the moment.
K-Byton, as a concept, was first unveiled in 2018, soon after its predecessor M-Byte. However, as per some leaks, the car is set to hit the roads in 2021.
Let's discuss why we think it can be the toughest competitor for Tesla Model 3.
Model 3 Killer: Byton K-Byte
The electric car has already impressed many with its sleek design and premium interior. In addition, this electric sedan has become a subject of interest as its specs are being leaked on some social media platforms.
https://www.instagram.com/p/B-8ITOQnFOn/
K-Byte will launch in two trims: a 75kWh base variant and a top-spec variant with a 95kWh battery pack. The relatively small 75kWh battery provides a range of 250 miles, which is equivalent to the standard plus variant of Tesla Model 3, whereas the 95kWh battery pack offers a range of 323 miles.
However, Tesla achieves better miles per kWh because it uses a 54.5 kWh battery in the Model 3 Standard range plus to deliver 250 miles. Meanwhile, Model 3 Performance uses a 74 kWh battery to deliver 322 miles.
How K-Byte Beats Model 3?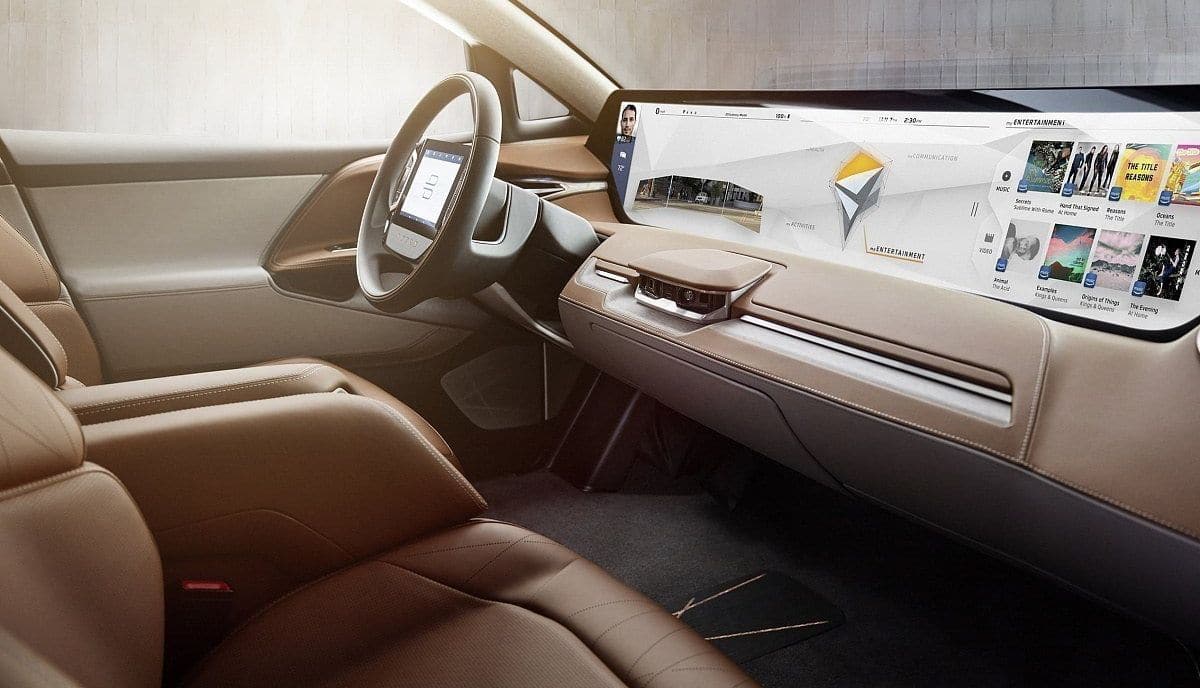 As mentioned by the company, the K-Byte will come equipped with a level 4 autonomous driving system. Meanwhile, all Tesla electric vehicles have level 3 self-driving hardware. Moreover, Tesla is the only company in the world currently offering an autonomous driving system.
Still, when launched, the level 4 autonomous driving will be quite impressive. The other point which could put the K-Byte ahead of Model 3 is the interior design, as we can see in the images, it has one of the biggest digital infotainment screens. It covers the front dashboard area.
Additionally, there's also another small screen on the steering wheel. Although I am not really sure how they are going to keep the screen straight while turning the steering wheel.
The rest of the interior looks neatly wrapped in beige color, lending this car's cabin a more spacious feel.
Price And Final Thoughts
If we talk about the price, then the starting price for the K-Byte base model will be around $45K. On the other hand, the cost of the base variant for Tesla Model 3 is around $40K.
Currently, Tesla offers more range, better value for money and more robust software than any of its competitors. When comparing it with the K-Byte, another main advantage Tesla has is that it is already present in China and the US.
Meaning, it has local supply chains that are less affected during a crisis situation like the current ongoing Coronavirus Pandemic. No disruption in the supply chain means quicker deliveries.
Byton has a long way to go before they can challenge Tesla's might, but their initial effort does show some promise.