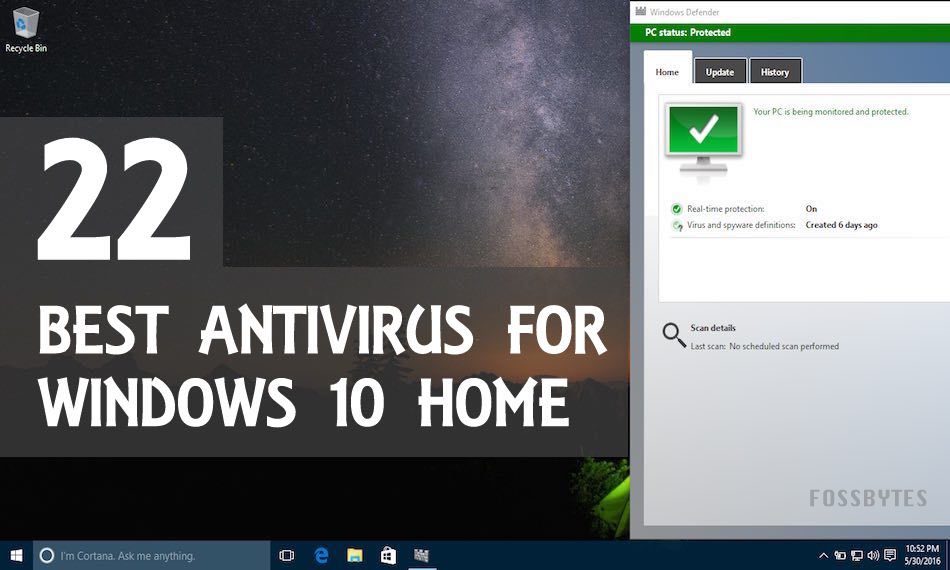 Short Bytes: Even though Microsoft is increasing the security measures in its latest operating system Windows 10, your PCs remain vulnerable to attacks. Here's a list of the 22 best antivirus software for Windows 10 Home PCs, as suggested AV-TEST. Just like the previous lists, Bitdefender has managed to score the top position by scoring perfect 18 points in three tests.
Every new day brings a new cyber attack and a unique form of advanced malware. Even though Microsoft keeps on improving security features in its operating systems, the types of threats get increasing and keep getting worse.
To protect your Windows PCs from such attacks, you'll definitely be using an antivirus program. Even if you are one of the lucky people who have never faced a malware attack, you never know what is going to happen the very next moment.
Apart from the well-known data-stealing Trojans, over the past year, cyber security firms have warned us about the increasing threat of Ransomware. However, using a reputed and modern antivirus can protect you from various threats like spyware, trojans, ransomware, adware, rootkits, worms, and more.
If you keep a close eye on the developments in antivirus industry, you might be knowing about the well-known German institute AV-TEST. The firm has dropped its latest list of the best antivirus software for Windows 10 Home PCs.
The readers shouldn't confuse this list with the earlier released list of the best antivirus software for Windows 10 Enterprise PCs as enterprise and consumer versions of antivirus solutions come with different features.
Best Antivirus For Windows 10 Home PCs — Bitdefender, Kaspersky, Avira, Symantec
Following the trend of previous years, Bitdefender Internet Security 2016 has won the first place by earning the highest points. The software suite obtained total 18 points by securing 6 points each on protection, usability, and performance fronts.
Bitdefender was followed by the likes of Avira, Kaspersky, Symantec, and Trend Micro, who scored 17.5 points each.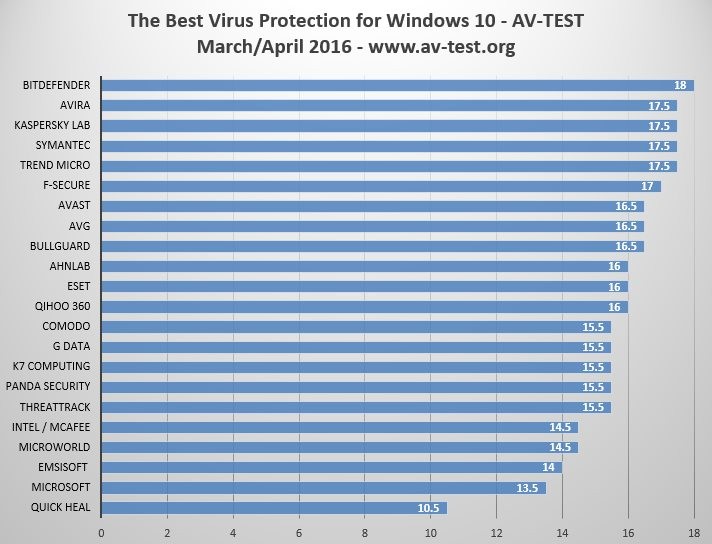 Good news for free antivirus solutions and Windows Defender
For the users looking for a free antivirus protection on their Windows 10 Home PCs, this test brought some positive news. Avast Free Antivirus 2016 scored perfect 6 points for protection, followed by AVG Internet Security with 5.5 points for protection.
Very often Microsoft's homegrown antivirus solution Windows Defender is bashed for its lack of defensive measures. However, things are changing rapidly and Microsoft is adding more skillsets to the software suite.
In the tests, Windows Defender scored respectable 13.5 points — 3 points for protection, 5 points for performance, and 5.5 points for usability.
Editor's Recommendation:
While Microsoft promises to provide a basic level of security with Windows Defender, to keep your Windows 10 Home PC safe, you need to go for advanced solutions.
Just like the test results indicated, Bitdefender is a recommended antivirus solution for Windows 10 Home users.