It is said that a picture is worth a thousand words, so pairing up your articles, blogs, newsletter, ad-campaigns or presentations with the right image is crucial to make them stand out on or off the internet. But many people struggle to find the perfect image for their blog post or design projects that would express the essence of the content in it.
While there are many sites to download photos for free but not all of them bring out the emotions of your words or design. Sometimes they lack the required quality, sharpness or even originality. Many of them are even illegal. I have personally come across many photographs that are iterations of the same concept. Even if you find a good picture, chances are that they are probably paid and at times, expensive.
Whatever may be the case, if you are looking for a good source which offers a variety of free stock photos, we have compiled a list of top 20 websites for free image download. These sources let you download images under the Creative Commons Zero (CC0) License, so they remain free for personal and commercial use. You can copy, modify and distribute those images without soliciting permission. Most of them do not even require attribution. However, it is appreciated in some cases.
Before we move on, do check out our other lists of free websites and apps:
Top 20 Websites To Download Royalty-Free Stock Images In 2018
1. Pixabay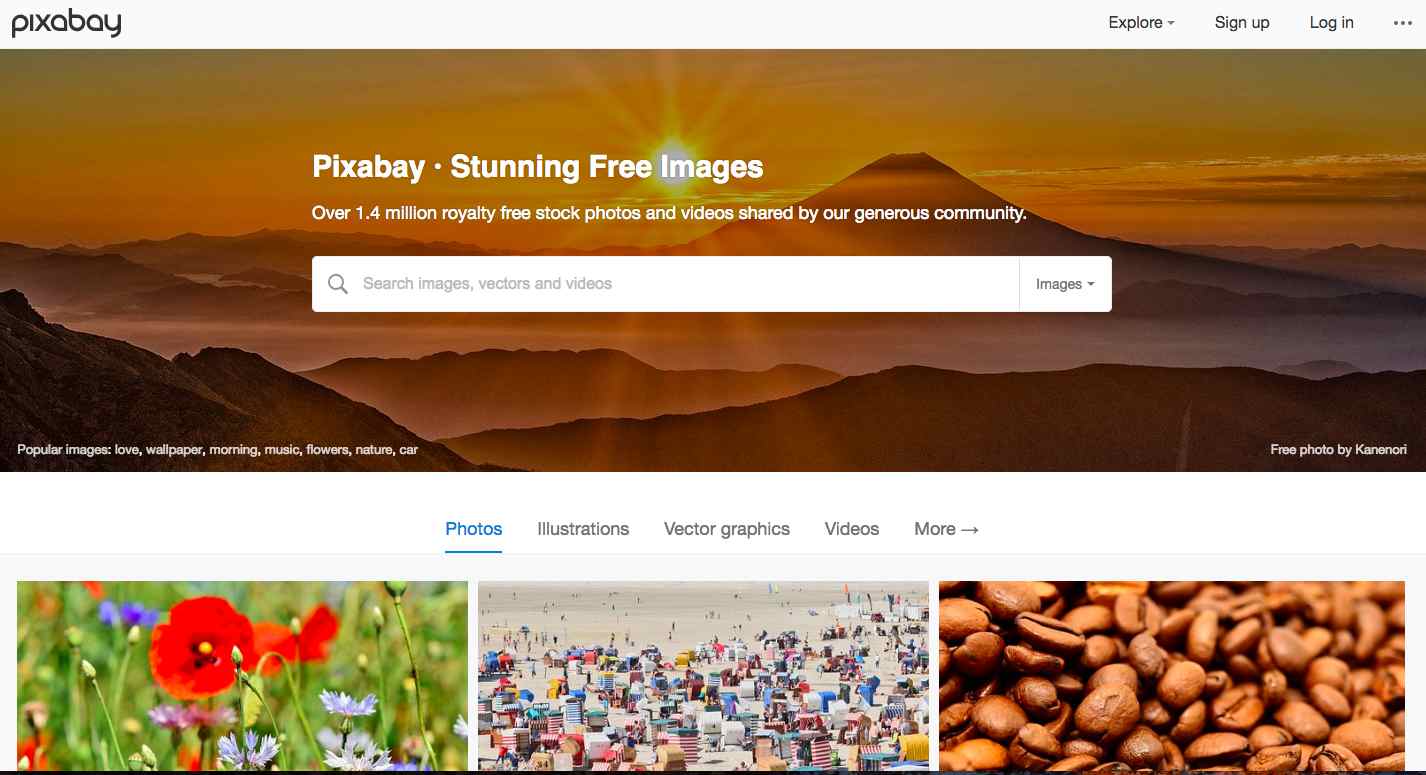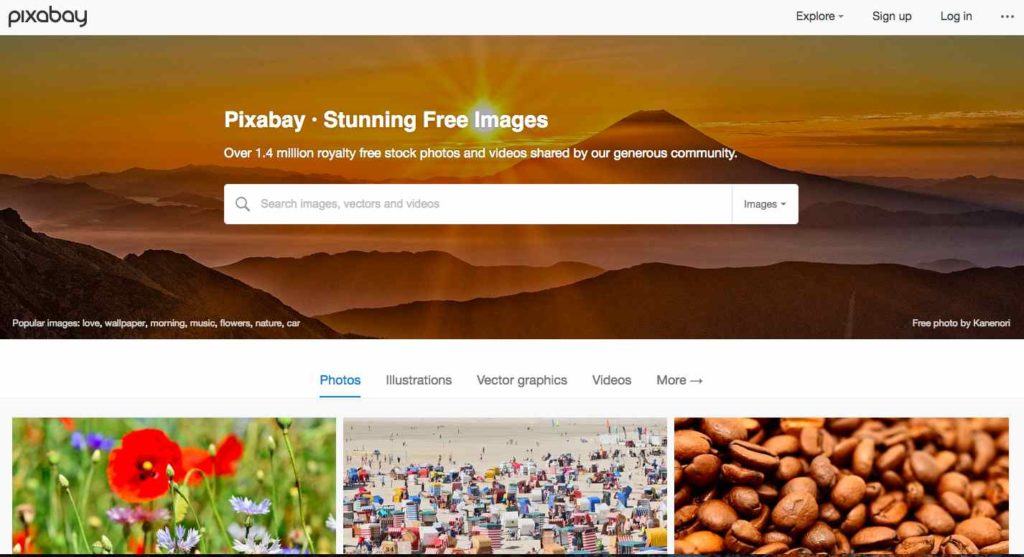 Pixabay is a repository of copyright-free images related to any keyword you can imagine. The collection also includes vector graphics, art illustrations and even videos for free of cost. It has a powerful search option that lets you hunt for the right picture by setting up filters for media type, orientation, category, size, and color.
Why use Pixabay?
Covers almost every category of images one can think of
Unique Camera Search option – for exploring images based on the camera used to take them
Visit Pixabay
2. Flickr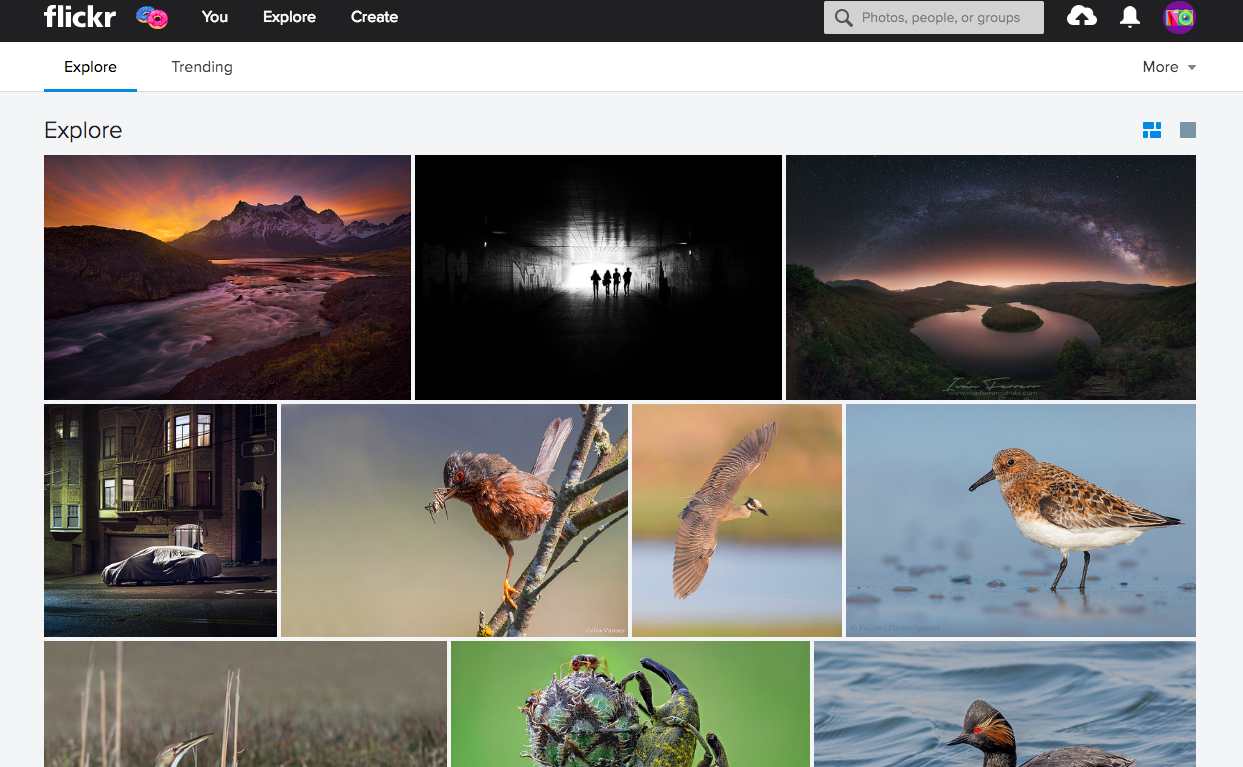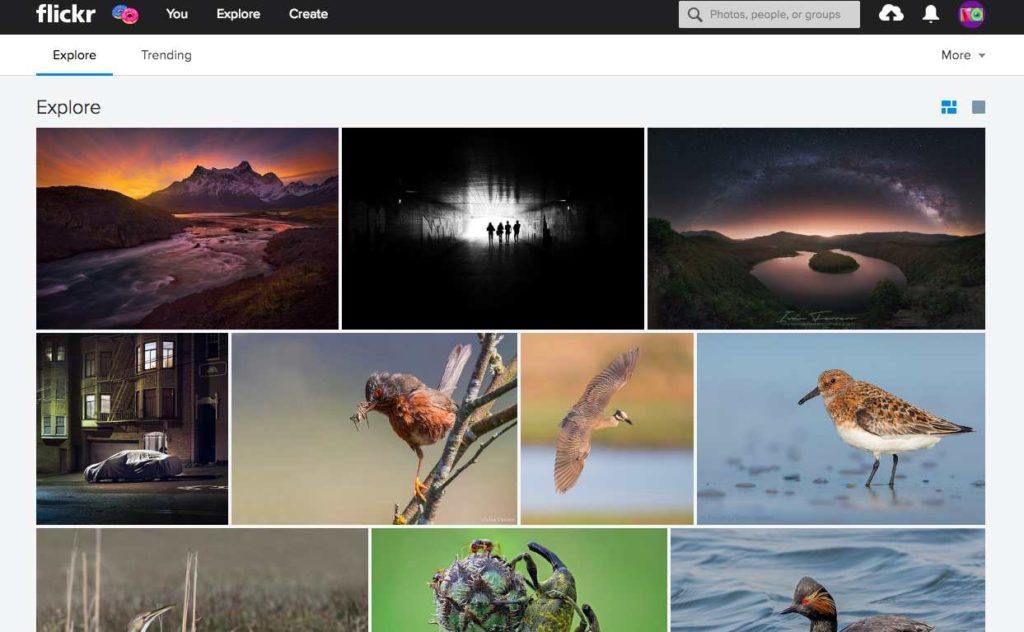 Not all content on Flickr is available under the Public Domain images, but there is an extensive collection for free images download. Just make sure that you turn on the filter for photos that are "Labeled For Reuse" under the CC0 license before searching. You can download the free ones and use it in your commercial or non-commercial projects by giving proper attributes.
Why use Flickr?
Its library covers all niche topics and category of photographs
Easy to search option that offers relevant images in different dimensions
Visit Flickr
3. Pexels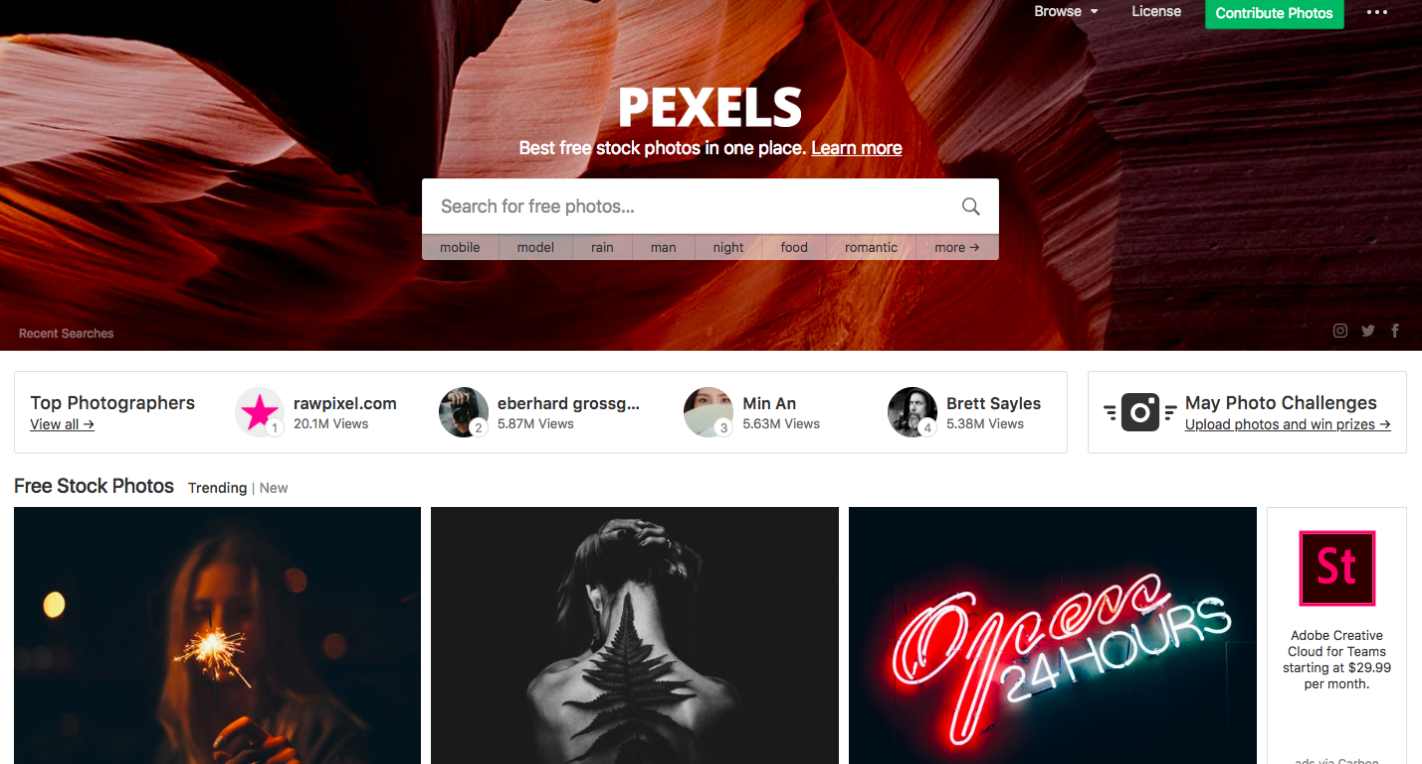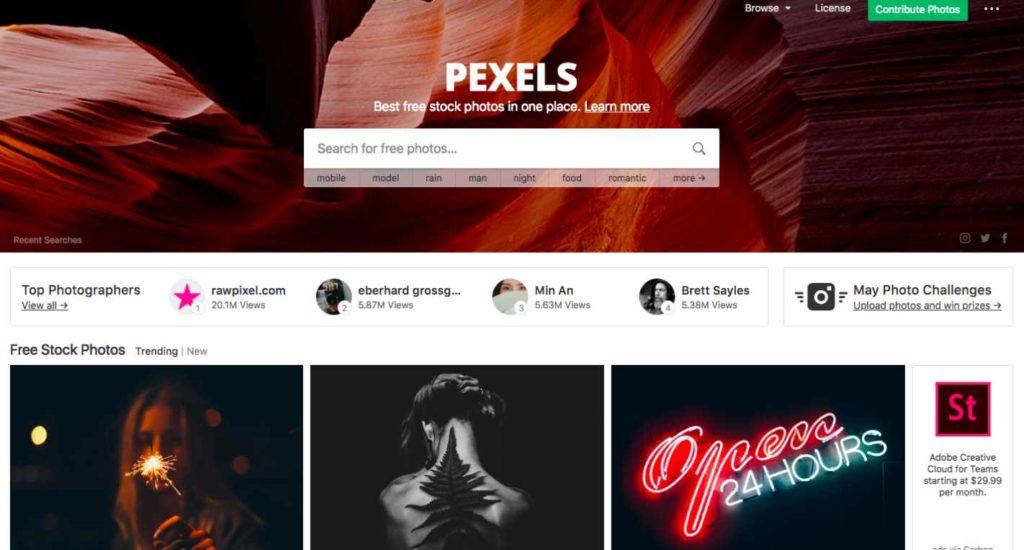 Pexels provides high-quality photos that are covered by Creative Commons license. The collection for free image download currently includes over 40,000 free stock photos and adds at least 3,000 new photos every month. All the images on the Pexels are handpicked by users or curated from free image websites such as Gratisography, Unsplash, and Little Visuals.
Why use Pexels?
Offers high-resolution photos as well as videos for free
Pictures are well tagged and easily searchable
Visit Pexels
4. Unsplash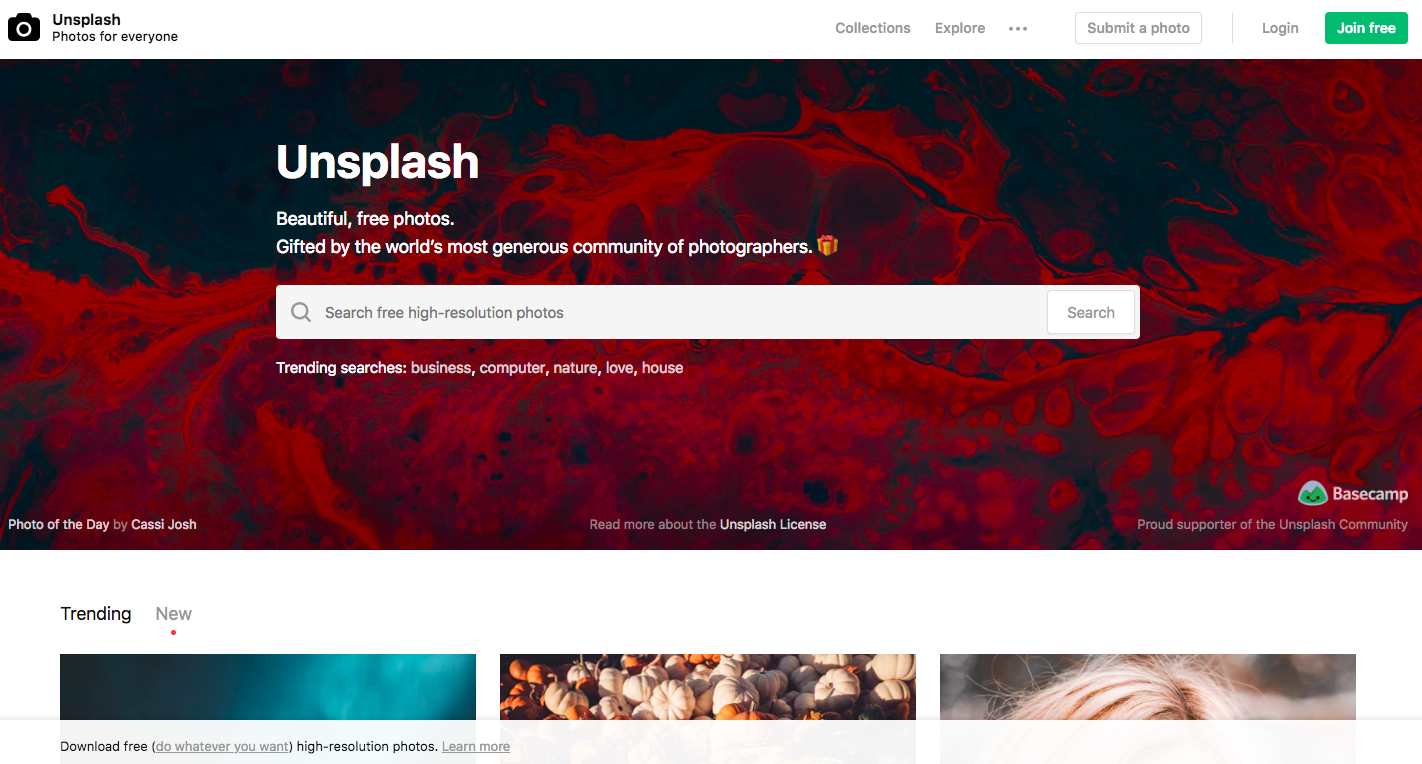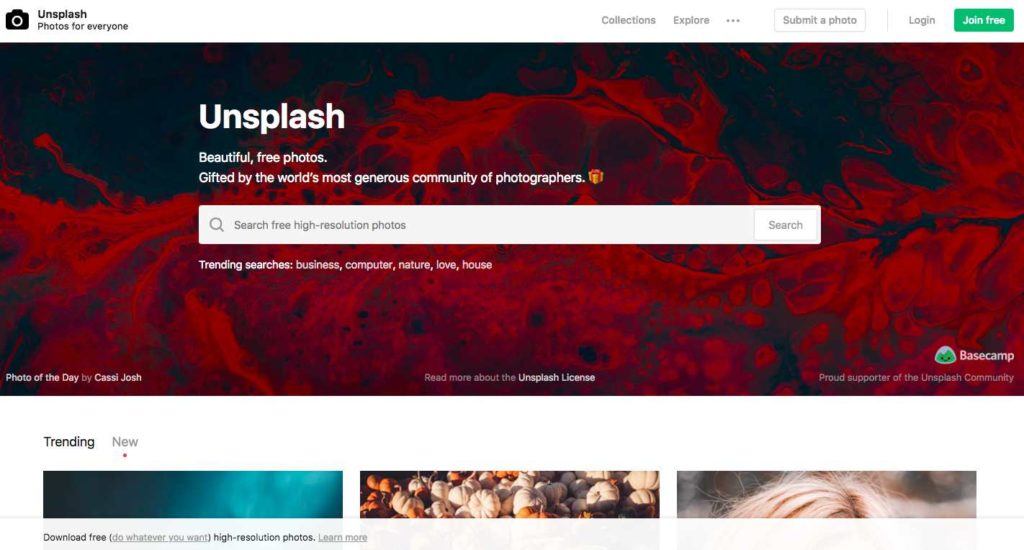 Unsplash is one of the best sources for downloading high-resolution stock images for free. The platform is driven by several professional photographers around the world who have shared their collection photos for commercial and personal uses. If you sign up, the website offers 10 "do whatever you want" picture every 10 days without any charges.
Why use Unsplash?
Easy to navigate website with well-categorized sections and tags for images
Visit Unsplash
5. StockSnap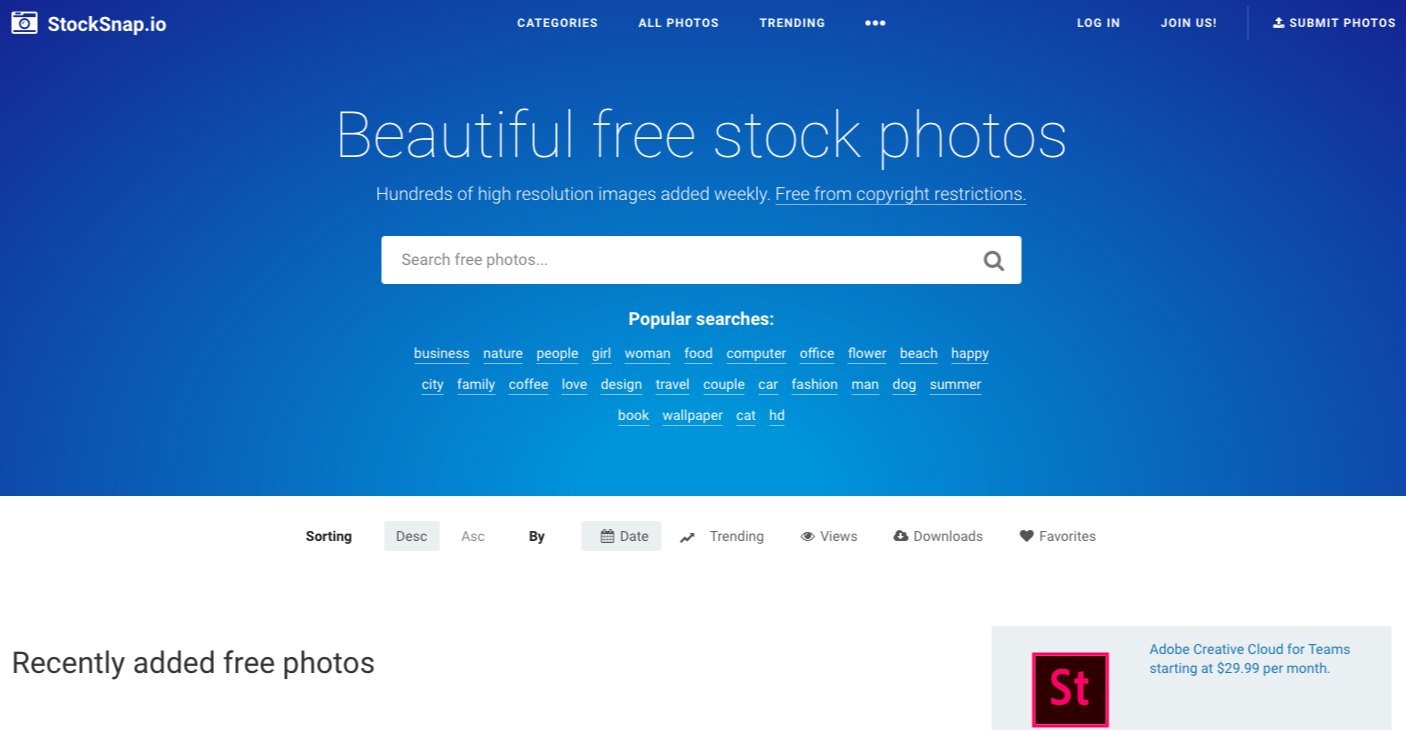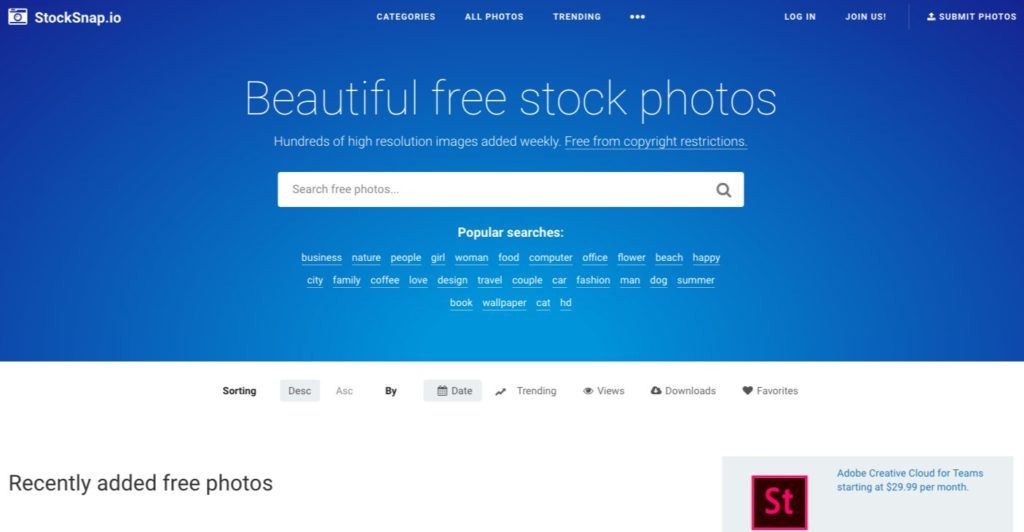 If you need some beautiful and free stock images for social media, StockSnap is your go-to place. It offers high-resolution photos under Creative Commons and does not require any credits for the content. You can explore the photographs by setting filters for date, number of views, downloads, or by checking out the trending section.
Why use StockSnap?
Well categorized sections of photos
Addition of hundreds of new images daily to the ever-expanding collection
Visit StockSnap
6. Burst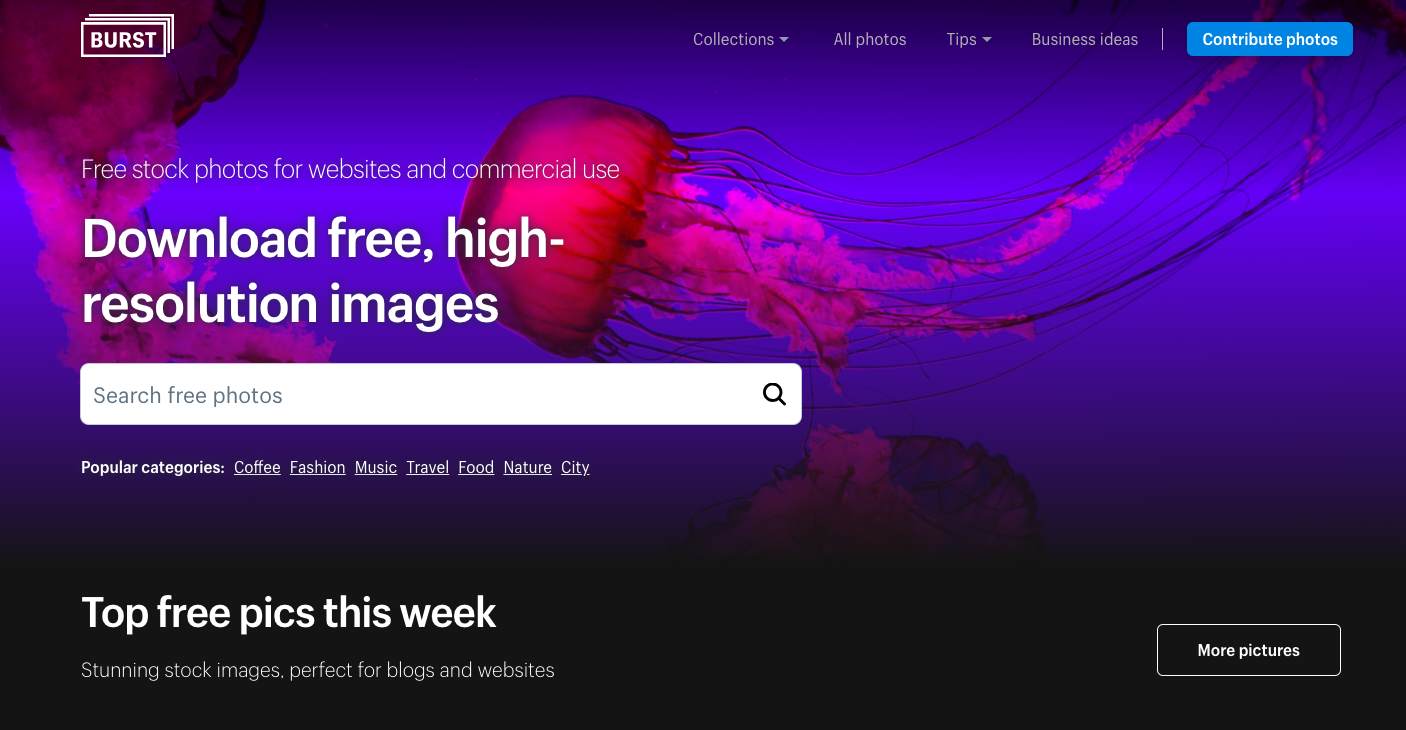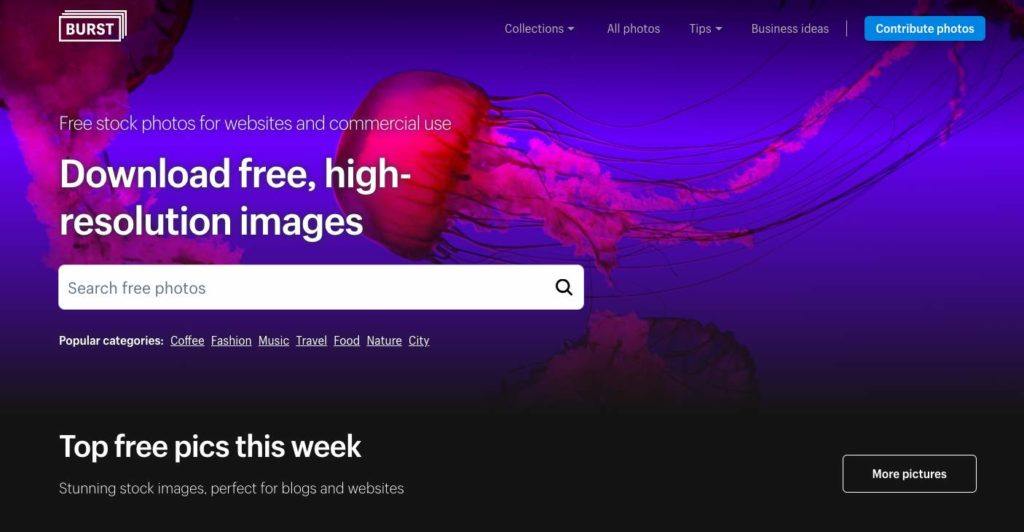 Burst is a free stock photo site by Shopify that brings together several photographers to a common platform. The image library provides royalty-free images to designers, developers, bloggers and entrepreneurs to be used in websites, desktop backgrounds or social media.
Why use Burst?
Neat interface with a well-cataloged portfolio of pictures
Images available in both low and high resolution
Visit Burst
7. Visual Hunt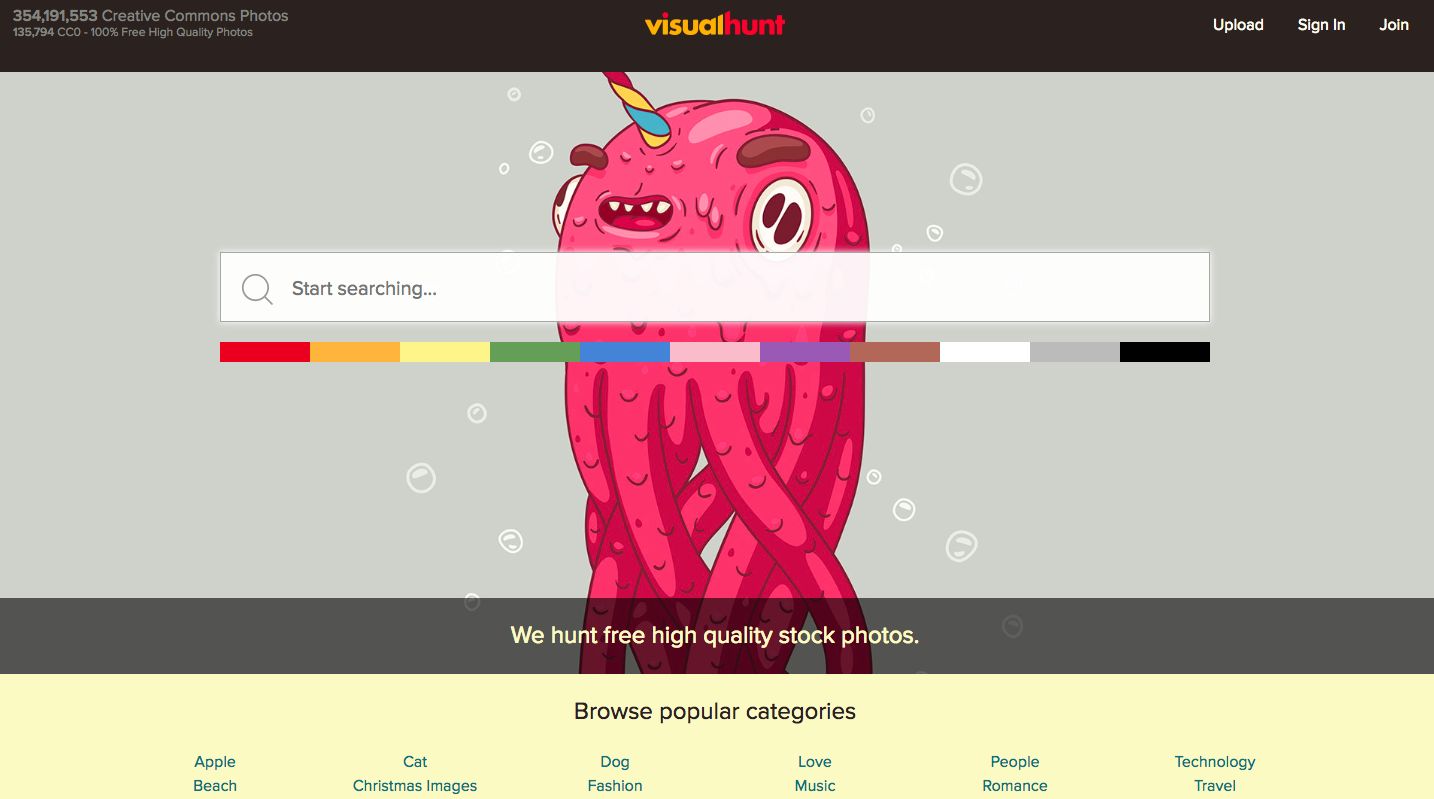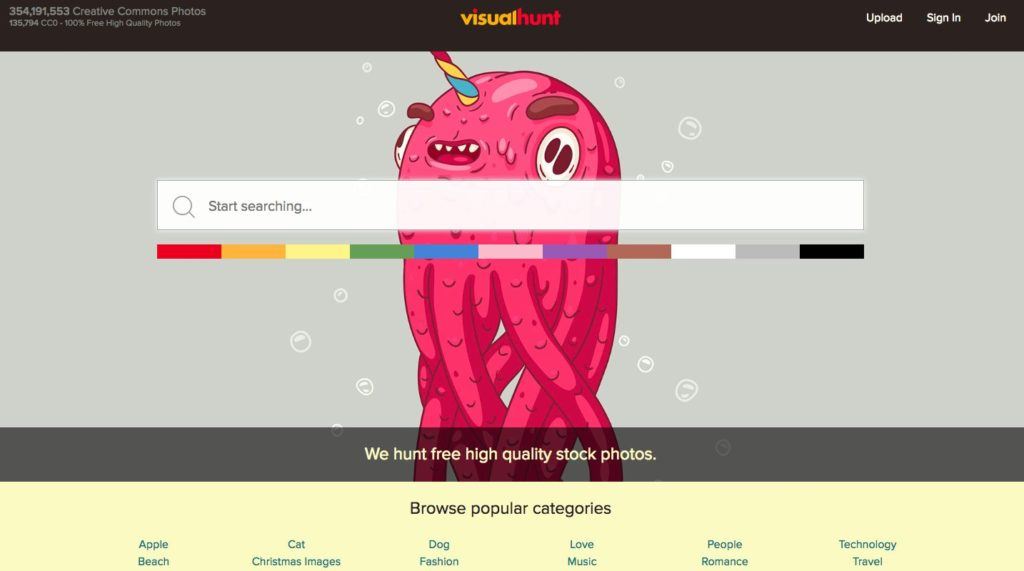 Visual Hunt is an aggregator that sources images from the best free photo websites and puts them all together in one spot. Most of the photographs on the platform are Creative Commons licensed and many other Public Domain pictures pulled from websites like Flickr are also available here. The site lets you pick the best content by offering filters for license, category, and a color palette.
Why use Visual Hunt?
Clean and simple interface with a huge variety of photographs
Visit Visual Hunt
8. ISO Republic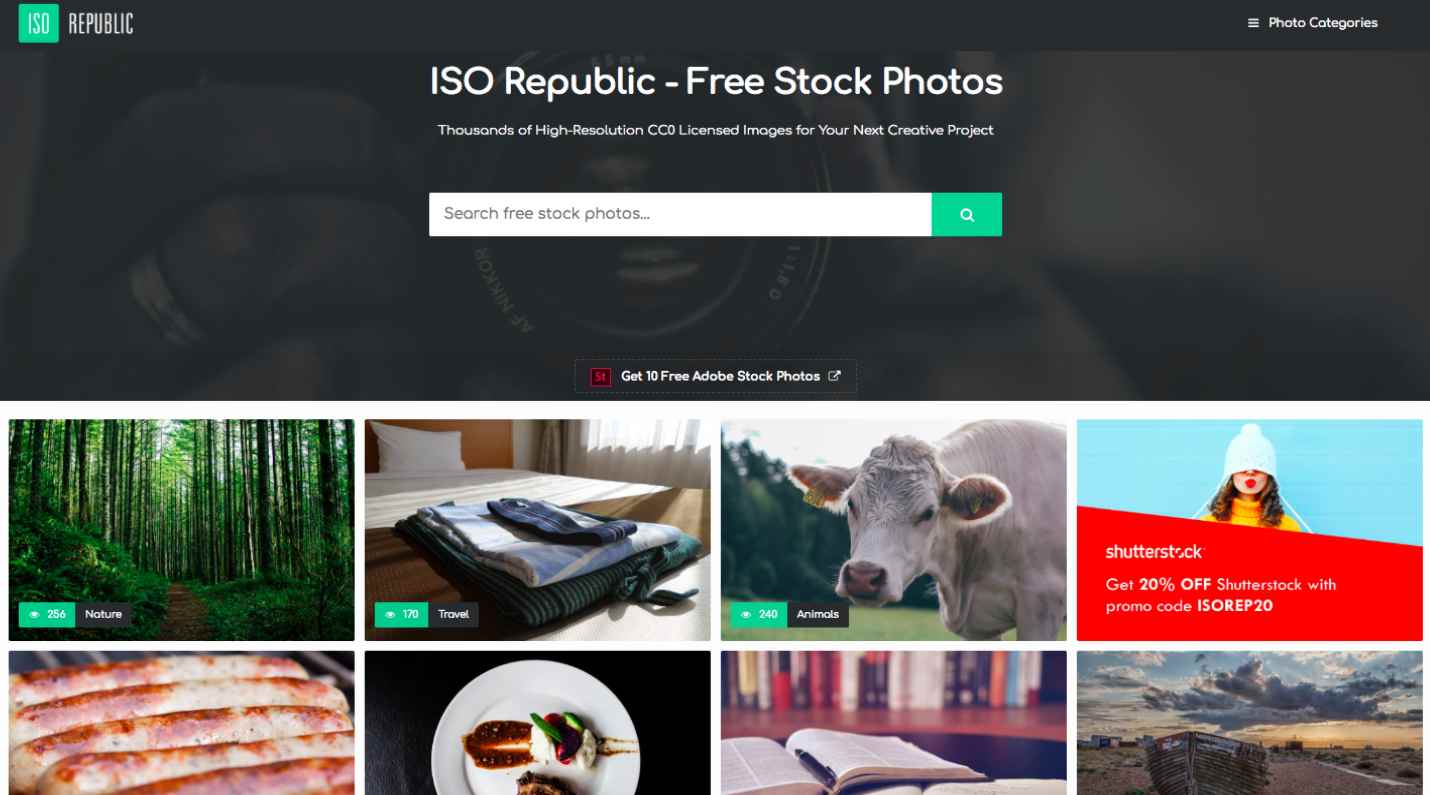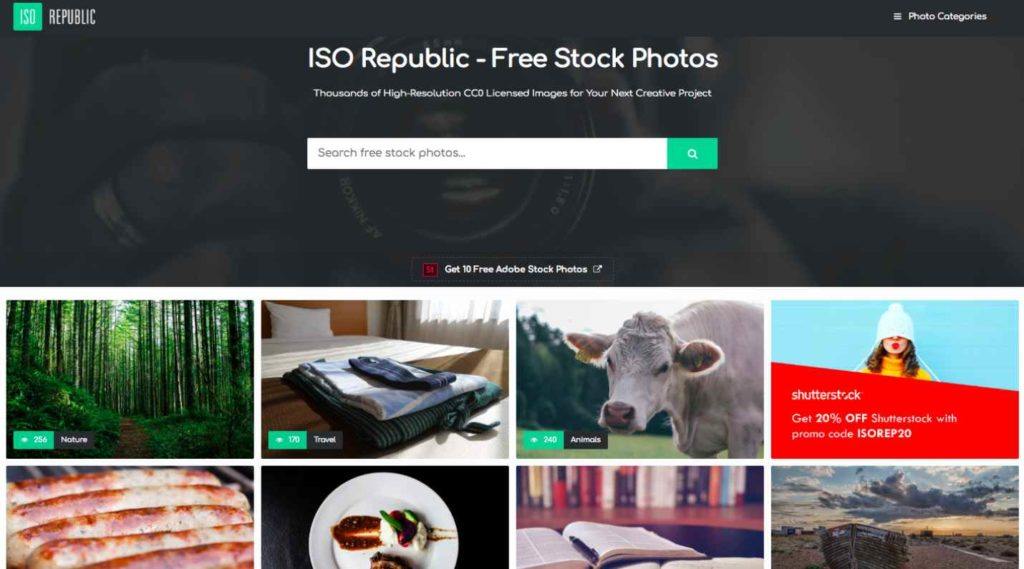 ISO Republic offers free HD images for website designing and blog posts. Its mission is to "provide high-quality images to be used by designers, developers, bloggers, marketers, and social media teams." So the site publishes royalty free pictures every week and has a fantastic collection of photos. If you want free exclusive photos, sign up for its email list and ISO Republic will mail the photos to your inbox.
Why use ISO Republic?
For a fresh collection of unique images in high quality
Visit ISO Republic
9. PicJumbo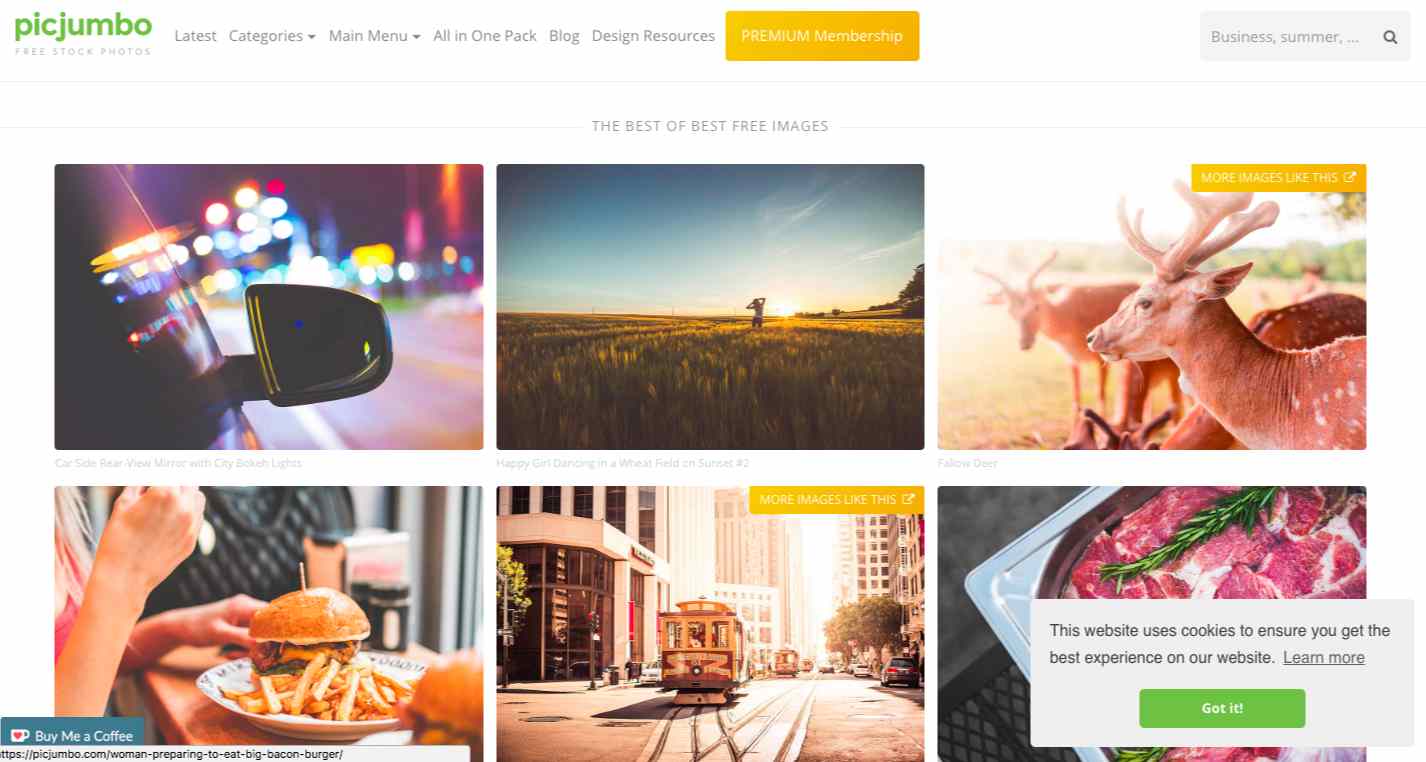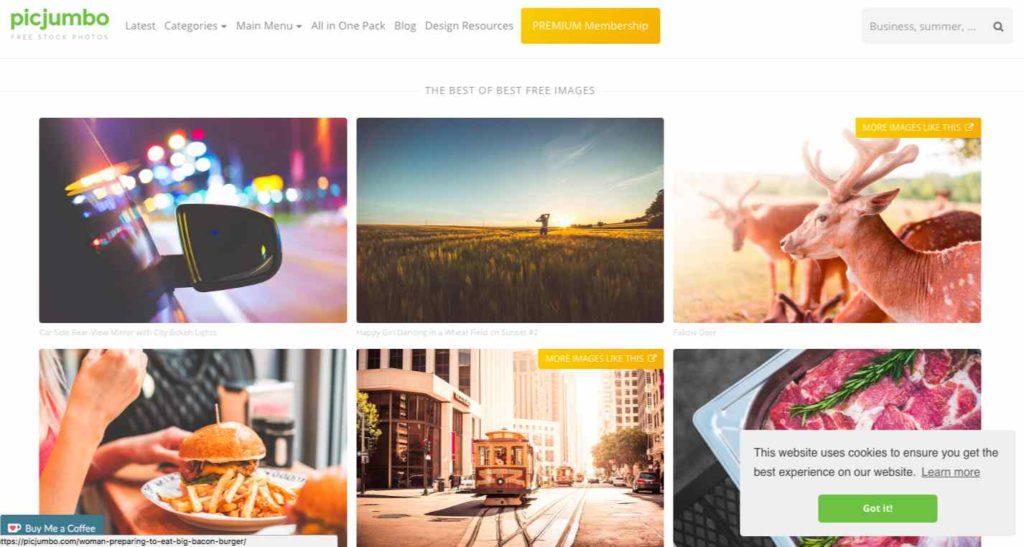 PicJumbo is quite a popular website for free social media photos. Even though there is no search bar on the website, the images are segregated by categories which will guide your way. The platform lets you go ahead with the free image download without signing up – something that most websites don't allow. But the best part isn't over yet. It lets you pick a pack of similar images containing 100-200 images in a single click. Another helpful feature which caught my attention is the Test Drive option, which lets you test how the images would look on a landing page background or a blog post header.
Why use PicJumbo?
Download Pack feature
Test Drive option
Visit PicJumbo
10. Kaboompics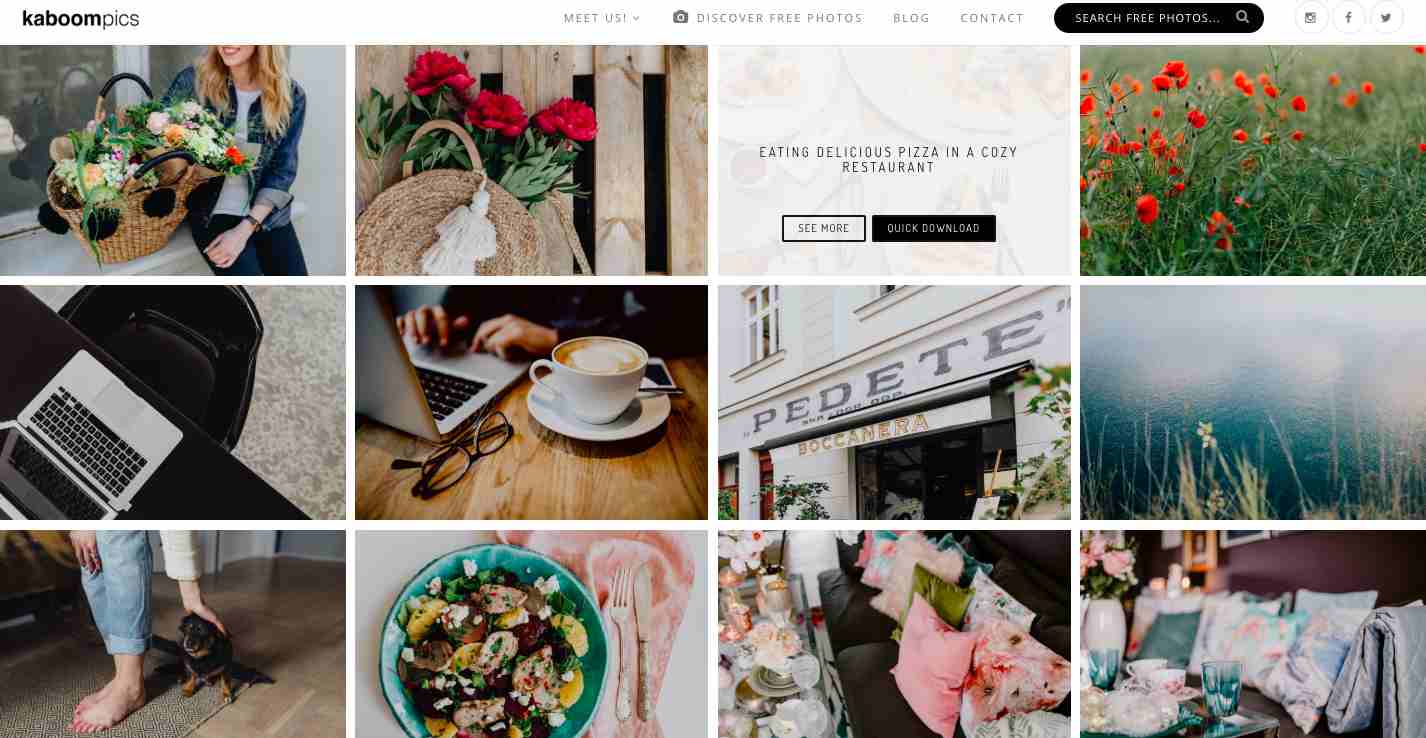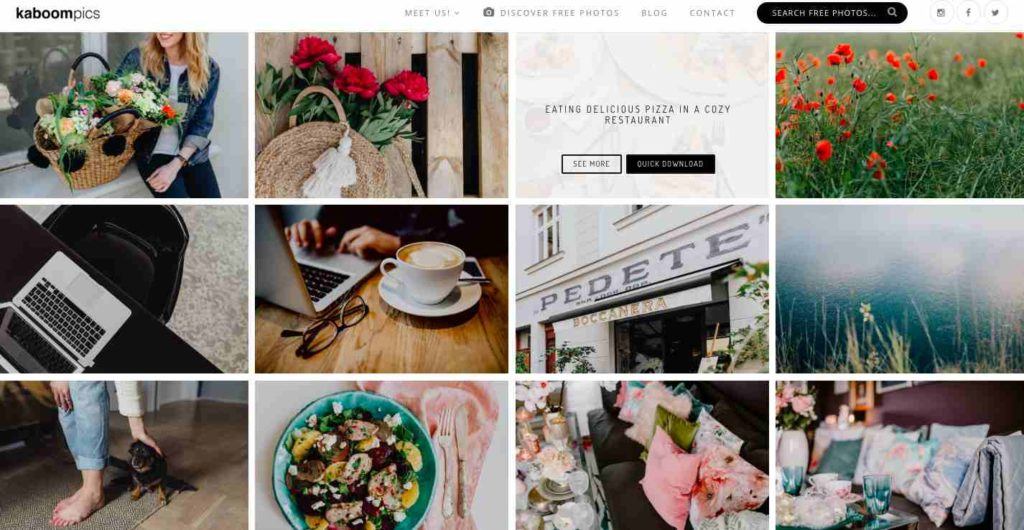 You can download copyright free images from Kaboompics and use them for your blog posts and websites including commercial use. If you sign up on the site, it sends you latest images free of cost on your mailbox. The images you will find here are mostly bright and aesthetically pleasing. Many of them come with a color palette to help you plan your visuals in a better way. It also offers download option in three different sizes: original, medium or custom.
Why use Kaboompics?
Lets you search in your preferred orientation, mode and color scheme
Highly recommended for Nature, Food and Drinks photographs
Visit Kaboompics
11. Life of Pix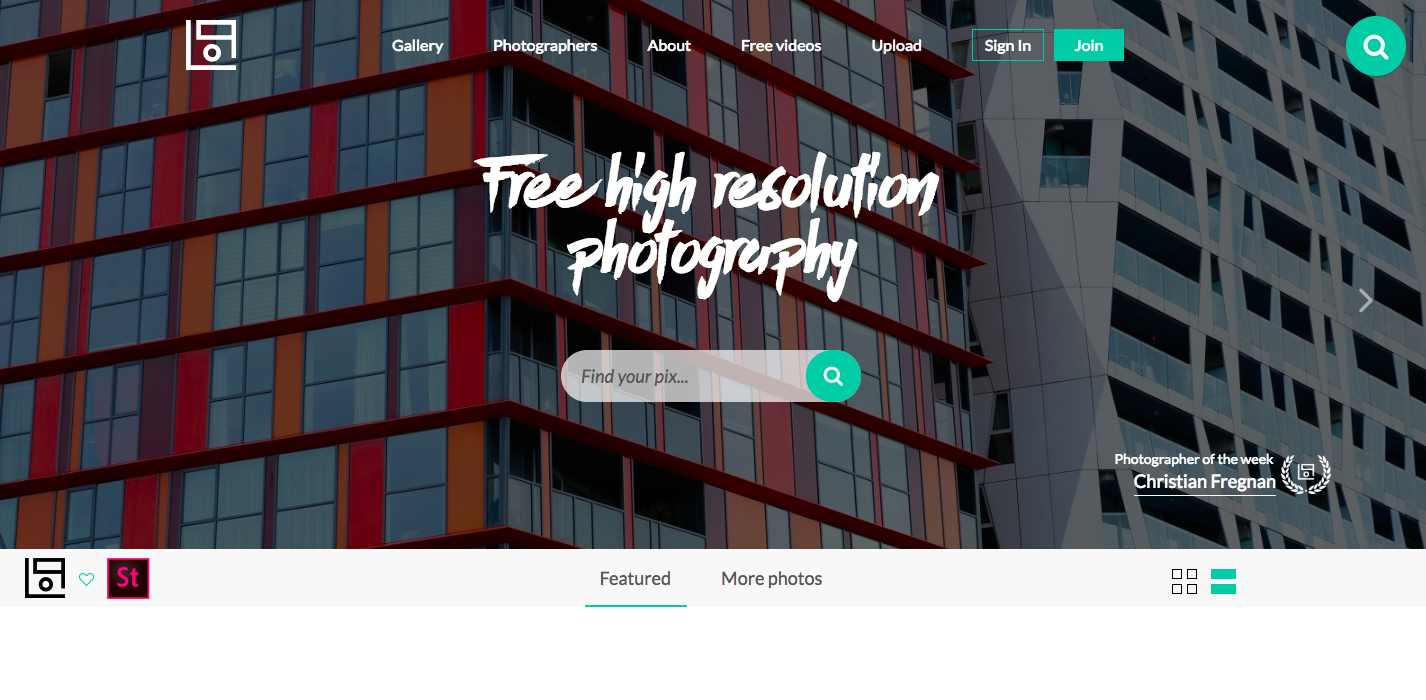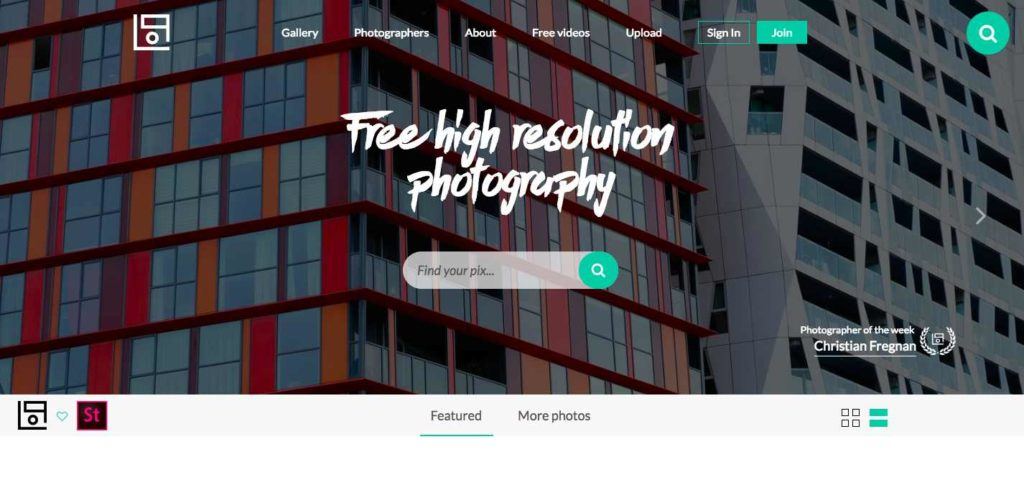 Life of Pix offers public domain photography ranging across genres like life, nature, architecture, textures, etc. A generous community of artists shares their work regularly on this platform for everyone to use. Each day you can discover an excellent collection of images in the featured section. It also contains impressive free stock video footage for personal and commercial use.
Why use Life of Pix?
Great UI, easy to search and download photos options.
Visit Life of Pix
12. Freestock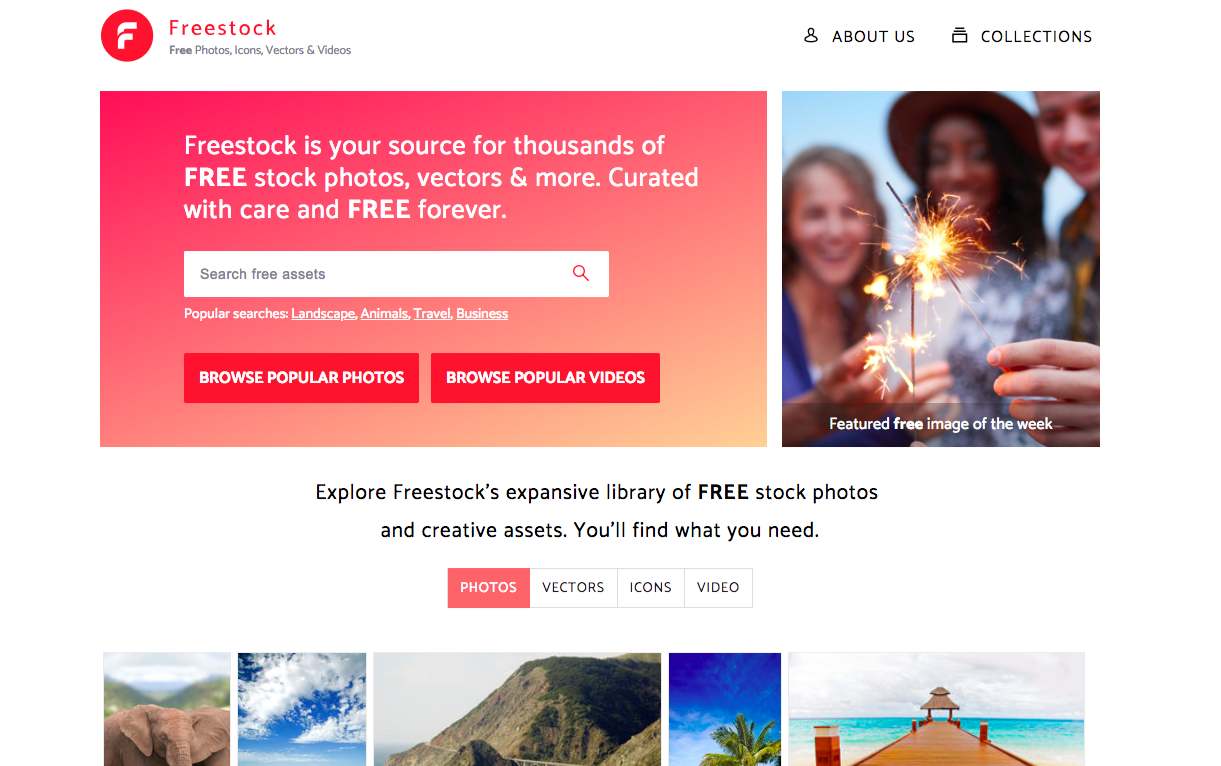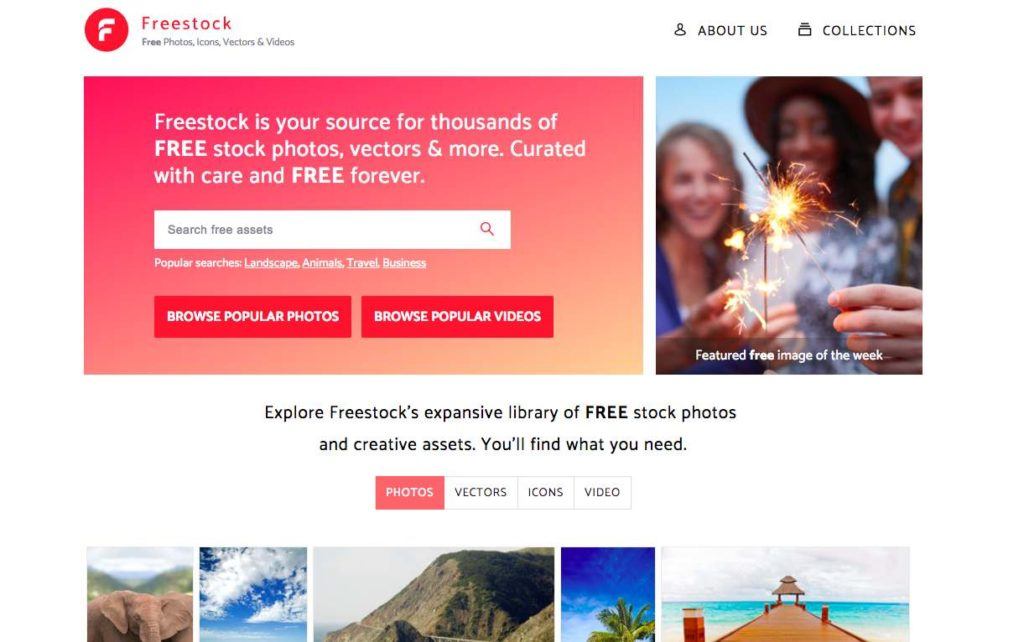 Just as the name suggests, this free image download website offers you free stock photos for blogs and websites. As a bonus, you get vectors, icons, and even videos at zero charges. Here, the categories are not that variegated as the websites mentioned above, but Freestock makes up for it in terms of quality. On scrolling to the bottom of the homepage, you will find tags for commonly searched topics. It will help you navigate your way through this photo downloading site.
Why Freestock?
Recommended for landscape photography
Visit Freestock
13. MMT Stock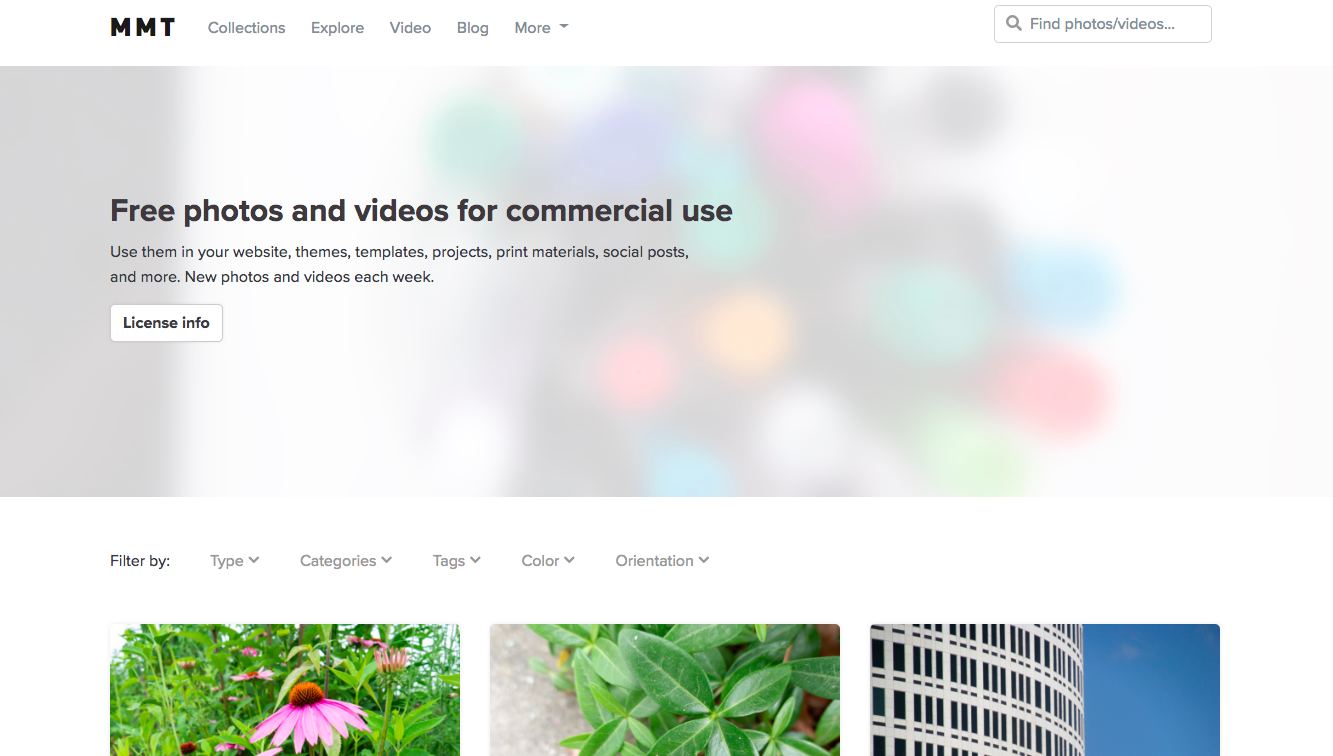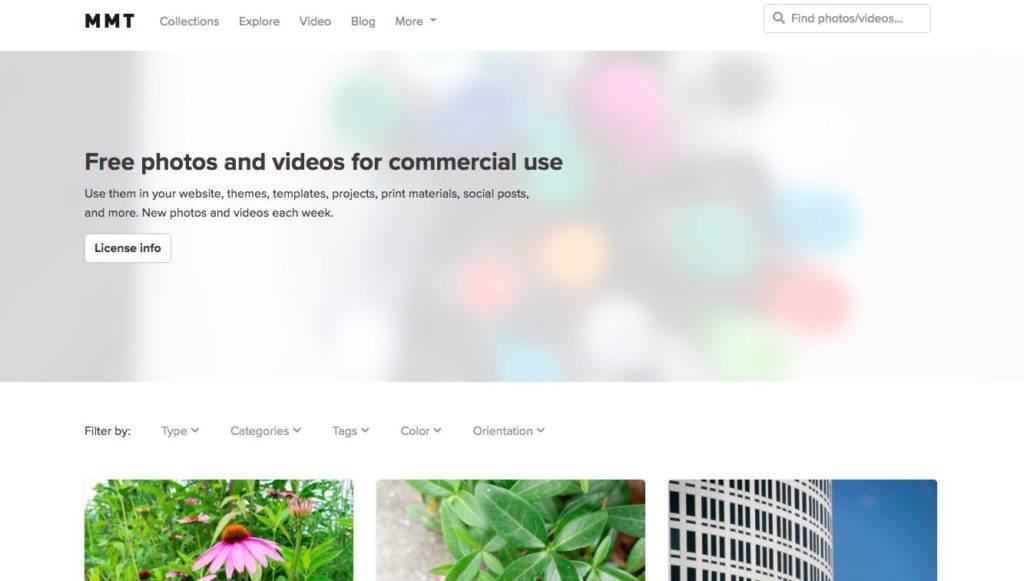 Moment (MMT) offers royalty-free photographs that you can use in projects, themes, apps, and websites. The content spans several categories such as nature, city scenes, workspaces, and macro photography. There are both images and videos on the website which can be explored by setting the right filters for category, color, tags, and orientation.
Why use MMT Stock?
Best for downloading nature-themed images
Minimalistic interface
Visit MMT Stock
14. Gratisography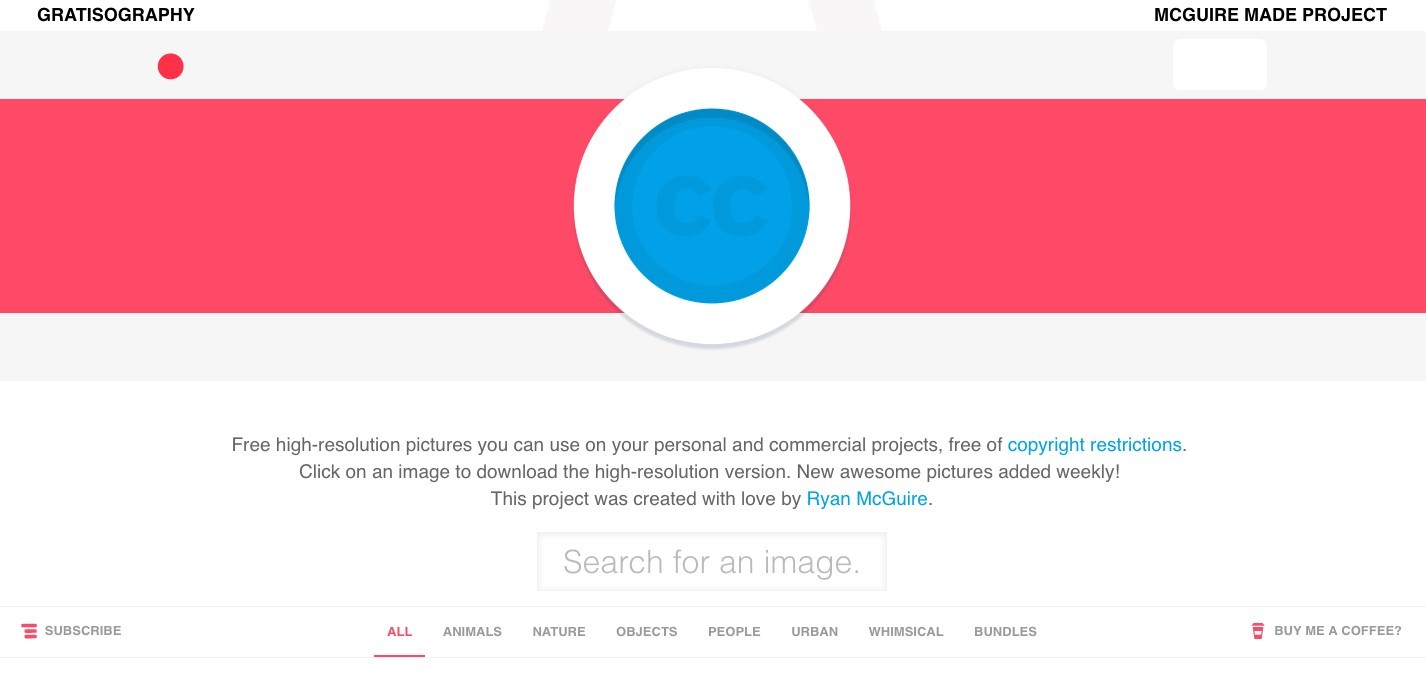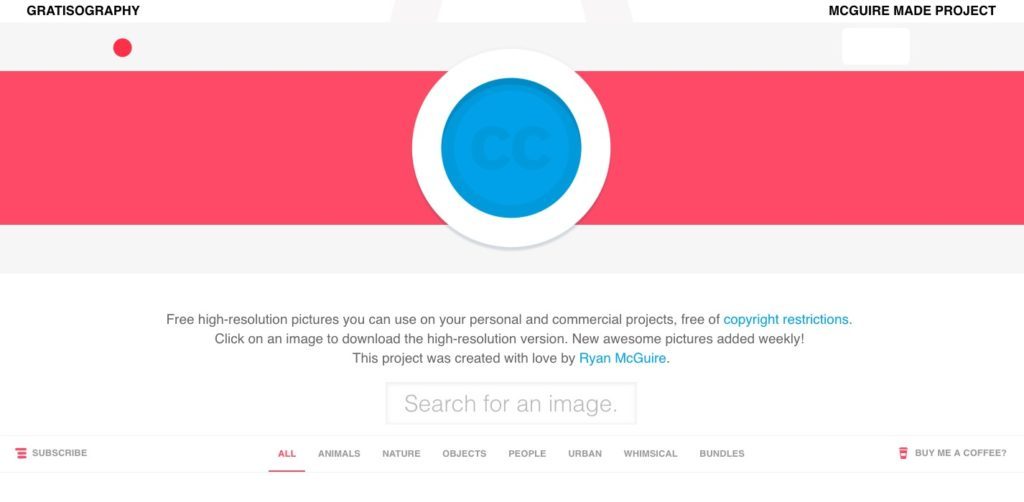 Gratisography is an excellent alternative to Unsplash as it offers a similar compilation of free high-resolution images for commercial or personal use. The content hosted on this website may not be equivalent in terms of quantity, but it is at par with Unsplash or Pexels in terms of quality. Moreover, new photos are added weekly to the collection so that you don't run out of beautiful pictures ever.
Why use Gratisography?
For high-quality stock photos that are available at a single click. No attributions required
Visit Gratisography
15. ShotStash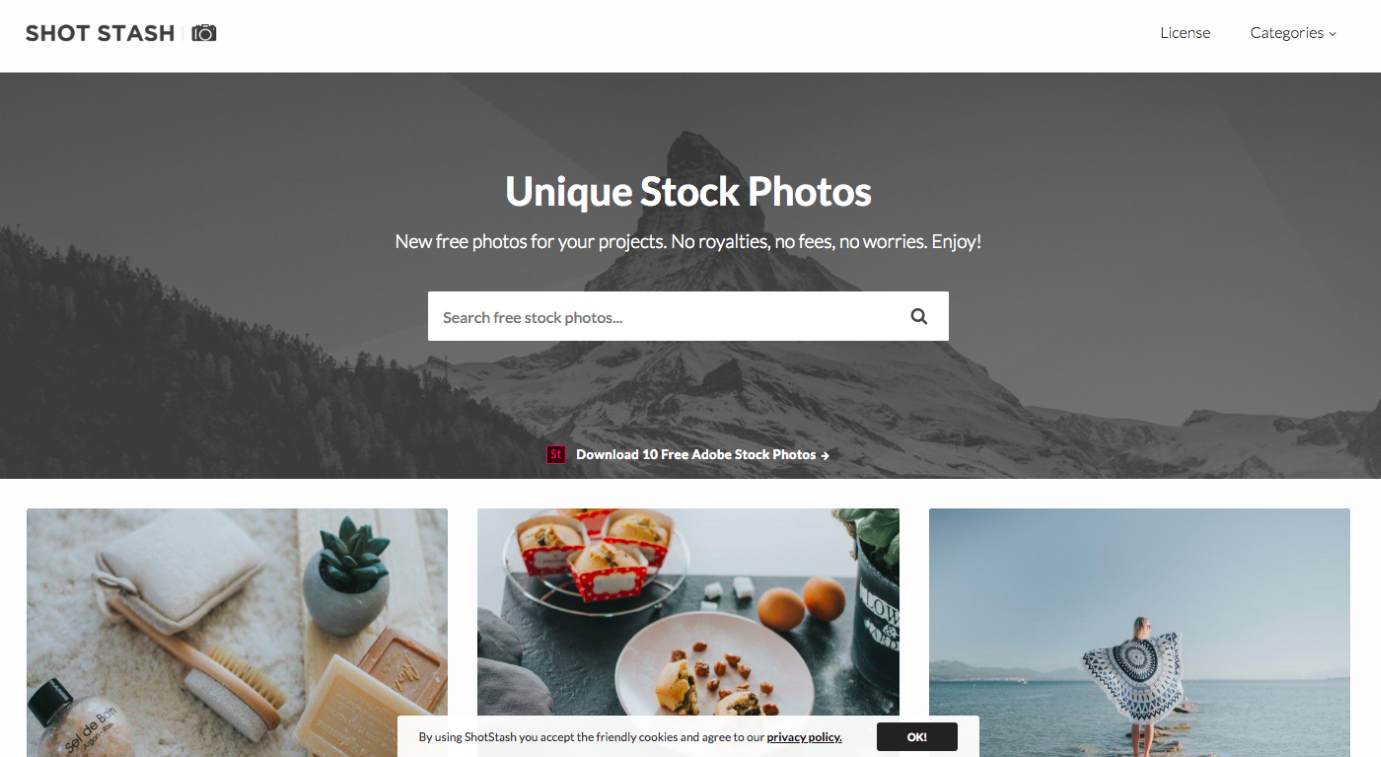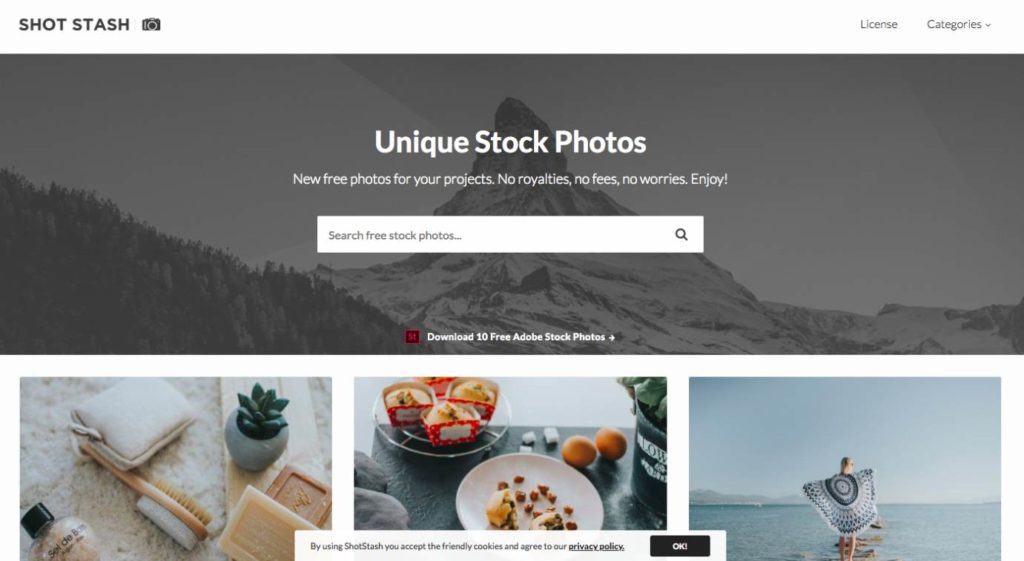 ShotStash is small and independently managed free stock photo site. It has a limited but fresh collection of images that is quite helpful if you are looking for something new. All the photographs here are taken in high resolution and there is no distinction between personal and commercial use photos. So you can use the images right away in almost any way you like without worrying about licensing and attribution. In case you have a penchant for photography, you can join the website as a contributor to showcase your talent.
Why use ShotStash?
For breathtaking Landscape and Nature photos
Visit ShotStash
16. FreeRange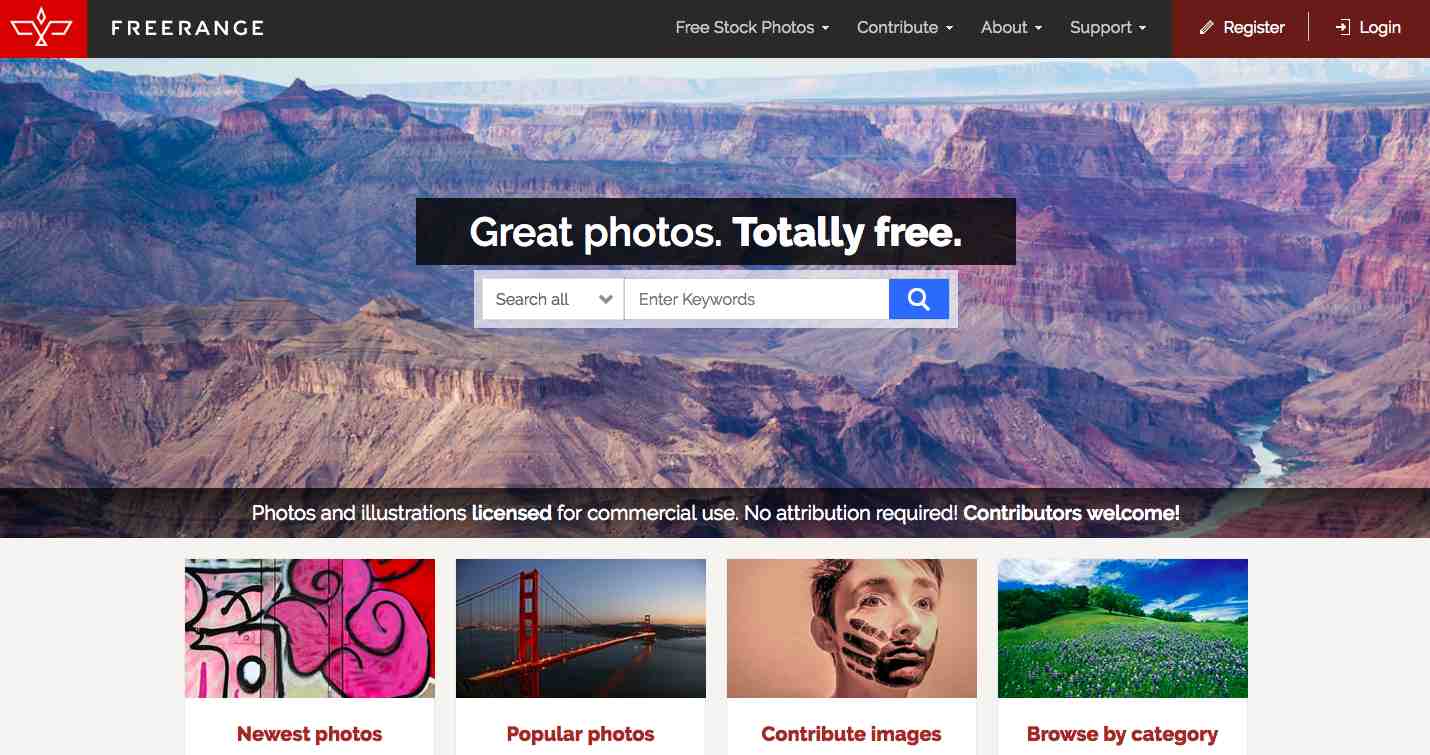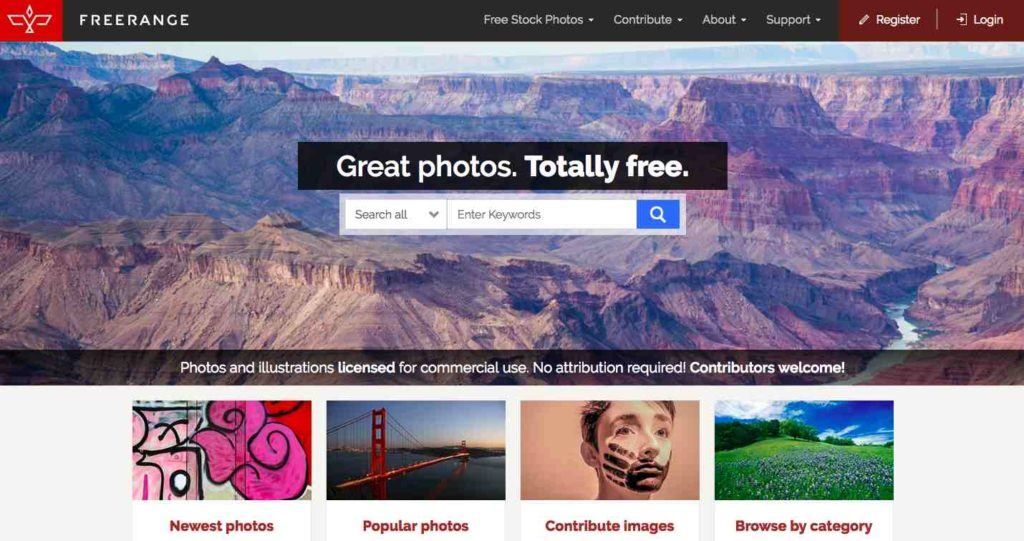 FreeRange has thousands of pictures and illustrations based on themes like people, animals, technology, architecture and street photography, beautiful landscapes, plant & flower photos, electronics, etc. The list of categories is quite long, and you can download pictures for free. Each category offers a list of common tags you can use to enhance your search and sort it through filters like newest, popular, licenses, etc.
Why use FreeRange?
Best site to download illustrations for free
Visit FreeRange
17. Plixs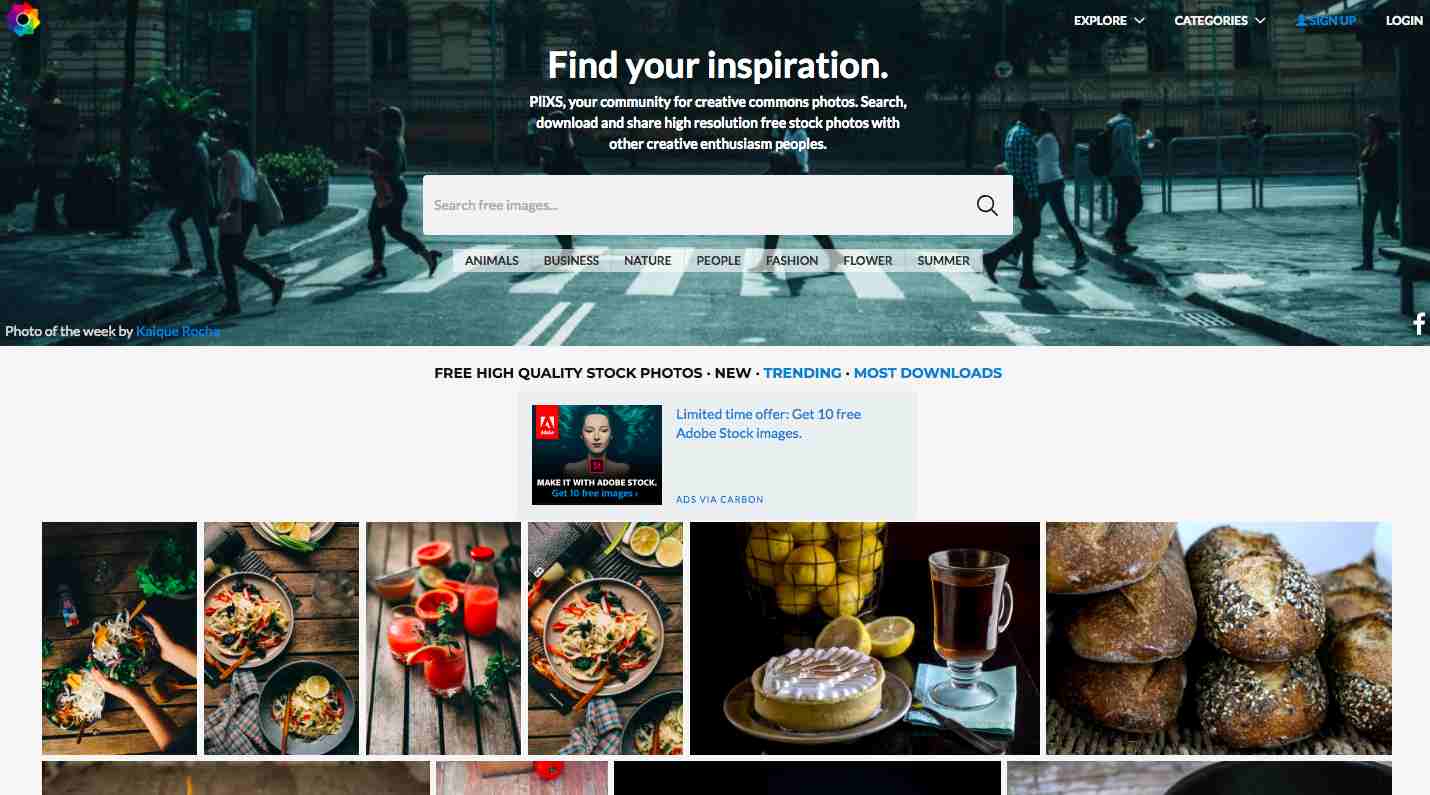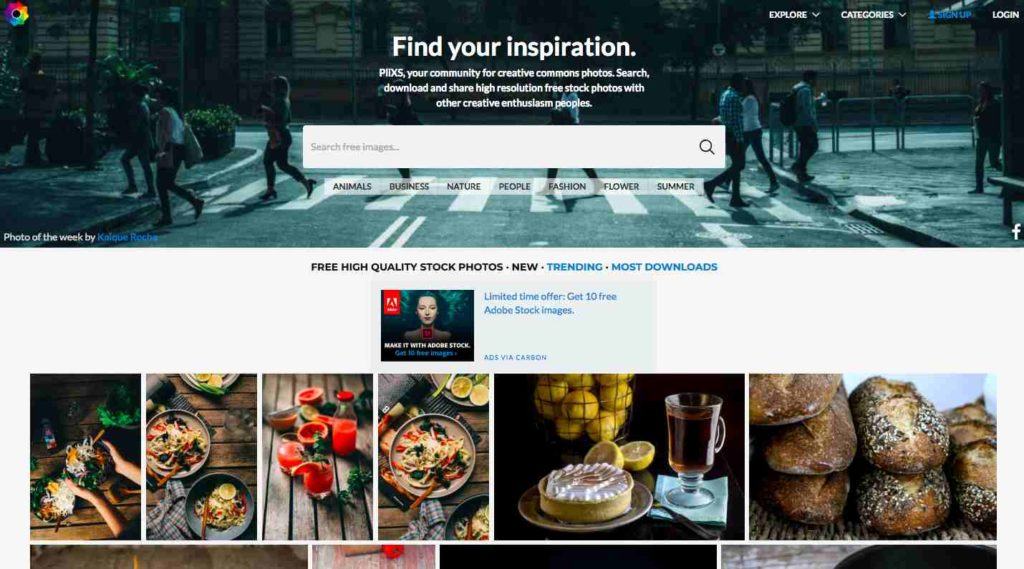 Plixs is another online photo community run by creative professionals who want to share their fantastic work with the masses. Since all work uploaded there is covered by creative commons license, you can use the photos as you see fit.
Why use Plixs?
Simple UI, well-categorized pictures
Has color palette for organizing the visuals better
Visit Plixs
18. SplitShire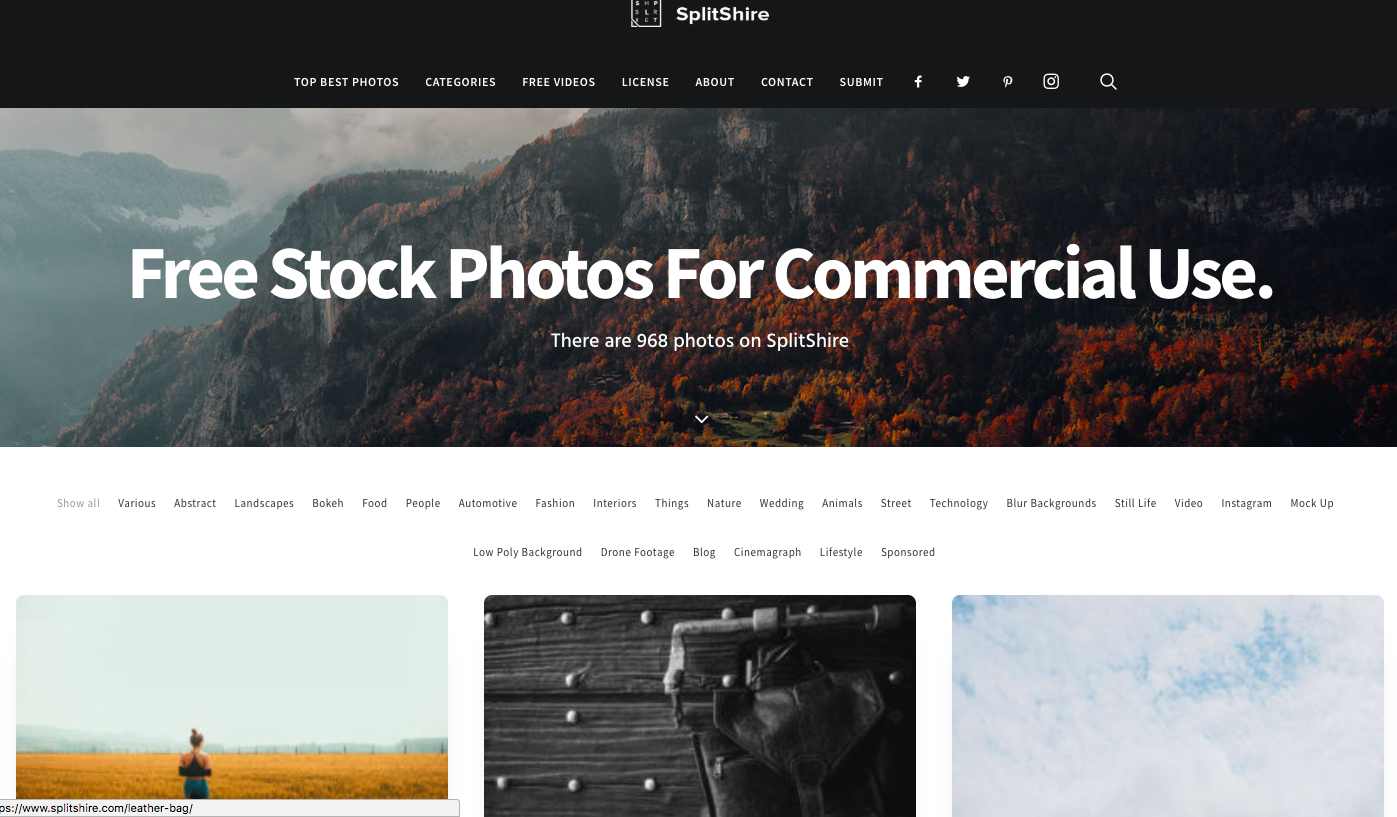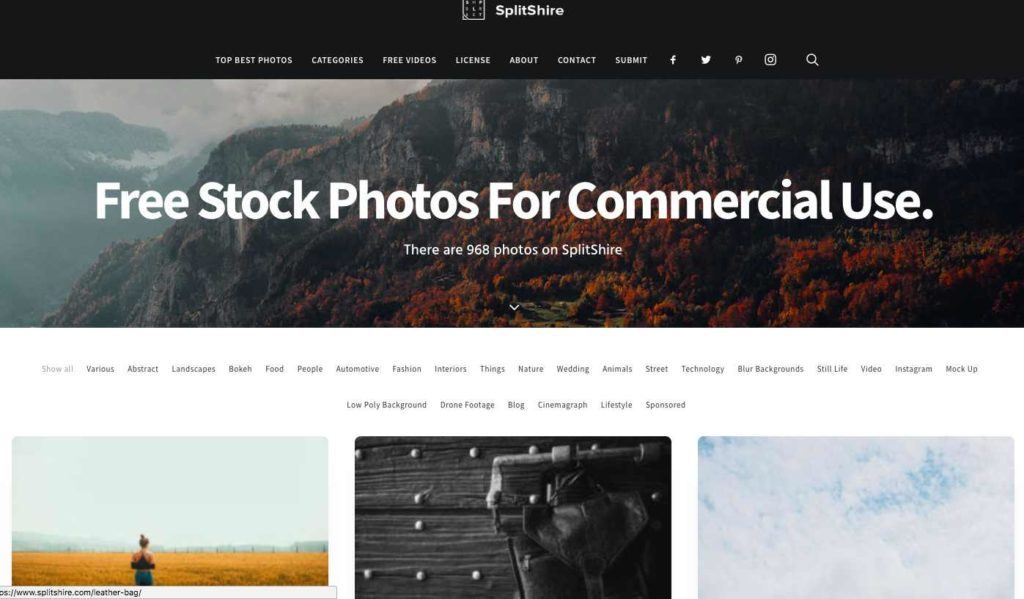 The creator of SplitShire aims to give life to photographs by making them find their way into creative works of designers, bloggers, website creators, social marketing gurus, and companies. To immortalize these fantastic photos, all the content on this website is available for free. You don't need even need to check the license. Just download high-quality images for free and start using them right away.
Why use SplitShire?
To download free stock photos in high resolution without signing up
Offers amazing abstract and blurred backgrounds along with many other categories
Visit SplitShire
19. Negative Space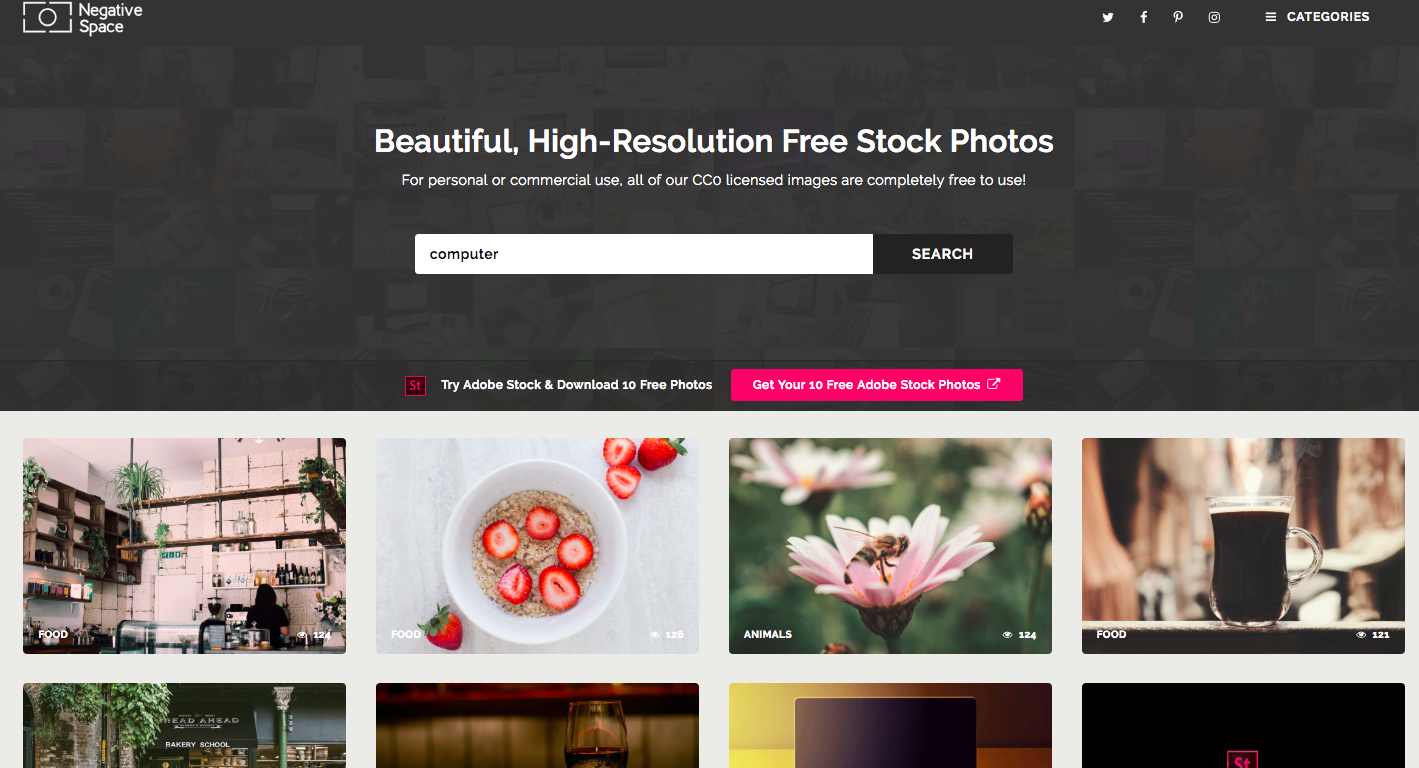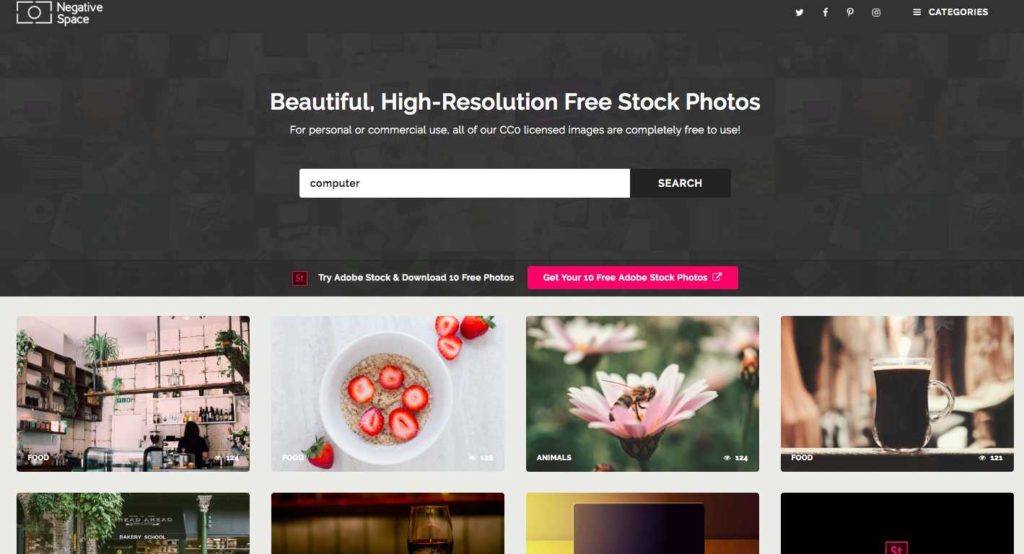 This website offers the typical out-of-focus images of beautiful surroundings in HD quality. This free image download source provides budding photographers a platform to showcase their work. For visitors on this website, there is a fantastic collection of stock photographs for free as they licensed under Creative Commons.
Why use Negative Space?
For out-of-focus images in high resolution
Visit Negative Space
20. Skitterphoto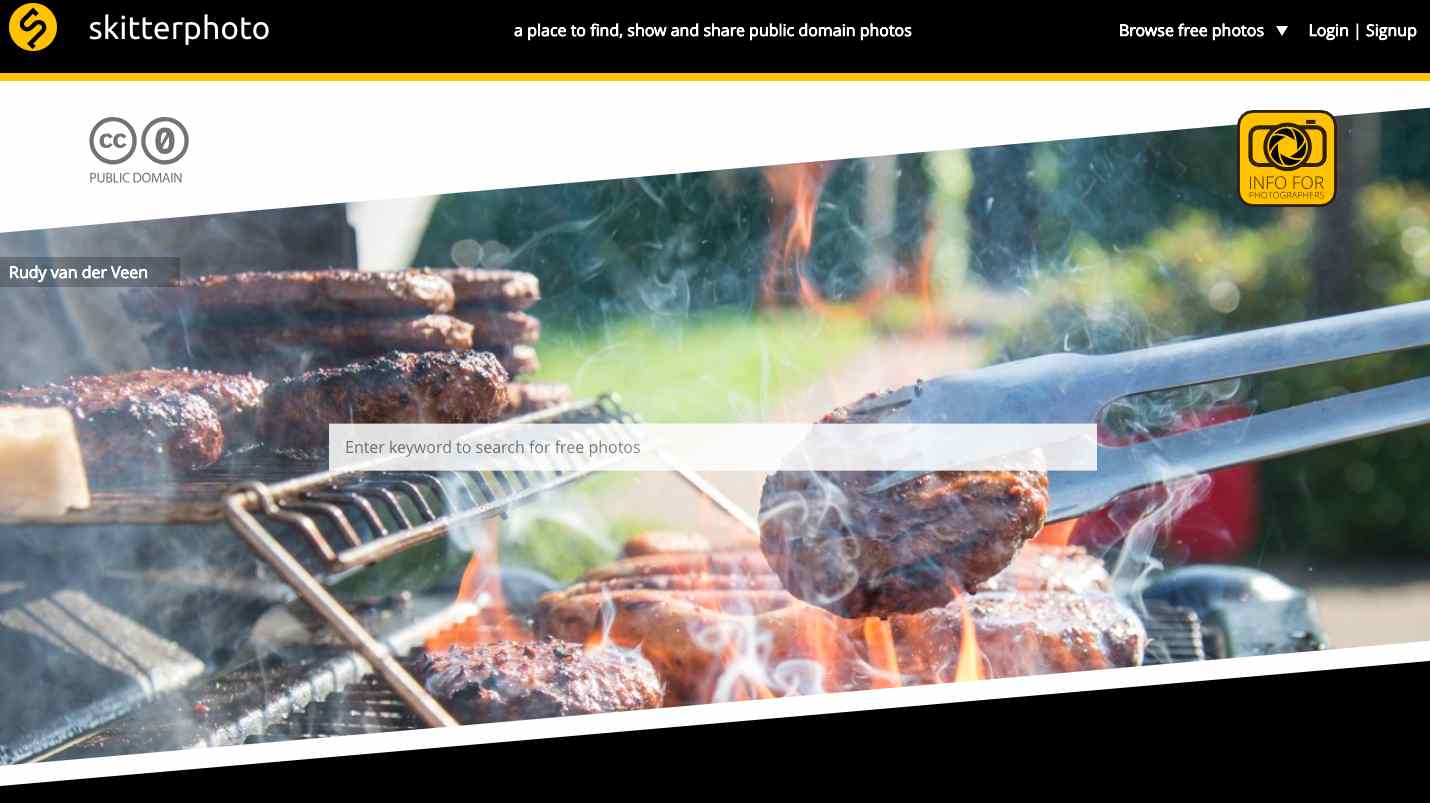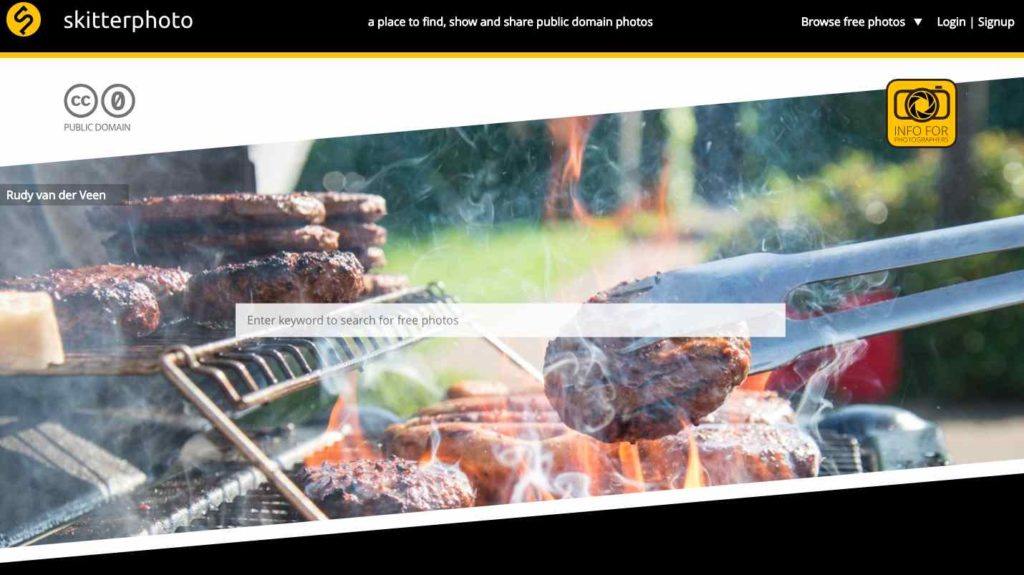 All content on Skitterphoto falls under public domain, so they are free to use images for any purpose — commercial or personal projects. You may even edit and modify them before using commercially. There is an amazing clarity in the pictures hosted on this platform. You can browse the categories or search by keywords to find the perfect photo without paying anything at all.
Why use Skitterphoto?
To download public domain images
Visit Skitterphoto
Bonus: Websites for Stylized Photos in Niche Topics
While the 20 websites mentioned above will help you find the right photos across a variety of genres, there are a few other websites that are worth mentioning. They offer content that is mostly related to one topic so in case you are looking for something specific in any of the categories discussed below, you should definitely check out them.
Styled Stock – Best feminine stock photography website that offers free stylized photos for your projects
Foodies Feed – Best food photography site that provides images mostly centered on food, cooking, and kitchen
Free Nature Stock – Offers best royalty-free nature stock photos in high quality
Websites for Public Domain Images
The following free image download sites cater a surprising collection of pictures under Public Domain but failed to make it to the list above because searching specific images on these platforms is not easy. They have created categories to guide your way, but you should try them only if you have sufficient time in your hands.
Wikimedia Commons – It is an is an online repository of free-to-use images and has photographs spanning a broad array of topics
Public Domain Archive – This site offers exactly what the name suggests and a hassle-free download option
Final Words
This brings us to the end of this list. I hope you found this article useful in your hunt for the right picture for your project. Even though I have carefully selected these websites that offer free images mostly, make sure you read terms of usage on each site to be clear about where and how you can use their content. Also, don't forget to tell us which stock photo website you liked the most. In case we missed out some other good website that lets you download photos for free, do let us know in the comment section below.