There is no friend as loyal as a book — Ernest Hemingway
Apart from serving as a constant companion in solitude, books serve as food for the mind by stimulating our imagination and creativity. However, buying a new book each time can burn a hole in your pockets. Thankfully we have lots of free books online, ready to be read or downloaded without costing you a dime!
Where to read books online for free?
We have compiled a list of the best sites where you can read free ebooks online and download them legally to create your own library of favorite virtual books. In this list of top 12 sites mentioned below, you will find a comprehensive assortment of completely free online books, ranging from classic novels to computer technology guides.
But before you jump to the list of free sites to download ebooks, do check out our other lists of free and legal services:
Now, let's start this list and tell you different places to grab some amazing stuff to read online or download —
Top 12 websites to download free books online
1. Open Library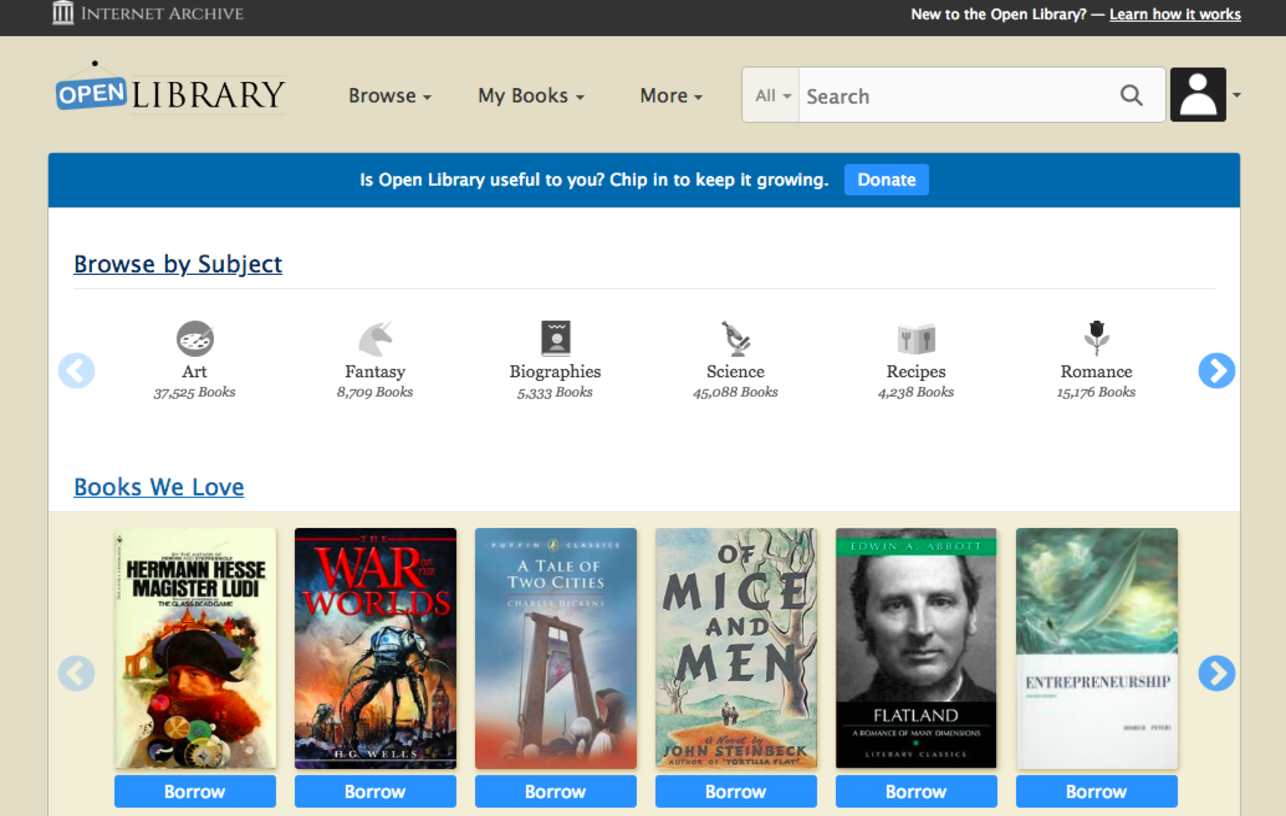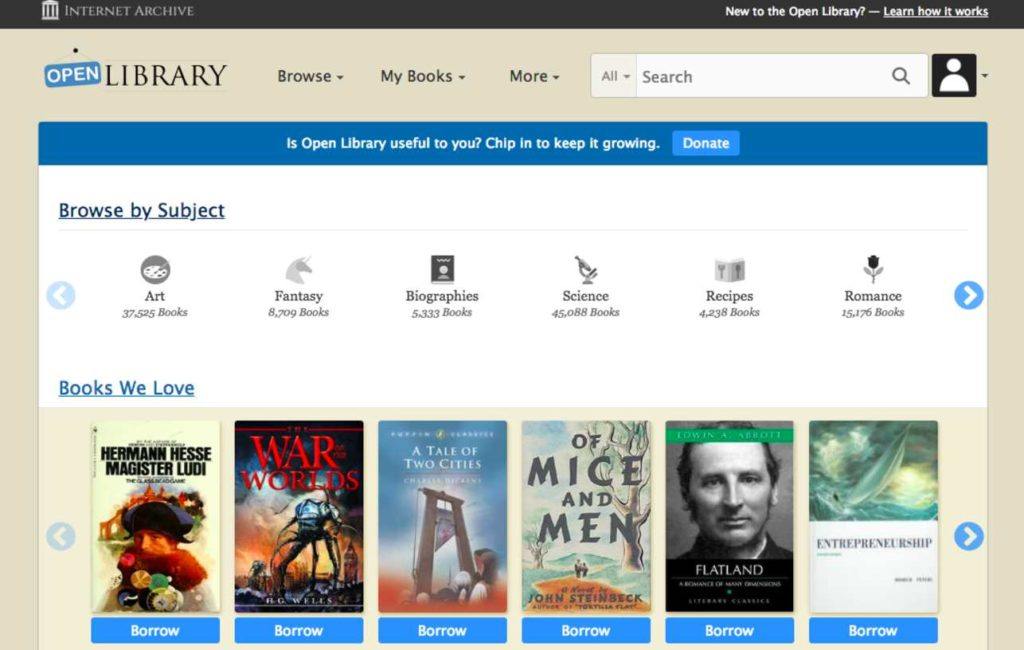 "One web page for every book ever published" – is the ultimate goal of Open Library, an initiative of the quite popular Internet Archive which serves as a digital library of Internet sites.
There are millions of free books to read on the website which can be downloaded in other formats such as EPUB, DJVU, MOBI, and PDF. You can search for good reading material on varied subjects and genres such as Fantasy, Biographies, History, Medicine, Art, etc.
Open Library has an advanced search option as well that lets you search ebooks through titles or authors. In case you cannot remember either of them, you can search for a particular free book to read online just by entering a favorite line from the book.
Why use Open Library?
An extensive collection of free online books in all almost every category one can think of
Easy to download full books for free in different formats
Visit Open Library
2. Project Gutenberg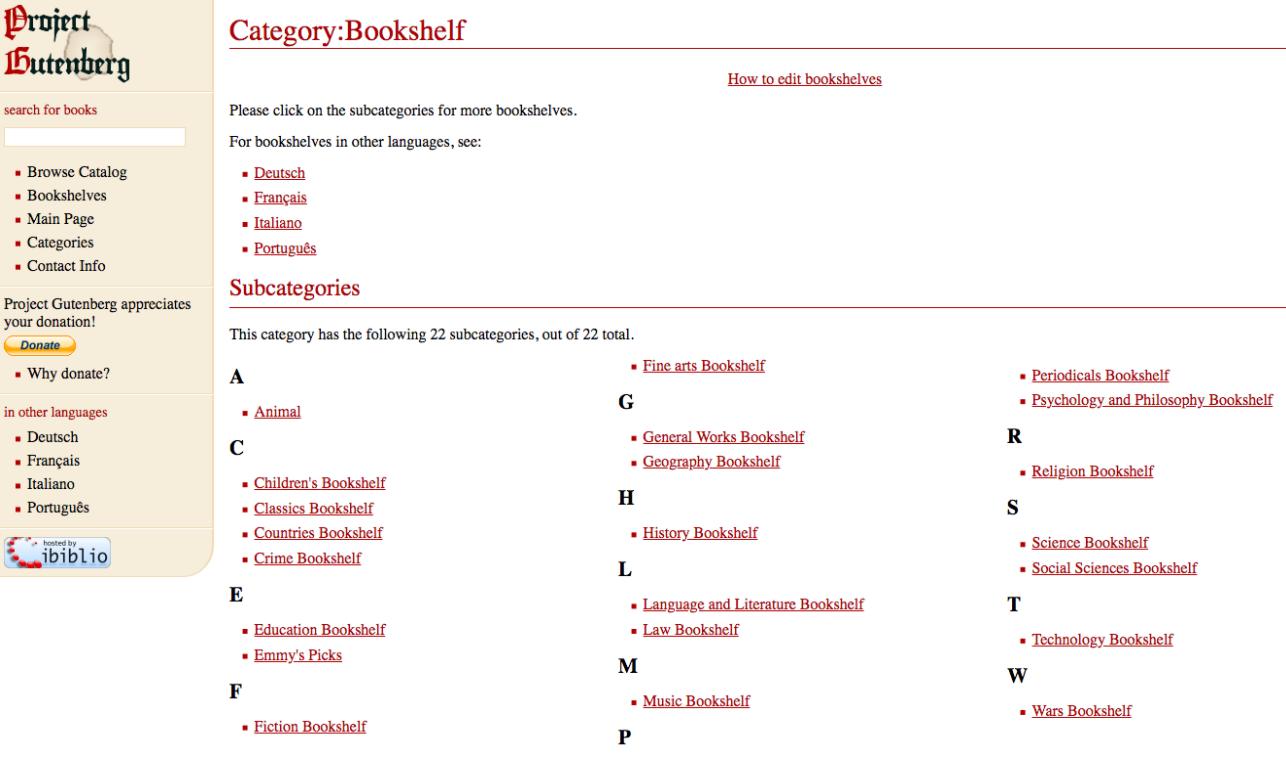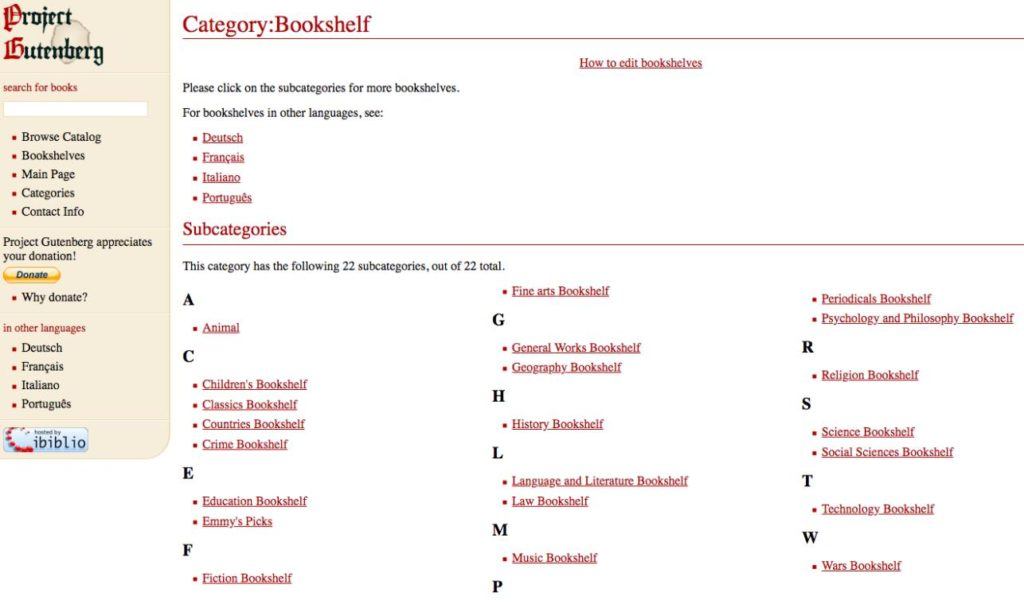 With a huge archive of over 57,000 free books for downloading, this website offers a diversified reading collection for readers. As Project Gutenberg is a volunteer effort to make books available for free of cost, it neither charges any registration fee nor requires you to sign up.
From Classics to Periodicals and History to Social Sciences, there are free books available on all types of subjects. You can search for specific titles or explore by genre and download books in EPUB, MOBI Kindle, HTML, and simple text format too.
In case reading books online is on your resolution list for 2019, do check this free books site as several books are scheduled to enter the public domain for this year. Another perk this site offers is directly saving ebooks to cloud storing services such as Dropbox, Google Drive, and OneDrive easy access.
Why use Project Gutenberg?
Best for Classical Novels
Same genre books categorized as 'bookshelves' for easy browsing
Visit Project Gutenberg
3. ManyBooks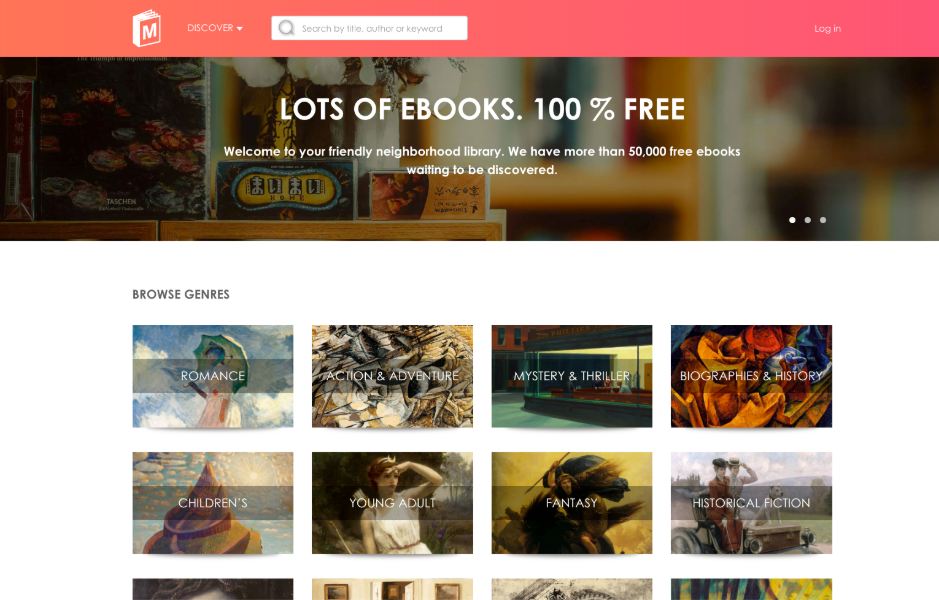 With more than 50,000 free online books available on the website, ManyBooks serves as an excellent option for bibliophiles to appease their craving for good books. The site hosts a variegated collection of books formatted for eReaders like Kindle and other popular formats such as EPUB, MOBI, PDF, TXT, etc.
Browsing for books is quite easy on ManyBooks as it offers neatly categorized sections of texts in different genres. Moreover, it has a Recommended and Featured Authors section that can help readers pick their next book.
Every ebook page on this site contains helpful information such as genre, author's name and word count. As most of the content on ManyBook belongs to the public domain, you can download books legally and free of cost.
Why use ManyBooks?
Recommended for both classic and contemporary books
Flesch-Kincaid score on each ebook to indicate how easy or difficult it is to read
Lets you download books in all formats right from a zip file to PDF to suit your reading device
Visit ManyBooks
4. Bookboon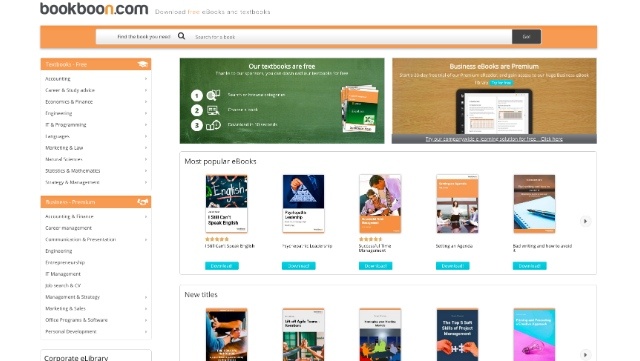 This website offers free books to read online on every category you can think of. If you are specifically looking for an educational textbook or business book, Bookboon will help you find exactly what you need.
This free book site has thousands of ebooks ready to be download and read. You just need to visit the free section and enter a few details to download books. The website is easy to navigate and well categorized.
Apart from English, Bookboon offers texts in other languages such as German, Dutch, Danish, French, Swedish, Norwegian, Finnish, Spanish and Czech.
Why use Bookboon?
Best for downloading educational and business books
Free books online in multiple languages
All books available in PDF format
Visit Bookboon website
5. Feedbooks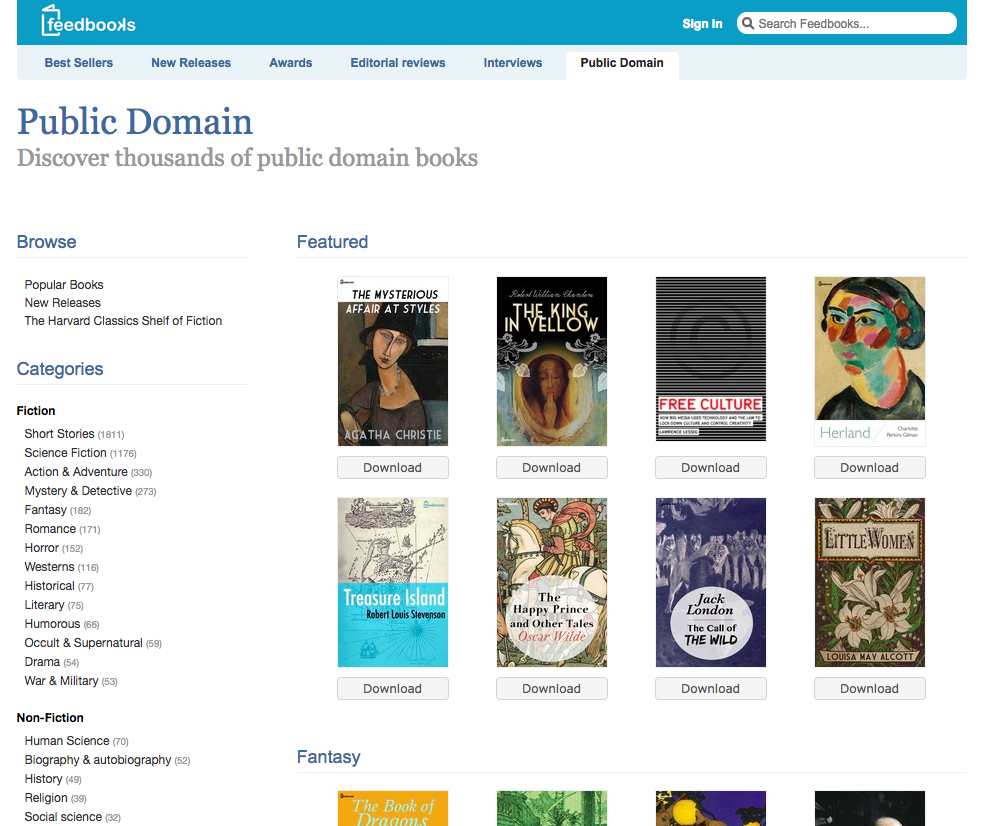 Feedbooks offers an immense collection of original as well as public domain books for free. The website has a neat interface with well-cataloged sections of books ranging from Short Stories, Mystery Novels, Action, Fantasy, History to even Academic Books and much more.
The Download page for each book displays helpful information such as synopsis, word count, reading hours, publishing date, etc. You can download books online for free without signing up in standard formats such as EPUB, MOBI, and PDF.
Exploring new reading material on Feedbook is easy with the search options. You can find the free books to read on Free Public Domain Books and Free Original Books section. Besides, it has sections like Bestsellers, New Releases and Editorial Reviews which can help you to find new books to read online.
Why use Feedbooks?
No registration required
Mobile browser friendly website
Fast website and easy to navigate.
Visit Feedbooks
6. Free-eBooks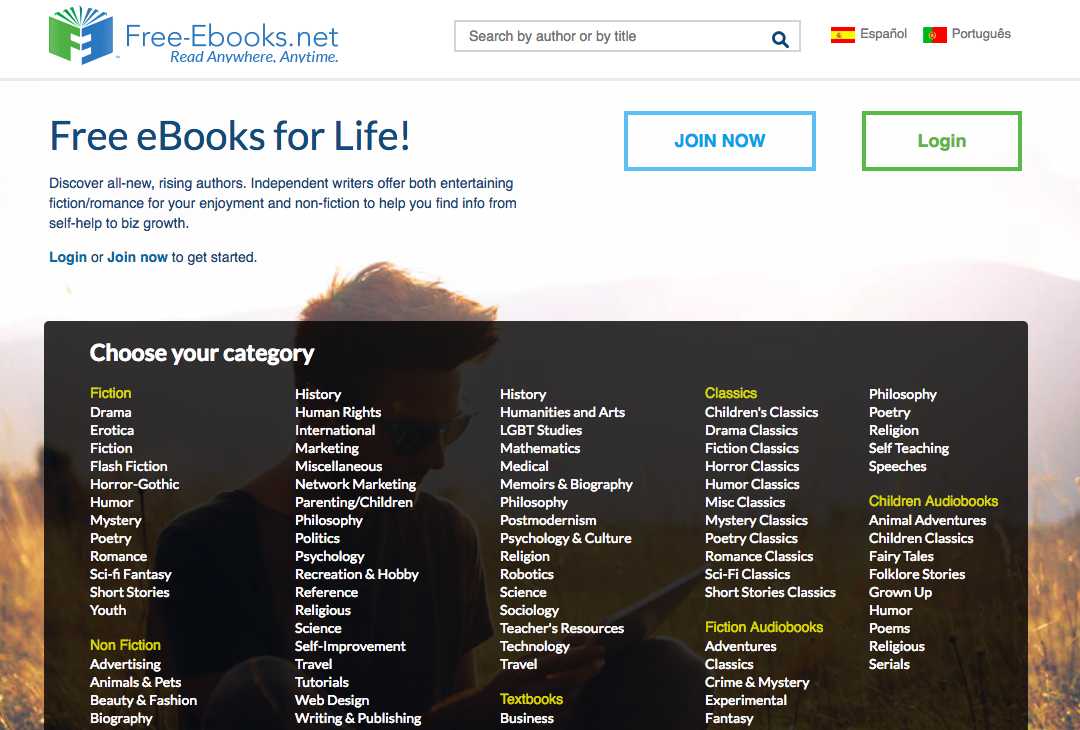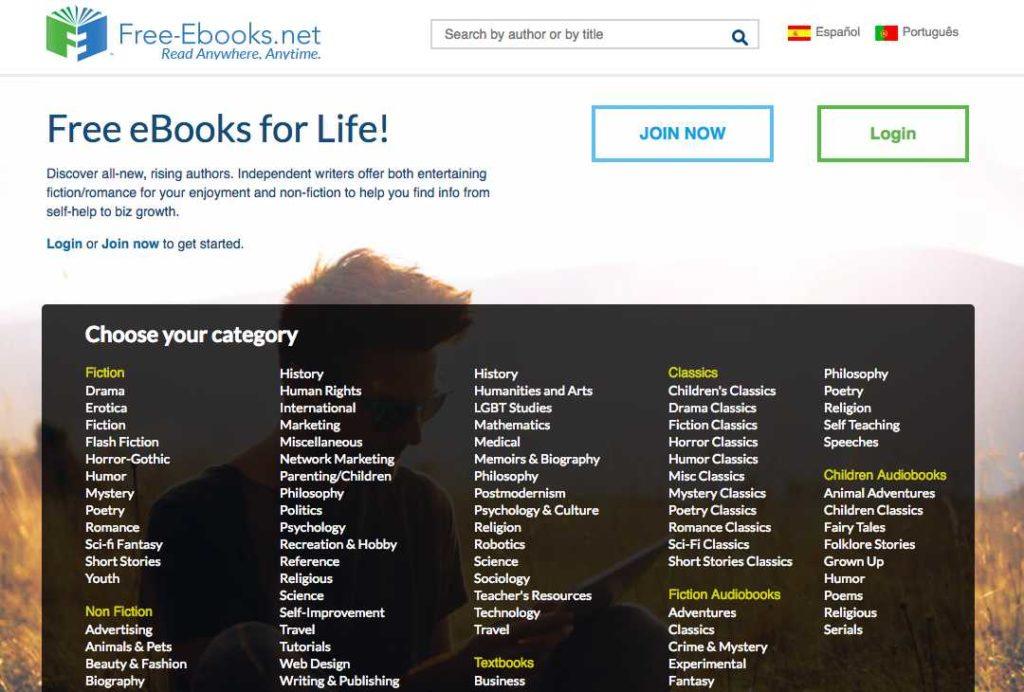 The tagline of this website "Read Anywhere. Anytime" says it all. Free-eBooks offers good literary works of fiction, non-fiction, and academic texts. The UI of the site may seem a little cluttered, but if you spend some time digging around the website, you will find a lot of free books to read.
There is a featured section on the website which showcases the best ebooks at a particular time and great books of all time. Browse through categories to find what you like. Although there is a limit of 5 ebook downloads per month and that too in PDF format, the rich collection of free books to read on the website makes up for it.
Why use Free-eBooks?
Showcases curated lists of genre-specific books and best pick of the month to help you discover good reading material
Offers audiobooks as well
Visit Free-eBooks
7. LibriVox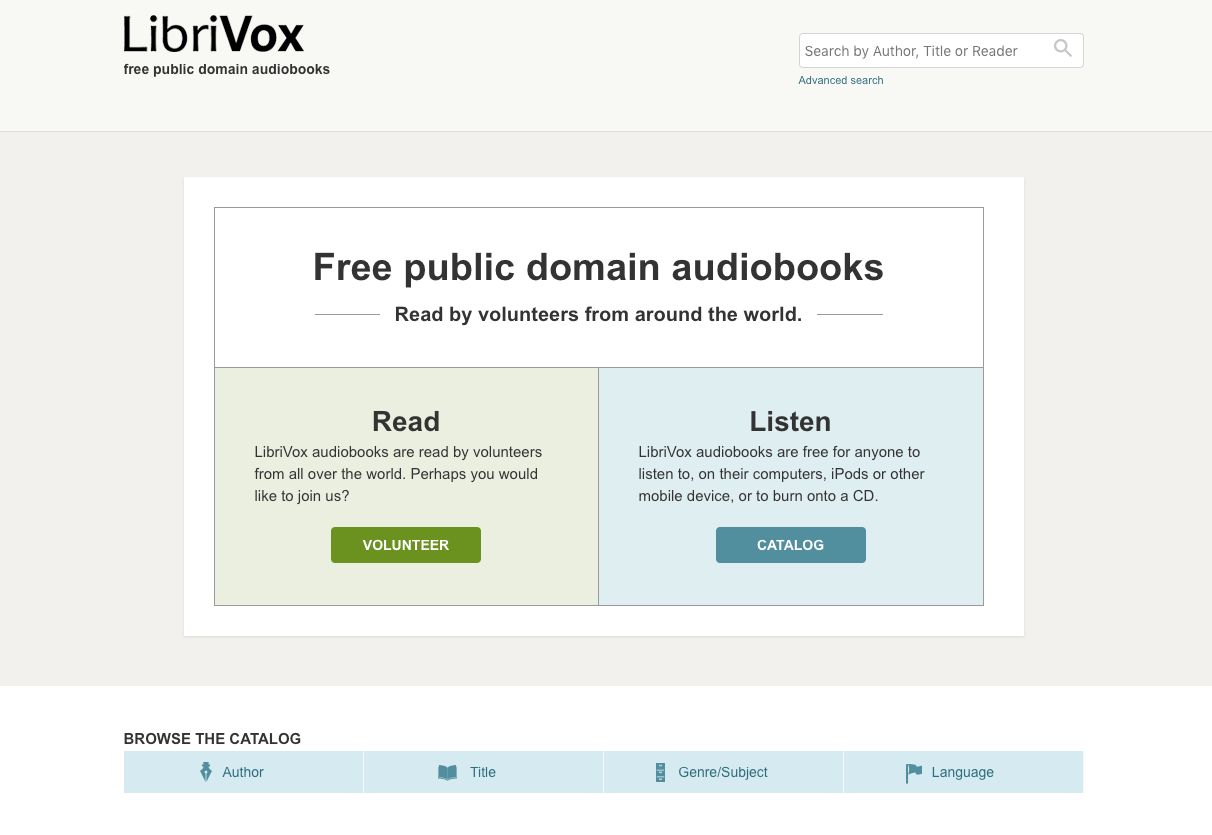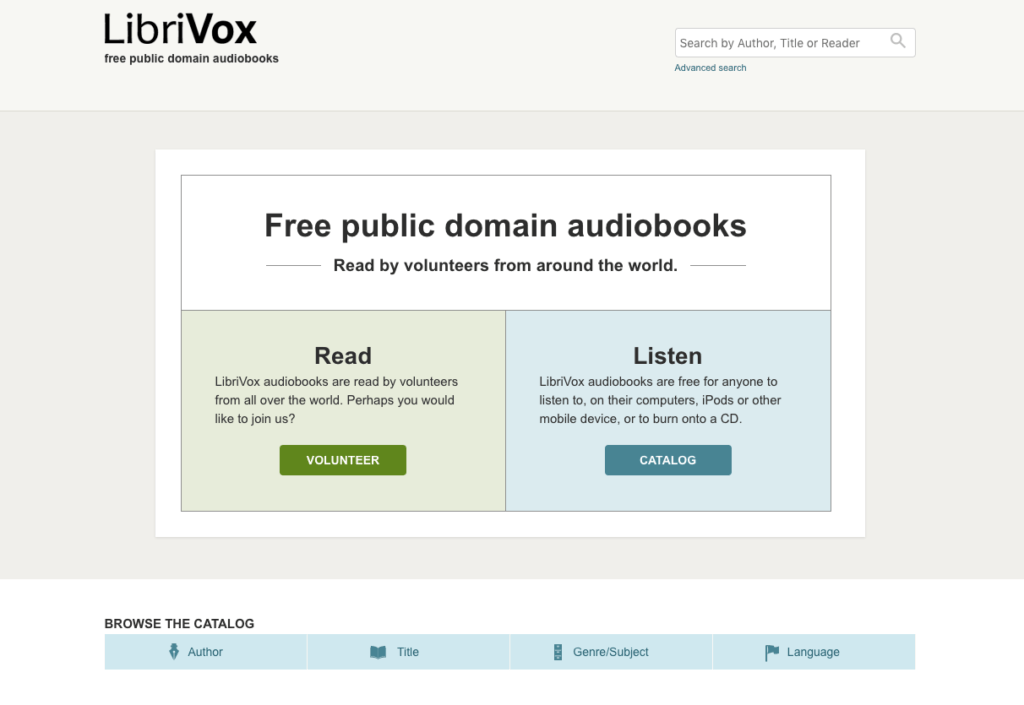 Would you rather listen to books instead of reading them? Try LibriVox. It is a digital library of audiobooks which are absolutely free. The free audiobooks are read by volunteers that work to release quality recordings of classic books.
Even though audiobooks aren't technically ebooks, it is surely a great way to enjoy books when you are on the move and keeps you entertained. It is also a great help for the visually impaired and helps them enjoy great literary works for free.
You can download the titles in MP3 and there are links to the ebook versions available on each title's page. LibriVox also runs weekly podcast in case you are interested. Since all books are recorded in 128 kbit/s, it makes a pleasant listening experience.
Why use LibriVox?
Best site for downloading free audiobooks
Good quality audio
Helpful for visually impaired
8. Smashwords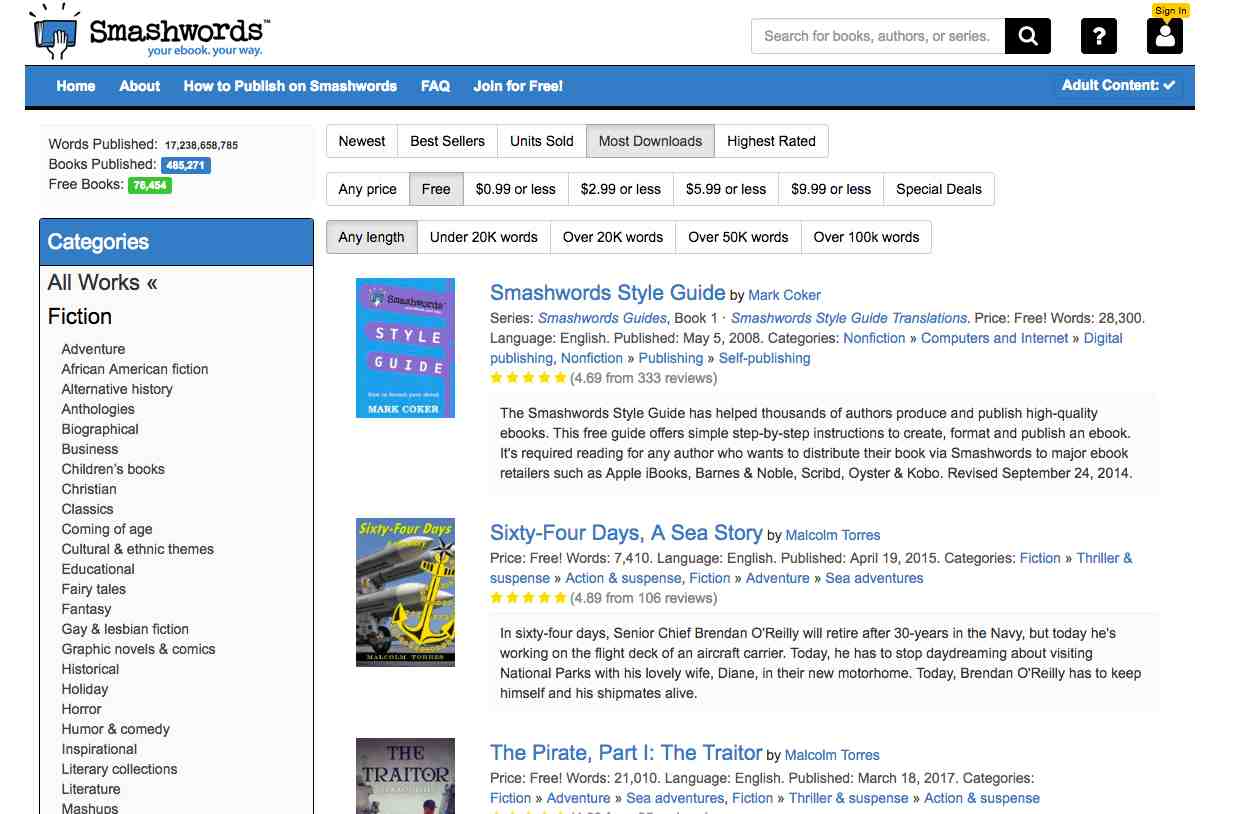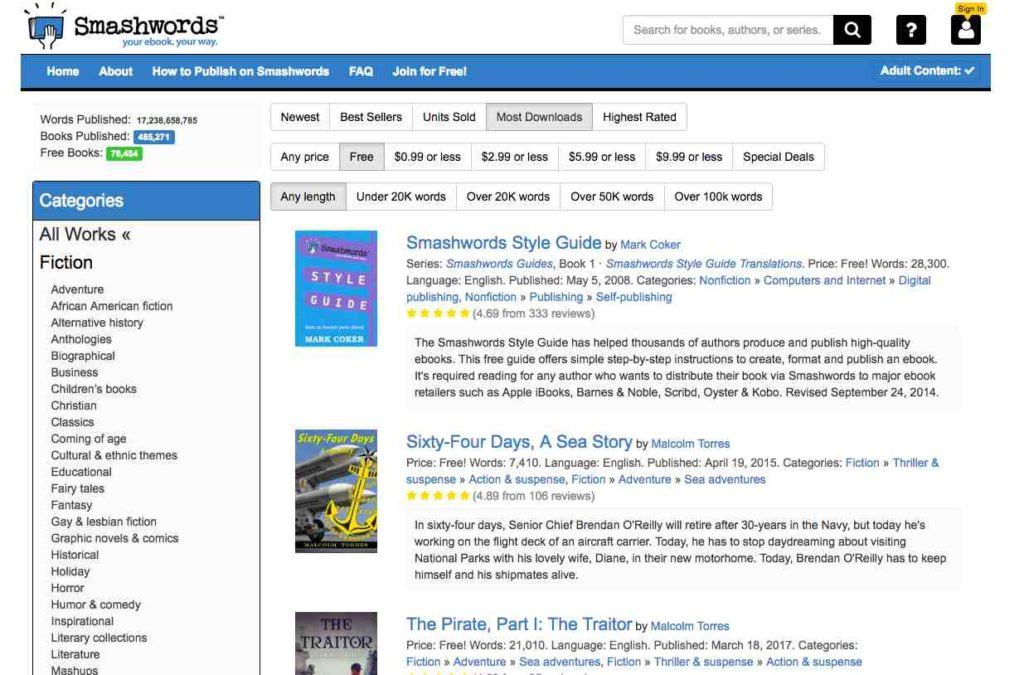 If you are looking for some literary work by Indie authors, Smashwords is the right place to look. This online directory of books offers content created by independent authors and publishers across the world.
The collection of online books present on Smashwords includes several subject topics and genres such as Adventure, Business, Classics, Fantasy, History, Religion, Philosophy and many more. Just make sure you click the "free" tab before searching for a book.
You can search the platform using quick filter buttons like word count and ratings to find ebooks according to your tastes and download free ebooks in various formats such as EPUB, MOBI, PDB, and TXT.
Why use Smashwords?
A collection of over 475,000 online ebooks to read
For those who have a penchant for writing, can publish on their literary work on this platform
Visit Smashwords
9. PDF Books World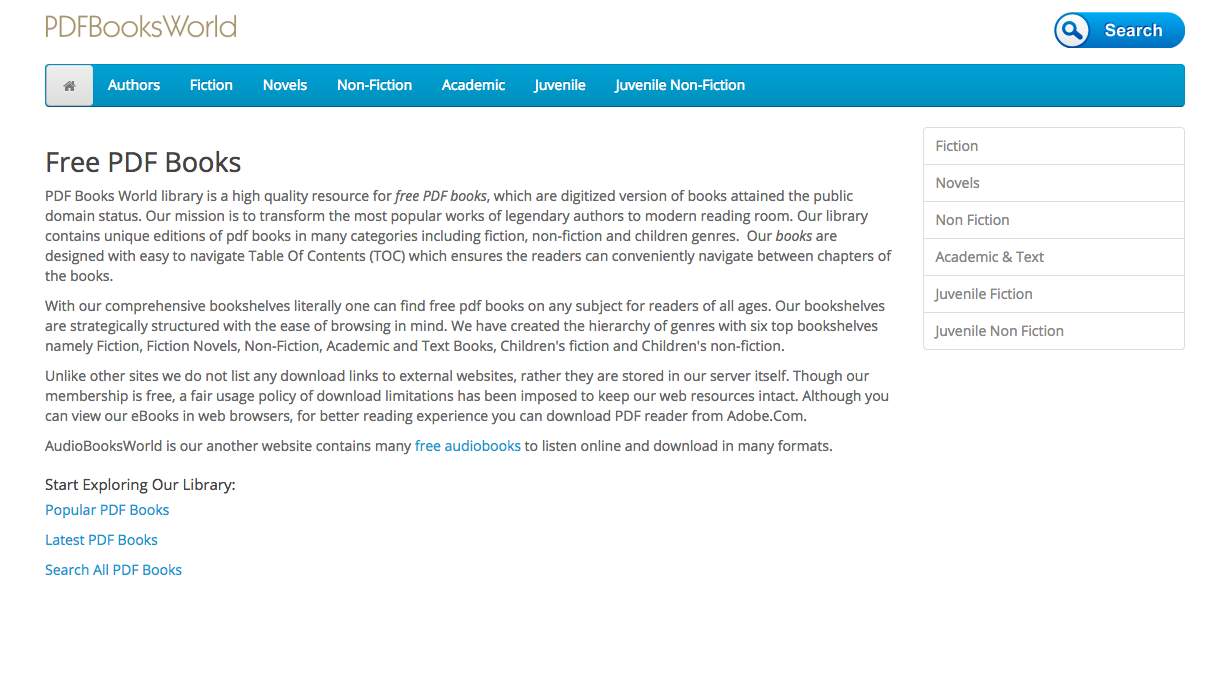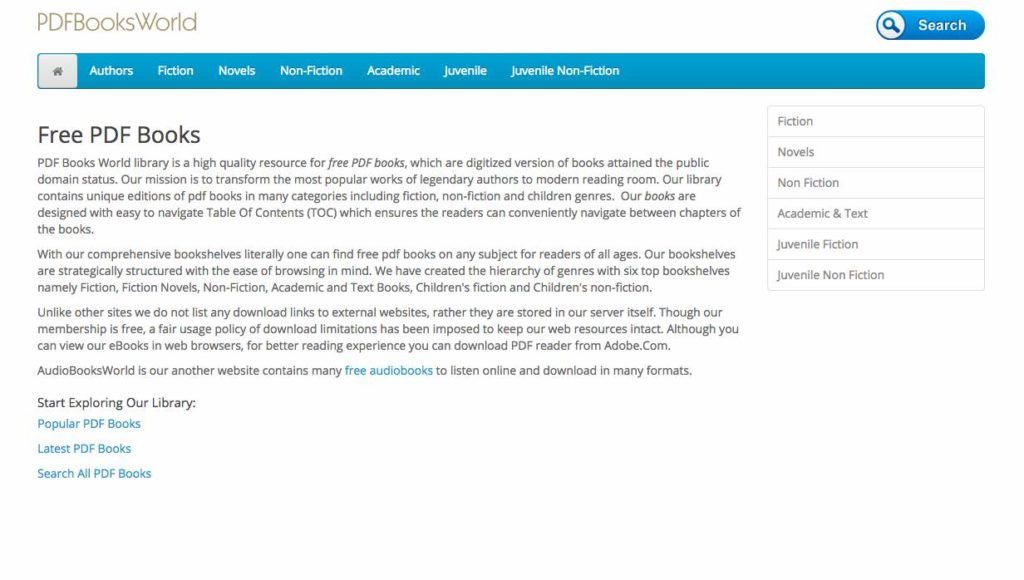 If you are looking for a good website where you can read and download ebooks in PDF format for free, your search ends here. This ebook publisher digitizes books that have attained the public domain status to be downloaded in PDF format which can be read on many devices.
The interface of PDF Books World is easy to use, and the content has been categorized into fiction, non-fiction, novels, academic and juvenile section. The comprehensive bookshelves on this platform offer free pdf books on any subject for readers of all ages.
Unlike other platforms, PDF Books World does not list any download links to external websites. Instead, they store it on their server itself and offer free membership for a lifetime.
Why use PDF Books World?
For downloading free ebooks in PDF format
Visit PDF Books World
10. Bookyards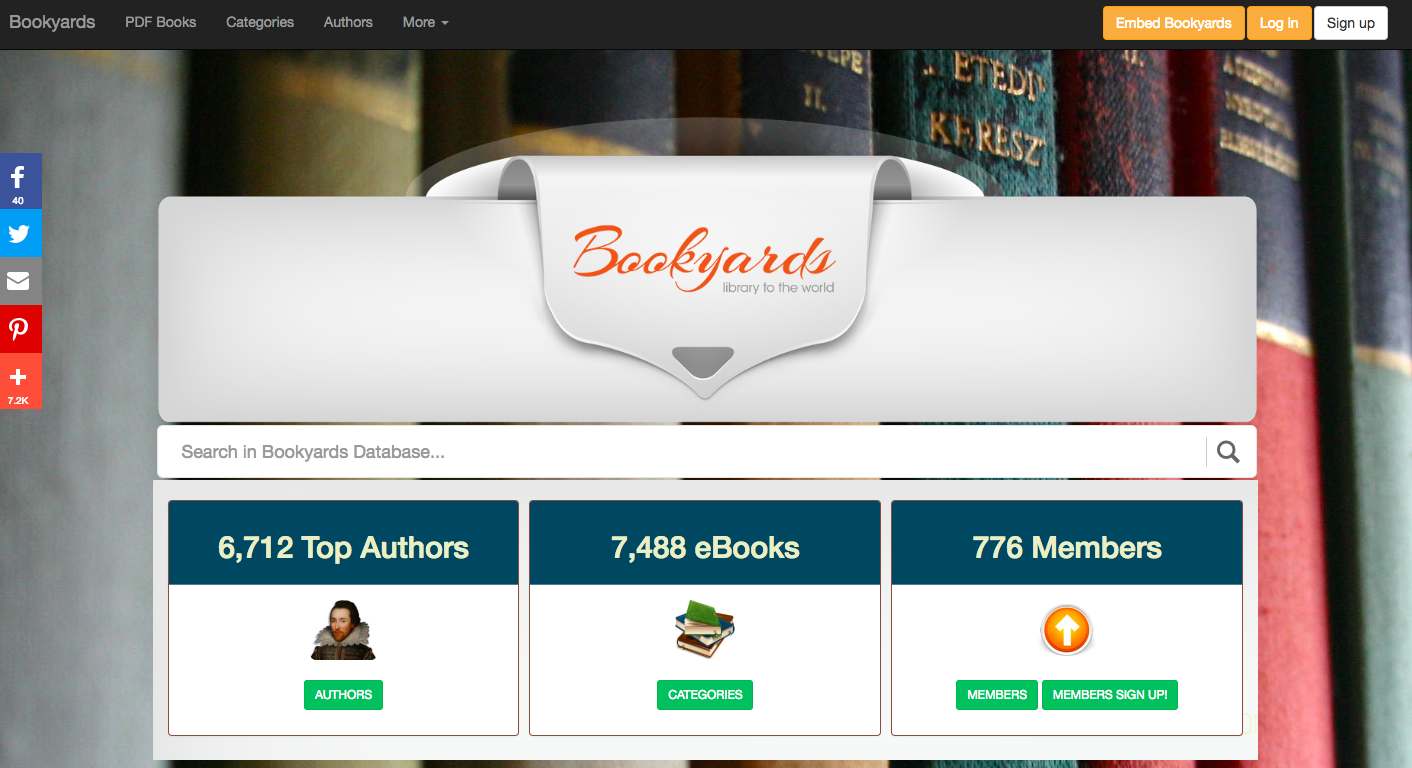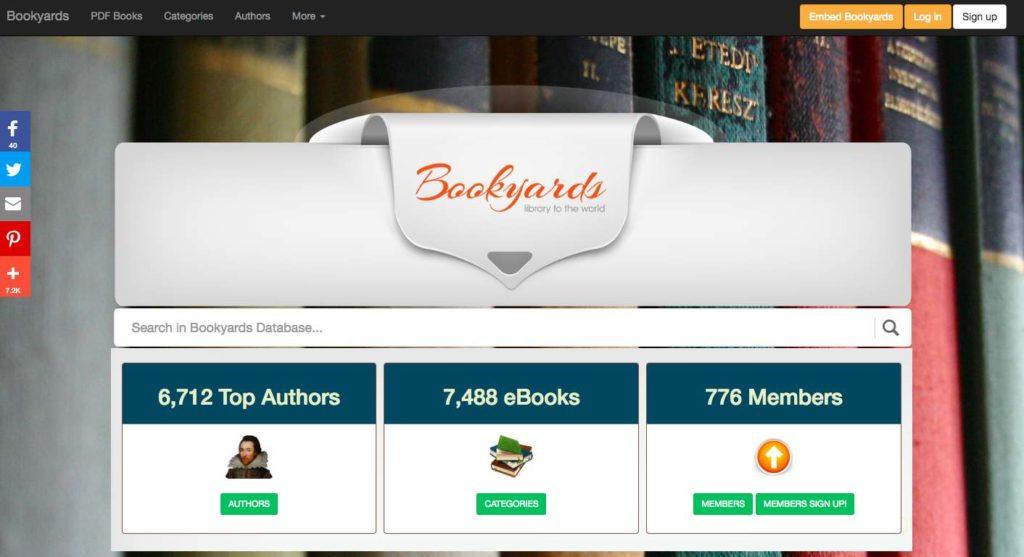 This web portal lets you browse thousands of free books online as well as audiobooks in various genres like Art, Biography, Computers, Fiction, History and much more.
Bookyard has a pretty simple webpage where you can either publish or download books for free according to authors or categories you prefer. Downloading content from Bookyards is hassle-free and does not require registration.
Visitors to this website can also choose to donate if they wish to and check out the educational links to more reference materials and documents.
Why use Bookyards?
For downloading PDF books and converting it to Kobo
Easy sharing option on various platforms
Visit Bookyards
11. Hathi Trust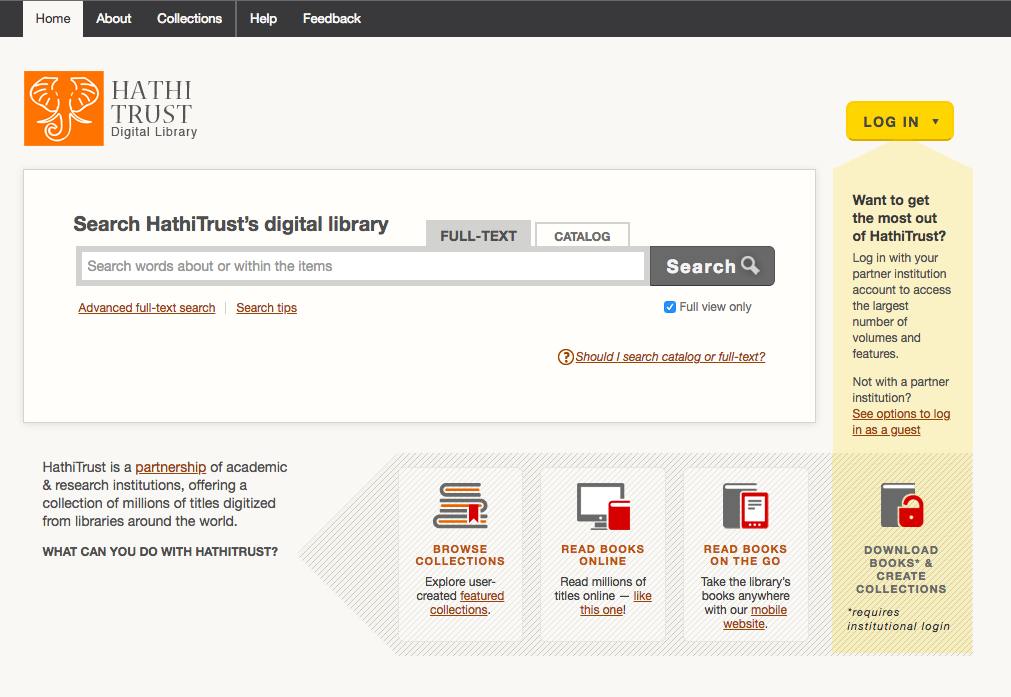 Hathi Trust is a digital library dedicated to the student community. It has been formed by a partnership of major research institutions and libraries who have joined hands to ensure that all cultural records are preserved in a digitized format for the use of future generations.
Numerous academic research organizations in the U.S. and libraries around the world act as the source of digitized content hosted on this website. It has a powerful search option which lets you find free books online in is database through titles or authors.
Hathi Trust has a compilation of pre-curated collections of texts on topics such as Ancestry, Manuscripts, and Old Psychology Texts. One can read books online on this website without registration, but downloading them requires you to sign up.
Why use Hathi Trust?
For classic literary work and academic texts
Visit Hathi Trust
12. Wikibooks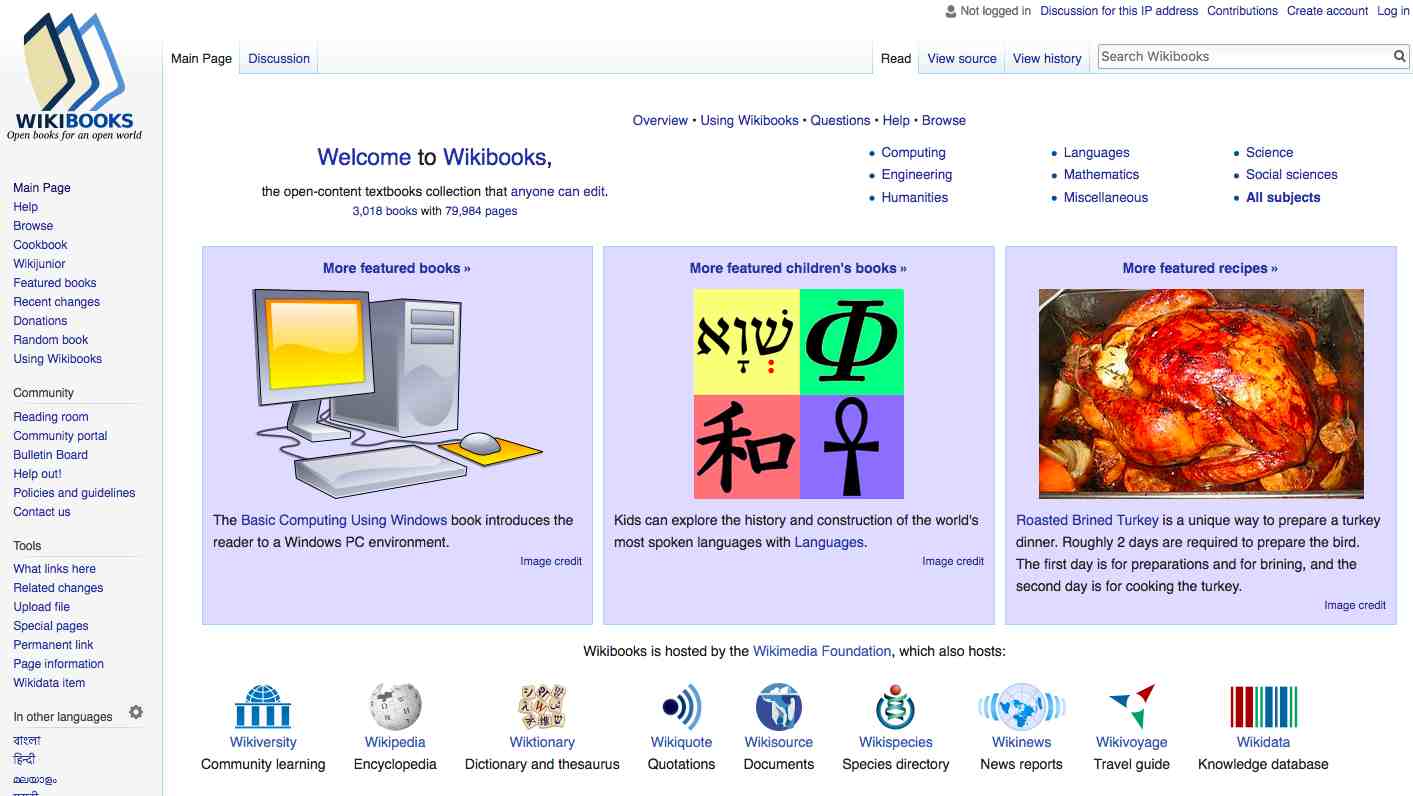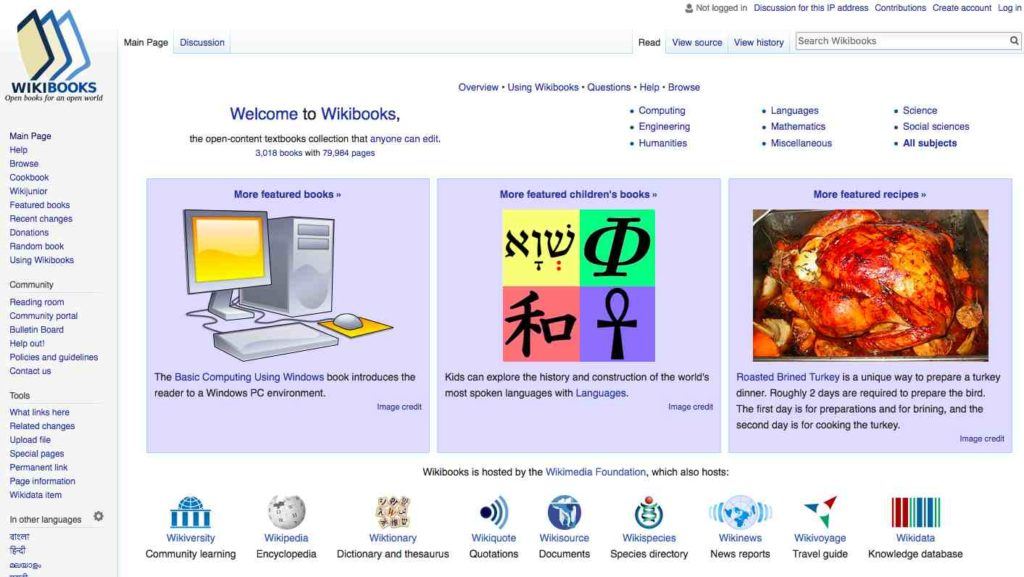 If you are looking for non-fiction content, Wikibooks might be the best place to begin. As a part of the non-profit organization Wikimedia Foundation, the site hosts an extensive collection of ebooks on subjects like Humanities, Engineering, Computing, Science, Languages, and other academic topics.
Navigating through the website is pretty easy and further of subjects into multiple categories makes it easier to find specific content. Otherwise, you can always use the search option to conduct a site-wide search as well.
You can either read books online on the website or download PDF files for offline reading. Its Featured Books section displays books that are liked by a majority of Wikibooks community to help other readers in selecting ebooks to read.
Why use Wikibooks?
Recommended for textbooks (mostly academic)
Visit Wikibooks
Final Words: Which free book site you'll prefer?
All the aforementioned online sources offer a fine collection of books. Besides, these websites haven't been listed in any particular order so go ahead and knockout yourself with a rich collection of free books on these platforms. Since they offer a deluge of reading material, I am sure you won't be running out of your stash of books anytime soon. Meanwhile, if you come across some other good websites for free books online that we might have missed out, do share with us in the comment section.