Even though DVDs sound like a thing of the past, it still works fine and is used by several people around the world to maintain a collection of movies, songs, and other data.
In a modern world that now relies on cloud services, DVD offers an option through a physical copy to be independent and not rely on an Internet connection. But you still need a good tool to rip DVDs and backup data on them. This is where WinX DVD Ripper Platinum steps in.
Why Use WinX DVD Ripper Platinum?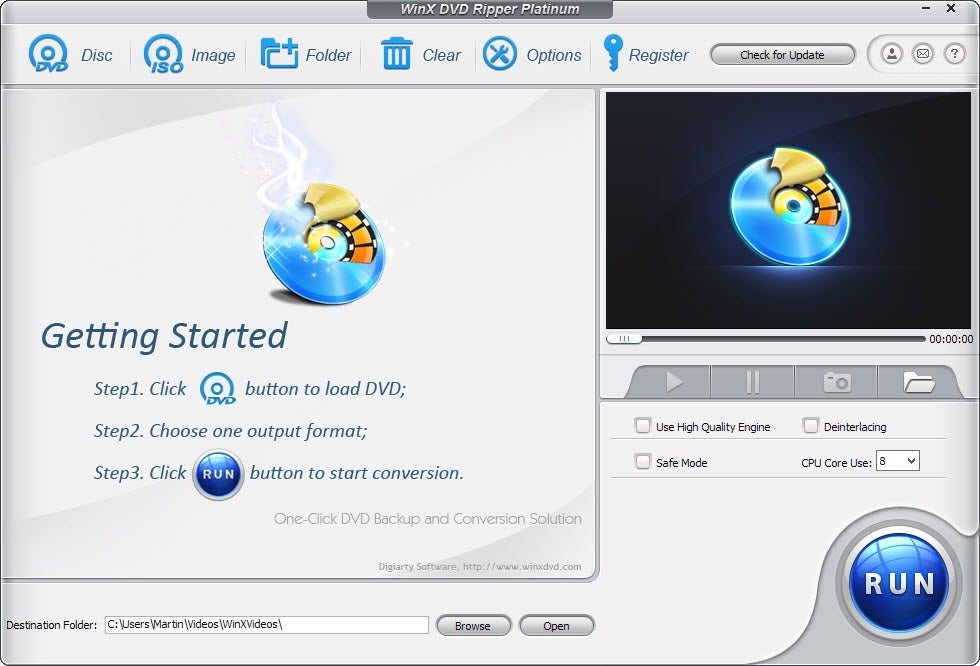 WinX DVD Ripper Platinum is one of the best DVD ripping software that rips quickly and at the same time provides high-quality results. It can rip any DVDs/ISO images to 350+ formats such as MP4, H.264, AVI, HEVC, MPEG, MOV, M2TS, etc.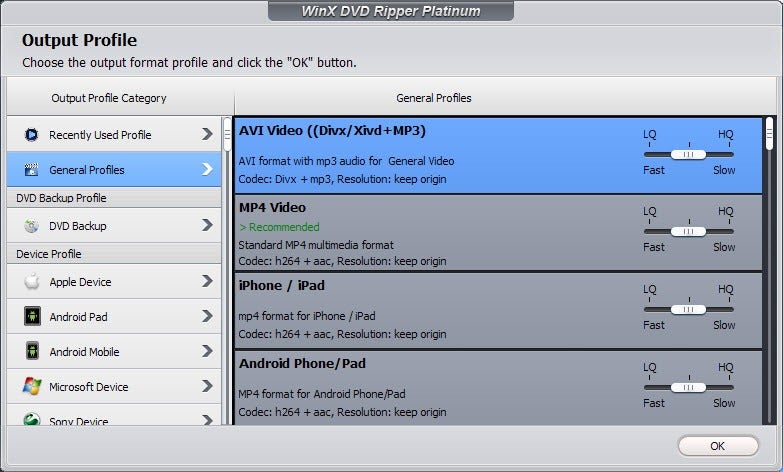 In addition to that, WinX DVD Ripper Platinum comes with sophisticated rip customization tools that let you fine-tune your rips by adjusting the video's technical facets such as aspect ratio, frame rate, and bitrate. There is a simple video editor as well that you can use to edit subtitles, crop video, and trim footage.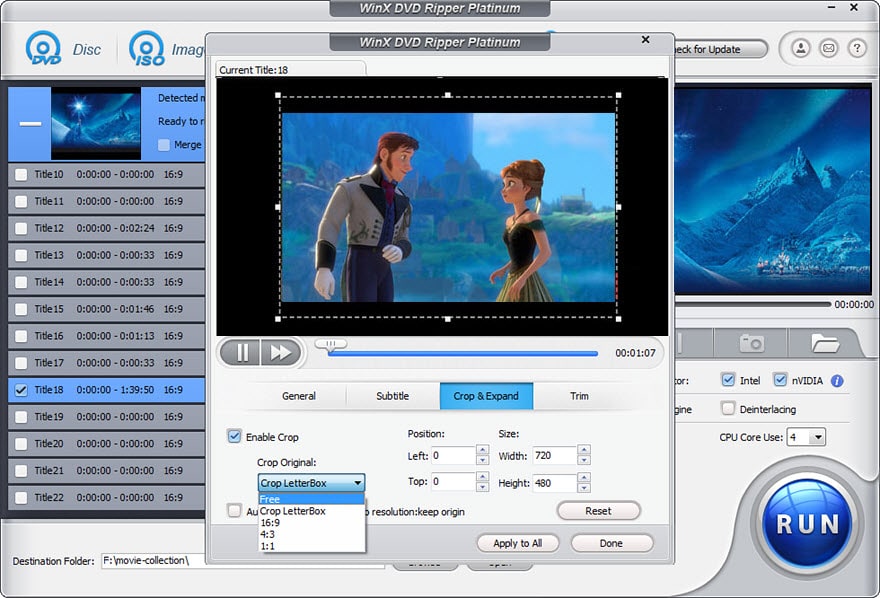 WinX DVD Ripper Platinum has been used by more than 70 million users since 2009 out of which:
12% of users use it to fix DVD playback error
19% of users backup DVD before they get "old"
24% of users rip DVD for playing on iPhone & Android
45% of users rip DVD to MP4 (H.264/HEVC)
Installation and Interface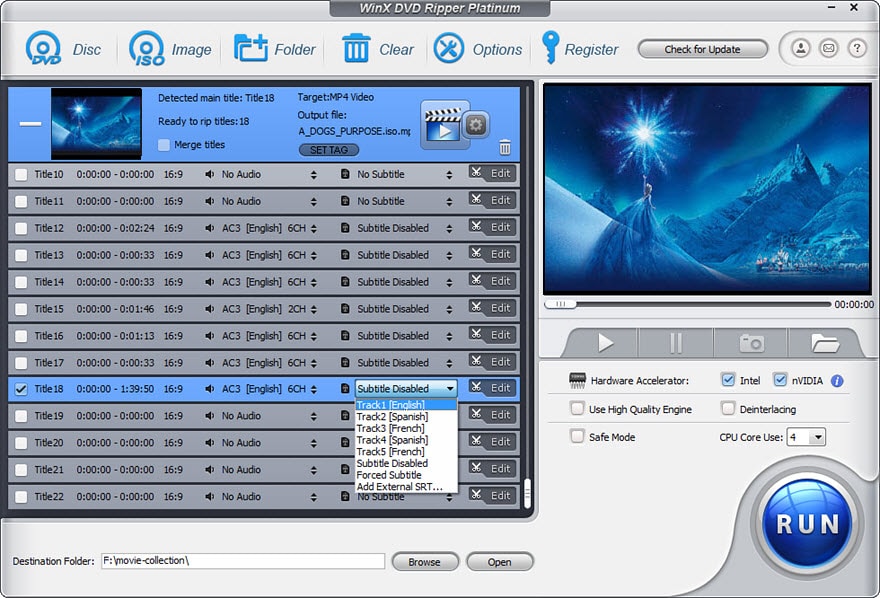 Download and installation of WinX DVD Ripper Platinum is pretty easy and the installer doesn't contain any third-party offers.
The interface of the WinX DVD Ripper is pretty simple. At the top, you'd find buttons for key operations. On the right side, there is a video player with special features. The central part (which supports drag-and-drop) displays the content/files. You can switch languages in settings to a total of 6 languages: English, French, Spanish, German, Chinese and Japanese.
WinX DVD Ripper can be broadly divided into 2 main parts: ripper and converter. The section which represents the Ripper is a small menu that appears when you select a source. There are several additional menus that appear after adding files: presets menu (conversion options) and options menu.
How to Rip DVD to MP4 with WinX DVD Ripper for Playback on Windows 10?
DVD playback on Windows 10 is not as easy as before. Even Windows Media Player no longer plays DVD. Users face problems while decoding DVD such as DVD drive not reading disc, DVD playback freeze, cannot play DVDs from other regions and others.
With WinX DVD Ripper, you won't face such problems. All you need to do is follow these steps:
Step one: Put your DVD disc in the drive and launch WinX DVD Ripper
Step two: Select "MP4" in the output profiles
Step three: Hit the "RUN" button to start DVD video conversion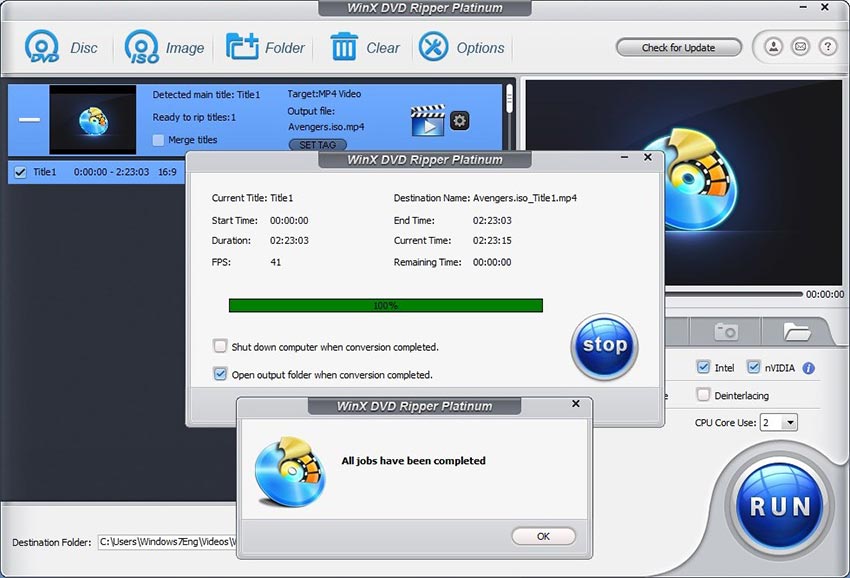 Please note that the default quality setting is set to normal by default. You can choose a low or high quality instead which in turn speeds up or slows down the ripping process. Once you have selected the initial conversion profile you are taken to the main ripping screen.
Pricing and Availability
WinX DVD Ripper Platinum software is available for both Windows and Mac OS. It is currently available at 50% discount for the Chinese New Year. Instead of $59.95, this DVD ripper is now being offered at $29.95 only.
With this purchase, you get the latest full version download link and the license code by email. It is a lifetime license, and you can enjoy Lifetime Free Upgrade with a 30-day money-back guarantee.
Closing Words
Overall, I'd say that WinX DVD Ripper Platinum is a professional tool that is easy to use. It offers enough customization options to suit users of all experience levels.