Short Bytes: fossBytes is back with its annual rendition- the list of the best free antivirus of 2016. Consider this your one-stop shop to help cast aside all your insecurities, tackle vulnerabilities, subdue any cyber threats, make your system secure and much more.
F
ashion tips and Twitter trends fade away with time but the one thing that most certainly never fails to pique our interest are the headlines: "Hacked..Millions of Accounts Compromised..Personal Details Leaked Online".
I read this quote somewhere which went along the lines of – "It is not weapons of mass destruction or terrorists that keep me up at night, it is the threat of Cyber Attacks". And rightly so, I mean once you hear the news such as 'Mark Zuckerberg's Twitter & Pinterest accounts getting hacked' or about the 'Hacker is selling an exploit that makes all versions of Windows OS hackable', cybersecurity is bound to jump to the top of your 'List of Things to be Concerned About'.
Now, even though apps such as 'Hacked' are being developed to avoid having your system compromised, but nothing beats the good old antivirus. Now I am sure, at the mention of the word antivirus, the first few names that would pop up in your mind would be the paid antivirus software such as Norton, Kaspersky or perhaps McAfee. But why pay for something when you could get it for free?
The word 'free' has a pretty nice ring to it, doesn't it? Well, we at fossBytes have yet again compiled a list of the best free antivirus of 2016, replete with the full details of antivirus software which would even give their paid counterparts a tough run for their money. The list holds some surprises in the form of new entrants and some shuffling as compared to last year. Without any further ado lets tell you more about them:
Best Free Antivirus Software Of 2016 for Computer Virus Protection: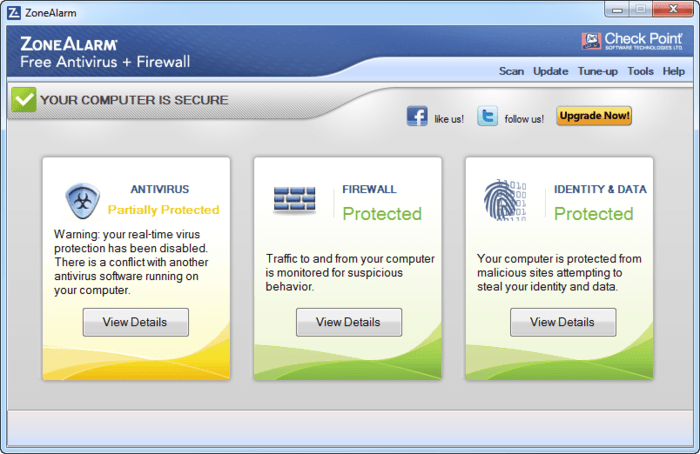 Platform: Windows XP or higher
The Zone Alarm Antivirus is the new sheriff in town, replacing FortiClient on our list of best free antivirus this time around. For those people who value system performance and prefer a minimalistic approach to system security rather than a full-fledged security suite, Zone Alarm is the go to free antivirus.
With antivirus protection licensed by security giant Kaspersky, Zone Alarm boasts of a built-in and highly efficient firewall along with features such as kernel level virus prevention, automatic updates and a web security and privacy toolbar. It is pretty effective in detecting threats and moreover it can also detect wireless networks and automatically apply the most secure firewall settings on its own in addition to providing real-time security updates. Although, we feel that it lacks out on some important features such as phishing protection and is somewhat not as effective against zero-day threats as you would want your antivirus to be.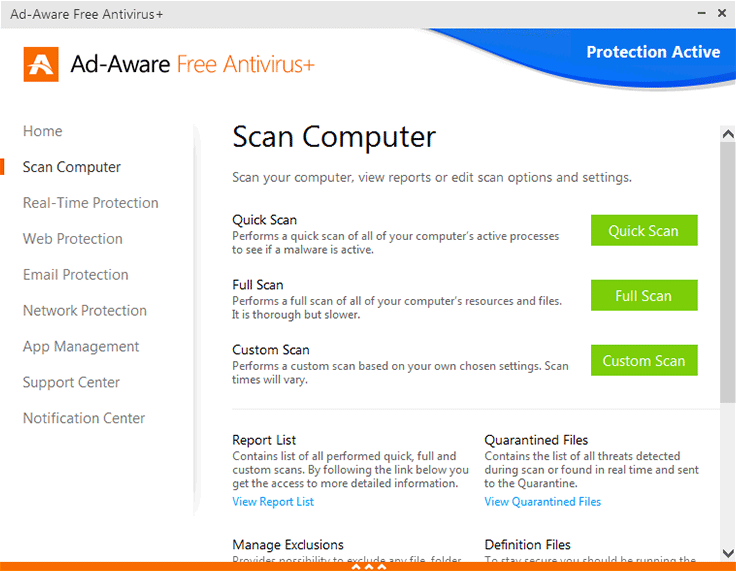 Platform: Windows XP or higher
Lavasoft's AdAware antivirus has been in the game for some time. As the name suggests, the antivirus started off as an anti-adware program but with time, it has been developed into a complete security suite. With its latest update, the AdAware has observed much-needed improvements in detection technology and User Interface. It offers smooth installation, non-intrusive notifications along with detailed custom scanning. Several new features feature prominently in the antivirus such as Sandbox emulation, scheduler and command line scanner.
Even though AdAware is a pretty reliable free antivirus but we feel that a major drawback associated with it is the lack of features that are readily available in its paid-for siblings. As a result, you stand to miss out on various important features such as anti-phishing email protection, parental controls, and file destruction. Thus, AdAware retains its 9th position in out list of best free antivirus software of 2016.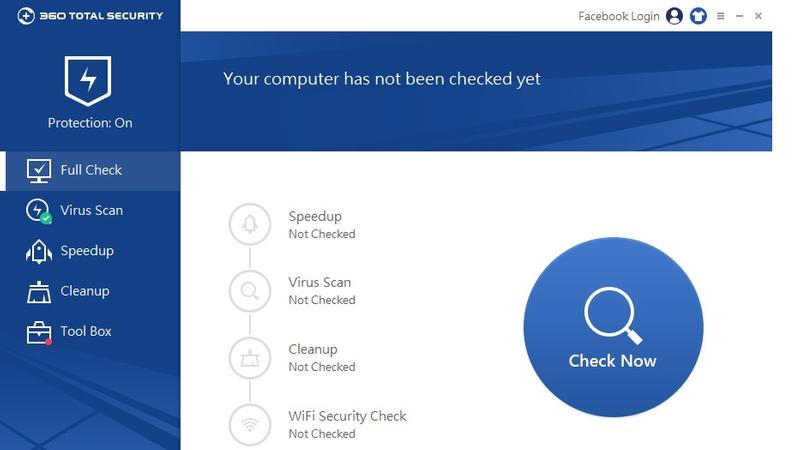 Platform: Windows XP or higher (Windows 10); Mac OS X 10.7 or later including OS X Yosemite; Android 2.2 and Up
The China-based company Qihoo 360's Total Security Antivirus is one of the most versatile antivirus present out there. Not only does it boast of four virus detection engines (namely Avira, BitDefender, 360 Cloud Scan Engine and the 360 QVMII AI Engine) but also packs in system tuneup and cleanup features along with a host of other useful tools. What we really like about the Qihoo 360 is its pleasant UI, which is very easy to use and even comes with a lot of themes. It is light on system resources, pretty quick and even provides sandbox and USB protection modules along with Glasswire Firewall and Windows Patch-up components.
However, such a wealth of features sometimes overshadows the main purpose of the antivirus, and as a result, it lacks out on the security front. Even though it scored well in hands-on tests and in tests by other independent labs, we feel the Potentially Unwanted Program (PUP) detection can still be improved further with more focus on core antivirus protection rather than other services.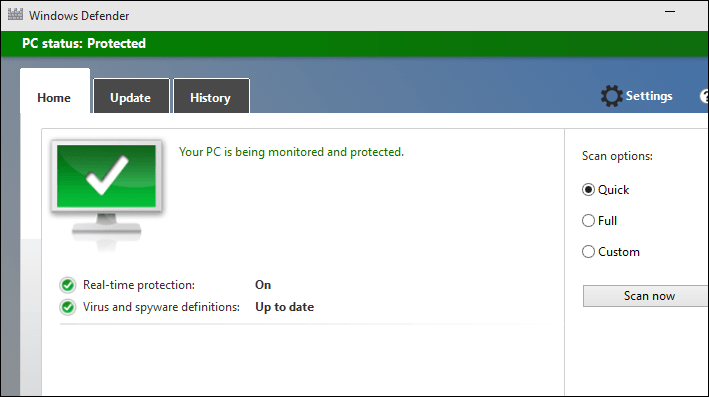 Platform: Windows XP or higher
One of the surprise entrants on our list of the best free antivirus software is the Windows Defender antivirus. Mostly Microsoft's antivirus has been criticized for sub-substandard performance and virus protection. But, with the latest version, things sure seemed to have turned around for good. Microsoft has invested massively in system protection and it has definitely reaped some good results for them.
Apart from integrating with Windows very effectively, it provides on-access/resident protection from viruses, spyware and other malware as well. It also excels in the area of false positives and is known to have produced not even a single warning for a false threat in tests conducted by various independent labs. Even though it is a vast improvement over the 2015 version, there is still a lot of scope for improvement in terms of system performance and virus protection.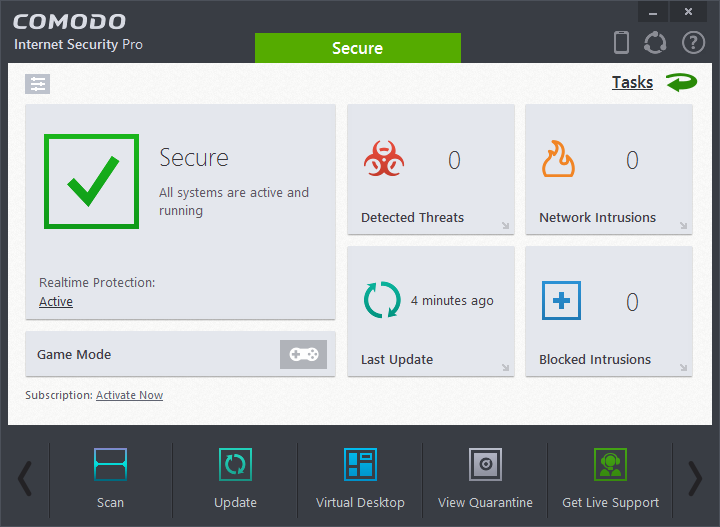 Platform: Windows XP or higher (Windows 10); Mac OS X 10.4 or above; Android 2.2 and Up
Being in a class of its own, no other Antivirus merits its place in the list of the best free antivirus more than the Comodo Antivirus. Although if you are the one to feel intimidated by the various complexities and technicalities of an antivirus, then the Comodo Antivirus is not for you. The antivirus is often known to prompt the user for input and as a result is not that suitable for newbies. But once you work your way around that, the Comodo Antivirus is one of the most reliable antivirus to have on your system.
Provided with Comodo's proprietary Defense+ Technology, the antivirus employs a no-nonsense approach and treats all unknown files as a threat. It provides On-Access/Resident Protection, cloud-based protection, and an automatic sandboxing function. The Host Intrusion Protection System has also been improved by leaps and bounds as compared to its previous versions. Although it offers too many extra add-ons such as Chromodo Browser, Yahoo search engine, custom DNS, and Geek Buddy during default install and requires too many tweaks in order to offer better protection, Comodo still needs to automate more of its security features.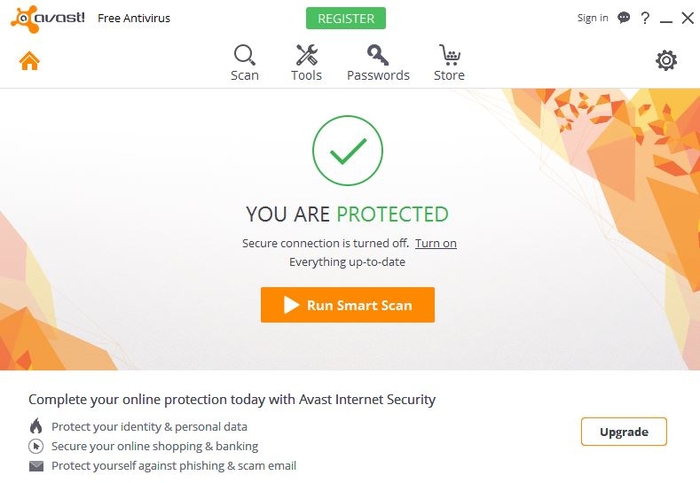 Platform: Windows XP or above; Almost all Mac OSX versions
One of the most renowned antivirus software out there, Avast needs no reckoning at all. The latest 2016 version of Avast has witnessed a massive overhaul in the appearance. The abstract art in the main window and a minimalistic approach to the icons and reports is very pleasing to the eye. But, do not mistake Avast 2016 to be all about beauty because from the inside, it still remains a beast of an antivirus.
Loaded with a well-implemented password manager, network scanner, and top notch detection capabilities, it sure packs a punch. It features a heuristics engine of its own along with deep screen technology including Sandbox and a plethora of secondary components, that make it even more versatile than any contemporary antivirus out there. But, the various popups and advertisements being displayed in the free version can be pretty irksome at times. An anti-ransomware module and a few tweaks in the Malware signatures and HIPS module would do Avast a whole lot of good in terms of protection.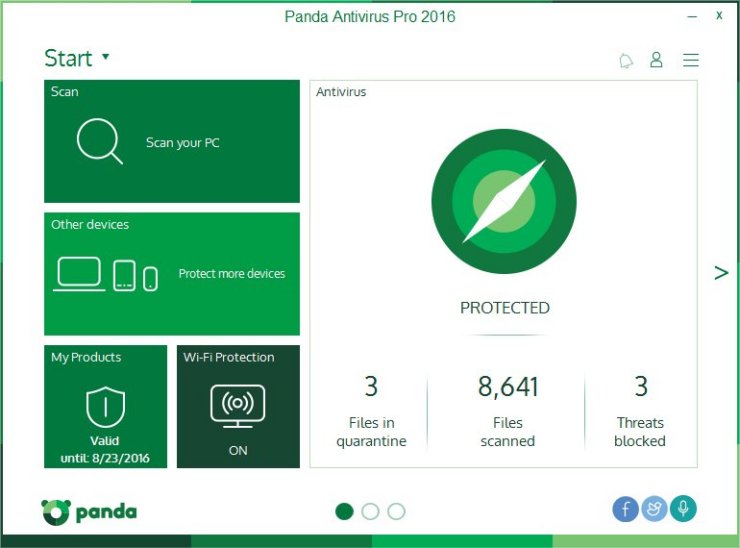 Platform: Windows XP or above; Android 2.3 or up
A list of the best free antivirus can't be termed complete until the name of the Panda Antivirus has been mentioned in it. Like Avast 2016, Panda Antivirus has been revamped in terms of its appearance and the modern design featuring tiles looks quite subtle.
Most free antivirus software lack some advanced features and keep pestering you to upgrade to their paid counterparts, but we got to say that the Panda Antivirus is pretty well equipped in this domain and provides a host of optional features that other antivirus software fail to provide. Another state of the art feature provided by the Panda Antivirus is its cloud-based scanner which removes the load from your CPU and places the burden on the Panda servers, thereby making it really light and efficient. The only not-so-positive side of the antivirus is that it is internet connection-dependant, leading to weaker offline security.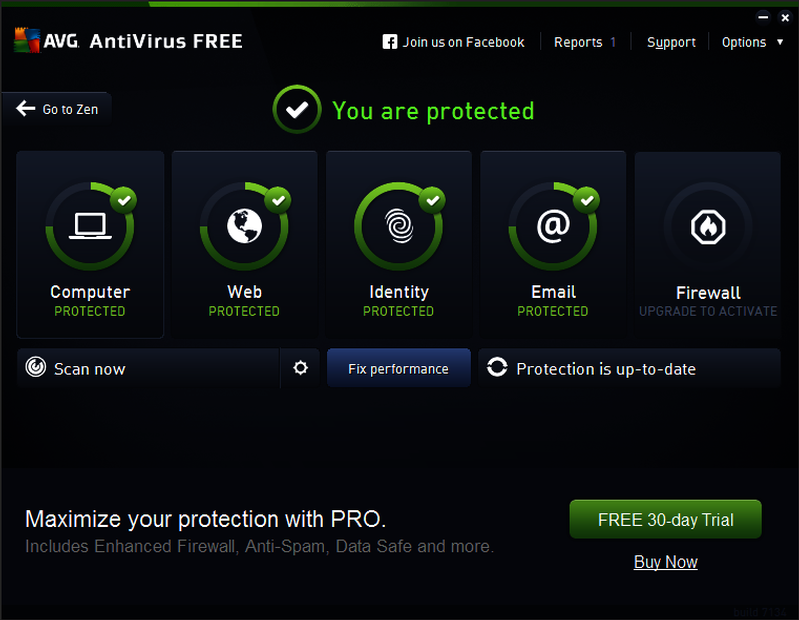 Platform: Windows XP or higher; Mac OS X Mountain Lion or Later; Android 2.2 or above
One of the most critically acclaimed and highly appreciated antivirus software is the AVG Free Antivirus. The 2016 version of the AVG Antivirus comes with Zen applications that allow you to monitor the status of all the device running the software. One of the best features of AVG Antivirus is the smart scan technology which it uses to effectively reduce scanning times. Features like link scanning, remote protection, integrated File Shredder and Wi-Fi Guard present a strong case for AVG being your go to free antivirus.
AVG's popularity has taken a hit in the past few days, with it being in the headlines for its privacy policy which clearly stated that AVG is entitled to share some personal and non-personal data of users with third parties. Although other software also do to the same, but when it comes to delicate matters such as computer security it is best to take some caution in such matters.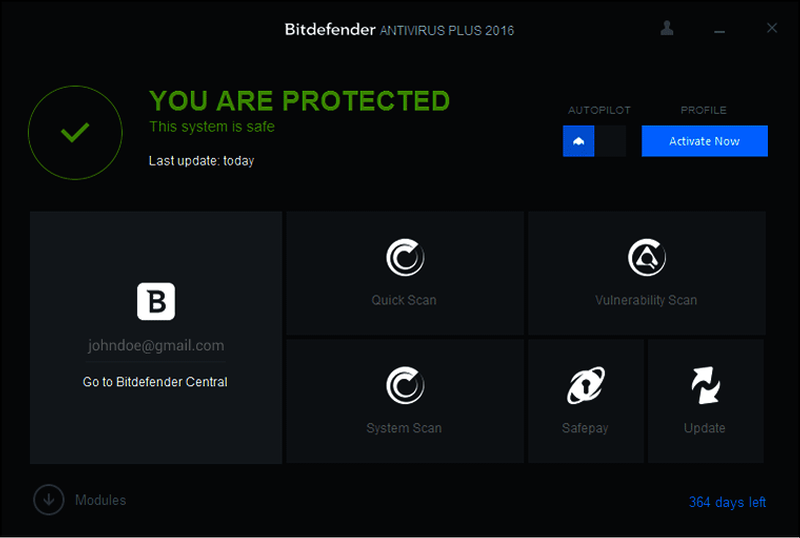 Platform: Windows XP or up; Android 2.3 or up
One of the most unobtrusive antivirus software out there, the BitDefender Free Antivirus is capable enough to give the paid antivirus software a tough run for their money. BitDefender is very discreet in its operation and in addition to being lightweight, it is also free of the hassling advertisement and popups. What's more is that despite being lightweight, it still provides for a Real-time Shield, Active Virus Control, Intrusion Detection, Rootkit scanning, HTTP scanning along with a plethora of other features such as Profiles, online banking protection and even a parental control system.
We would highly recommend BitDefender for those people who don't want to meddle much with the antivirus and prefer to let it do its job quietly in the background. However, users who prefer to fiddle with the settings of their antivirus and wish for complete control over it, may find BitDefender a tad bit disappointing because of the lack of customization operations on offer.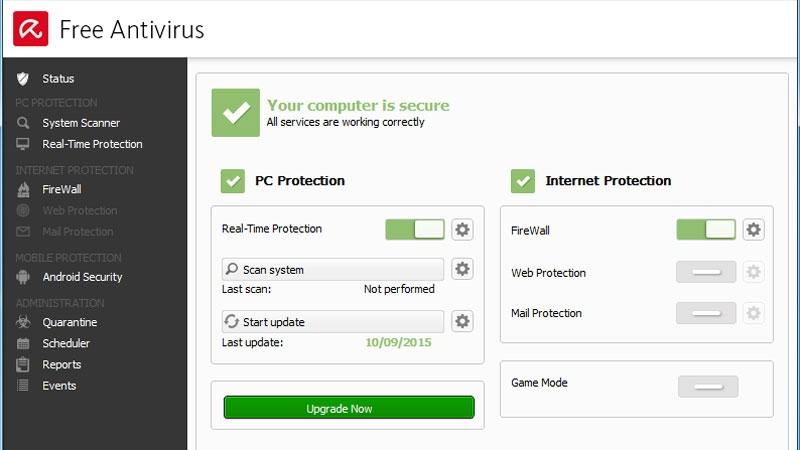 Platform: Windows XP or above; Mac OSX 10.9 (Mavericks) or higher; Android 2.2 or up;
Editor's Recommendation: *Drumrolls*, the antivirus which occupies the top spot on our list of the best free antivirus of 2016 is the Avira Free Antivirus. Avira Antivirus is in a league of its own and takes antivirus protection to a completely new level. Be it the casual unconcerned user or the control freak who likes to tweak various settings of their antivirus software, Avira fits the bill perfectly for all.
The latest version of the antivirus has undergone some major improvements and now boasts of exceptional detection and blocking rates. It has even achieved 100% malware detection in tests conducted by various independent labs. Its refined cloud detection technology also makes it stand out from other antivirus software when it comes to the detection of zero-day threats. Seamlessly fast scans and a small footprint makes it ideal even for older systems. An optional browser extension in addition to a launcher for user convenience also adds a feather to its cap.
Such a diversity of features has resulted in a community of users which keeps expanding by the hour. With so much to its credited, Avira Free Antivirus is hands down the best free antivirus of 2016.

Do you feel some other free antivirus should have made it to the list of top 10 best free antivirus software of 2016? Give us your suggestions below and help others to get the best computer virus protection.