It's been almost three years since Microsoft released their greatest and latest operating system. Being touted as the next best thing, Windows 10 was indeed not the best regarding the user expectations. Actually Far from it. Nagged by the forceful updates, slow startup problems, slow restart bugs, Windows 10 didn't have the best of starts that Redmond hoped to have.
Microsoft's Windows 10 has been improving since then at a rapid pace, but some issues like the slow Startup and Slow Restart issue have persisted even with the new Windows 10 update for some. Here, we look to provide the best tips that we came across to fix the Slow booting of Windows 10. So, let's get started —
How to Speed up Windows 10 Slow Startup?
1. Check Last Bios Time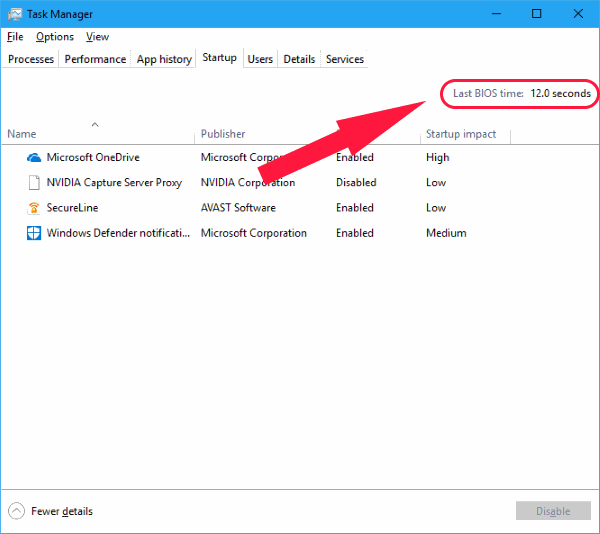 The first thing you should check for is your Windows 10 Last Bios Time. Basically, this is the Time taken by the UEFI firmware to initialize your hardware before Windows 10 starts booting. Typically, this would only take a few seconds. You should check out our guide on Last BIOS Time Tweaks.
2. Disable Windows 10 Fast Startup
The fast startup feature in Windows 10 is the highly talked about feature for all the wrong reasons. Since Windows 10 first appeared, Fast Startup feature has caused so many issues and many users reported the slow startups and slow restarts to be among them. Make sure that this is the first fix that you attempt when your Windows 10 boots slow.
To do this,
Open Control Panel and select Power Options.
Click Choose what the power buttons do.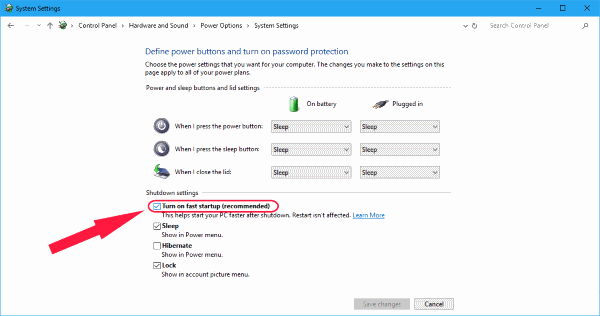 Now click Change settings that are currently unavailable.
Under Shutdown Settings, disable fast startup.
Note: Try disabling and enabling Fast startup in Windows 10 while restarting after each change to know if the Fast booting feature is the problem.
3. Disable Windows 10 Automatic Maintenance
This Windows 10 slow startup fix might be unheard of for most users. The reason being this has not been widely reported to be an issue. But for users facing the slow spinning dots when restarting or booting up Windows 10, this might just be the fix that you may be searching for. With some of the tests that I attempted, Automatic Maintenance in Windows 10 leads issues resulting in the dreaded spinning dots for ages. This is especially true for PC and Laptops with Dual graphics cards.
If you want to give this peculiar fix a try,
Launch the registry editor by typing regedit in the search box or Run.
Navigate to the following Key:

HKEY_LOCAL_MACHINE\SOFTWARE\Microsoft\Windows NT\CurrentVersion\Schedule\Maintenance

In the right pane, there will be a 32-Bit DWORD value of the name MaintenanceDisabled. In case if there is no such value, create it yourself by right-clicking on the blank space in the right pane, then New > DWORD (32-bit) value.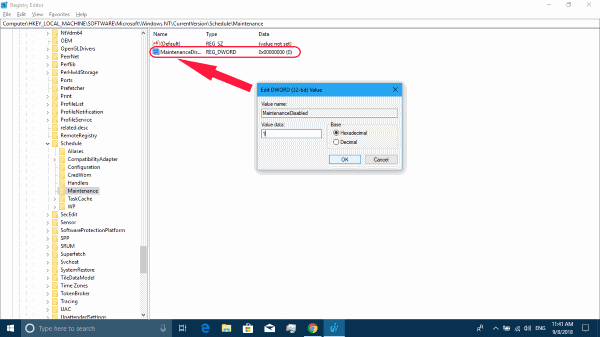 Note that irrespective of your CPU architect, still a 32-bit keyword is required.
Now double click the key to see its value. Set the value to 1 to disable Automatic maintenance in Windows 10.
That's it, and your Automatic Maintenance in Windows 10 is now disabled.
However, if you find this fix not working for you or if you would like to re-enable the feature, just delete the key or set the value to 0.
4. Disable Startup Services and Startup Programs
Windows 10 handles startup programs and others the same way as the older ones (Windows 8 and Windows 8.1) did. If you want to see your startup services and startup applications,
Launch the Task Manager by right clicking on the start menu and selecting Task Manager or using the Cntrl + Alt + Del shortcut.
Head over to Start-up and select the performance hogging programs and disable them.
Now for the services,
Right-click the start menu and select Run or press Windows key + R.
This will open the Run Window and from here, type in msconfig.
In the forthcoming System Configuration window, head over to the Services Tab.
Now you can pick and choose the ones which are essential and the services which you do not need to start up alongside the OS.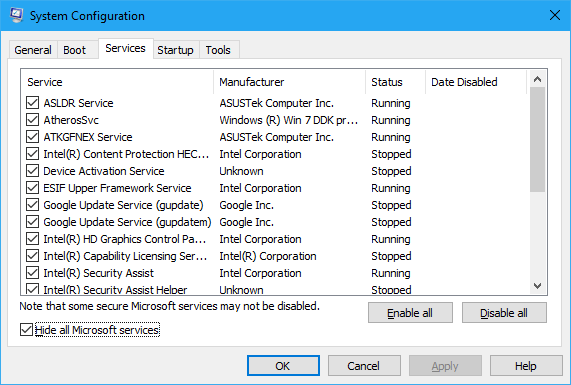 Keep in mind to hide all the Microsoft services to be on the safe side. Microsoft services might be essential so try disabling other services to fix the Windows 10 Slow Startup issue.
5. Disable Windows 10 Services
This should come as no surprise as most people would recommend disabling some of your Local services to fix Windows 10 Slow restart and Bootup issues. But be cautioned because the first thing that you need to know when doing this is that some services are critical for your programs. Disabling some essential services of the new Windows 10 Latest update versions can break things.
For better References, we can give you the usual culprits for this Windows 10 issue. Try turning off BITS( Background Intelligence Transfer Service), Connected User Experiences and Telemetry, Windows Search. To do these mentioned actions,
Head over to Services by entering the services.msc command in Run.
Locate each of these mentioned services.
Right-click each of them and select properties.
Click Stop and change the startup type to Disabled.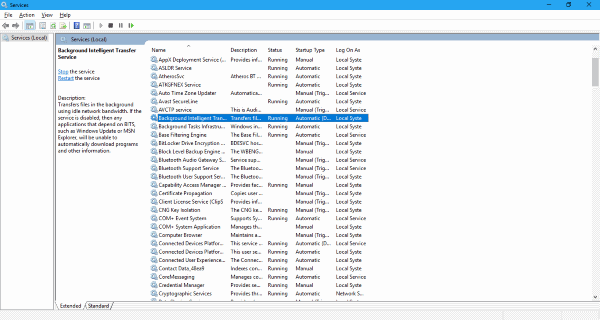 Additionally, you might have come across a service called Superfetch. Most online tips would suggest turning Superfetch and Prefetch services to be disabled for making Windows 10 faster. But in fact, this can be counterproductive especially if you have anything better than 2 GB of Ram Size.
Superfetch in windows has been the Windows service that helps you to efficiently pre-load your frequently used programs. Moreover, it brings out the best of your machine's capabilities by using your free and available RAM in the best way possible. Don't let the occasional task manager spikes fool you into thinking that disabling Superfetch Service will make Windows 10 run magically faster. Besides, you didn't buy all of that RAM capacity just so that it could sit there doing nothing.
6. Update Graphics Drivers
For some PCs and laptops running on dual graphics (Intel HD Graphics alongside the dedicated AMD and Nvidia cards), switching between them can cause issues like Black screens for a long time. Apparently, there are a couple of fixes that you can try depending on whether you are using an AMD or Nvidia Graphics card.
For Nvidia users, we suggest updating your graphic drivers to the latest version. You can do this from the Nvidia Control panel. Also, install the latest Nvidia driver version by going to the official driver download page. Use the official tool to find your graphics card or Manually select the model automatically.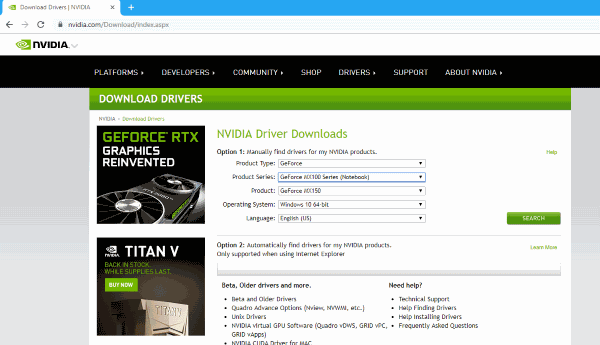 For AMD users, other than installing the latest version, there is another step that you could have a look at. First of all, AMD graphic drivers have something called the ULPS which works by automatically disabling the secondary GPU when not in use. Although this seems fine, it can be buggy. As a result, this might cause slow startup issues.
To disable ULPS,
Launch the Registry editor.
Find the key called EnableULPS using the Find tool.
Change the key value to 0.
ULPS feature is now disabled. Windows 10 updates have a habit of resetting this feature back to enabled. Furthermore, If something of that sorts happen, make sure to disable it once again.
7. Install latest Windows 10 updates
Another obvious fix that you should attempt to try is to update your Windows 10 with the latest updates. This might include important driver updates and cumulative updates. To check for updates,
Go to Settings > Updates & Security.
Click Check for updates.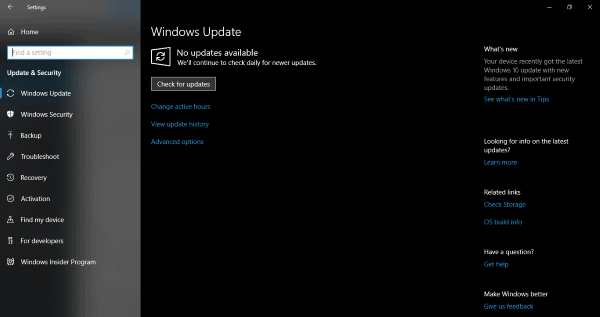 Windows will now check for updates and install them automatically.
Also, issues can also arise during the updating process are when the update files are corrupt and get piled up. So the best thing that you could do to start over and save some storage space in the process.
Windows 10 Slow Restart/ Slow Startup Fix
Finally, if all fails, we always have the Reset PC feature so that you can have a fresh Windows 10 experience altogether.
If you are having slow performance issues in your Windows 10 device, you can also check out our posts on 19 Tips & Tricks To Speed Up Windows 10.
So before you start pulling your hair or slapping your PC till it is booting and waking up, make sure to check out these recommended fixes for your machine. We hope our solutions were of some help to you guys. As always, let us know if these were helpful or if there are things that we missed. Adios!