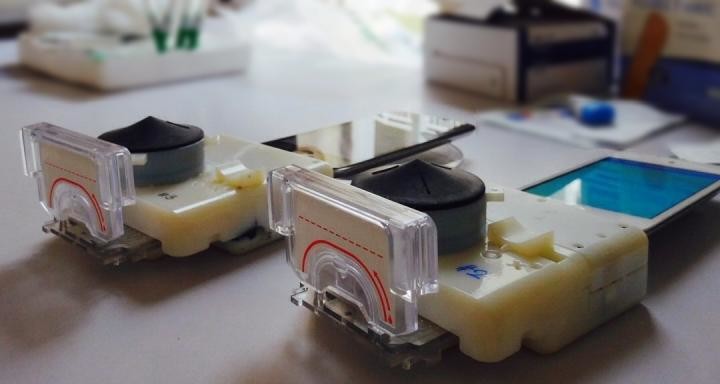 The uses of smartphones are numerous, and now it's time to add some more functions to this list. The biomedical engineers at the Columbia University have made a smartphone accessory which can be used to diagnose HIV and syphilis. This is a dongle which can be attached to the phone's headphone and an application displays the results.
This device just takes 15 minutes to detect these diseases and it acts like a miniature lab by combining the mechanical, electronic and optical functions. This device doesn't need any external source of energy and it performs an ELISA i.e. enzyme-linked immunosorbent assay at a fraction of a lab-based test. The tests performed was reported to have a 100 percent sensitivity for HIV with 87 percent specificity. Syphilis was found to have 92-100 percent sensitivity with 79-62 percent specificity.
This device is basically a dongle which consists of a one-time use cassette having fine channels and a pump. This dongle is operated by a button and it draws blood from an inlet point via these channels by creating a "one-push vacuum". The reagents used are already stored in that cassette. The device works on the audio jack power of a phone which is obtained by converting the 19 kHz audio signal into a   3 volt DC. The total power consumed by the dongle is about 1.6 mW which is a fraction of the power consumed by a smartphone.
The blood changes color during the test and the LED lights are illuminated through the mixture to photocells. This reads the color change and sends the data to the app. The results displayed in the app are easy to read. The 20 step laboratory test of HIV is thus performed in 15 minutes.
During the field tests performed in Rwanda, the health care workers were given a thirty minutes training and the 97 per cent majority of the patients recommended the use of this device. Samuel K. Sia, associate professor of biomedical engineering at Columbia Engineering said, "Our work shows that a full laboratory-quality immunoassay can be run on a smartphone accessory. Coupling microfluidics with recent advances in consumer electronics can make certain lab-based diagnostics accessible to almost any population with access to smartphones. This kind of capability can transform how health care services are delivered around the world."
Sia added, "Our dongle presents new capabilities for a broad range of users, from health care providers to consumers. By increasing detection of syphilis infections, we might be able to reduce deaths by 10-fold. And for large-scale screening where the dongle's high sensitivity with few false negatives is critical, we might be able to scale up HIV testing at the community level with immediate antiretroviral therapy that could nearly stop HIV transmissions and approach elimination of this devastating disease."
The device costs around $34 and each single test will cost about $1.44.
This HIV and Syphilis test dongle can really be a boon to the developing countries' markets as it is very economical. It can be easily used in remote areas and its ability to detect deadly sexually transmitted diseases can save many lives.
via ScienceDaily
---
 Can this smartphone dongle for fast and cheap HIV and Syphilis tests become a success? Tell us in comments.
---
  Stay tuned for trending and latest technology news from fossBytes.
---