From the stage of what was supposed to be the 'Apple Watch event', the world's most admired tech company has released another game changer- an all new Apple Macbook. The rumours were already pointing to an unveiling soon enough, and they came out to be true. This new Macbook is the result of the challenge to 'reinvent the notebook' that Apple took on itself.
Simply called the Macbook, this tiny notebook is 'the future of notebooks' according to Apple. It is the most power efficient notebook and the first fanless Macbook. This is what the Senior VP of Design had to say about it.
"The new MacBook is the result of a collective obsession to simplify its essential components and create the most efficient design possible."

– Jony Ive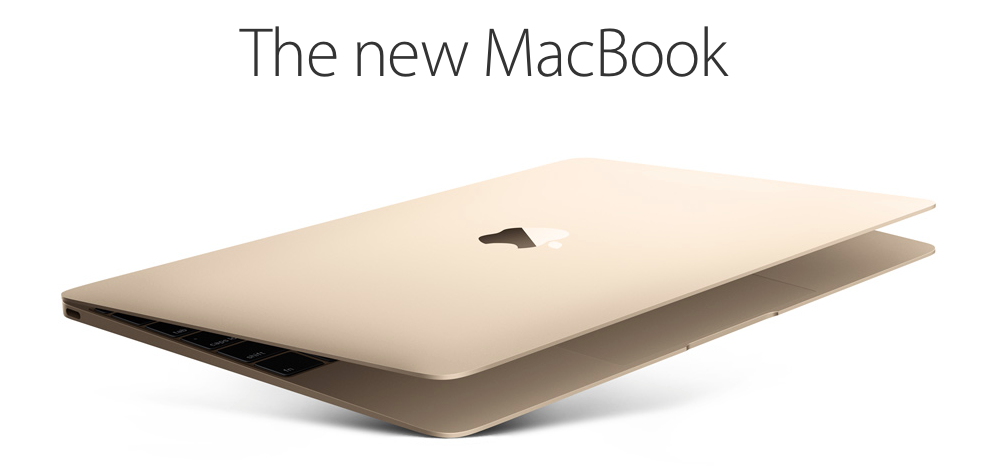 First a quick rundown of everything that's new and shiny-
A Fanless design. All thanks to the new Intel Core M Broadwell processors that have made this possible.
Ultra-thin unibody design at only 13.1 mm at it's thickest. Slick!
It weighs 2 pounds ~ 907 gm. Unbelievable!
12-inch retina display at 2304 x 1440 pixels that is 30% more power efficient than previous displays and also the thinnest display on a Mac ever.
Full size keyboard that has a new key mechanism making it 'much more precise' and obviously thinner. Each key now has its own illuminating LED that gives a better backlighting solution.
New touchpad that now senses the force that you apply on it and has the 'taptic engine' that we saw on the Apple watch. Tapping anywhere on the touchpad gives the same precise click feel which can be tweaked from software.
All the ports that we are used to on a notebook are gone. You heard that right. No USB. No HDMI. No Power port.  A single new USB Type-C point sits in their place and Apple claims its all we need.
Some new battery wizardry still keeps the battery life at 9 hours of web browsing.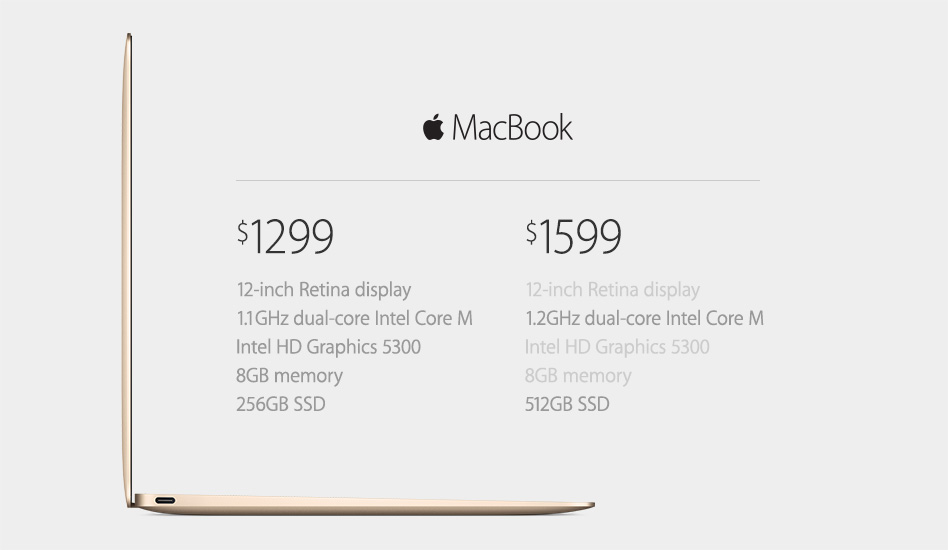 The new Apple Macbook will start shipping on April 10 and is available in three colours- Silver, Space Gray and Gold.
Though not the cheap version of Apple Macbook that every one of us dreamed of since we heard the rumours, this notebook is everything that a portable device should be.
Also Read: Get iOS 8.2 Update for Apple Watch Support
---
Leave your comments about what you think of the new Apple Macbook below.
Stay tuned for latest technology news from fossBytes!
---