Indeed playing video games is refreshing and entertaining but as they say with great power comes..err, great electricity bill, playing video games is a costly affair. As it turns out, video games are also proving to be a costly affair for our environment.
In a study published in The Computer Games Journal, it has been concluded that American gamers are emitting 34 terawatts-hours of energy per year which constitutes as much as 2.4% of the entire residential electricity. However, the study used the data until 2016 and recent data was not incorporated.
The study titled 'Toward Greener Gaming: Estimating National Energy Use and Energy Efficiency Potential," reveals that the amount of carbon dioxide emitted by U.S. gamers is equivalent to that of 5 million cars or 85 million refrigerators.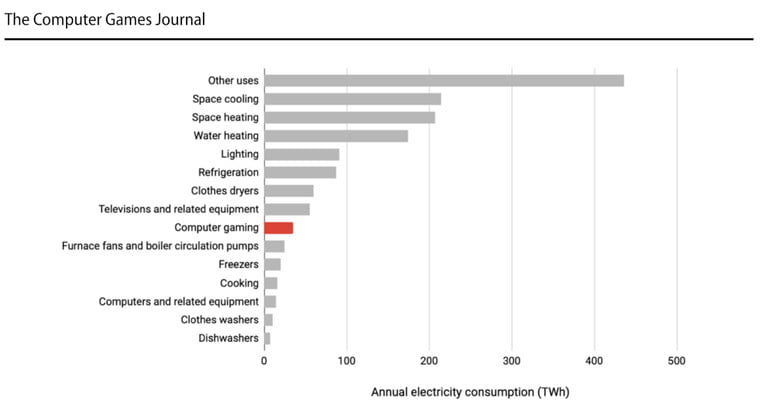 The researchers authoring the study measured the energy consumed by 26 gaming systems ranging in different parameters such as technology, price, and performance. Obviously, cloud gaming turned out to be more environmentally harming than conventional gaming.
Virtual reality-based gaming can consume more or less energy than gaming with conventional monitors depending upon the hardware and software deployed for it.
However, everything is not so gloomy. The study also says that the energy consumed by gamers will be about 33.6 terawatts-hours in 2021 which is lower than the energy consumption by gamers in 2016. The reduction could be attributed to the evolving techniques in designing hardware and data centers to make gaming energy efficient.
Additionally, the study also presents "alternate scenarios" in which gaming energy consumption can shoot up to as high as 76.9 terawatts-hour if technology fails to be energy efficient or it could drop to as low as 29.6 terawatts-hour in the opposite case.
As a gamer, you can reduce this impact on the environment by adopting techniques like quitting 4K screens, using overclocked CPUs and adopting 'undervolting.' However, a major share of responsibility falls on the shoulders of game creators and gaming hardware manufacturers. They must come up with energy-efficient techniques without compromising the gaming experience of users.