Billionaire Richard Branson, the founder of Virgin Group, completed space flight using his own spaceship. The 71-year-old business magnate, along with his five crew members, took a flight above the New Mexico desert. The crew reached the 88-kilometer mark and experienced about 3-4 minutes of weightlessness. This way, Branson became the first person to reach space using his own ship in this historical space race, beating Jeff Bezos and Elon Musk.
Originally, the Virgin Galactic VSS Unity wasn't supposed to take a flight until later this summer. But Branson moved the date up after Jeff Bezos announced his own plans to go into space on July 20th (the 52nd anniversary of the Apollo 11 moon landing), beating his fellow billionaire by nine days.
The Sunday launch was also live-streamed on the internet. Several celebrities were also there to witness the launch, with Khalid performing his new single and Stephen Colbert as the event's master of ceremony.
Elon Musk, the founder of SpaceX, also arrived in New Mexico to witness the launch, wishing Mr. Branson via Twitter, "Godspeed!" While Elon himself is another big rival in this space tourism race, he himself doesn't have any immediate plans to go to space.
World's 2nd Space Race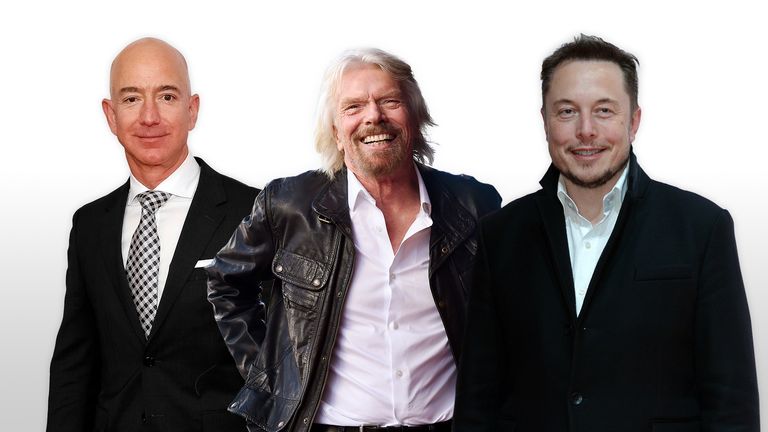 Jeff Bezos likewise sent his wishes for a safe and successful flight, though he also took to Twitter to enumerate how he believes his company's rides will be better. Bezos' Blue Origin company intends to send tourists past the Karman line (100 kilometers above the earth). Blue Origin is still awaiting Bezos' flight before announcing its ticket prices.
On the other hand, Richard Branson denies he was trying to beat Mr. Bezos. However, upon his return, he announced sweepstakes drawing for two seats on a Virgin Galactic jaunt once tourist flights begin. Virgin Galactic already has more than 600 reservations, with tickets initially costing $250,000 apiece.
On the other hand, Elon Musk's SpaceX has been taking astronauts to the International space station and building moon and Mars ships. They plan to take tourists into orbit around the Earth for days, with seats costing well into the millions. The first private flight is set for September.