Ming-Chi Kuo, one of the most reliable Apple analysts, has published a research note for TF International Securities highlighting Apple's plans for 2020 iPhones. He says that Apple will release a trio of iPhones in 2020 – with different screen sizes.
Two of the flagship models will have 5.4 inches, 6.7-inches OLED displays, and a third lower end model will have an OLED display of 6.1-inches. In his note, Kuo says Apple's 5.4-inches and 6.7-inches iPhones will be 5G enabled whereas the 6.1-inch variant will support up to LTE.
The screen sizes suggested by Kuo indicate that Apple is planning to shrink the size of its successor to the current iPhone XS to cater to people who want smaller screens. The 6.7-inches variant, which is presumably the successor of iPhone XS Max, is touted to come with a bigger screen as compared to the current size of 6.5-inch. Apple will not change the screen size of iPhone XR successor as per Kuo's report.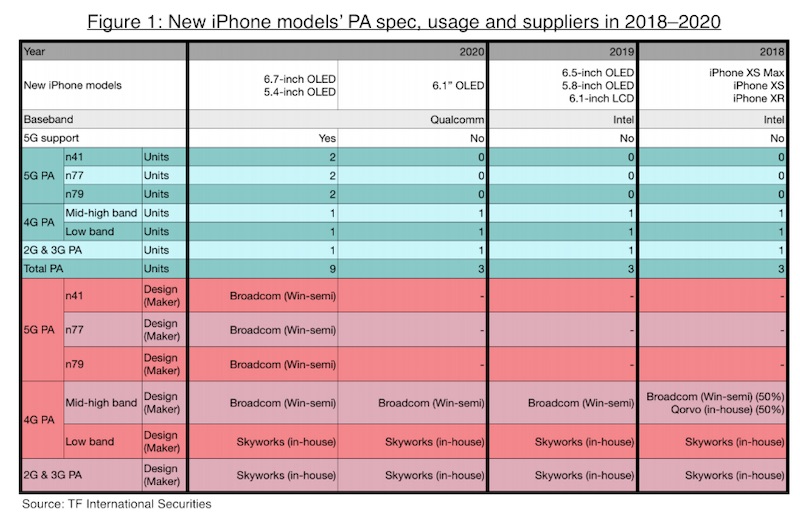 After Apple's settlement with Qualcomm, it is expected that Qualcomm will supply 5G modems to the iPhone maker company. Broadcom, which is already an Apple supplier, will provide RF power amplifiers.
Kuo says, "We expect that the PA usage of each 5G iPhone will be 200% more than the current number for iPhone models. Sole suppliers, including Broadcom (designer) and Win-semi (manufacturer), are the significant winners in this case. […]"
Starting from 2021, all the iPhones will support 5G and Kuo also believes that by 2022 to 2023, Apple will get its own 5G modem something on which the company is working for quite some time now.
Once Apple gets its 5G modem, it will be less dependent on Qualcomm.
Ming-Chi Kuo is known for its precise reports and predictions. His this report contradicts previous reports that said Apple won't release a 5G iPhone until 2021.
We'll have to wait until September to see whether we'll get 5G iPhones this year or not.