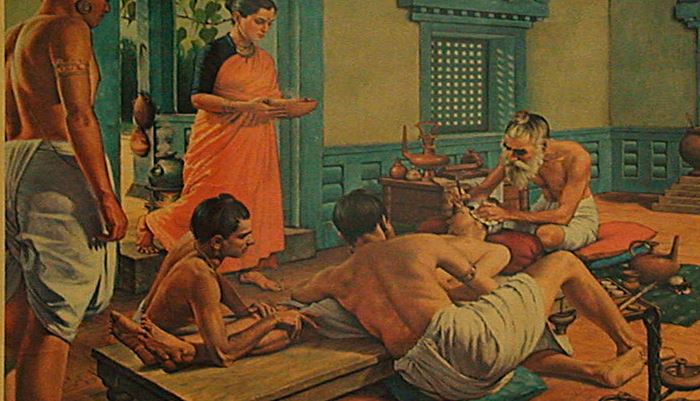 Plastic surgery is the gift of Vedic scripture of 'Sushruta' to modern medicines, says Minister of State for AYUSH (Independent Charge) Sripad Naik. Naik also added that the knowledge was transmitted from teachers and practitioners to scholars.
"Our ancestors had such a remarkable sense of observations that they could see the effect of natural products, viz. herbs, animal products and minerals on human body "- Naik, inaugurating the Amrita Institute for Integrated Medicine and Research Centre
Similar words were spoken by prime minister Narendra Modi, that plastic surgery and reproductive genetics were practised in ancient India thousands of years ago. Naik said, these systems not only prescribe the treatment with drugs, but also have the concept of regulation of life-style, dietetic regiments, seasonal regiments, which are helpful to prevent as well as cure many diseases. Another advantage of these medicines is that they do not have side-effects on long-term use. The minister called for generating scientific evidence and validation of ancient Indian healthcare system for its global acceptance. In future, he says, modern medicine may not be enough to cater the need of the society.
Also Read: Google X Working on Nanoparticle Pills to Fight Cancer
"At such a crucial juncture, there is a need to create such treatment facilities with integrative approach, where patients can choose their preferred system of medicine under one roof," remarked the Minister. "Not only this, it will also help to promote referrals from one system to the other so as to achieve better understanding among medical fraternity."
The first of its kind Centre for the integrated study, research and patient care in Allopathy, Ayurveda and Yoga will come up in Kochi, Kerala under the Amrita University. The Amrita Institute of Integrated Medicine and Research Centre is planned as a centre to integrate the holistic vision and therapeutic range of Indian systems of health care with the analytical, diagnostic and prognostic proficiency of modern medical sciences.
The Centre will bring out replicable guidelines for introducing and practicing integrated healthcare at various levels besides facilities for study and research. It will utilise non-pharmacological and non-technological healing spectrum, including psycho-physiological interventions, behavioural therapeutic measures and spiritual inputs to improve well-being; record and present the experimental knowledge in scientific forums to create awareness and network with physicians from Modern Medicine, Ayurveda, Yoga and other systems of Indian medicines, who are in alignment with the concept.
Do you agree with the changing policies of Modi government regarding health care sector? Tell us in comments below!
---
 Read more about latest advancements in health and medicine here on fossBytes.
---