A new report from CheckPoint security reveals that Microsoft was the most impersonated brand by attackers trying to steal people's account details and payment information.
Usually, a brand phishing campaign involves attackers posing as genuine brands and presenting fake web pages or emails in front of their target users. Users are then asked to fill out a form to fill out details from where the information is pulled to the attackers' end.
The report that reveals numbers for Q3 2020 says that Microsoft's name has moved up from the 5th position in Q2, where around 7% of the brand phishing attempts were made in Microsoft's name. Now, with the company being in the top position, that number has jumped to 19%.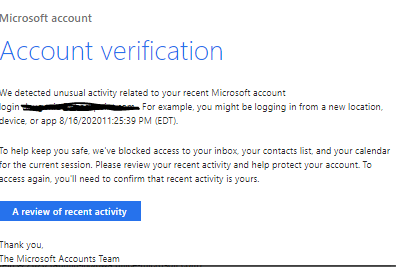 The list is followed by DHL, which has entered the top 10 names for the first time. Then comes Google, Paypal, Netflix, Facebook, etc. While the technology industry was the most targeted one, social networks and the banking sector were also affected.
Speaking of the types of phishing attacks, the report says that around 44% of attacks in Q3 were delivered via emails, 43% via web, and 12% via mobile.
It's suggested that the attackers are trying to take advantage of the status quo where more people are working from home, using more social media, and seeing potential changes to finances. Also, more people are opting for home deliveries these days which could be the reason DHL's name has made it to the second position.