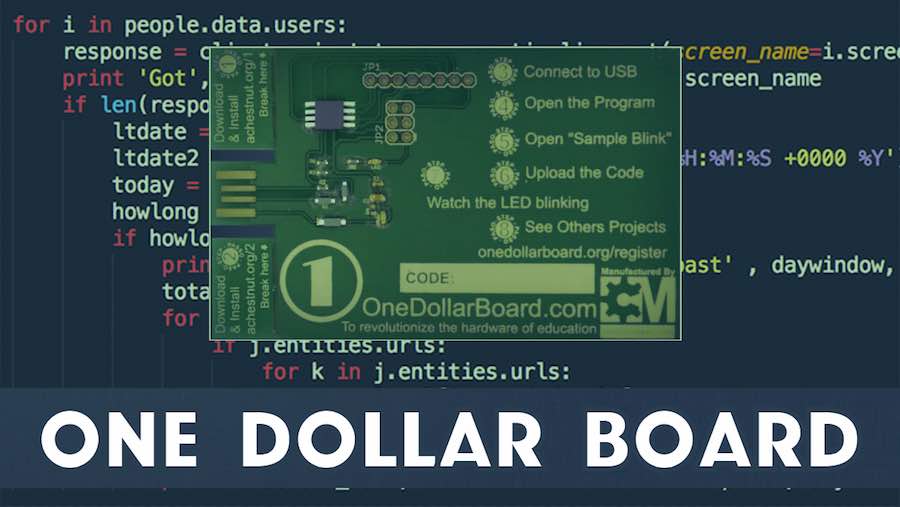 Short Bytes: To make the process of learning programming and DIYing easier and cheaper, One Dollar Board's crowdfunding campaign has arrived on Indiegogo. The team behind the project aims to make the board available at a price of $1 + shipping all across the world, with a focus on developing countries.
The Raspberry Pi Foundation introduced the Raspberry Pi Zero as an inexpensive means to introduce the programming and electronics to the students. To target more students with an ease, the team behind the One Dollar Board is here with its crowdfunding project.
The One Dollar Board is a credit card-sized microcontroller board that's compatible with popular open source software like Arduino/Genuino and comes with the instructions that are printed on the board itself.
Due to its inexpensive nature, the Single Dollar Board could be distributed as a standard teaching material to the kids in schools. The project aims at making all the children acquainted with programming, just like the basic language, math, history etc.
Specifications of One Dollar Board:
8-bit CPU
6 GPIO (I/O ports): 6
USB Interface
Memory: Flash 8 kBytes (expandable to 256 kBytes)
WiFi ESP8266, Memory 24C256, H-bridge L293 — Expansion spaces
Voltage: 5V
Indicator LEDs: 2
4 Fitting Spaces, compatible with Arduíno UNO or similar
The board is licensed under Creative Commons and it's free to be copied, distributed and improved due to its open source nature.
If you are interested, the One Dollar Board can also be your IoT companion and you can make simple and interesting projects without spending much.
The project aims at selling the One Dollar Board anywhere in the world at a price of $1 + shipping, with a focus on developing countries.
This tiny board comes with a quick guide that teaches you the basics and helps you get started with your first project. The team is also building a portal that'll host tutorial content for the board in the future.
If you want to know more about One Dollar Board and support the campaign, you can go ahead and visit their Indiegogo page.
Have something to add? Share your views in the comments below.