Short Bytes: A set of leaked specs sheet and performance benchmark show that Microsoft's rumored CloudBook could be a great contender against Google Chromebook. The device in the making would feature a Quad Core Celeron CPU with 4GB RAM and it would last for a day in case of average usage.
A
s Microsoft's May 2 event is coming closer, more and more details are being uncovered about their Chromebook-killer OS and hardware, dubbed as Windows 10 Cloud and CloudBook, respectively.
According to a leaked spec sheet and benchmark detail published by Windows Central, Microsoft is preparing something serious to acquire the student tech space which is currently ruled by Chromebook.
Even if we put the Chromebook part aside, Microsoft might be desperate to put Windows 10 in the hands of more people after the saw Android's market share surpassing Windows.
The device running Windows 10 Cloud could be low-cost surface or a completely new one device category with a hardware comparable to what we see on Chromebooks.
Microsoft CloudBook specifications (leaked):
CPU: Quad-core Celeron (or better)
RAM: 4GB
Storage: Fast eMMC or SSD, 32GB and 64GB (for 64-bit Windows)
Battery: 10 hours (40 WHr)
Optional pen and touch support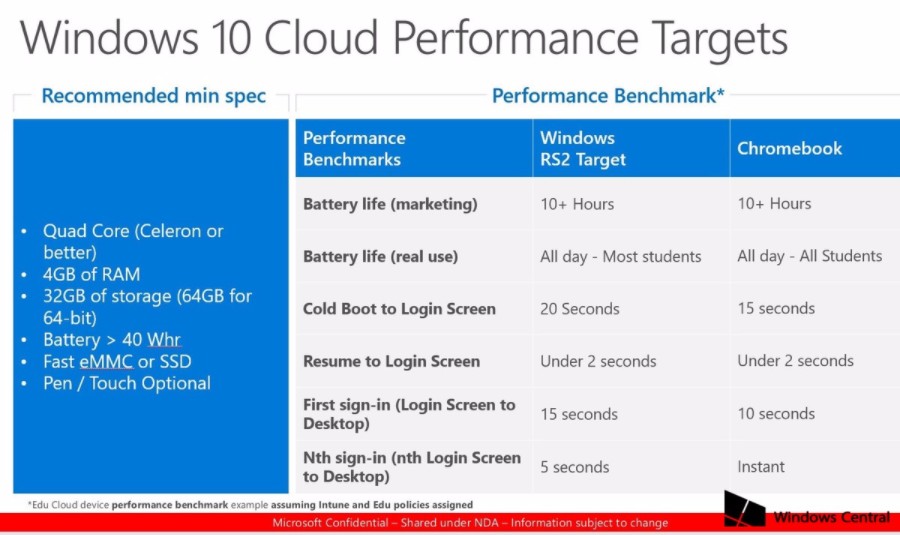 The benchmark results show Redmond's Windows RS2 Target device is having a close competition. These should not be assumed as the final specifications as Redmond is yet to make any announcements.
In the past, we told you that Windows 10 Cloud would only be running the apps – based on the Universal Windows Platform (UWP) – present on the Windows Store. However, Microsoft is also working on something called "Project Centennial" which would allow Windows 10 Cloud to run Win32 app via the Store.
Moreover, Windows 10 Cloud would be focusing more on roaming profiles, allowing users to just sign-in to a device and find all of their settings, apps, and files automatically synced.
Achieving an all day battery life can be a considerable success for Microsoft. The company is trying to improve battery consumption for other products as well. Recently, they published a comparison test between Edge, Chrome, and Firefox.
If you have something to add, drop your thoughts and feedback.