Short Bytes: Wondershare PDFelement 6 Pro is a thoughtfully designed PDF editing application for Windows and Mac that does its job efficiently. The latest release for Windows comes with a fresh interface that easily intermingles with the look of Windows 10. Overall, it's a complete solution for your PDF editing needs.
W
e use PDF files, Portable Document Format, in our daily lives for purposes like reading an ebook, taking care of bills, transferring important documents, etc. It's one of the most efficient, reliable, and portable file types that has become a widely accepted go-to choice for electronic documents.
Use of PDF files also encourages paperless working and efficient workflows. With such electronic mediums of sharing documents, many organisations are able to increase their productivity and excel in their work. But, to use PDF documents like a pro, you also need a tool that's created to care for all your needs. Here, I'm not talking about a simple PDF reader, even Google Chrome can perform that job for you. I'm talking about the job of editing PDFs.
Generally, we treat Microsoft Word files and PDF files differently. We avoid using the PDF format–which ensures that documents look just the same on each screen–due to the issues involved with the editing part. To solve this problem, Wondershare has created PDFelement 6 Pro.
It comes with tons of options that you can use to edit a PDF file. You can use the software to perform operations like create, open, annotate, edit, organise, share, protect, convert, OCR, etc.

System requirements to use PDFelement 6 software:
OS: Mac OS X 10.7 or higher, Windows XP, Vista, 7, 8.1, 10
Processor: 1GHz or more
RAM: 512MB RAM or more
Available Disk Space: 500MB or more
PDFelement 6 Pro Review
It's the latest version of the well-known PDF editor from Wondershare, which claims that using PDFelement 6 you can edit PDFs easily just as in Microsoft Word. Well, let's find out! Below, I'll be telling you how to get your work done using PDFelement 6 and sharing my personal experiences while doing so.
Download, installation, and new interface
Wondershare PDFelement's website page is well designed and you can simply download the software from there. As the setup wasn't very large in size, it didn't take much long to complete the downloading process. The installation was also smooth and it completed without any glitch.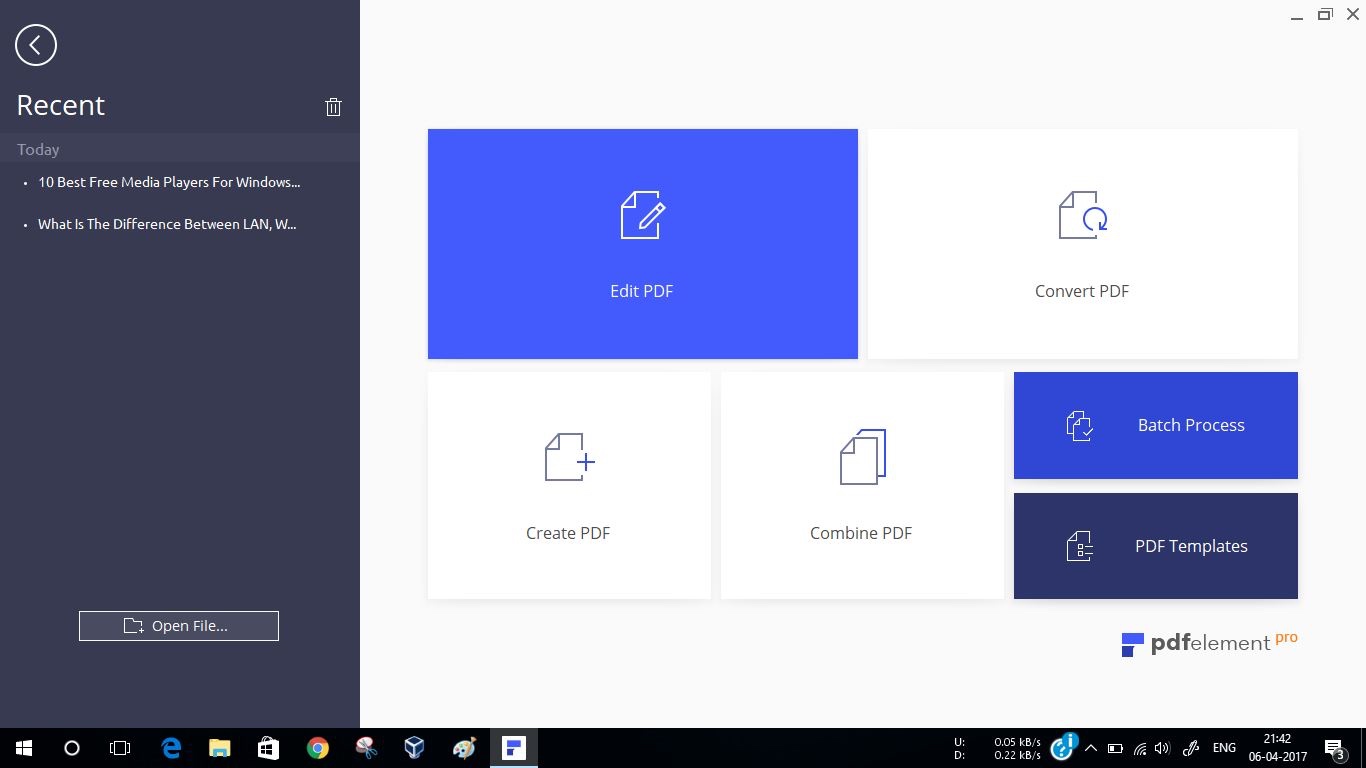 PDFelemet 6 comes with a refreshed interface as compared to the previous versions. This release has clearer options, bigger buttons, and whole design looks more similar to the overall theme of Windows 10. Personally, I liked the new design a lot. It makes you feel as if you're using an inbuilt Windows 10 PDF editor software.

The toolbar in the right upper corner comes with an option to show or hide it. In the first tab, i.e., File, you will see the option to see the file properties, description, permissions, etc. The toolbar has further options to make changes to the file.
New features in PDFelement 6
The latest release introduces 5 major new features. The new form recognition is able to turn any non-fillable form created using any Office application into an editable, fillable PDF with just one click. The process of transferring data from PDF forms into Excel has been dramatically simplified. Instead of manually typing in data from hundreds of forms, PDFelement lets you batch extract form field information from identical PDF files into a single .CSV file. In the Editing Workflow department, the overall text editing has been improved.
How to use PDFelement 6?
Using this software to perform PDF-related operations is an easy task. Just in case you're opening PDFelement for the first time, you'll be taken to the home window where you'll see different options in bold buttons.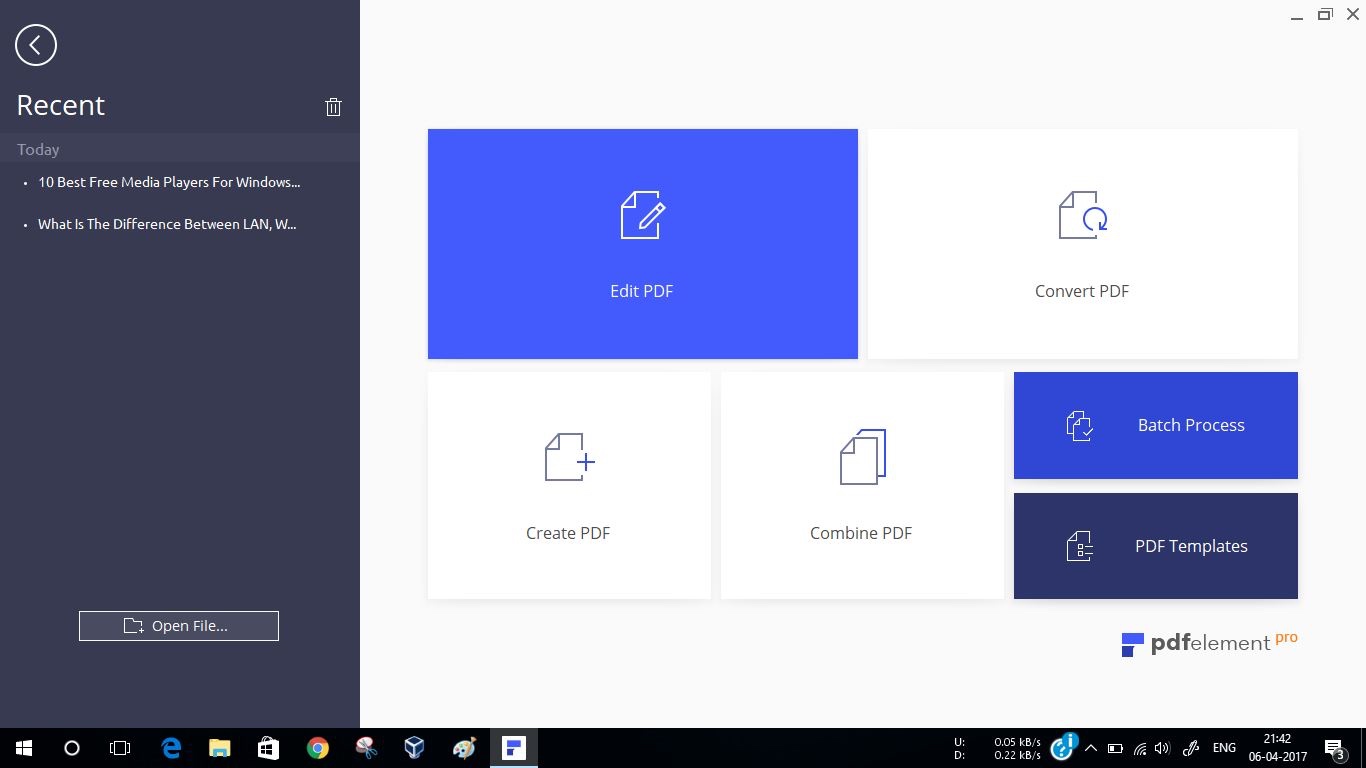 The first and foremost option deals with PDF editing, which is the primary job of this software. As you click on the button, you'll be prompted to open a PDF file. Upon doing so, the file will be opened in a new edit window where you'll be shown options for adding text, image, or link. For editing, you can choose between the Line mode and Paragraph Mode. I tried opening a PDF file and performed some editing options, which were completed with ease. I, personally, liked the paragraph editing method more.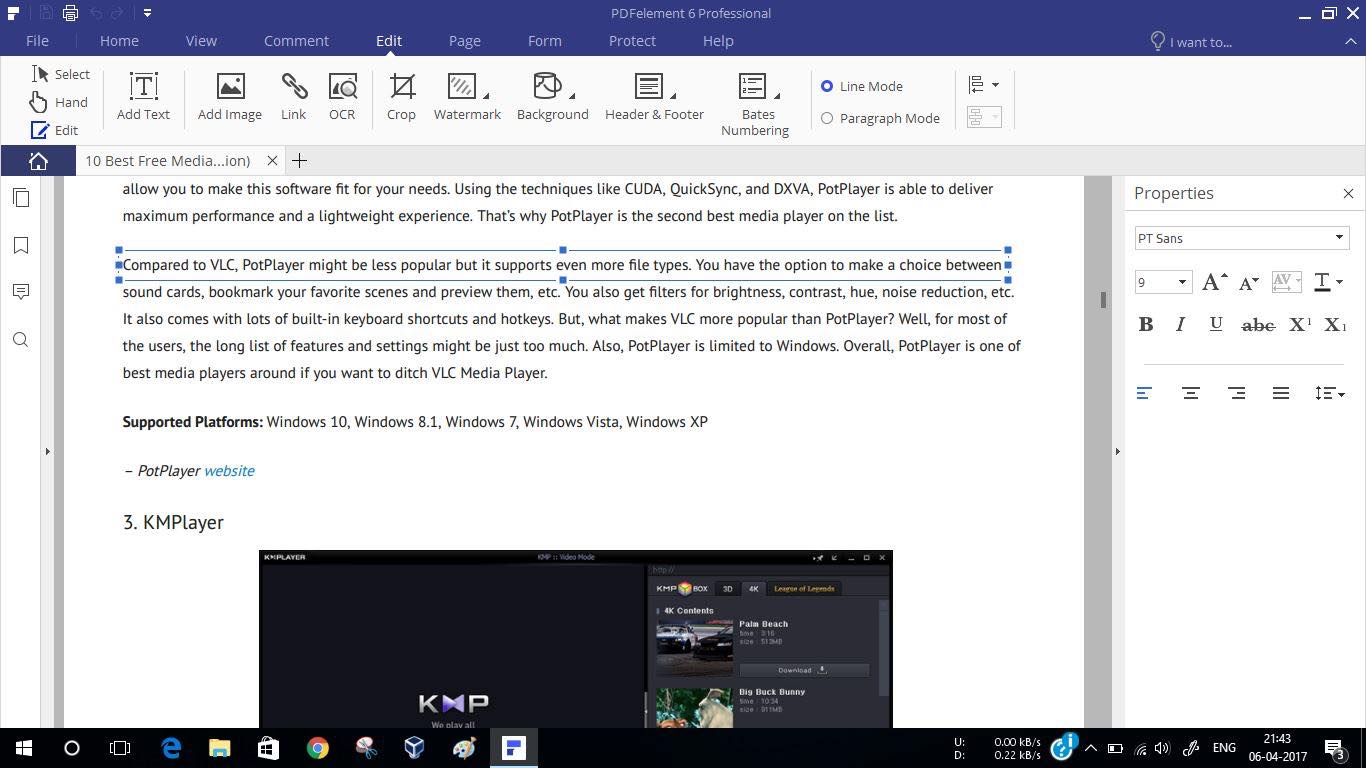 Just in case you are willing to convert your PDF files into the other formats, you need to click on the Convert PDF button on the home screen. This will prompt you to open a PDF file. It will be followed by the selection of output file format and location. From a long list of file formats, choose one and hit the Save button. Depending on the file size, the output will be saved. In my tests, this function was able to work without much hassle. Apart from a few changed formattings, the overall result was satisfactory.
Just in case you wish to do the opposite, i.e., convert a file to PDF, you get a dedicated option on the home screen. Simply choose the Create PDF option, select the input file, and you are good to go. For combining PDFs and performing batch operations like converting documents and extracting PDF form data from hundreds of files, there are other dedicated options.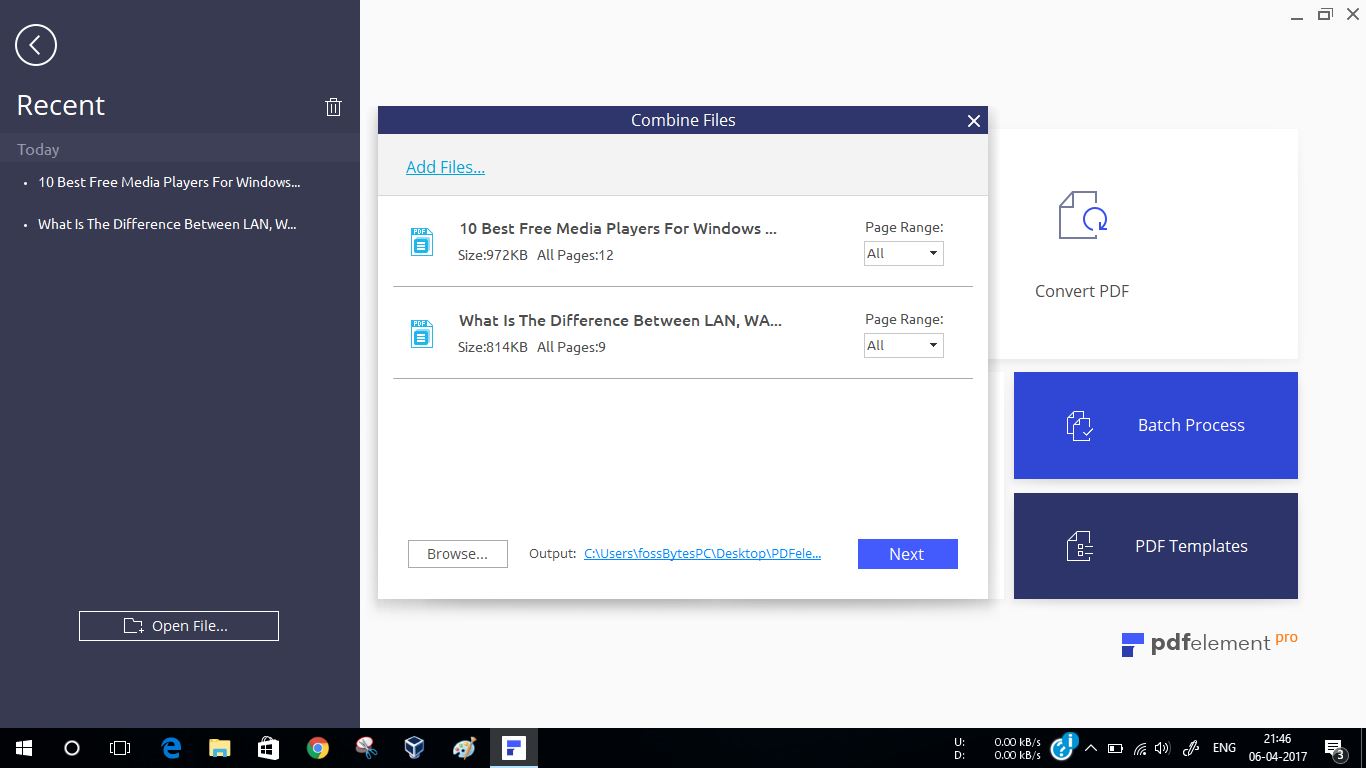 Difference between PDFelement 6 Standard and PDFelement 6 Pro
Compared to the Standard edition, the Pro version comes with the advantage of PDF editing using OCR technology. It also gives you the ability of batch processing watermarks. The other premium features in the Pro version are PDF optimizer, sensitive text/image redaction, and advanced form creation and filler abilities.
Concluding remarks
PDFelement is a versatile PDF editor that works just like it advertises. You get the ability to edit PDF files just like a Word document. Wondershare PDFelement is an impressive PDF solution for professional use and you can download it using the links below –
Get PDFelemet 6 Pro for Windows and Mac.
This article is sponsored by Wondershare.