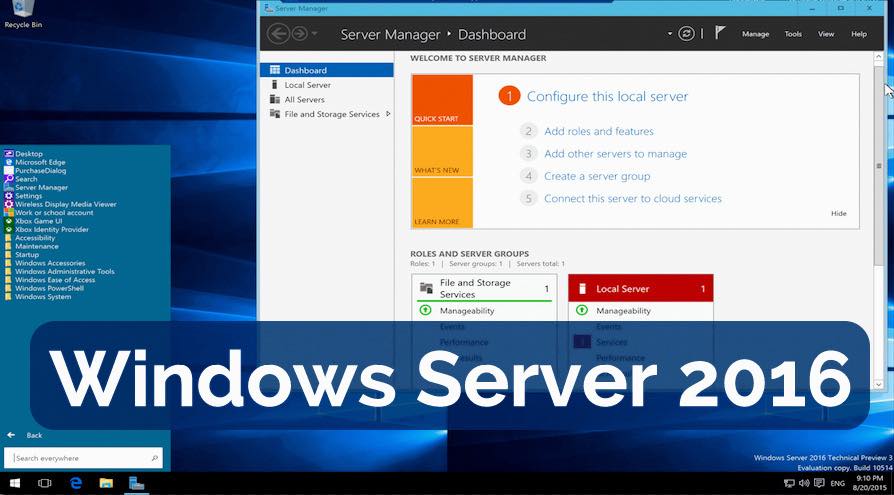 Short Bytes: Microsoft has announced the release of the much awaited Windows Server 2016. The product will be uncovered at the Ignite conference in Atlanta this fall. Microsoft has also released the Technical Preview 5 for Windows Server 2016.
R
ecently we told you about the upcoming launch of multiprocessing enabled
Firefox 48
 by Mozilla. This time, a major product launch news has come from the house of Microsoft which is all set to uncover curtains from the successor of the Windows Server line of operating systems.
Windows Server 2016 will be showcased at Microsoft's Ignite developer conference scheduled to commence on September 26 in Atlanta, Georgia.
Three major editions of Windows Server 2016 have been developed by Microsoft, namely, DataCenter, Standard, and Essentials.
Nano Server is a new feature added to the Standard and Datacenter additions to allow installation on virtual machines. Such machines are low on resources and the Nano Server option won't have a graphic user interface.
Servicing option for Windows Server 2016 will be of two kinds. One is the LTSB (Long Term servicing Branch) in which five years of extended support will be provided after five years of mainstream support. The extended support is only meant for bug fixing, unlike the mainstream support in which the updates will be provided. Another option is CBB (Current Branch for Business) which will provide two to three major updates annually.

The customers who choose to install Windows with the Nano Server could only opt for a CBB type support cycle. The servicing model is similar to what is offered for Windows 10, but with a slight difference.
Microsoft Windows Server team explains in a blog post — "Only two CBB releases will be serviced at any given time, therefore when the third Nano Server release comes out, you will need to move off of #1 as it will no longer be serviced. When #4 comes out, you will need to move off of #2, and so on".
Auto-update functionality will not be available for Nano Server. So, the customers can't lag behind by more than two CBBs behind.
Other than the Nano Server, the Standard and Datacenter Windows Server editions will also be available as Server with Desktop Experience and Server Core installation.
You can also try the Windows Server 2016 Technical Preview 5. This is the final preview released by Microsoft which was last updated on April 26.
Have any suggestions to make? Tell us in the comments section below.
Also Read: Download This Security Fix Now — All Versions Of Windows Operating System Hackable