Meta has finally revealed their new VR headset with colored mixed reality cameras, the Meta Quest Pro. The new VR headset targets pro consumers compared to the Quest 2, which is more for everyday consumers. So let's compare the Meta Quest Pro vs Meta Quest 2 and see if the upgrades are worth it.
The most significant upgrade from the Meta Quest 2 is the full-color passthrough cameras that enable full mixed-reality vision. The Meta Quest Pro is also relatively compact due to the new pancake lenses. It also features a new strap that can be adjusted with a dial at the back of the headrest.
These upgrades should make the Meta Quest Pro more comfortable than the Quest 2. Other than that, the new Quest Pro controllers are rechargeable and use an infrared camera for inside/out tracking. Even the screen panels have been upgraded to provide 37% greater pixels per inch.
The headset will also feature 10 advanced VR/MR sensors, spatial audio, 256GB storage, 12GB RAM, and a Snapdragon XR2+ processor that delivers 50% more power for better performance. Meta is also releasing a charging dock for both the headset and the touch pro controllers.
The Meta Quest Pro is available for pre-order and will start shipping on October 25, 2022. So let's glance at the Meta Quest Pro vs the Meta Quest 2 specs.
Meta Quest Pro Vs Quest 2: Specs Comparison
Specifications
Meta Quest Pro
Meta Quest 2
Price
$1500
$400
Processor
Qualcomm Snapdragon XR2+
Qualcomm Snapdragon XR2
Passthrough cameras
2 x front-facing with color passthrough
2 x side-facing for inside/out tracking
4 cameras with black and white passthrough and inside/out tracking
Screen Type
LCD with local dimming backlighting
LCD
Resolution
1832 x 1920 pixels per eye
1832 x 1920 Per Eye (773ppi)
Lenses
Pancake lenses (Thinner)
Fresnel lenses
Tracking
6-DoF Inside/Out Tracking
6-DoF Inside/Out Tracking
Refresh Rate
75-90Hz
120Hz
Field of View
106ºH × 96ºV (claimed)
89° (+-4) Horizontal
93° (+- 5.1) Vertical
Battery
1–2 hours
3640mAh
3 Hours
Ram
12GB LPDDR5
6GB
Storage
256GB
128GB, 256GB
Eye and face tracking
Yes
No
Touch controllers
Touch Pro controllers (rechargeable)
3200 mAh battery
Infrared controllers with halo ring
AA battery powered
Weight
722g
503g
Operating System
Android
Android
Charging Dock Support
Yes
No
Strap
Adjustable Strap
Fiber Strap
Connectivity
WiFi 6E, USB-C
WiFi 6, USB-C
Which VR headset should You Buy?
The Meta Quest Pro is a significant upgrade from the Quest 2. However, it is also quite expensive. The only VR headsets in this price range are the Pimax 12K, Valve Index, and the HTC Vive Pro 2. To summarize, the Meta Quest Pro offers Mixed Reality, better visual controllers, and a more powerful chip.
Fortunately, you can get most of these features with the new Pico 4 standalone VR headset. However, there are some pros and cons with the Pico Neo 4. The most significant advantage of the Pico 4 is that it is way cheaper than the Meta Quest Pro.
The Pico 4 retails for €429 (US$420) for 128 gigabytes of storage and €499 (US$485) for 256GB. The price range of the Pico 4 is closer to the Quest 2, but it is only available in a few regions. Users will also lose out on popular Quest-exclusive games like Resident Evil 4 VR, The Climb, Lone Echo, Robo Recall, Vader immortal, and more.
There's also a leak by Bradley Lunch that suggests the company is looking to launch the Meta Quest 3 in 2023. According to him, the Meta Quest 3 will be a consumer-focused device priced similarly to the Quest 2. Bradley has also confirmed that Meta will likely release a new VR headset yearly.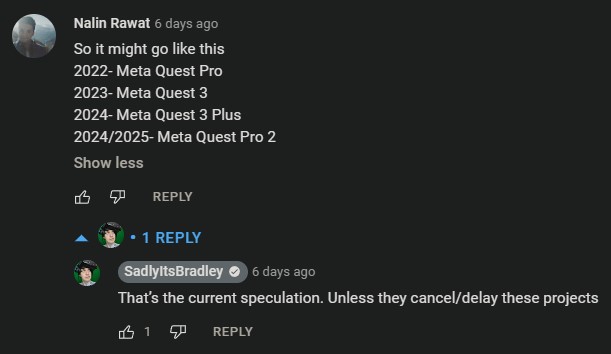 We recommend waiting for the Meta Quest 3 or getting the Pico 4 if you can't wait to test out mixed reality. Let us know in the comment section below what you think about the new Meta Quest Pro mixed reality headset.