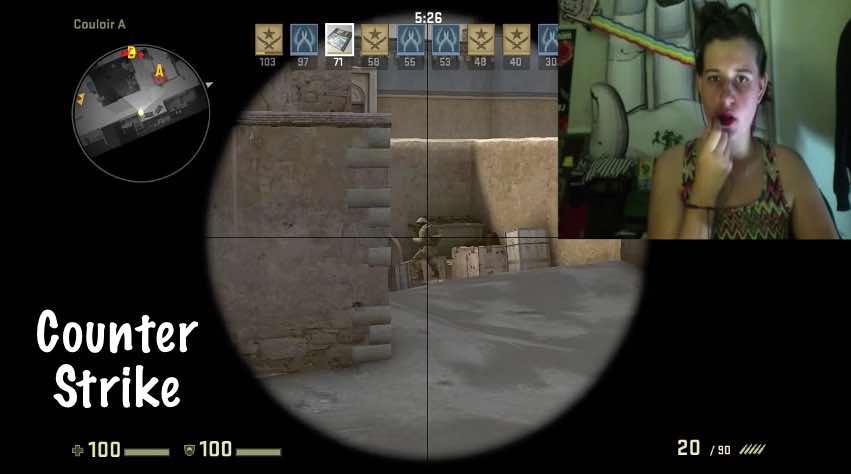 Short Bytes: Chloe Desmoineaux is a gamer who used her DIY skills to convert her lipstick tube into a Counter-Strike Controller. As soon as she presses the tube to apply makeup and it touches her skin, the circuit is completed and her gun fires bullets. Read more to know about the Counter-Strike gamer and watch her play.
You might have won the last Counter-Strike championship in your school or college, but Chloe Desmoineaux is one step ahead. If you were to play a match against her, you won't find anything strange about her game. However, if you watch her through her Twitch channel, you'll find her in a constant state of applying makeup to her face and killing the opponents with a lipstick tube in a game of "Lipstrike".
"Counter-Strike is one of those games that's mainly attributed to a male audience," Desmoineaux told Motherboard over email. "Lipstick for girls, war games for boys. Fuck that! I can mix it up. It's in this spirit that I got the idea for Lipstrike."
She was able to do this with the help of a Makey Makey kit that allows you to turn anything into a button input.
In Lipstrike, her lipstick acts just like a touchscreen. Desmoineaux changed the defaults of Counter-Strike to enable more functions with one hand on the mouse. She changed it to left-click to move forward, right to aim and the scroll wheel to switch weapons.
The most interesting function deals with the bullets. As soon as she presses the lipstick tube on her face, her gun fires bullets. As the tube is being pressed against the skin, it completes the circuit and kills the opponents.
Chloe Desmoineaux will continue streaming her Lipstrike Twitch session until June.
Isn't it amazing? Share your views in the comments section below.
Also read: Coder Creates "HTML5 Mario" Written in OCaml – Play It Right Now In Your Browser