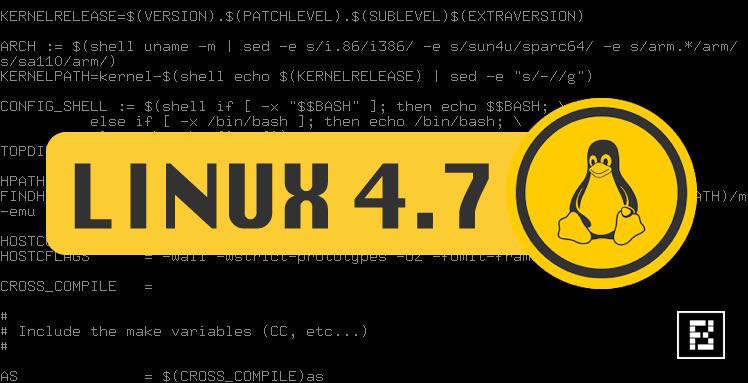 Short Bytes: Linux creator Linus Torvalds has finally announced the release  of Linux kernel 4.7. After seven Release Candidates, kernel 4.7 is here with numerous bug fixes, new features, and security changes. This release also brings the support for new AMD Radeon RX 480 GPUs.
F
or the past two months, Linux kernel 4.7 has been in the developments phase. Finally, on July 24, 2016, Linux creator Linus Torvalds has announced the release of Linux kernel 4.7 for all Linux-based operating systems.
In his announcement post, Linus talked about a "slight delay due to his travels" and listed out the big changes that were made to the kernel.
Over the course of past two months, a total of seven Release Candidates were released. If you've been following the developments of the kernel development cycle, this stretched schedule wouldn't surprise you.
The release of Linux 4.7 also means that the merge window for 4.8 kernel is now open. Linus hopes that the next release will be a bigger one with more "Linux-next contents".
New features in Linux kernel 4.7
One of the biggest changes made in Linux kernel 4.7 is the support for the newly announced Radeon 480 GPUs from AMD. As expected, this support has been embedded directly into the AMDGPU video driver.
Another big change comes to Linux kernel in the form of a new security module LoadPin. It makes sure that modules loaded by the Linux kernel originate from a single file system.
Interestingly, kernel 4.7 release introduces a new cpufreq governor named schedutil to help you change your CPU's operating frequency in a manner that would be more efficient than the existing solutions.
The other changes in Linux kernel 4.7 include the support for parallel directory lookups and firmware upgrade by following the EFI 'Capsule' mechanism.
You can go ahead and download the latest Linux kernel 4.7 from kernel.org.
Did you find this article helpful? Don't forget to drop your feedback in the comments section below.
Also Read: Linus Torvalds Is Again Mad Over "Sh!t Code", Calls Some Linux Devs "Brain-damaged"