Being a system administrator, lots of responsibilities and duties are to be taken care of, which are wide-ranging from covering backups, disaster recovery, hardware maintenance, automation, filesystem housekeeping, system security management, and many more to add to the list.
To keep the system running smoothly and securely, a sysadmin has to rely upon several tools that sometimes become frustrating to install and configure regularly.
Keeping that in mind, and to ease the life of sysadmins, 11 months back, Linux developer Kevin Chevreuil, along with his other mates, started the development of their own Linux distribution based on Debian 9, dubbed as Kaisen Linux.
After finishing the development, Beta Kaisen Linux is now released as a public beta to test and suggest flaws or glitches that can be fixed before the final release.
Kaisen Linux: A System Rescue Linux Distribution
Kaisen Linux is an absolute system rescue operating system based on the Debian GNU / Linux distribution aimed to provide tons of network and web testing tools.
Kaisen Linux is dedicated to technicians and system & network administrators to cover all the needs required for diagnosing, maintaining, and troubleshooting of the installed system.
Here's a brief list of the features:
OS type: Linux
Based on: Debian
Origin: France
Architecture: amd64
Kernel: 5.3.0
Desktop Environment: MATE
Category: System Rescue
Status: Beta release 2020014
Codename: impossible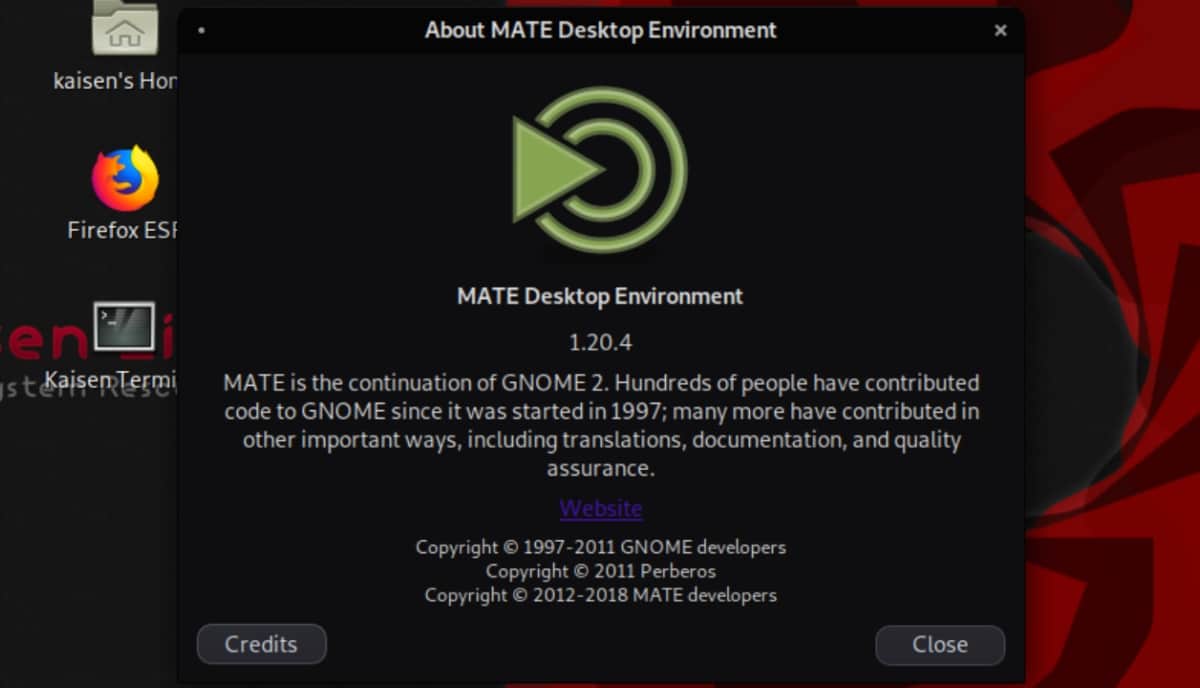 Major Features in Beta
Integration and support of UEFI with Secure Boot
Addition of the Guymager tool
Startup support on UEFI
Installation of rtl and iwl firmware to support certain Realtek and Intel Wi-Fi drivers
An improved terminal and much more intuitive than bash, zsh-based
Multi-user graphic profile to the root session
Live mode boot that includes USB persistence to keep data during a live session and encrypted persistence
The default password for the live boot: kaisen
Addition of the installer in expert and rescue mode
Desktop Theming and Wallpaper
When you land on the desktop, you will find many system variables being displayed on the desktop to give you live wallpaper feel and also directly monitor it.
System variables, including CPU status, swap space, temperatures, disk storage, processes, network interfaces, and battery status, are displayed on the desktop using a free system monitor tool, Conky.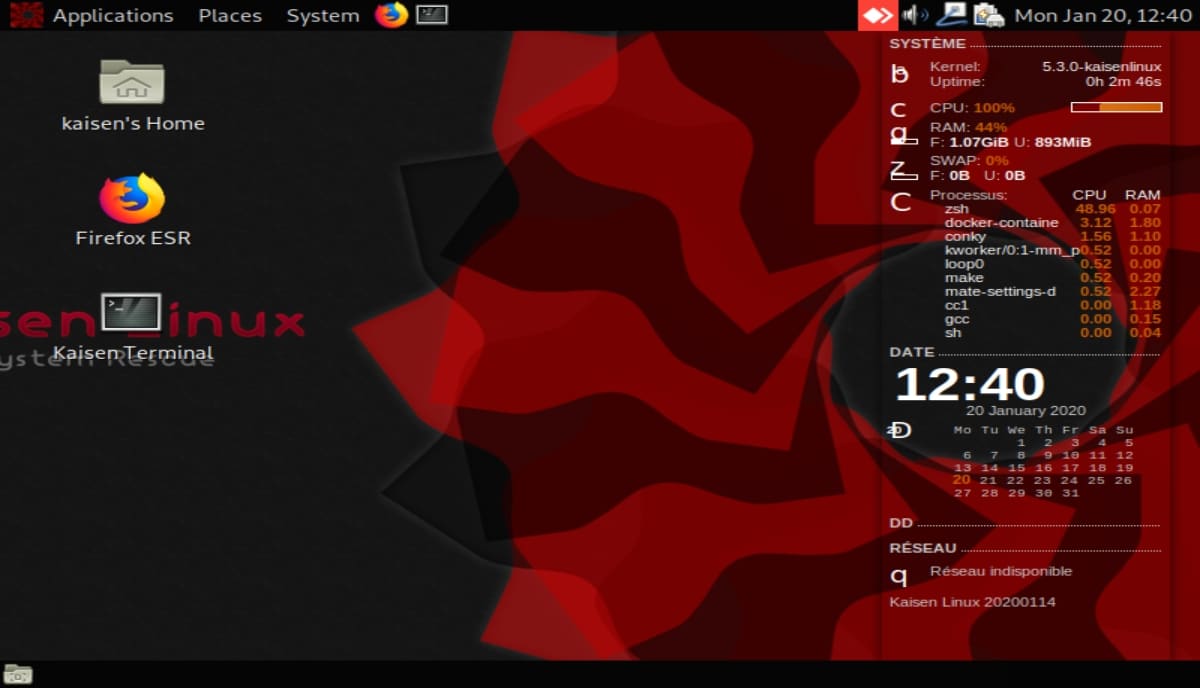 All system variables are available via themes with which Conky works. Kaisen Linux used the Mate desktop environment by default with two panels that include two bars running along the top and bottom of the screen.
You can also divide the desktop into two separate workspaces. You can also configure the theme, desktop background, font, or user interface through the appearance preference tool.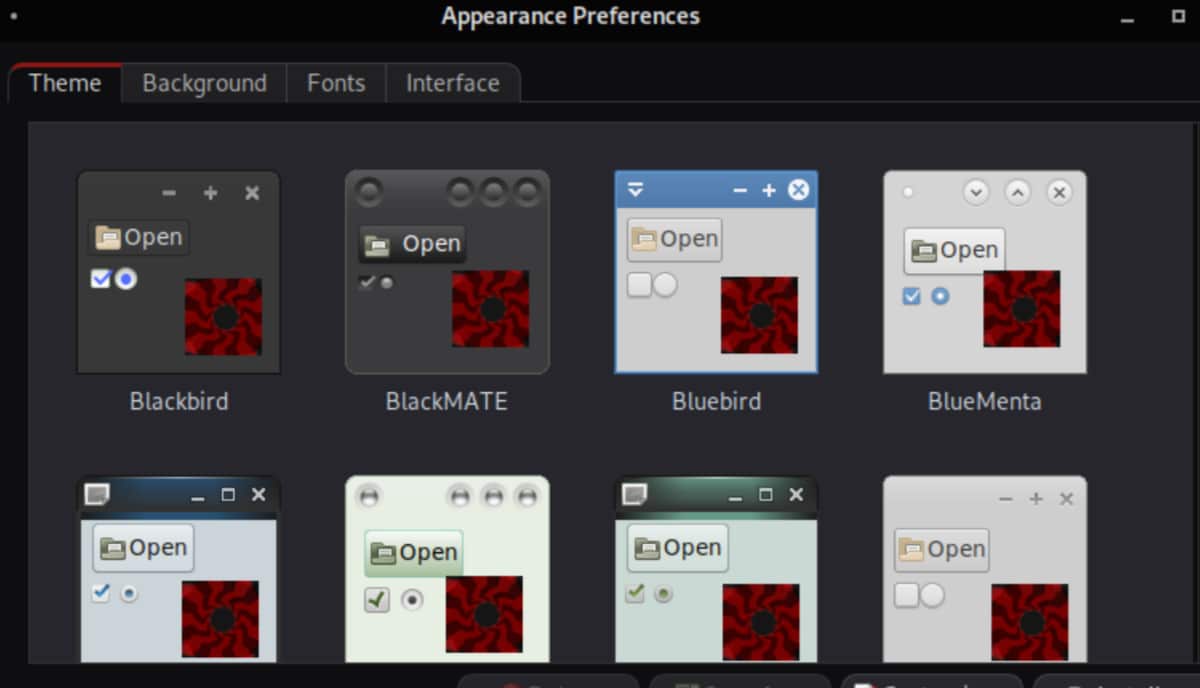 GUI applications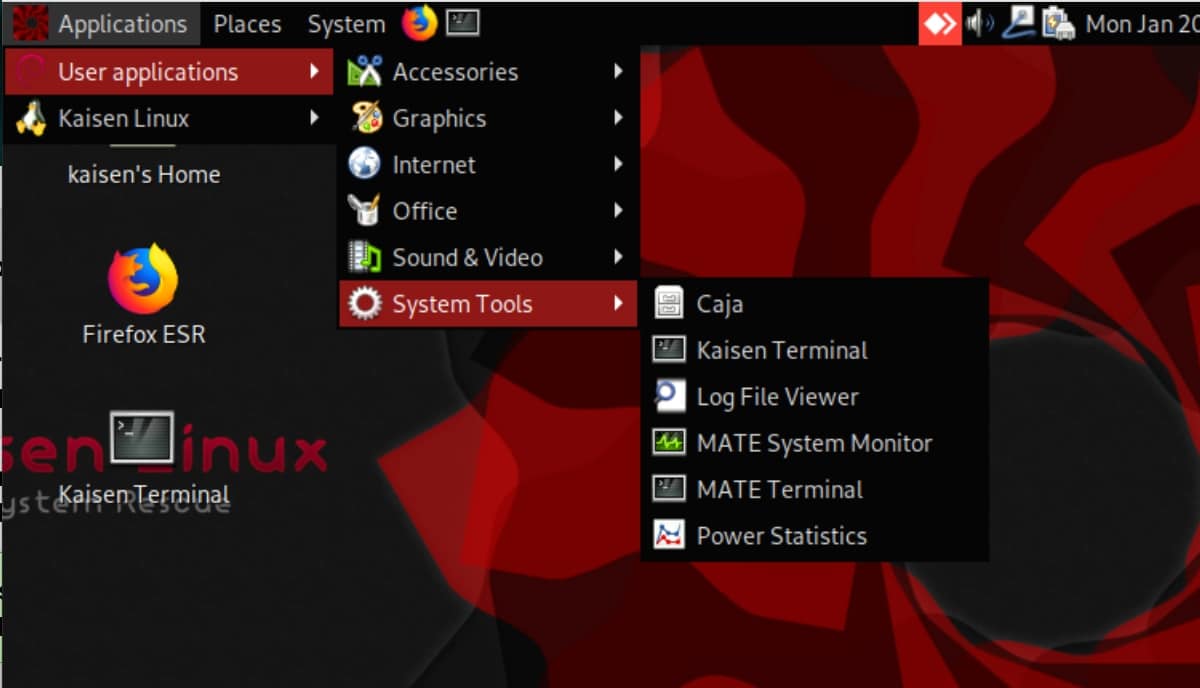 Kaisen Linux includes tons of applications for various purposes such as:
Caja, a file manager to access and manage the files, folders, and applications
Image viewer to display a single image, as well as large image collections
Pluma text editor
Terminal to give access to a command line
Firefox browser
AnyDesk or Teamviewer to access the remote desktop
VirtualBox
Mate search tool for searching files into the folders
Tools for Technicians & Administrators
Kaisen Linux includes more than 100 integrated tools in several categories (data recovery, disk cloning, network tools, etc.)
Tools can be used for various purposes such as to modify the partitioning of hard disks, to save the data or the system, to repair the file system and recover lost data, or to reactivate the boot manager, and many other things.
These tools are categorized into two groups as Technician and Administrator tools.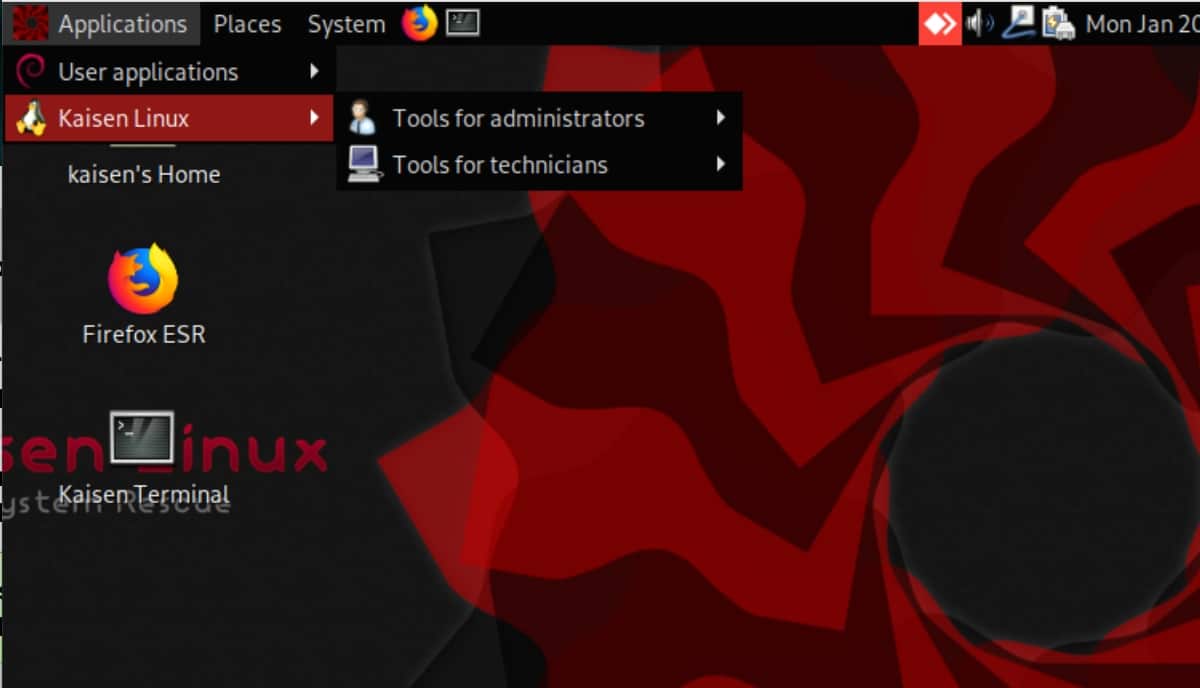 Let's have a look at both tools.
Technician Tools:
Boot repair: boot-info, boot-repair, os-uninstaller
Cloning: dd, clonezilla, partclone, partimage
Data recovery: ddrutility, ddrescueview, safecopy, foremost
Disk analysis: df, badblocks, du, fsck
Partitioning and formatting: dd, gparted, fdisk, sswap, fatresize, parted
Remote maintenance: teamviewer, anydesk
Tools for passwords: ophcrack, xHydra, hydra, john, hashcat
USB boots: balenaEtcher, dd, UNetbootin
Virus analysis: clamscan, clamtk
Administrator tools:
Network: minicom, picocom, dhclient, dhcpdump, dig, ngrep, nmap, nslookup, openvpn, macchanger, macscan
System: openssh-client, rdesktop, cups, curl, docker, docker.io, htop, lsof, powershell, rsync, virtualBox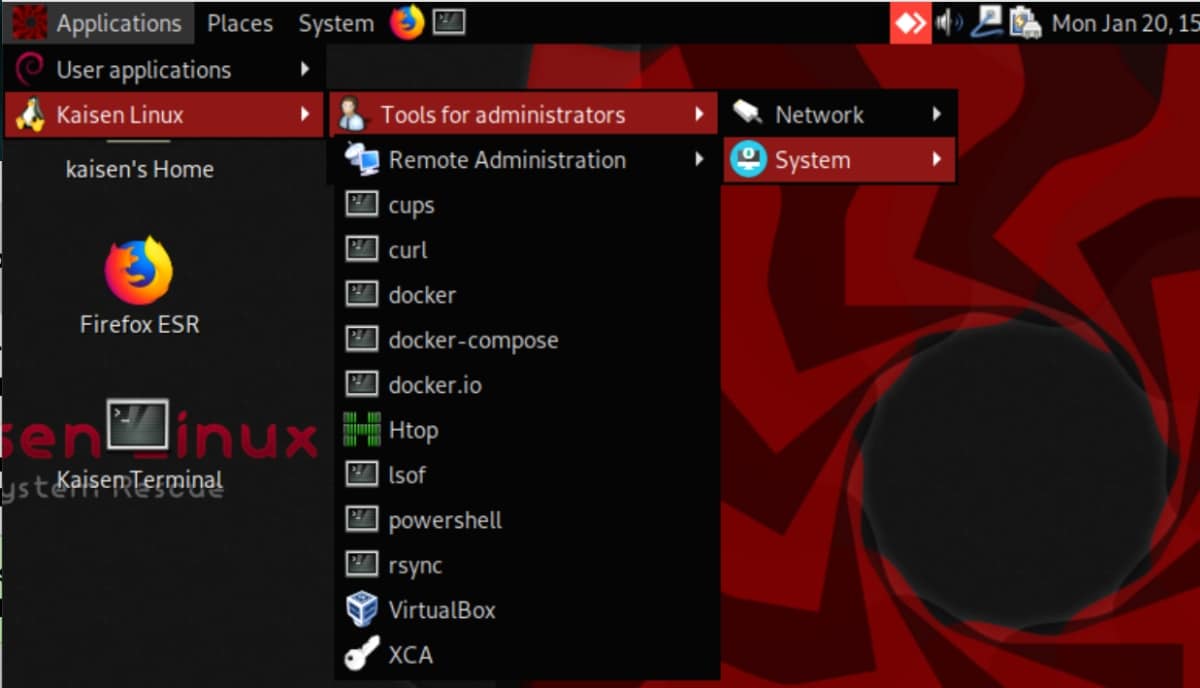 Why is Kaisen Linux based on Debian?
Kevin Chevreuil, in one of his post, stated the reason for choosing Debian as:
"There are Debian deposits and package manager and pre-compiled binaries (the .deb) very useful, and especially creating its own package system is very long and tedious on its own, and my programming skills are limited. The recompiling of the Linux kernel will allow the distribution to be purified for purely professional use and thus make it compatible only with Intel x86 and x64-bit architectures."
How to download and test?
I believe you must give it a try and test all integrated tools of this system rescue Linux distribution, especially for system and network administrators.
You can download Kaisen Linux ISO from here. Also, if you face any problem installing GRUB on UEFI during the system installation of the beta version, you can follow the procedure given here.
Note: Live password (only on the beta version): kaisen
Kaisen Linux also has an email for support or any other question about the OS. You can mail at [email protected]
I hope you'll enjoy the latest Kaisen Linux distribution. Keep reading and following the Fossbytes to keep yourself up-to-date with all the Linux and open source news and releases.