We have entered deep into the digital era, and it's hard to find a place that's not crowded with electronic devices. Out of them all, the smartphone is the one people keep with themselves all the time. And there is a special category of humans who prefer iPhone over any other smartphone.
It doesn't matter what device you use data gets stacked over time, including contacts, photos, videos, etc. The case of iPhones is not different. That's why users create backups of the same from time to time.
But dark days could arrive anytime; people might end up losing access to their backup files. Probably, because they forgot their password. That's when software like iTunesKey come into the picture. It's makers claim that iTunesKey can help recover iTunes backup files for a variety of Apple devices.
iTunesKey Overview
Look & Feel
The iTunes recovery software sports a simple look in a fixed size window that may annoy the users who like run apps in full-screen mode. All the options of the app are clearly laid out.
If you're running a trial version of the software, you can find the Register button on top where you can enter your username and product key after purchasing it. Its neighbor options are About and Help where you can see all the documentation related to the software.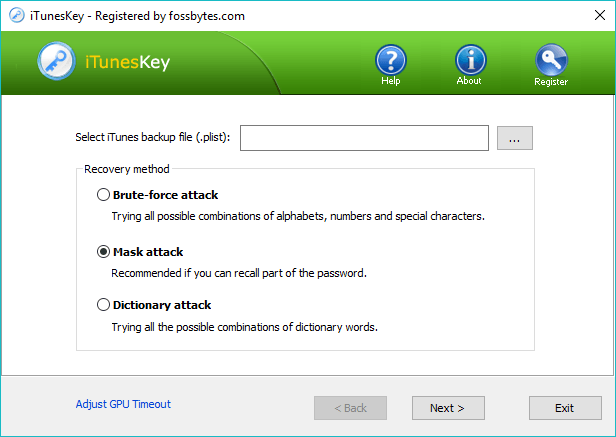 Features
In terms of features offered, the app is all focused around extracting password of your iPhone, iPad, and iPod backup files created using the iTunes software on Windows. This is also where the app becomes a topic of a laugh. It is meant to recover data from iTunes, and it's not available for macOS.
The road doesn't end here; you can simply copy the backup file (Manifest.plist) from a macOS device on your Windows PC running the software.
From the iTunes backup files, the app can recover access to different kinds of data like contacts, photos, messages, videos, calendar events, etc.
It uses a variety of methods to break the encryption of the iTunes backup file. The ways include brute-force, mask attack, and dictionary attack. It supports backup files created on different versions all the way up to iTunes 12.
To make the password recovery process faster, iTunesKey can also leverage the discrete Nvidia or AMD GPU on your machine which could give it a boost of up to 50 times.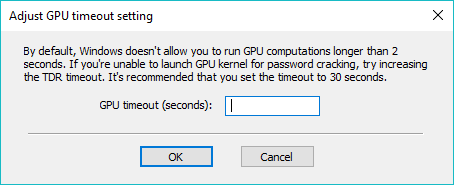 How does it work?
To process to recover password of your iTunes backup with the help of iTunesKey is simple. After firing up the software, all the need to do is load the backup file and choose a cracking method.
The brute force attack is a trial and error method where different combinations of alphabets numbers and special characters are used.
If you remember the partial details of your password, you can go for the mask attack. The Dictionary attack is useful if your password includes actual words that can be found in the dictionary.
Depending on the length and complexity of your password, it will take some time for the software to crack it. After it's done, you can get what you want.
Pricing
If you're interested in buying iTunesKey, its available for a price tag of $19.95. Along with the license key, you also get free updates and free tech support in case you've queries at some point in the future.
You can download the trial version in case you want to get an idea before spending your money.
Final words
One of the good things about iTunesKey is that it's effortless to use. All you need to do is load your backup file, make a couple of clicks, and you're all done.
Talking about the price, the term "expensive" is subjective. It depends on how precious is the data that you want to recover. So, the choice is yours if you wish to buy it or not. Afterall, it's your money, and you get to decide what to do with it.
Disclaimer: This post is sponsored by Top-password.com.