There are all kinds of writing styles. Creative writing is wildly popular and more focused disciplines like manuscript or technical writing often require a different skillset and mindset to be successful.
Writing skills don't come naturally – they must be developed through practice and perseverance. Writing is a process requiring a lot of research and the ability to adequately convey a thought or idea to a readership. The right environment is helpful for writers, and it starts with the apps that help you achieve everything you need to.
A lot of people use Notes or Google Docs to write, and that's just fine – but proper apps will get you a lot further. Platforms like Google Docs are straightforward, but a dedicated writing app for your Mac will have unique features you may not know you need. If you're writing long documents requiring a lot of research and organization, something like Google Docs will disappoint you with its limited feature set.
Even straightforward blogging can benefit from a dedicated app. Not only will the app have features Google Docs doesn't, you won't have the distraction of the internet. Google Docs lives online, and you'll always have the internet trying to pull attention from the work you need to do.
As you begin a career in writing, picking up freelance writing jobs is a great way to earn while honing your skills. You may not always find work in the genre or job market you ultimately want, but having published work gets your foot in the door with more people. An online portfolio is important.
Where should you begin your writing journey? Which apps are best for new and experienced writers? We'll tell you which work best for your writing process and how you can download them for free right now.
Manuscripts
The writing process is best expressed through great apps. Be it content writing for a website or crafting the next great novel, the digital age we live in requires great apps to help you get the job done.
Manuscripts for Mac excels at keeping your thoughts organized when working on long-form writing projects. When writing research papers, a lot of your research happens in a non-linear fashion. Without proper organization, your final paper may seem jumbled. Manuscripts lets you organize pages in a file tree format so you can take notes and work on drafts of sections as the research comes back.
Built for large academic papers, Manuscripts shines when working on any large project requiring a lot of research, documentation, and drafts. Manuscripts even has a version history feature in case you need to revert to a previous iteration, and lets you import or export your work in just about any format.
That a powerful app like Manuscripts is available to try for free when you sign up for a seven-day trial of Setapp is another benefit.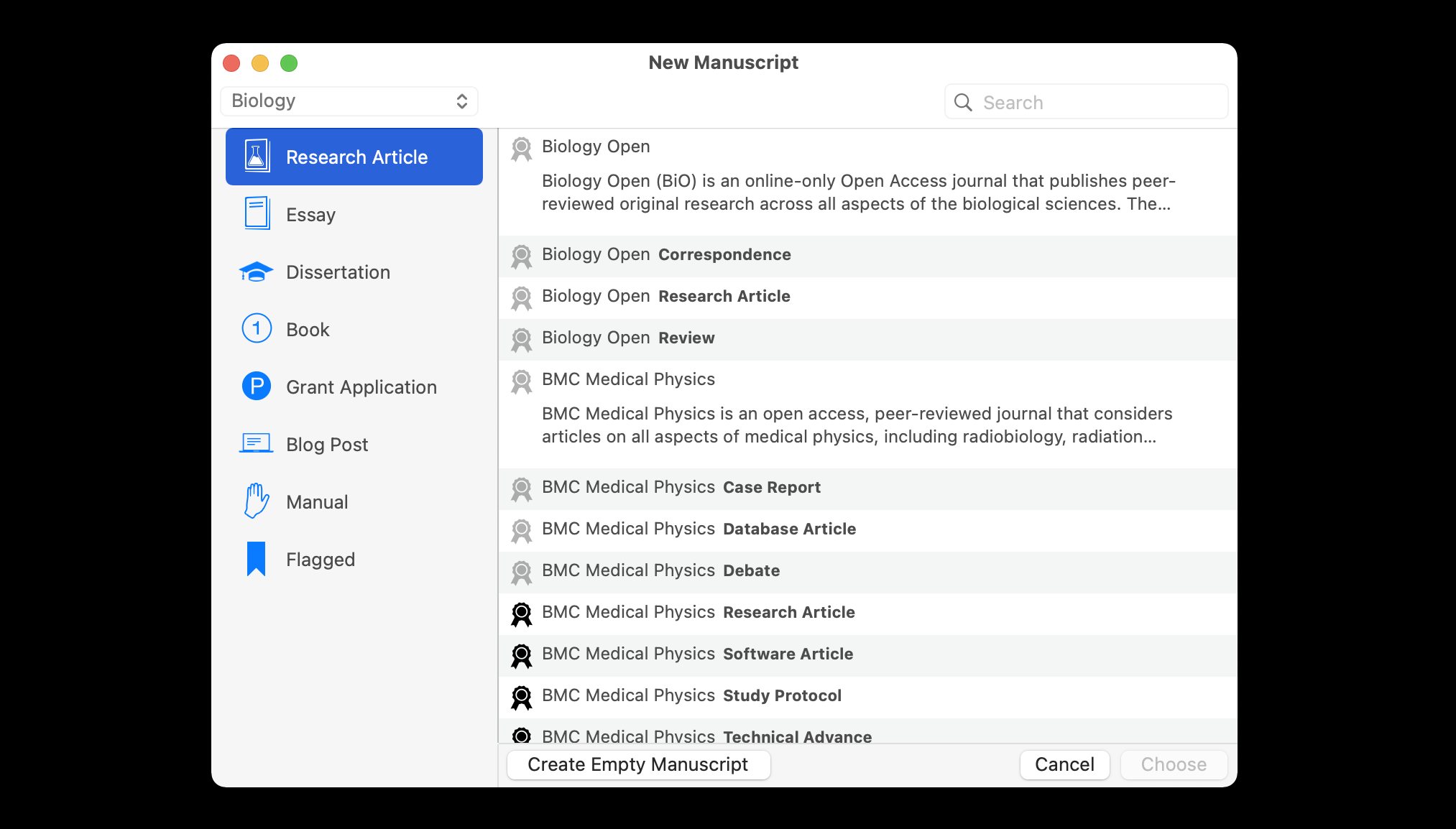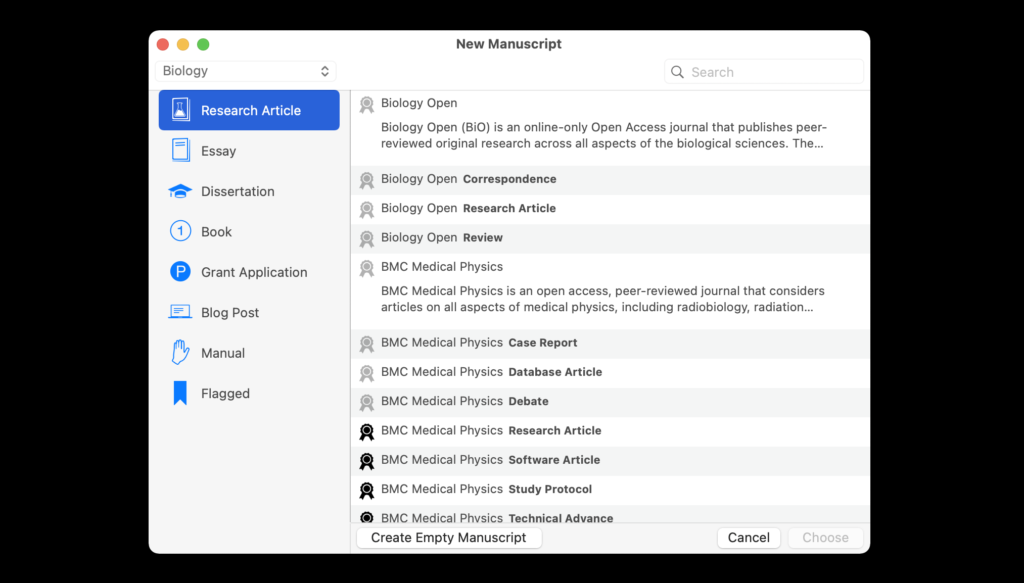 PDFpen
Regardless of the type of writing you're doing, you'll need a good PDF editor. There's just no better option than PDFPen via Setapp, another incredibly powerful app you can download and use free during your trial period.
PDFPen helps you sign documents, move pages around in multiple-page PDF documents, delete entire pages as needed, merge PDF files, and block out sensitive information from PDFs you are editing. With PDFPen, you immediately have the power to edit any PDF you want; however you like.
For writers, PDFPen has a sensational feature that can help keep you organized. One of the best writing tips you'll ever get is to stay organized, and the OCR scanner in PDFPen helps you scan and digitize paper documents quickly and easily. Your scans are then editable, and PDFPen can scan in multiple documents at a time if you need. It's a great feature for digitizing documents, but also adding notations on digital versions of documents so you don't destroy originals.
If you need documents signed – say for securing a contract as a writer – PDFPen supports 256-bit AES encryption for security, and its ability to mask personal info can keep you safe as a contract is passed around to multiple people.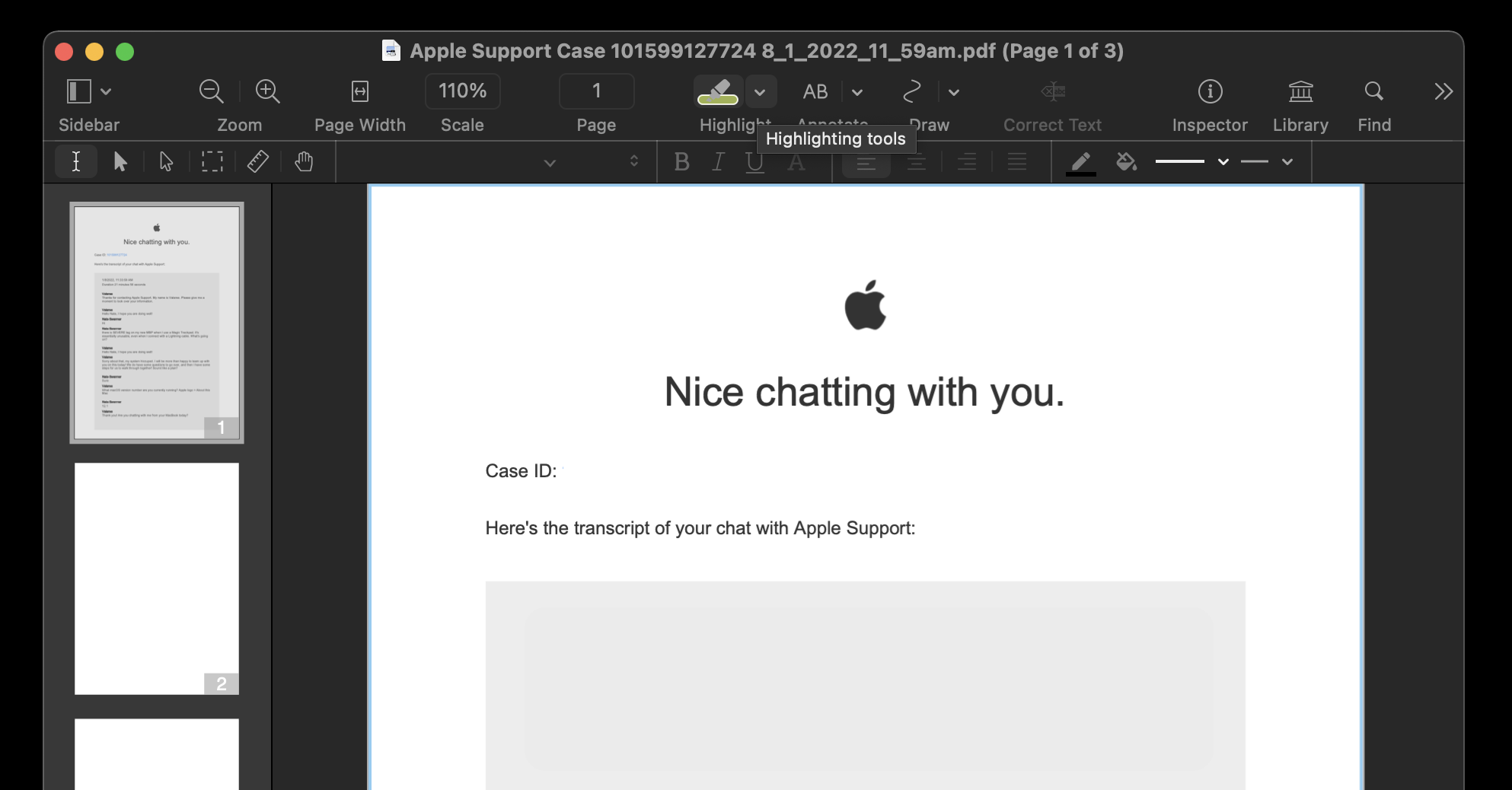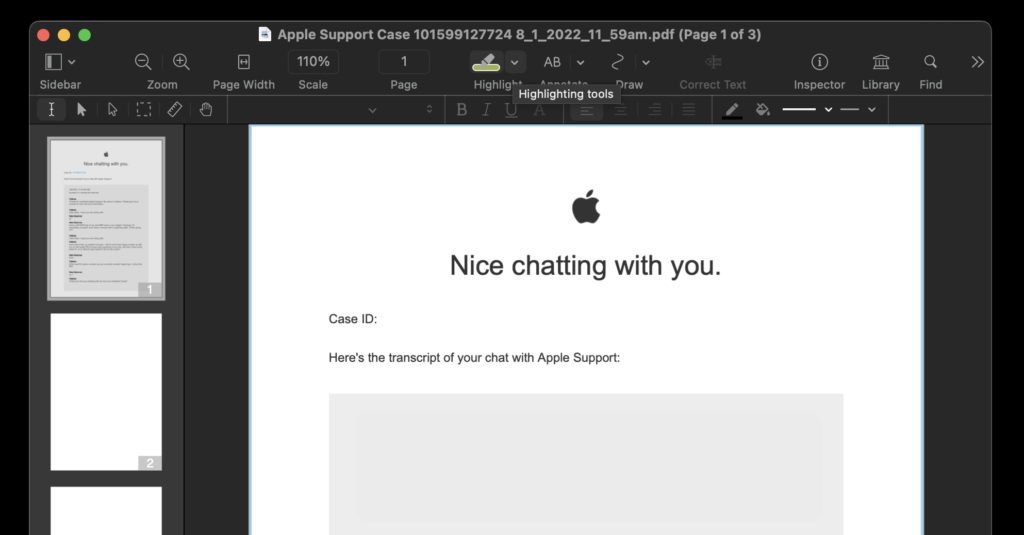 Focused
Sometimes the best thing for writers is a completely distraction-free environment. Creative writers tend to prefer apps that don't get in the way of writing with tons of features or options.
This is especially true of those who will publish their work on a website – which is most writing these days. It's a good idea to write your copy in a unique environment, but you don't always need bells and whistles getting in the way because most of the formatting is done online.
There are so many incredible apps in the Setapp suite, and Focused for Mac does everything you want because it doesn't try to do too much. It's a gorgeous, customizable word processor that only exists to provide you with the most serene experience and platform possible so you can do your best writing.
This doesn't mean Focused isn't powerful, though. Far from it. Rather than a series of menu options at the top of the page, Focused utilizes Mac's menu bar to house options like making text into headers, adding blockquotes, and other web-friendly tools. If you know how to utilize markdown, Focused supports that as well from within the writing environment. (If you choose a formatting option from the menu bar, Focused will add the markdown to the line you're formatting, so it's also a great way to learn Markdown!)
When copy editing your work, Focused has a unique "focus" mode that highlights only the current sentence or paragraph so you can deeply consider your writing. All edits are auto-saved in Focused and can be easily retrieved if you need to revert to an older version.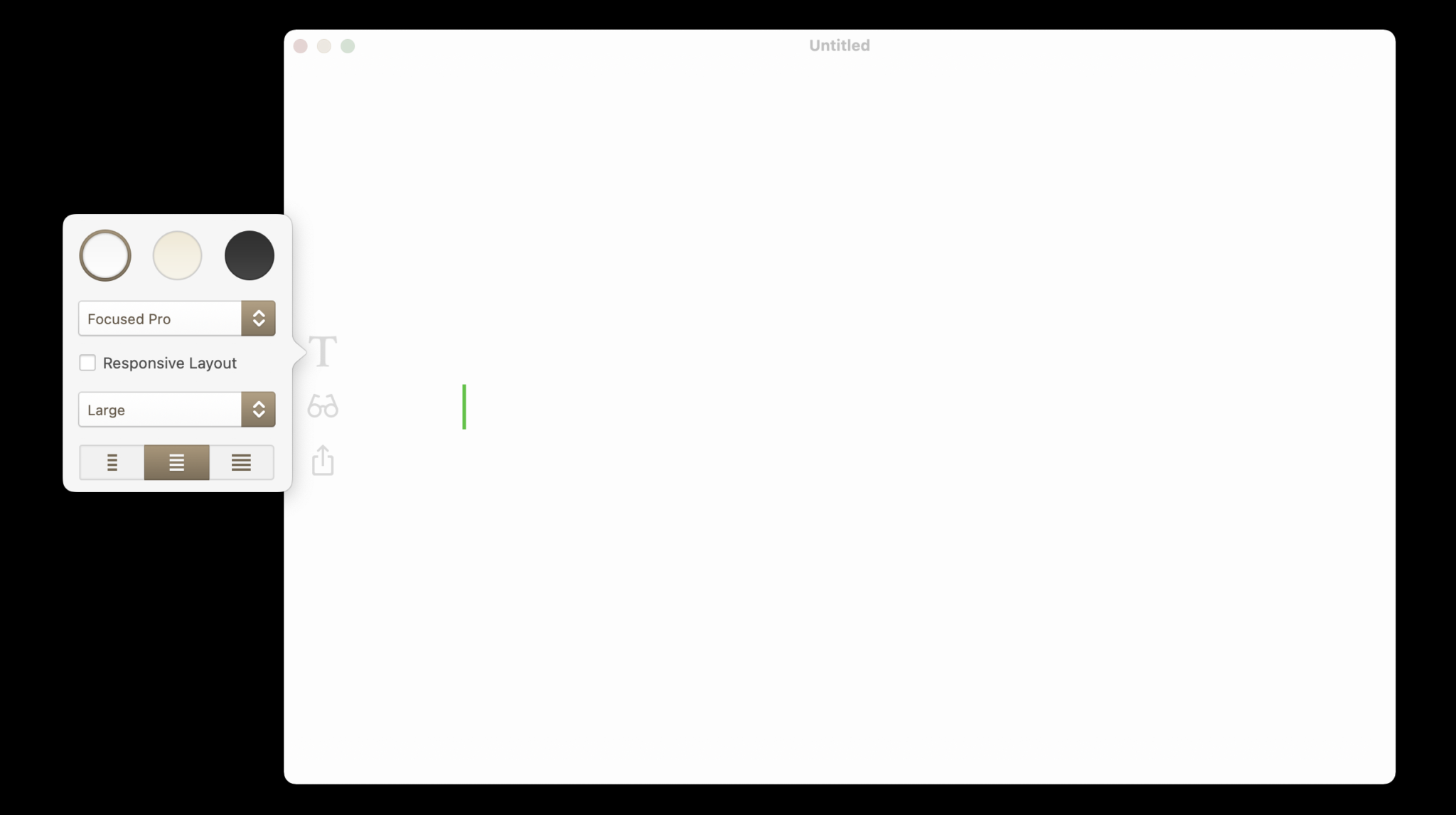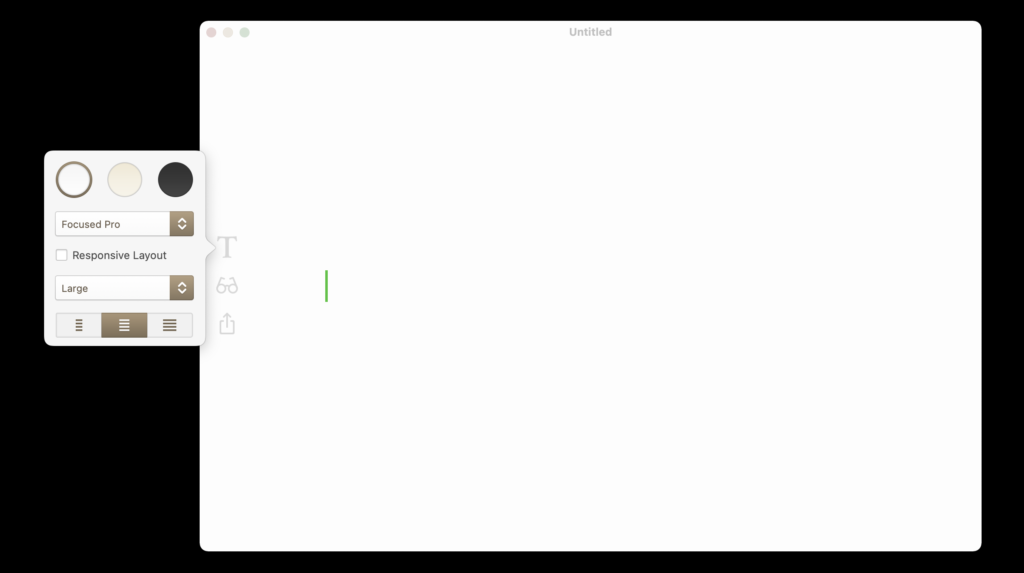 Conclusion
Writing for any purpose is intense work. Research or academic papers require a ton of investigation; screenwriting involves juggling a lot of character narratives and threads; creative writing requires quickly actionable ideas; book writing takes patience, foresight, and character development.
No matter what writing style you have or the type of writing you're doing, Manuscripts, Focused, and PDFPen will undoubtedly make you a better researcher and writer. These three apps are also available for free during your seven-day trial of Setapp, the biggest and best suite of productivity apps available for the Mac.
Along with PDFPen, Manuscripts, and Focused, you'll get unlimited access to over 200 other incredible apps available for your Mac. Try as many as you like to create your own perfect writing environment on Mac. We think these three apps are great, but there are so many great apps for writers on Setapp you'll absolutely find exactly what you're looking for.
When your trial period is over, continued, unlimited access to Setapp is only $9.99 per month. It's a phenomenal deal, so why wait any longer? Give Setapp a try now and get started crafting your best writing ever!